A quick and simple breakfast of vegan overnight oats to the rescue! I've paired these easy overnight oats with a homemade strawberry chia jelly / jam and creamy nut butter. A gluten free, dairy free and easy to make breakfast!
Just wanted to let you know this overnight oats recipe is sponsored by my friends at One Degree Organics!
Now if I know anything about wanting to keep breakfast easy and quick *and I think I do,* it's time to listen up.
Since summer is basically here in Southern California, I've been wanting to eat fun, fruit-filled breakfast dishes just like these overnight oats.
What's pretty incredible about this recipe is that it can easily double up as a snack or dessert.
I decided to whip up some homemade strawberry chia seem jam / jelly to pair with these oats, and boy was that a mighty fine idea. These ended up turning into a PB&J rendition, and it is so darn delicious!
You could make this jam with blueberries, blackberries or raspberries, and it would be fabulous too.
I decided to team up with One Degree Organics on these vegan overnight oats because I really love the fact that their oat line is all sprouted. What does this mean? Well,
Grains sprout when they are given the proper amount of moisture and are kept at the correct temperature.
A sprouted grain has basically begun to grow into a new plant *but just barely!*
Sprouted gluten free oats are basically able to unleash their superpowers.
They boast more nutrients and are easy to digest. Let's call that a win, shall we??!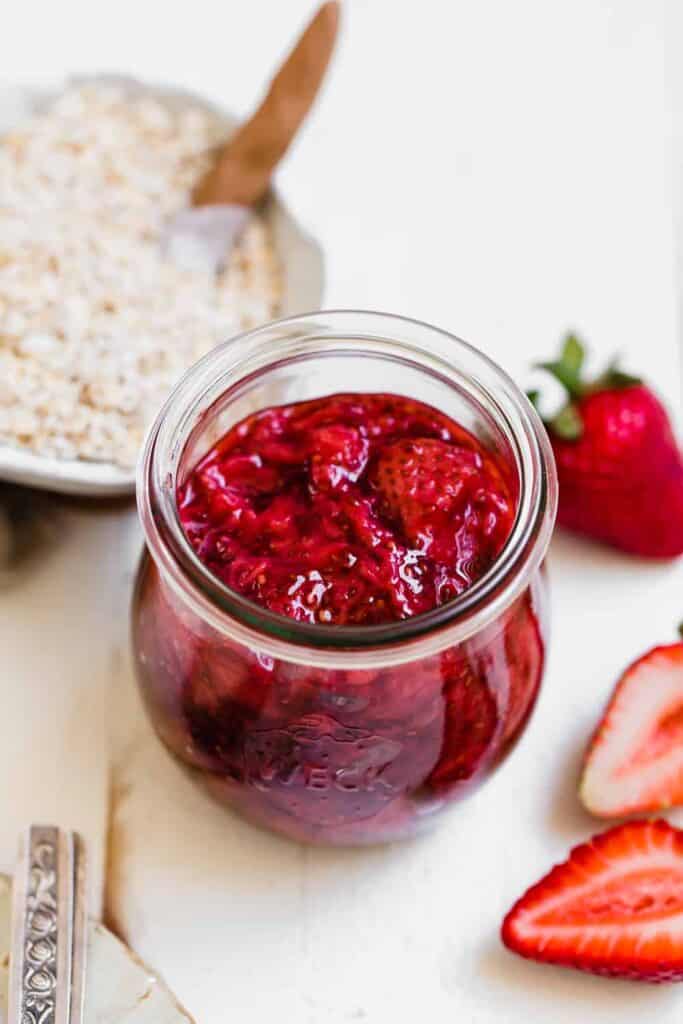 This is the homemade strawberry chia jam / jelly that I've been referencing.
It is so darn easy to make, and you will have plenty leftover for using on toast, yogurt parfaits & in smoothies all week long.
You can absolutely cut the chia jam recipe in half if you'd like / know you won't go through all of the leftovers. I simply love having jam in the refrigerator at all times… especially when it's homemade!
In fact, I think I may need to toast up some gluten free bread slices right now. Maybe I'll slather them with some room temperature grass-fed butter and drizzle with some of this jam.
Oh my gosh.
I am really treating myself well today, aren't I? 🙂 Yum!
Be sure to give these vegan overnight oats a try! They make a perfect grab-and-go breakfast or breakfast accompaniment during the week when you just don't have extra time.
I think I am going to try my hand at making these again with blueberries and coconut butter (instead of almond butter!)
That ingredient combination sounds like a real stunner to me, don't you agree?
I don't usually go for a rhyme at the end of my blog posts, but like I said… we're calling today a win.
More like this:
Chocolate Strawberry Vegan Granola
Best Gluten Free Vegan Blueberry Muffins
One Bowl Vegan Chocolate Banana Bread
This post is sponsored by the lovely folks at One Degree Organics. Thank you for allowing me to continue creating such incredible content by supporting relationships with incredible brands and companies that The Movement Menu enjoys working with! Opinions will always remain 100% my own!
Almond Butter & Jelly Vegan Overnight Oats

A quick and simple breakfast of vegan overnight oats to the rescue! I've paired these easy overnight oats with a homemade strawberry chia jelly / jam and creamy nut butter. A gluten free, dairy free and easy to make breakfast!
The strawberry chia jam recipe is for a large jar, as I use two pounds of strawberries. If you do not want leftovers, I recommend halving the recipe!
Instructions
In a medium saucepan, combine the strawberries and maple syrup together over medium heat. Cover with a lid and carefully bring to a simmer, stirring frequently. After 3-5 minutes, the strawberries will begin to release their juices. Use a potato masher to lightly smash them down.

Add the chia seeds and lemon juice and reduce the heat to a medium-low temperature. Continue cooking uncovered, stirring every few minutes or so. After about 30 minutes, the mixture will have thickened quite a bit. Be sure to remove it from the heat now, as it will continue thickening as it cools.

Let the chia jam sit and cool down for about 10-15 minutes before transferring to another vessel or jar. This will make a lot of jam, so you will have plenty leftover to store in the refrigerator for up to two weeks.
In a large glass bowl or tupperware container, add non-dairy milk, chia seeds, almond butter, maple syrup and vanilla extract. Stir well with a spoon to combine.

Add the oats and give it another good stir. Be sure the oats are completely submerged in the liquid in order to ensure an even setting process.

Cover with a lid or plastic wrap and let it set in the refrigerator overnight (or for at least 4-6 hours!)

When it is ready, give it another good stir and serve with extra almond butter (if you'd like) and homemade jam.