This bananas foster vegan french toast bake is gluten free, dairy free & loaded up with all of the goodness. It is topped off with coconut whipped cream, sliced bananas and a creamy, vegan caramel sauce. What a spectacular breakfast, snack or dessert!
Just wanted to let you know this vegan french toast bake is sponsored by my friends at Little Northern Bakehouse!
Boy, has it been a fun and hectic few weeks here at our house. We've been gearing up to spend a lot of time away from the house for the holidays!
Unfortunately, our little babe has gotten a pretty severe cold we just can't kick, has started acutely teething and is going through her fifth developmental leap all at the same time.
Let me tell you something. The first day this all started happening, I ate 3 slices of this vegan french toast bake. And it felt freaking great.
I actually teamed up with one of my favorite people and photographers/videographers to produce my very first recipe video for this french toast.
Right in the middle of our shoot, one of my best friends and her 1 1/2 year old daughter popped in to hang out. Peep all of the cuteness at the very end.
More vegan recipes like this:
Gluten Free & Vegan Cheesecake Bars
Double Chocolate Zucchini Bread
My goal was to create an easy to prep, sweet (but not too sweet) vegan breakfast that would be loved by the whole family. I had made french toast a million times before but never without eggs.
I felt up for the challenge though, and I knew I wanted to get my hands on Little Northern's Cinnamon Raisin Bread to kick up the yum factor about thirty notches.
Bananas and caramel could be one of my favorite flavor combinations ever. It just makes me feel all warm and fuzzy inside, what can I say?
With the addition of the whipped cream and caramel sauce, this french toast bake is the *perfect* dessert.
However, you can leave those toppings off and serve up a nice, big slice for breakfast! 🙂
One of the best parts of this goodness is the vegan caramel sauce you drizzle on top. It could be one of the best things you'll ever put in your mouth, seriously.
Luckily, you should have plenty leftover after topping off this french toast bake. You can dip slices of fruit into it, spoon it over some dairy free ice cream or just lick it with a spoon straight from the jar.
Absolutely no judgment will be passed, I promise.
Let's get back to this vegan french toast bake though...
I'm so excited I have figured out a way to make it taste fantastic without using eggs. The key was using bananas and flaxseed meal-- a dream team when it came to binding everything together properly!
What I also love so much about this recipe is how it takes very little time to prep. While it's cooking in the oven, you can prep the whipped cream and caramel sauce.
You can alternatively prep the whipped cream & caramel sauce beforehand (or a day or two before) and simply make the blender mixture to pour on top of the bread chunks.
Either way, you'll be done with prep quickly and get to sink your teeth into it. Be sure to invite over some family and friends for weekend brunch and whip up this goodness.
However, they may ask to come over more often and if you're not ready for that type of commitment, don't share this deliciousness with others 😉
Well, I hope you're ready to make this fabulous vegan french toast bake. If you're not a banana person, feel free to use sliced apples or another favorite fruit.
It's so fun pouring the blender mixture over the chunks of bread. If you have a little one who is eager to assist you in the kitchen, now's the time to enlist their help!
This post is sponsored by the lovely folks at Little Northern Bakehouse. Thank you for allowing me to continue creating such incredible content by supporting relationships with incredible brands and companies that The Movement Menu enjoys working with! Opinions will always remain 100% my own!
Bananas Foster Vegan French Toast Bake
This bananas foster vegan french toast bake is gluten free, dairy free & loaded up with all of the goodness. It is topped off with coconut whipped cream, sliced bananas and a creamy, vegan caramel sauce. What a spectacular breakfast, snack or dessert!
Print Recipe
Pin Recipe
Rate Recipe
Instructions
Caramel Sauce
Pour maple syrup and coconut sugar into a heavy bottomed saucepan. Bring to a boil over medium heat and let boil softly for ~15 minutes. Stir every few minutes with a heat proof spatula to keep the bubbles down.

Once the syrup begins to coat the outside of a spatula or spoon, it's time to add the coconut milk. Raise the heat again and bring to a low boil and turn back down. Continue stirring until it begins to thicken up quite a bit.

Remove from heat and stir in oil, salt, and vanilla extract. Let cool to room temperature, stirring occasionally to keep the fat incorporated. The longer it sits, the thicker it will become!
Whipped Cream
Place your mixing bowl & beaters/whisk in the freezer for about 10 minutes before you get started. This helps a lot! In the bowl of a stand mixer, add coconut cream from the top of 2 cans of coconut milk (see notes!) Beat on high for 5-7 minutes until soft peaks form.

Add maple syrup and vanilla and mix again for 30 seconds. Taste for adjustments of sweetness and set aside.
French Toast
Cut the bread into 1-inch cubes. Add it to a large 9×13" baking dish.

In a blender pitcher, add bananas, both milks, coconut milk, flax meal, arrowroot, vanilla, and cinnamon. Blend on medium for just 10 seconds. Set aside for a few minutes to thicken up.

Pour the mixture over the bread chunks. Using your hands, toss the bread until the cubes have all been coated. Press down so it is lightly packed into the baking dish.

Cover and let sit in the refrigerator overnight.

Preheat the oven to 375 degrees Fahrenheit and adjust the oven rack to the middle position.

Uncover the dish and bake for 45 minutes until the bread has set and is lightly browned on top. Let sit for at least 15 minutes before cutting and serving. Serve with coconut whipped cream, sliced bananas & caramel sauce!
Notes
Let 2 cans of full fat coconut milk sit in the refrigerator overnight. The coconut "cream" will rise to the top, and that is what you will want to use to make the whipped cream!
Nutrition
Calories:
457
kcal
|
Carbohydrates:
43
g
|
Protein:
7
g
|
Fat:
31
g
|
Saturated Fat:
24
g
|
Sodium:
225
mg
|
Potassium:
562
mg
|
Fiber:
6
g
|
Sugar:
20
g
|
Calcium:
113
mg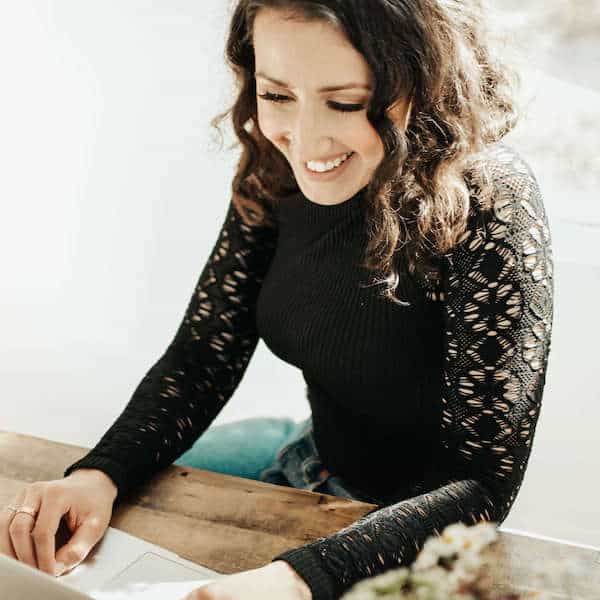 Hi! I'm Monica – recipe developer, matcha addict and lover of all things chocolate, kombucha and any & all puns. I am also the blogger, real food lover, & bonafide hustler behind the blog 'The Movement Menu.' I'm so excited to welcome you to my happy space, where my appreciation of creative recipes and healthy & mindful eats come together to inspire you to live a healthy, balanced life.