A Thai cauliflower rice salad that makes for the perfect side dish during your Whole30. It's full of nutrient dense vegetables, fresh herbs and a touch of fruit. This healthy and delicious salad is grain free, dairy free, paleo and Whole30 compliant.
If your starting the whole30 diet you should definitely have a look at my whole30 meal plan!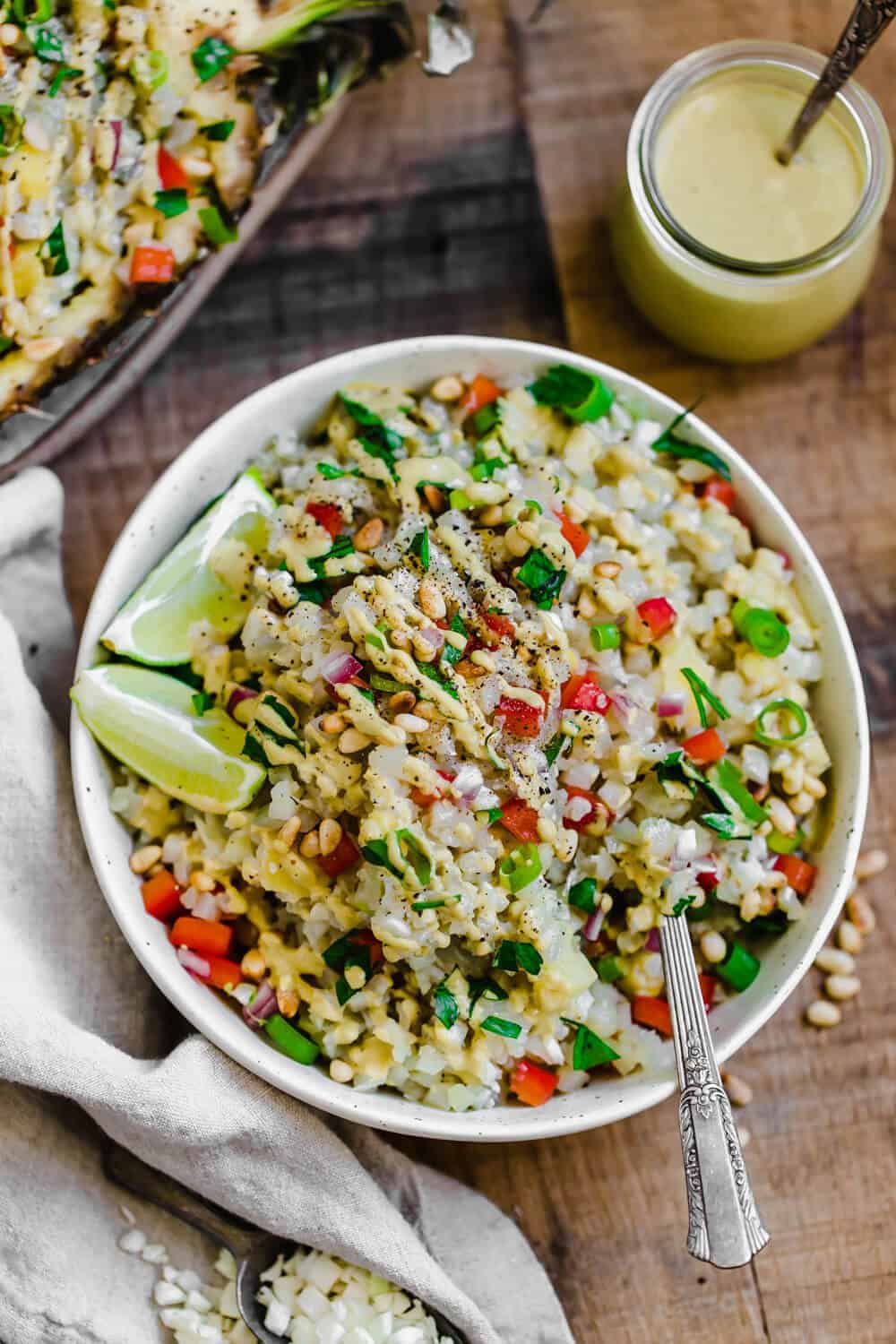 With summer basically here, I knew it was time to start incorporating more Whole30 recipes into my arsenal. I've been a big fan of making cauliflower rice dishes for quite some time now.
I love the fact it's so nutrient dense and keeps you feeling full without having all of the carbohydrates that regular rice has. In fact, the recipe I created for
Paleo & Whole30 Fried Cauliflower Rice proves to be one of the most popular recipes on my entire site.
The dressing for this dish is made with creamy, roasted cashews and plenty of fresh lime juice to take it up a notch.
The Thai curry paste and coconut aminos in the dressing are true standouts. You are going to feel like you should be eating this cauliflower rice salad from some sort of tropical island.
Seriously. Wouldn't that be nice??
I've teamed up with the awesome folks at Taylor Farms to bring you the star of this dish: cauliflower pearls.
I love the size of the pearls as they are a bit larger than the bags of cauliflower rice I've used.
When they are cooked over low heat, they do not break down and become mushy at all. Because of their shape and size, they hold up very well and make the perfect base for this cauliflower rice salad.
You can chop up some fresh cauliflower if you'd like instead. You will need about 2 large heads to get the same amount shown in this recipe.
More like this:
Paleo Whole30 Cauliflower Fried Rice
I know I am going to want more Whole30 compliant dishes like this on hand for our postpartum journey. We were told many times by other new parents how helpful it is to have a meal train in place for after the baby comes.
Unfortunately, we live far from close friends and family, so we don't think this is going to be an option for us. Instead, Tim has already offered to do plenty of cooking and cleaning while I spend the majority of my time resting and breast feeding.
Luckily, Tim is a VERY good cook. I'll be handing him the recipe for Thai cauliflower rice salad for sure.
The dressing I made for this recipe is the same sauce I used for these lettuce wraps last year. When I was developing this recipe, it dawned on me how wonderful of a combination the two would make!
I can envision myself letting our baby girl try this salad when we start incorporating solid foods. It has so many nutrient dense ingredients, and I'd feel confident and excited in letting her try it.
I'm always one to incorporate fresh herbs into salads. I feel like it's a complete game changer in flavor town, so don't be shy with the parsley.
You can choose to add basil and mint as well if that tickles your fancy. I know those flavors would fuse well with the rest in this dish.
Be sure to add Thai cauliflower rice salad into your weekly meal rotation whether or not you are conquering a Whole30.
It's got all of the flavor and nutrition to boot. Let's get to cookin', shall we?!
This post is sponsored by the lovely folks at Taylor Farms. Thank you for allowing me to continue creating such incredible content by supporting relationships with incredible brands and companies that The Movement Menu enjoys working with! Opinions will always remain 100% my own!
Thai Cauliflower Rice Salad (Whole30!)
A thai cauliflower rice salad that makes for the perfect side dish during your Whole30. It's full of nutrient dense vegetables, fresh herbs and a touch of fruit. This healthy and delicious salad is grain free, dairy free, paleo and Whole30 compliant.
Print Recipe
Pin Recipe
Rate Recipe
Ingredients
Salad
2

tablespoons

avocado oil

split in two

1/2

red onion

finely diced

3

garlic cloves

minced

2

bags

Taylor Farms Cauliflower Pearls

1/2

cup

canned coconut milk

1/2

cup

bone broth- Find Here!

3/4

cup

pineapple

finely diced

1

red bell pepper

diced

2

green onions

chopped

1

small bunch fresh parsley

chopped

1/4

cup

pine nuts

toasted
Instructions
Salad
Heat the oil in a large skillet, add the onion and garlic and stir fry for just one minute.

Add the cauliflower pearls, coconut milk and broth. Stir to combine and cook for 7-10 minutes over lower heat. You want the cauliflower to feel tender but not become mushy. Remove from the heat and set aside to cool.

Once cool, transfer the cauliflower mixture, pineapple, bell pepper and green onions in a large bowl and mix to combine.

Prepare the dressing (see instructions below.) Pour over the cauliflower salad and toss carefully, to combine well. Top off with fresh parsley and toasted pine nuts. Serve right away.
Dressing
Add the all of the sauce ingredients into the bowl of a food processor or high-speed blender. Blend until completely smooth and creamy. Taste and adjust as needed, adding more coconut milk if needed and it is too thick. This can be saved and store in the refrigerator for up to one week.
Nutrition
Calories:
295
kcal
|
Carbohydrates:
16
g
|
Protein:
5
g
|
Fat:
25
g
|
Saturated Fat:
11
g
|
Sodium:
104
mg
|
Potassium:
350
mg
|
Fiber:
3
g
|
Sugar:
6
g
|
Calcium:
27
mg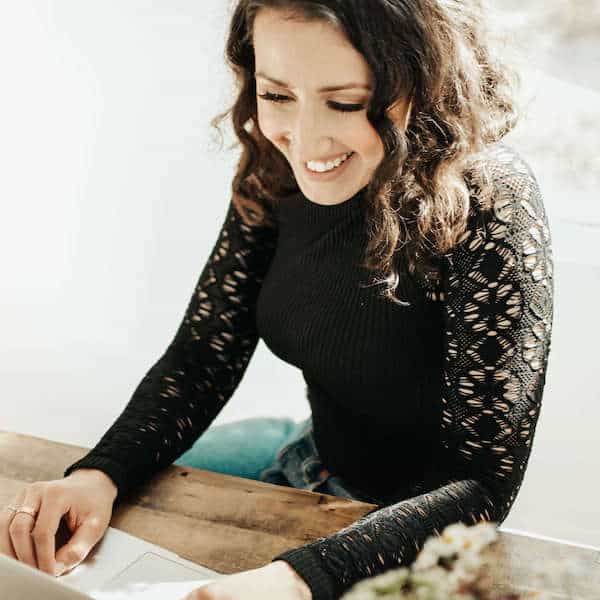 Hi! I'm Monica – recipe developer, matcha addict and lover of all things chocolate, kombucha and any & all puns. I am also the blogger, real food lover, & bonafide hustler behind the blog 'The Movement Menu.' I'm so excited to welcome you to my happy space, where my appreciation of creative recipes and healthy & mindful eats come together to inspire you to live a healthy, balanced life.