Did somebody say pumpkin granola muffins? I sure did, and I'm singing it from the rooftop. These gluten free pumpkin granola muffins are light, tasty and completely dairy free and refined sugar free, too! Winner, winner 🙂
Just wanted to let you know that these fabulous muffins are sponsored by my friends at Sweet Home Farm!
Did someone say pumpkin granola muffins?
Now if I know anything about breakfast muffins *and I think I do*, I'm here to fill you in on how flipping AWESOME these muffins are. I have thrown so many different gluten free muffins down the hatchet over the year, and this recipe is going to be on repeat for sure.
I will be the absolute first person to tell you that you should be getting an adequate amount of fiber, protein, carbohydrates and fat in during every meal and hey- this is especially true for the first meal of the day. However, that doesn't mean I don't like to grab a muffin on-the-go or include it in my balanced breakfast from time to time.
What I love doing most in my kitchen is keeping everything as diverse as possible. I don't want to get sick of eating the same dish / meal over and over again, so I have an absolute blast recipe testing and changing things up!
That's why I decided to partner with Sweet Home Farm for these muffins. Their pumpkin flax granola is seriously fabulous, and I knew it would be the most perfect addition. Their granolas are all verified Non-GMO and are easily accessible across the United States... just pop on over to their website and use their nifty store locator.
It's a pretty exciting week here at The Movement Menu kitchen. We are absolutely not *pumpkin'* (did ya see what I did there?!) the brakes on all the pumpkin recipes. I just finished working on a fabulous pumpkin pie that I'll be posting about soon, so get your mouths and stomachs ready for that one.
I'm notorious for wiping out a grocery store shelf-full of canned pumpkin because I don't want to go without it for the rest of the year. Who says that I can only enjoy pumpkin flavored things during the cooler months of the year?
There is something about it that is just so warm, inviting and absolutely comforting. It was the perfect add-in for this muffin recipe, and I knew that the pumpkin flax granola inside and on top would really transform these muffins into something magical.
After I take a chill pill and finally stop producing pumpkin recipes, it's going to be time for all of the holiday treats. I'll be churning out content like a mad woman and eating every single bite along the way. I cannot wait!
---
More like this:
Paleo Vegan Chocolate Chip Muffins
Double Chocolate Paleo Brookies
Best Gluten Free Vegan Blueberry Muffins
As I said, adding the pumpkin flax granola to these pumpkin granola muffins was a serious game changer. Having that crunch on the inside of the muffins and on top was such a nice change from your regular muffin chow-fest.
You can absolutely get as creative as you'd like and top off these muffins with some coconut butter or white chocolate drizzle, if you're feeling extra crazy. I had some homemade white chocolate leftover, so I ended up mixing it with coconut butter and throwing it on top, but it is ABSOLUTELY not necessary.
Especially if you're going to be eating these for breakfast. Forget the drizzle- they are perfect as is, mk?
So go 'headdddd and step up your breakfast game, I dare ya! Your morning routine will become a whole lot more fun if you add these pumpkin granola muffins into the shuffle. They freeze well, too, so don't be shy about throwing some into the freezer for later if you can't eat them all in one week 😉
This post is sponsored by the lovely folks at Big Sweet Farm. Thank you for allowing me to continue creating such incredible content by supporting relationships with incredible brands and companies that The Movement Menu enjoys working with! Opinions will always remain 100% my own!
Pumpkin Granola Muffins
Did somebody say pumpkin granola muffins? I sure did, and I'm singing it from the rooftop. These gluten free pumpkin granola muffins are light, tasty and completely dairy free and refined sugar free, too! Winner, winner 🙂
Print Recipe
Pin Recipe
Rate Recipe
Instructions
Preheat the oven to 350°F (177°C) and adjust an oven rack to the middle position. Line a cupcake pan with parchment cupcake papers. Very lightly grease them with coconut oil or ghee.

Line a cupcake or small muffin pan with parchment papers. Very lightly grease them with coconut oil or ghee.

In a medium mixing bowl, sift together the arrowroot flour, coconut flour, spices, sea salt, and baking soda until combined.

In the pitcher of a high-speed blender, blend the eggs, maple syrup and vanilla extract on medium-high until frothy. Pour the dry ingredients into the wet ingredients and blend again until smooth.

Slowly melt the coconut oil over low heat and allow it to cool slightly. Once the oil has cooled, pour it into the batter in the blender. Blend once more until smooth but do not over-blend!

Fill each liner half-way full with batter. Evenly disperse the pumpkin flax granola on top and cover with the remainder of the batter.

Bake at 350°F (177°C) for about 18-22 minutes, until a toothpick inserted into the center comes out clean. Allow the muffins to cool completely before removing from the pan.
Notes
Keep the muffins in an airtight container in the refrigerator for up to one week.
Nutrition
Serving:
1
muffin
|
Calories:
191
kcal
|
Carbohydrates:
23
g
|
Protein:
4
g
|
Fat:
9
g
|
Saturated Fat:
6
g
|
Cholesterol:
98
mg
|
Sodium:
165
mg
|
Potassium:
73
mg
|
Fiber:
3
g
|
Sugar:
10
g
|
Calcium:
38
mg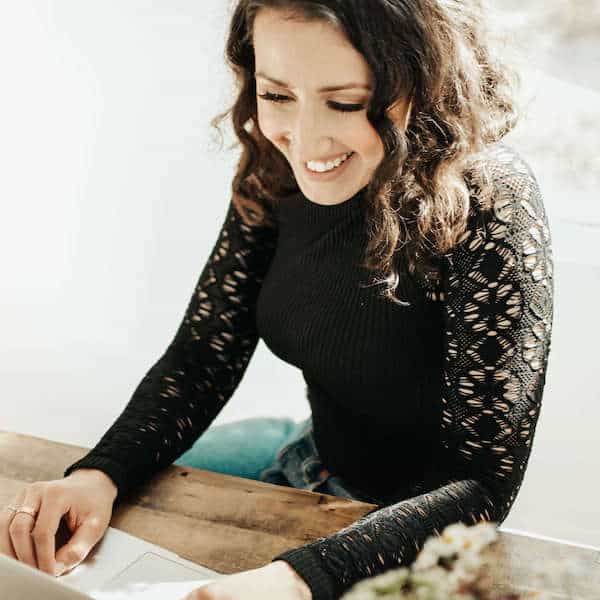 Hi! I'm Monica – recipe developer, matcha addict and lover of all things chocolate, kombucha and any & all puns. I am also the blogger, real food lover, & bonafide hustler behind the blog 'The Movement Menu.' I'm so excited to welcome you to my happy space, where my appreciation of creative recipes and healthy & mindful eats come together to inspire you to live a healthy, balanced life.