Paleo vegan chocolate chip muffins are the perfect low sugar breakfast treat! Grab one of these muffins to go for a perfect, lightly sweetened and protein packed way to kick off your day!
Paleo vegan chocolate chip muffins that are actually legit
It's been a crazy and fun-filled week. I'm preparing to head to Seattle for the first time on Tuesday, so I'm doing my best to get ahead with quite a few recipes for the blog. First up are these chocolate chip muffins.
Sure, you can leave the chocolate chips off, but what's the fun in that? I spent a lot of time working on this recipe, ensuring these muffins were paleo, vegan and low sugar to boot.
It was a ton of fun. Both my husband, Tim and my sister got to try them and came back to me with rave reviews. I made them twice, so I had about 24 muffins in total. I asked Tim if he'd bring the leftover muffins to his employees, and he whole heartedly refused.
That means they're real good y'all… he's watching his figure. Such a sacrifice would only be made for something spectacular ????
When paleo chocolate chip muffins are easy to make AND delicious…
Then, you know you've got an absolute home run! I have spent a lot of time trying to perfect this muffin recipe, and the fact that I was able to do so with such low sugar content is a big deal to me.
Oh so, I'm heading to Seattle and am quite excited for my trip. I'm going to visit one of my best friends, who moved there over two years ago. I kept promising myself I'd go visit her with my Tim, but the timing never seemed to work out until now.
So, off I go. I'm leaving on Tuesday to drop Tim off at LAX, spending the whole day in L.A. on Wednesday and leaving bright and early on Thursday morning. I've already bookmarked umpteen restaurants and cafes I want to hit up.
In fact, the friend that I am visiting is absolutely obsessed with my baked goods. Whenever I post a new recipe, she'll usually text me right away, saying something like: "THOSE BROWNIES LOOK INSAAAAANEEEE!"
She's a fan. And I love and need her support. She's the bestest. She's already let me know how fabulous she thinks the paleo vegan chocolate chip muffins look- score!
More like this:
Best Gluten Free Vegan Blueberry Muffins
Why you should scarf down paleo breakfast muffins for breakfast
These paleo vegan chocolate chip muffins are no joke. They are fit for royal majesty, ya feel me? I played around with the recipe a couple of times before I got everything juuuuuust right.
I knew I wanted to keep them low sugar, so they could be enjoyed absolutely guilt-free alongside a well balanced breakfast. I also wanted to make them vegan because let's face it: I love pleasing the vegans. I'll take a win from them whenever I can.
Feel free to get creative with these paleo vegan chocolate chip muffins. Instead of adding dark chocolate chips on top, you can absolutely leave them off or substitute them for something else delicious like:
-Your favorite nut butter
-A swirl of preserves or jam
-Fresh fruit
Whatever you like! The flavors that reside within the muffin itself would blend well with almost anything. I can assure you that if you try any of my suggestions above, they will come out equally… if not possibly more delicious than my original concoction. Give it a go!
Go head and treat yourself with these delicious paleo chocolate chip muffins. They will quickly become a new favorite around the household, and I can personally guarantee that you'll already want to make them a 2nd time after trying one bite!
Paleo Vegan Chocolate Chip Muffins
These paleo vegan chocolate chip muffins are moist, very lightly sweetened, and make the perfect quick snack or breakfast accompaniment. They're gluten free, grain free, full of lots of flavors and nutrients... AND they just so happen to freeze well, too!
Print Recipe
Pin Recipe
Rate Recipe
Instructions
Preheat the oven to 350 degrees Fahrenheit and adjust the oven rack to the middle position. Line a small muffin or cupcake pan with parchment liners and lightly spray with some extra oil. Set aside.

Pulse the raw cashews in a food processor or high-speed blender, a few seconds at a time, until they resemble a coarse flour. You don't want any visible chunks of cashews. This should take about 1 minute. Be sure not to turn the cashew flour into cashew butter. Watch the texture closely.

Add the rest of the dry ingredients and pulse a few more times, until everything has been well incorporated. Set aside.

In a large bowl, whisk together all of the wet ingredients. Slowly add the dry ingredients into the wet and stir everything well, until no lumps remain. Let the batter sit for 5 minutes.

Split the batter evenly amongst the muffin cups. Sprinkle some dark chocolate chips on top if you'd like. You can alternatively leave them off. They taste delicious with or without the added chocolate. Bake in the oven at 350 degrees Fahrenheit for 20-25 minutes, until a toothpick inserted into the center comes out clean.
Notes
Instead of adding dark chocolate chips on top, you can absolutely leave them off or substitute them for something else delicious like:
-Your favorite nut butter
-A swirl of preserves or jam
-Fresh fruit
Nutrition
Serving:
1
muffin
|
Calories:
217
kcal
|
Carbohydrates:
17
g
|
Protein:
4
g
|
Fat:
16
g
|
Saturated Fat:
9
g
|
Sodium:
105
mg
|
Potassium:
176
mg
|
Fiber:
2
g
|
Sugar:
6
g
|
Calcium:
22
mg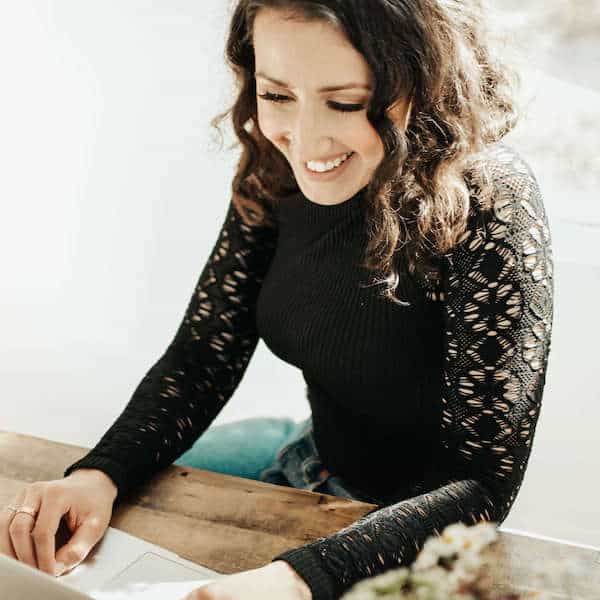 Hi! I'm Monica – recipe developer, matcha addict and lover of all things chocolate, kombucha and any & all puns. I am also the blogger, real food lover, & bonafide hustler behind the blog 'The Movement Menu.' I'm so excited to welcome you to my happy space, where my appreciation of creative recipes and healthy & mindful eats come together to inspire you to live a healthy, balanced life.