A quick, healthy and easy way to prepare Whole30 chicken curry. This delicious curry recipe is a serious meal planning game changer. It tastes absolutely delicious reheated and is the perfect lunch or dinner meal!
Just letting you know this Whole30 chicken curry recipe is sponsored by the awesome folks over at Bonafide Provisions!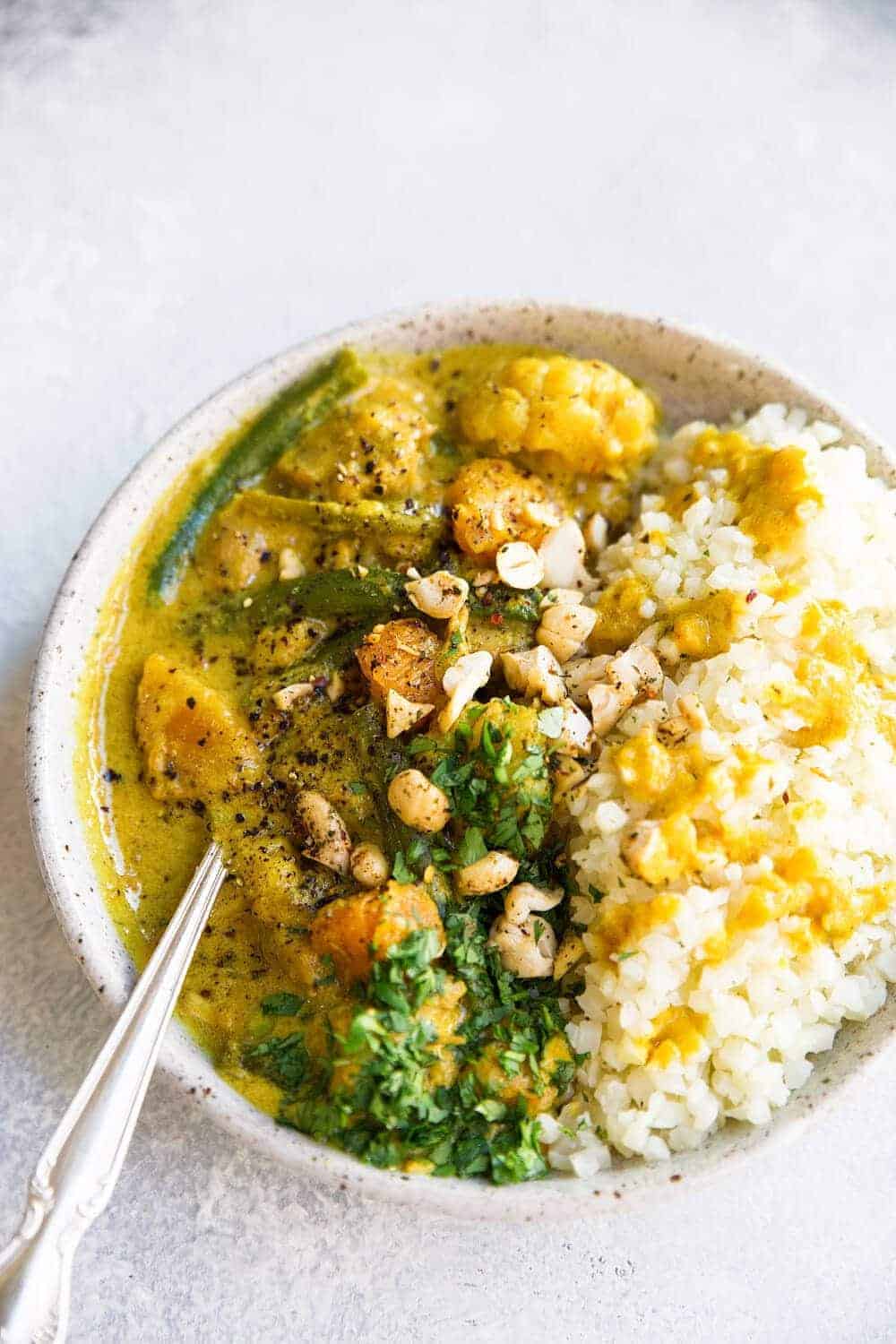 A Whole30 curry that's made for the masses
I made curry, everyone. Considering how often I go out for Thai and Indian food, I cannot believe it has taken me this long to bring curry and all of its glory to life in my kitchen.
Well, I shouldn't say I have never made curry. It has however taken me this long to hold off from eating it at all, in order to take pictures of it. There we go. Now, I've got my facts straight.
It also took me a bit of time to figure out how to make a completely Whole3o compliant. It's not that this recipe is difficult to make.
I just wasn't well versed with Whole30 recipe creation until about a year ago.
More like this:
Whole30 Shakshuka With Cauliflower Rice
This Whole30 chicken curry is loaded up with all of the veggies!
I'm a huge veggie advocate, especially in soups, stews and curries. They bring different flavors (obviously) and textures to the equation outside of your protein source.
This 10 minute Whole30 curry has all the nutrient dense ingredients in it… did you check out the list? I'll give you a sneak preview, just keep scrollin' along ????I love green curry, red curry, panang curry, yellow curry, YOU NAME IT & I LOVE IT. Seriously. I love coconut milk. I love spices. Curry can do me no wrong. When I went to Sprouts to make my first curry recipe, they only had green curry paste available.
So I went with it, and that's fine because green is my favorite color. Yeah, I'm such a kid.
When you make this Whole30 curry, you're going to want to make it again & again
I remember making curry for the first time with a curry paste instead of a bunch of powder. It was so exciting.
I felt like I had discovered something brand new (which I had… at least, for me personally.)
What's so awesome about this recipe (well, one of the things), is that you can get as creative with your vegetables add-ins as you'd like.
I decided to add in some butternut squash, green beans, cauliflower florets, as well as some cauliflower rice to serve with the curry.
Snuck some cauliflower rice into this paleo curry recipe...
This 10 minute Whole30 curry will keep in the refrigerator for up to one week. If you're not in the business of Whole30'ing, can alternatively serve this on steamed brown or white rice, if that's your style.
I am sure there is a reason they always serve it with curry at restaurants. So. dang. good. That's why.
But eating this curry with cauliflower rice is just as delicious, in my opinion. Just wait and see…!Oh- hey! Have you happened to see my brand, spanking new Whole30 Meal Plan? I've changed up the layout a bit and included 40+ recipes within the post.
This Whole30 chicken curry is the bee's knees. After you make it once, I know it will become a frequent go to in your home!
It's seriously time to dig in.
Oh, your kitchen is going to smell like curry for a few days. Breathe in, breathe out and embrace it ????
This post is sponsored by the lovely folks at Bonafide Provisions. Thank you for allowing me to continue creating such incredible content by supporting relationships with incredible brands and companies that The Movement Menu enjoys working with! Opinions will always remain 100% my own!
Whole30 Chicken Curry
Whole30 Chicken Curry. Quick, healthy and way too easy to prepare! This Whole30 curry is a serious meal planning game changer. It tastes absolutely delicious reheated and is the perfect lunch or dinner meal!
Print Recipe
Pin Recipe
Rate Recipe
Instructions
Heat a high-rimmed sauté pan with 1 tablespoon of ghee. While it is heating up, season your chicken thigh cubes with salt and pepper.

Pan fry the chicken until lightly brown on all sides. Using a slotted spoon, transfer the chunks into a bowl and set aside. Discard the excess fat and juice from the pan.

Add in bone broth and let onions cook until they look translucent (about 4-5 minutes).

Throw the chicken back into the pan and add green curry paste. Stir until well combined, and pour in the canned coconut milk. Let it just come to a boil and turn it on medium-low heat.

Add in all of the vegetables and other spices. Once the vegetables have cooked through (check if they are fork tender), lower the heat to a simmer and stir in turmeric.

Add sea salt and ground black pepper, to taste.

Let the curry simmer for 15-20 minutes, and mix in or top off with some fresh cilantro. Serve with cauliflower rice and top off with spiced cashews.
Notes
You can play around with the spice amounts once your curry begins to simmer. I prefer my curries with a kick, so I added a good amount more of red chili flakes and pepper, as well as turmeric.
Nutrition
Calories:
579
kcal
|
Carbohydrates:
28
g
|
Protein:
29
g
|
Fat:
42
g
|
Saturated Fat:
33
g
|
Cholesterol:
115
mg
|
Sodium:
158
mg
|
Potassium:
1315
mg
|
Fiber:
8
g
|
Sugar:
10
g
|
Calcium:
121
mg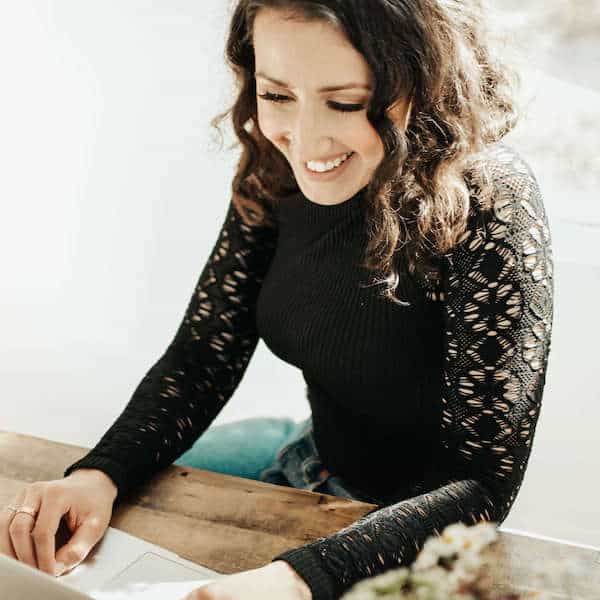 Hi! I'm Monica – recipe developer, matcha addict and lover of all things chocolate, kombucha and any & all puns. I am also the blogger, real food lover, & bonafide hustler behind the blog 'The Movement Menu.' I'm so excited to welcome you to my happy space, where my appreciation of creative recipes and healthy & mindful eats come together to inspire you to live a healthy, balanced life.