The whole family will love this incredibly light and flavorful Whole30 Greek salmon recipe. It's served with a play on traditional Greek salad and paired with steamed cauliflower rice. Gluten free, low carb, paleo and Whole30 compliant!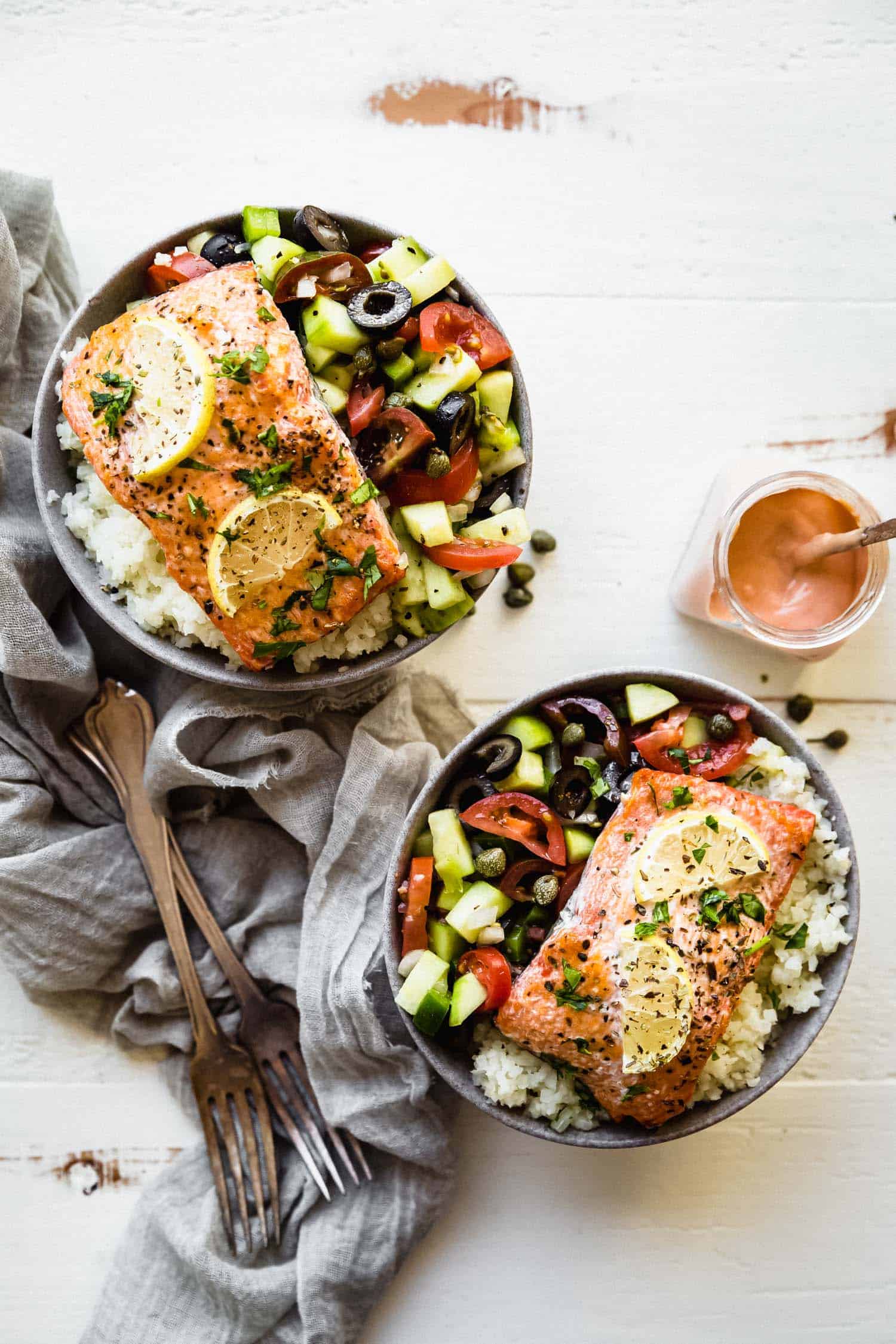 A whole30 mayonnaise base that's the perfect salmon marinade!
I've created something magical that needs to be shared. It's the delicious tomato garlic mayonnaise that is layered over the salmon filets before they go into the oven.
This whole30 mayo has been the base for many great recipes and condiments alike. It's whipped up in just 30 seconds using an immersion blender and packs so much flavor!
In my opinion, this is a completely fool proof technique! If you follow my notes and advice in regards to the ingredient list, technique and the size of the vessel you're making the mayo inside, it'll turn out perfect!
When you brush mayo onto salmon before it goes into the oven, you are left with an extremely succulent, tender piece of protein. Otherwise, there is a chance of if getting dry or tasting a bit underwhelming.
Can I eat the Greek salmon as leftovers?
Just last week, I made a more garlicky version of this tomato garlic mayo to use as a dipping sauce with my patatas bravas recipe. I loved it so much, I knew it would be a great addition to this dish.
Tomatoes and garlic are often found in Greek cooking, and I already had fresh cherry tomatoes in my salad! It was a real no brainer here!
I know this Whole30 Greek salmon would make a perfect and seamless addition into any Whole30 meal plan.
It tastes great as leftovers, as salmon is one of my favorite foods to eat cold because hey, I don't want to reheat and risk overcooking it!
I prefer to store the salad and cauliflower rice separate from the cooked salmon filets. When I'm ready to eat leftovers, I grab however much salad & rice I am hungry for and top it off with a pre-portioned piece of salmon.
Another big bonus is that you will have plenty of leftover tomato garlic mayonnaise for all of your dipping desires! 🙂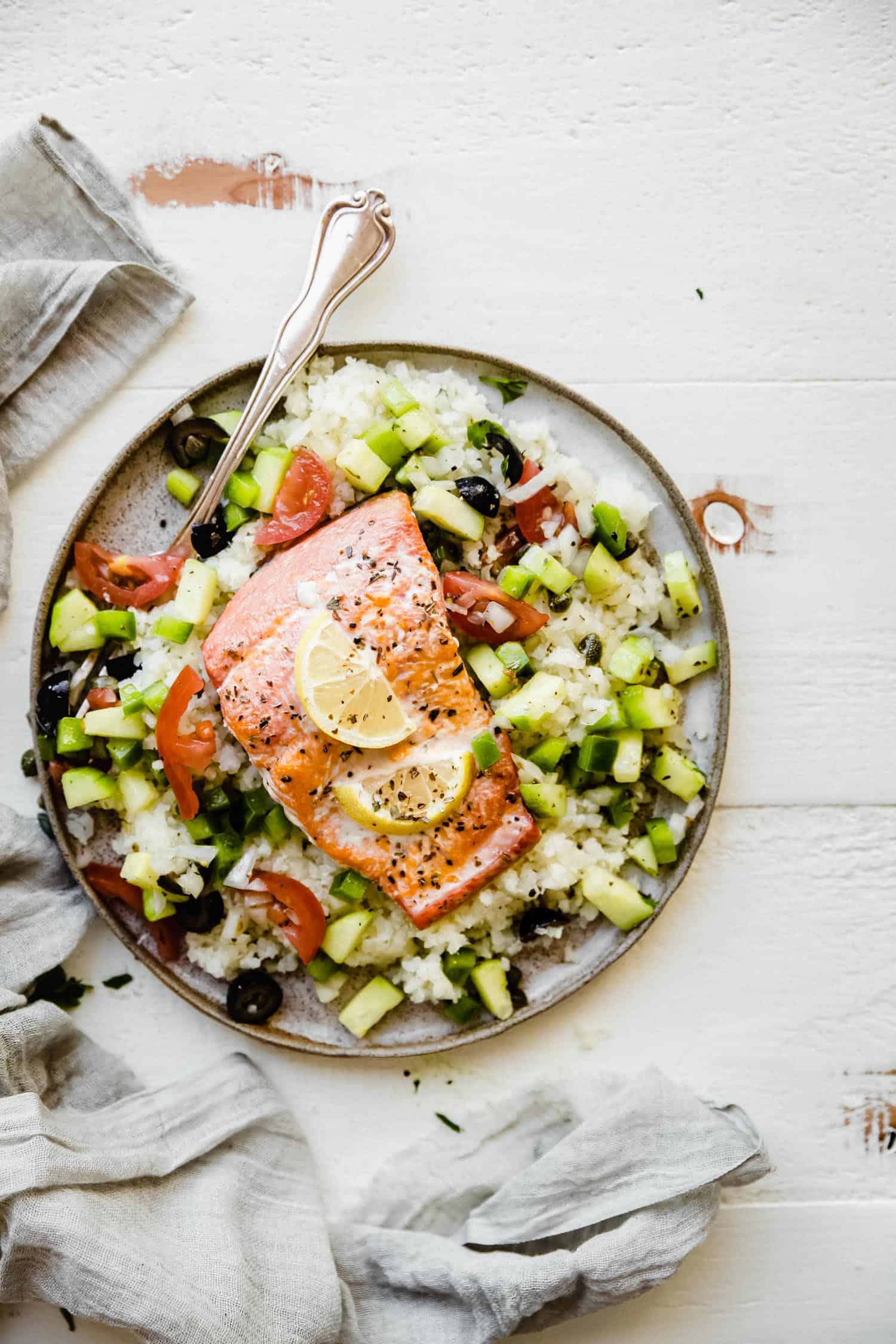 How long should I cook my Whole30 salmon in the oven?
If you're feeling real ambitious, be sure to jump on my patatas bravas dish and dip them into the remaining delicious and creamy sauce.
Let's chat about the time these salmon filets should spend in the oven. In my opinion, there is nothing worse than an overcooked piece of meat or fish.
I prefer to undercook my proteins. Let me tell you why...! If I want to reheat them later, they will not dry out & still taste just as good as the first time they were made.
That being said, you can absolutely add a few minutes to the cook time for the salmon if you prefer it. However, if you follow my cooking instructions, the salmon will taste delicious reheated or cold! 🙂
I'm also one to order my steaks pretty darn close to rare at restaurants. In fact, I'm known to say obnoxious things like: "Just knock the horns off, please!"
I'm the worst.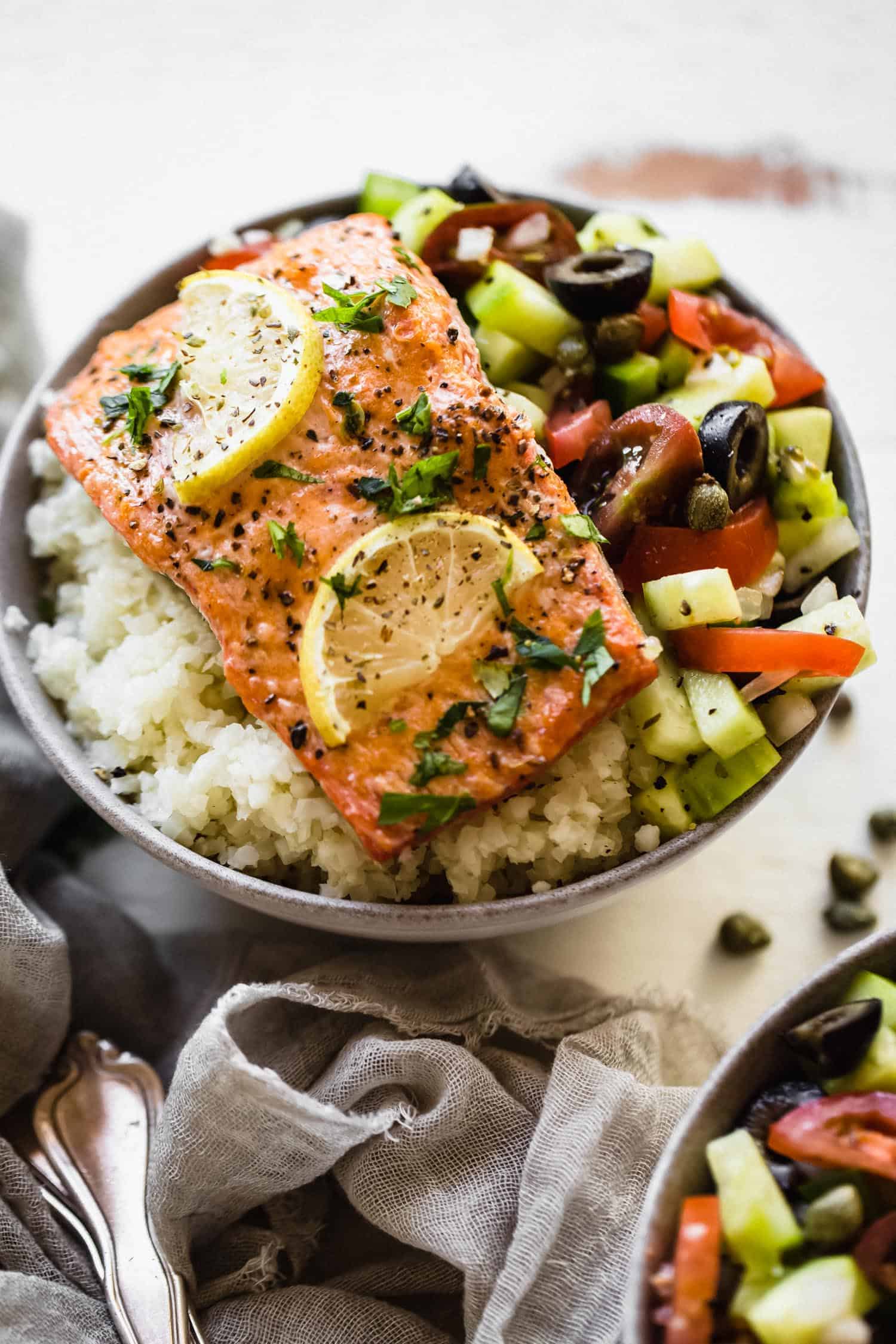 Can I cook this Whole30 Greek salmon another way instead?
Some other fabulous techniques for cooking salmon include (but are not limited to):
GRILLING: Simply place it skin side down, flip it after 5 minutes, cook it another 5 and check for doneness. Voila!
What's Gaby Cookin's Steamed Salmon: You could make my salmon recipe using her technique, and it would taste absolutely fabulous!
I prefer doing things this way, as you don't need much equipment and can keep a close eye on your fish if you don't have much experience cooking and want to feel confident!
If you end up taking this recipe and cooking it up another way and love it, don't be shy. I want to hear how you prefer to cook your salmon!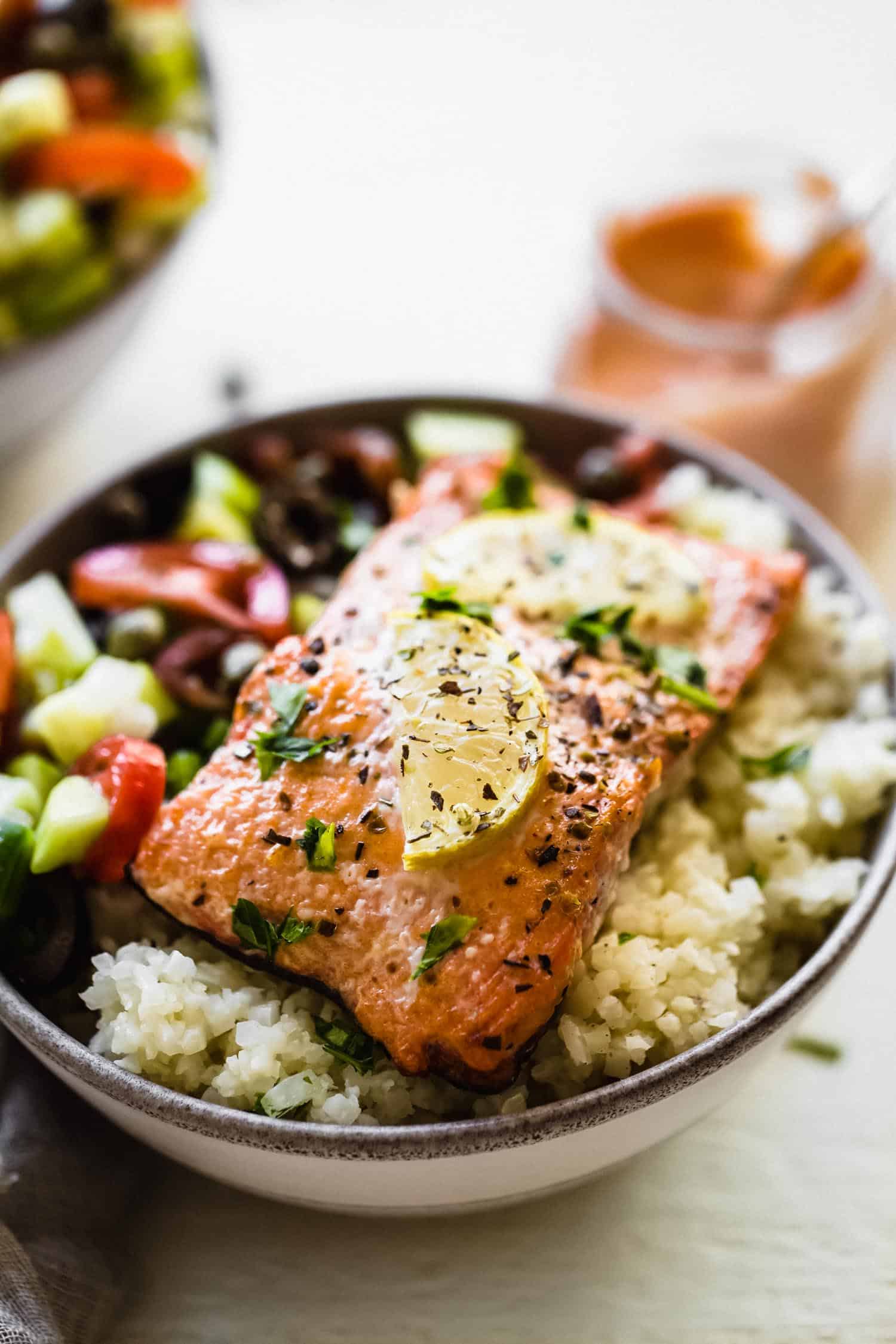 Well, there you have it. We have a fabulous Whole30 Greek salmon recipe that the whole family will love, and it tastes delicious reheated as leftovers.
Is there anything better than that? I prefer to spend as little time as possible in the kitchen prepping food for myself. That's because the majority of my time is now spent with Sophie and taking care of her needs first.
When I come up with a dish like this that is Whole30 compliant, quick AND easy, I tend to want to shout about it from the rooftops.
So, this is me SHOUTING from the rooftops for you to try this delicious dish as soon as possible. You are just going to love it!
More easy Whole30 recipes like this:
Instant Pot Paleo Chicken Tikka Masala
Whole30 Greek Salmon (Gluten Free, Paleo, Low Carb)
The whole family will love this incredibly light and flavorful Whole30 Greek salmon recipe. It's served with a play on traditional Greek salad and paired with steamed cauliflower rice. Gluten free, low carb, paleo and Whole30 compliant!
Print Recipe
Pin Recipe
Rate Recipe
Ingredients
Salmon
1 1/2

pounds

wild salmon filets

cut into 4-6 portions

kosher salt

to taste

black pepper

to taste

1

cup

Homemade Paleo Mayonnaise

SEE NOTES

2

garlic cloves

1/4

cup

tomato paste

2

lemons

sliced thinly

sautéed cauliflower rice

for serving
Salad
1/4

cup

extra virgin olive oil

1 1/2

teaspoons

kosher salt

1

tablespoon

red wine vinegar

1/2

tablespoon

dried oregano

1 1/2

cups

cucumber

peeled and diced

1/4

white onion

finely diced

1

green bell pepper

diced

1/2

cup

cherry tomatoes

halved

2

tablespoons

capers
Instructions
In a small bowl, whisk together olive oil, salt, red wine vinegar and oregano. Add the salad ingredients into a medium bowl and drizzle the mixture on top. Massage well with your hands or using a spoon. Place in the refrigerator to set while you prepare the rest of the dish.

Add garlic cloves and tomato paste to the paleo mayonnaise base. Blend using an immersion blender until by moving it up and down slowly until smooth and creamy throughout. Taste for seasoning and set aside.

Preheat the oven to 375 degrees Fahrenheit and adjust the oven rack to the middle position. Line a baking sheet with parchment paper. Set aside.

Arrange salmon filets on the baking sheet with equal space between each filet. Sprinkle filets with salt and pepper, to taste. Add about a tablespoon of tomato garlic mayo to each filet and use a brush (or your fingers) to spread it evenly across the tops.

Bake at 375 degrees Fahrenheit for 8 minutes. Turn the oven to a low broil and bake an addition 6-10 minutes, based on how you prefer your salmon to be cooked. I do an additional 6, but I prefer my salmon on the rare side.

Serve on top a bed of cauliflower rice and Greek salad. Top off with extra dressing from the salad, lemon slices and fresh parsley and taste for additional salt and pepper. Enjoy!
Notes
This is the base (paleo homemade mayonnaise) for the tomato garlic mayo to be used on the salmon!
You can make the salad the day / evening prior and let it set in the refrigerator overnight. The flavors will be even more pronounced!
Nutrition
Calories:
774
kcal
|
Carbohydrates:
17
g
|
Protein:
36
g
|
Fat:
61
g
|
Saturated Fat:
8
g
|
Cholesterol:
94
mg
|
Sodium:
1513
mg
|
Potassium:
1245
mg
|
Fiber:
4
g
|
Sugar:
6
g
|
Calcium:
63
mg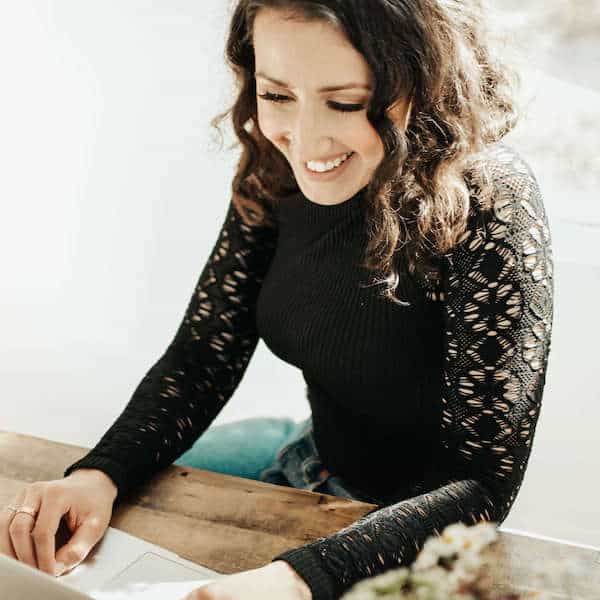 Hi! I'm Monica – recipe developer, matcha addict and lover of all things chocolate, kombucha and any & all puns. I am also the blogger, real food lover, & bonafide hustler behind the blog 'The Movement Menu.' I'm so excited to welcome you to my happy space, where my appreciation of creative recipes and healthy & mindful eats come together to inspire you to live a healthy, balanced life.