These creamy peanut butter overnight oats are made with gluten free rolled oats, chia seeds, non-dairy milk and are naturally sweetened with maple syrup. They are perfect for breakfast or as a snack for both kids and adults. This recipe is gluten free, dairy free, and vegan!
What are overnight oats?
Overnight oats are one of my favorite things to eat for breakfast or as a snack.
When you soak them overnight, it's almost as if they have been cooked. The liquid absorbs so beautifully, and they are so tender and delicious as a result.
A huge bonus is that soaking the oats really aids in the process of the starches breaking down which helps our bodies break everything down a lot more easily.
I don't always want to fire up the stove every morning for breakfast, and it's really nice to take a break and dive into a creamy bowl of oats that are already prepped in the fridge!
What I absolutely love about these oats is how nutritious they are.
I prefer to add in chia seeds for fiber, and I love the creaminess and flavor that comes from the peanut butter (and that additional healthy fat and protein.)
I wanted to create a rendition of overnight oats that was full of extra protein, fat, and fiber. It makes for such a more well balanced breakfast/snack!
The ingredients you need for peanut butter overnight oats
You won't need much to make these fabulous overnight oats.
If you cannot do peanut butter or do not have access to it, feel free to swap it out for almond butter, cashew butter or another favorite, creamy nut butter!
Here is what you'll need:
Gluten free rolled oats: I recommend checking the label to ensure the oats are certified gluten free.
Non-dairy milk: I prefer to use a creamy almond milk, flax milk, hemp milk or oat milk.
Chia seeds: My favorite way to add wonderful texture and fiber.
Creamy peanut butter: Feel free to grab a creamy almond butter or cashew butter instead.
Maple syrup: Make sure you are getting Grade A or Grade B pure maple syrup!
Vanilla extract: Really heightens all the flavors... don't skip it! 😉
I love the convenience that comes to the table when it comes to making overnight oats.
Mornings can be super hectic, so anything I can do to reduce the amount of time I spend prepping and making food is a huge win.
We have been loving these oats as part of breakfast but also as a quick and easy yet nutritious snack! 🙂
Kids love them, but I'll be honest... Sophie is their #1 fan. i don't think she's a huge fan of warm oats and doesn't have a ton of patience waiting for them to cool down.
So, these are a double whammy when it comes to convenience and ease over here.
How to make peanut butter overnight oats
In a large glass bowl or Tupperware container, add non-dairy milk, chia seeds, peanut butter butter, maple syrup and vanilla extract. Stir well with a spoon to combine.
Add the oats and give it another good stir. Be sure the oats are completely submerged in the liquid in order to ensure an even setting process.
Cover with a lid or plastic wrap and let it set in the refrigerator overnight (or for at least 4-6 hours!)
When it is ready, give it another good stir and serve with extra peanut butter (if you'd like) and 4-ingredient strawberry chia jam.
I highly recommend using creamy peanut butter. It makes a huge difference in texture.
Toppings and suggestions for overnight oats
You can top off your overnight oats with all kinds of goodness.
I love eating them plain too, but here are some other ideas:
Fresh fruit
Extra peanut butter
Toasted coconut flakes
Chia seeds, flax seeds and/or hemp seeds
Roasted nuts, roughly chopped
How Long Do Overnight Oats Last?
Your overnight oats should last for 3-5 days in an air-tight container in the refrigerator.
The texture will change slightly day by day as they continue to soak up more and more liquid.
I recommend making a batch that will last for about 3 days instead of doubling the recipe and having them in the fridge all week long-- just personal preference here!
More healthy breakfast recipes you'll love:
Almond Butter & Jelly Overnight Oats
Chocolate Strawberry Vegan Granola
One Bowl Vegan Chocolate Banana Bread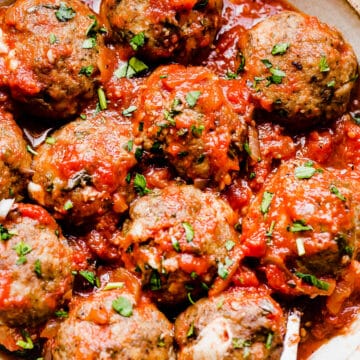 Keto Mozzarella Stuffed Meatballs
These keto mozzarella stuffed meatballs are the perfect addition to your weekly menu. They are paired with a quick and healthy stovetop tomato sauce and are moist and delicious!
Print Recipe
Pin Recipe
Rate Recipe
Ingredients
Meatballs
2

pounds

ground meat

see notes

1

tablespoon

extra virgin olive oil

1/2

small white onion

finely chopped

1

large egg

1

cup

almond flour

1/2

cup

grated parmesan

1/4

cup

fresh parsley

finely chopped

1/4

cup

fresh basil

finely chopped

2

teaspoons

black pepper

12

ounces

fresh mozzarella cheese

cut into 24 even pieces, see notes
Red Sauce
1 1/2

tablespoons

extra virgin olive oil

1

medium yellow onion

chopped

2

teaspoons

kosher salt

1/8

teaspoon

black pepper

1

teaspoon

dried oregano

8

garlic cloves

minced

36

ounces

crushed tomatoes

see notes

1/4

cup

fresh basil

chopped

1 1/2

tablespoons

coconut sugar

2

tablespoons

grass-fed butter or ghee

kosher salt

to taste

black pepper

to taste
Instructions
Preheat oven to 375°F, and line a baking sheet with parchment paper. Adjust the oven rack to the middle position.

Slice mozzarella into 24 small chunks and set aside.

In a large bowl, mix together ground meat, oil, onion, egg, almond flour, parmesan cheese, parsley, basil, and pepper. Mix just until combined (over mixing will create tough meatballs!)

Divide meat into 24 even pieces. Wrap each piece around a piece of mozzarella cheese. Roll into a ball ensuring all of the cheese is completely covered by the meatball.

Space evenly on the baking sheet, and bake for 30 minutes, rotating halfway through. A little of the cheese may leak out of some of the meatballs, that's fine… there is plenty inside, too!

While they are baking, prepare the red sauce. Heat a medium saucepan over medium heat for 1 minute. Add olive oil and heat through for another minute.

Add diced onion and stir for 1 minute. Add dried spices (salt, pepper, and oregano.) Cook for another 4-5 mins until softened, stirring occasionally.

Throw in the garlic cloves and sauté one more min, stirring frequently.

Add the tomatoes and fresh basil. Let the mixture come to a low boil. Add the coconut sugar, stir, and turn the heat down to a simmer. Let cook for about 10 minutes, stirring occasionally.

Add butter and let it simmer for another 7-10 minutes so all the flavors meld together. Taste for additional salt and pepper.

Remove meatballs from the oven, gently stir into the sauce, and let simmer on the stovetop for an additional 15 minutes. Taste for salt and pepper and serve with your choice of pasta or low carb pasta.
Notes
Sauce: Feel free to use your own favorite red sauce of choice or grab one of your favorite jars from the store, i.e. arrabiata, tomato basil, marinara, etc.
Ground meat: I like to use a mixture of ground chicken or turkey and ground beef (80/20 or 85/15 ground beef.)
Mozzarella: I like to purchase a fresh mozzarella cheese block. It usually comes in a tightly wrapped plastic package.
Crushed tomatoes: You can alternatively use diced tomatoes. If doing so, I like to run the sauce through a blender / immersion blender for a few seconds to make it less chunky.
Nutrition
Calories:
662
kcal
|
Carbohydrates:
18
g
|
Protein:
38
g
|
Fat:
50
g
|
Saturated Fat:
19
g
|
Cholesterol:
150
mg
|
Sodium:
1203
mg
|
Potassium:
785
mg
|
Fiber:
5
g
|
Sugar:
9
g
|
Calcium:
401
mg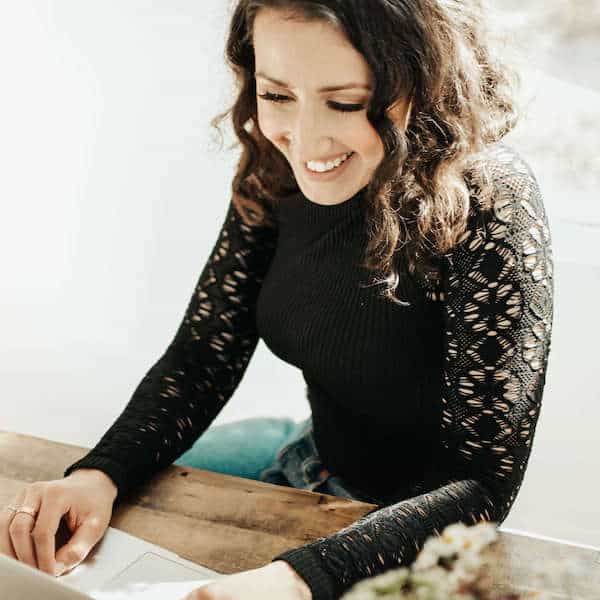 Hi! I'm Monica – recipe developer, matcha addict and lover of all things chocolate, kombucha and any & all puns. I am also the blogger, real food lover, & bonafide hustler behind the blog 'The Movement Menu.' I'm so excited to welcome you to my happy space, where my appreciation of creative recipes and healthy & mindful eats come together to inspire you to live a healthy, balanced life.