This vegan pumpkin pie overnight oats recipe is like a foodie's dream come true. It's loaded up with fiber and makes the perfect breakfast, snack or healthy dessert. These overnight oats are gluten free, dairy free and vegan, too!
Just wanted to let you know these vegan pumpkin pie overnight oats are sponsored by my friends at One Degree Organics!
Pumpkin pie overnight oats will now become your breakfast go-to!
I swear these overnight oats are a game changer. Luckily, you will be able to find these ingredients year-round and don't need to wait until October to get them.
Does it sound a little wacky to have pumpkin pie flavors, apples and caramel all together in one bite?
It may sound wacky, but the only thing whack about it is how delicious it is. Like, why didn't I think of this brilliant combination sooner?!
We are totally gearing up for fall over here, let me tell you. I've got a pantry full of everything pumpkin, and I cannot wait to unleash some serious deliciousness all season long.
Did I already mention my @whole30recipes takeover I am doing the first week of December? I can't hardly wait.
I am going to be highlighting some of my favorite Whole30 recipes but also coming out with so many new ones. I'm also planning on teaming up with some incredible brands to host a few giveaways during that week- stay tuned.
Unfortunately, these overnight oats are definitely not whole30 compliant. Heck, they aren't even paleo.
But I am a woman of flexibility. I choose to eat things that nourish my body, even if they aren't part of my "paleo" persona.
I fully understand that there are so many people who have to eat paleo in order to maintain their health, but I am very lucky that I am able to bend the rules.
More like this:
One Bowl Vegan Chocolate Banana Bread
Almond Butter & Jelly Vegan Overnight Oats
Chocolate Strawberry Vegan Granola
Do you imagine eating these pumpkin pie overnight oats the week of Thanksgiving? Don't wait that long.
In fact, since making this batch, I have already prepped another 4 servings for later on in the week. Tim is not a big fan of pumpkin flavored things, and he was all over these.
I think it was the apple and caramel layers that really did him in. Pumpkin, apples & caramel just go together so darn well!
You may be wondering why I used organic sprouted oats in this recipe. Well, did you know:
Sprouting grains, seeds, nuts, etc. before consuming them means both easier digestion & absorption!
Better absorption equates to better nutrition. Since your body can absorb the nutrients easier, you get to hold on to them and reap the benefits!
Pretty fantastic, huh? The sprouted oats in the pumpkin pie overnight oats just elevates the nutrients in this powerhouse breakfast snack dessert mash-up!
Is that allowed? Yeah, I think so. This can definitely be served as any of the three.
If you're feeling truly decadent and want to devour these overnight oats as dessert, drizzle on some extra caramel on top and pile on some homemade dairy free whipped coconut cream.
Now, that sounds absolutely divine. I may have to follow my own advice...
Well, there's really no reason to delay. Get your hands on these pumpkin pie overnight oats ASAP.
I'll be working them into my breakfast rotation all fall and winter long. Heck, they may even appear well into the spring and summer months.
What if you brought these oats to a Thanksgiving celebration? Not a bad idea!
You can offer them up as dessert, and I bet people would be so excited for a change from the traditional Thanksgiving desserts. Enjoy! 🙂
This post is sponsored by the lovely folks at One Degree Organics. Thank you for allowing me to continue creating such incredible content by supporting relationships with incredible brands and companies that The Movement Menu enjoys working with! Opinions will always remain 100% my own!
Vegan Pumpkin Pie Overnight Oats
This vegan pumpkin pie overnight oats recipe is like a foodie's dream come true. It's loaded up with fiber and makes the perfect breakfast, snack or healthy dessert. These overnight oats are gluten free, dairy free and vegan, too!
Print Recipe
Pin Recipe
Rate Recipe
Ingredients
Oats
2

cups

unsweetened coconut or almond milk

2

cups

organic sprouted rolled oats

3

tablespoons

chia seeds

2

teaspoons

pure vanilla extract

2

apples

peeled and diced
Caramel Sauce (makes about 1 1/2 cups)
Instructions
Oats
Combine all of the ingredients (except for the apples) together in a large glass bowl.

Cover with plastic wrap and let it set in the refrigerator for at least 4 hours or overnight.

Add the diced apples to a small saucepan and add enough water to cover the tops. Turn the heat on high and bring the water to a low boil. Lower the heat to a simmer. Let the apples cook about 3-5 minutes until they are fork tender and drain. Set aside.
Caramel Sauce
Pour maple syrup and coconut sugar into a heavy bottomed saucepan. Bring to a boil over medium heat and let boil softly for ~15 minutes. Stir every few minutes with a heat proof spatula to keep the bubbles down.

Once the syrup begins to coat the outside of a spatula or spoon, it's time to add the coconut milk. Raise the heat again and bring to a low boil and turn back down. Continue stirring until it begins to thicken up quite a bit.

Remove from heat and stir in oil, salt, and vanilla extract.

Let cool to room temperature, stirring occasionally to keep the fat incorporated.

Toss the apples in caramel sauce and layer this mixture with the overnight oats into a bowl or glass jars. Enjoy!
Notes
The caramel sauce can be poured into an airtight glass container and stored in the refrigerator for up to 2 weeks.
Nutrition
Calories:
862
kcal
|
Carbohydrates:
112
g
|
Protein:
10
g
|
Fat:
44
g
|
Saturated Fat:
35
g
|
Sodium:
342
mg
|
Potassium:
789
mg
|
Fiber:
10
g
|
Sugar:
66
g
|
Calcium:
196
mg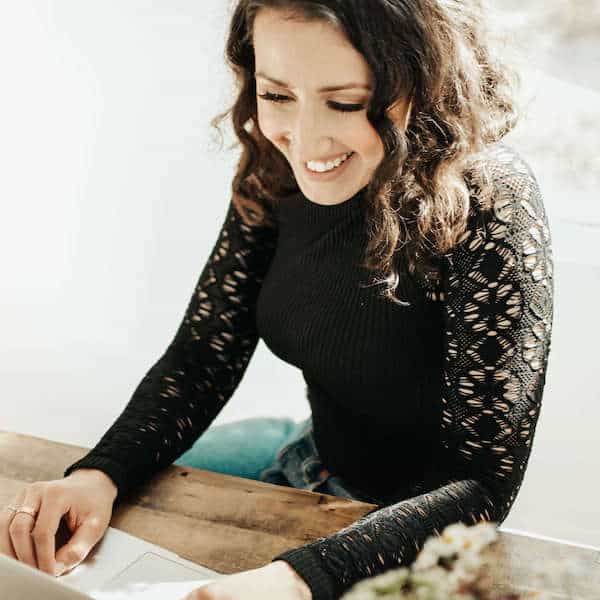 Hi! I'm Monica – recipe developer, matcha addict and lover of all things chocolate, kombucha and any & all puns. I am also the blogger, real food lover, & bonafide hustler behind the blog 'The Movement Menu.' I'm so excited to welcome you to my happy space, where my appreciation of creative recipes and healthy & mindful eats come together to inspire you to live a healthy, balanced life.