These Whole30 easy steak fajitas are quick to make and full of so much flavor. In fact, you'll only need one pan to make this healthy and filling meal, and it's also paleo, low carb & Whole30 compliant.
Just letting you know these Whole30 easy steak fajitas are sponsored by the awesome folks at Bonafide Provisions!
It's week one of our Whole30. Who's us? Well, I'm doing my fifth round, but it's my husband's second time. We recruited my best friend and her boyfriend to do it with us, too.
I know I'll be bringing over a pan of these Whole30 Easy Steak Fajitas to their place on game night. They're so lucky.
There's nothing better than having the support of friends and family members when embarking on a Whole30. I talk about this and other tips before starting a Whole30 here.
In fact, if you've never done a Whole30, I have TWO meal plans I created with several options including breakfast, lunch, dinner and side dishes to eat during and after your Whole30.
How to make Whole30 easy steak fajitas
In a small bowl, combine all of the marinade ingredients together using a whisk. Transfer the marinade to a gallon ziplock bag and add the flank steak.
Press out any excess air and close the bag. Make sure you massage the meat thoroughly with your fingers so the marinade is evenly incorporated. Let it marinade for at least 1 hour.
Heat a large cast iron pan up on medium-high heat. Remove the flank steak from the bag and place on a cutting board. Reserve the marinade and set aside. Generously season the steak with salt and pepper.
Gently place the steak into the pan and let cook for 4 1/2 - 5 minutes. Flip over and cook for another 4 1/2 - 5 minutes. Remove from the pan and let rest for 10 minutes with foil tented over it.
While the steak is resting, it's time to cook the vegetables. Scrape up the brown bits leftover in the pan and add the bone broth and reserved marinade. Add vegetables and cook for 8-10 minutes until soft and cooked through. Turn off the heat.
Slice the steak against the grain and layer on top of the cooked vegetables. Slice the steak against the grain and layer on top of the cooked vegetables. Enjoy!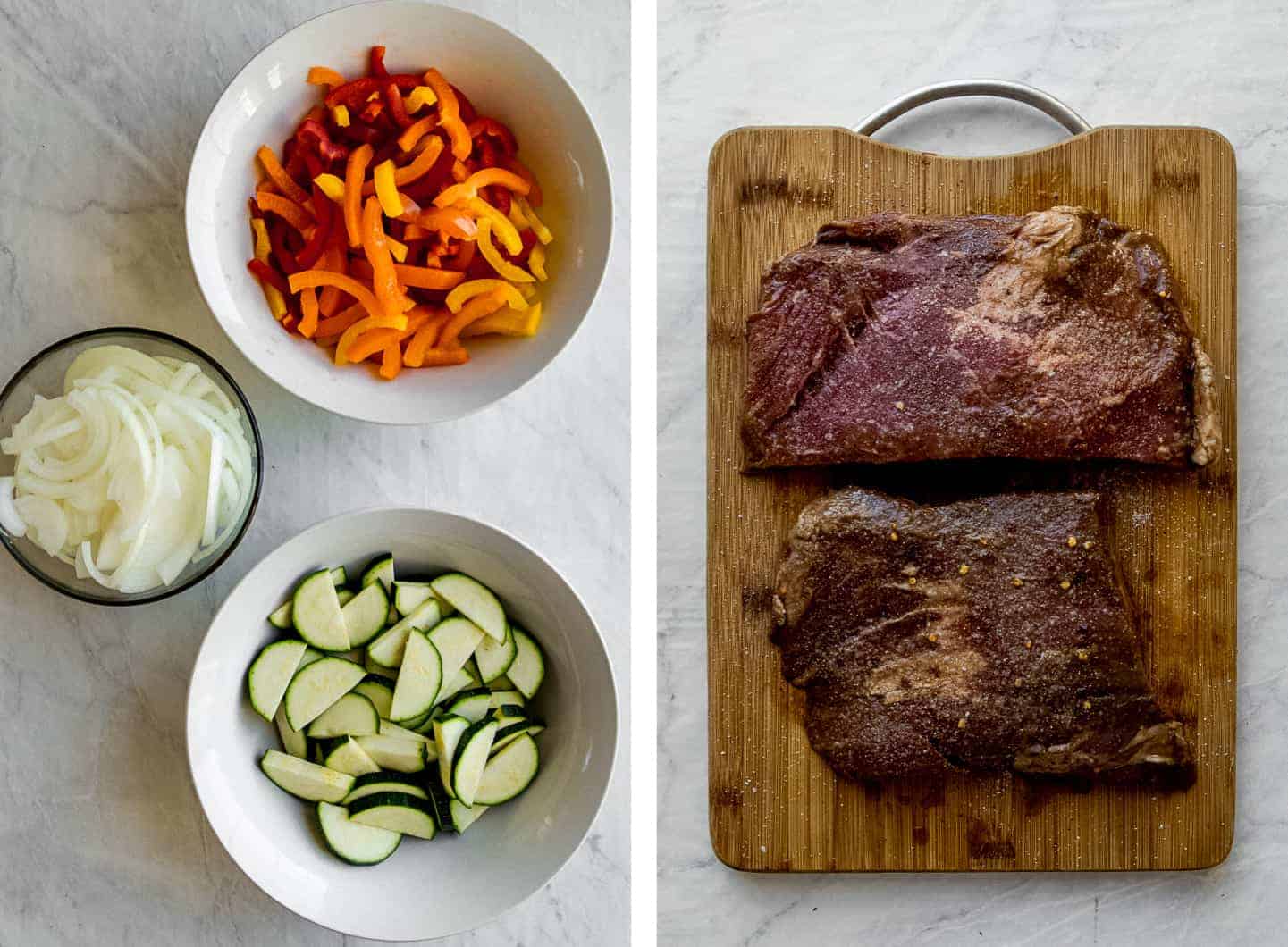 What can I do with the reserve marinade in this fajitas recipe?
You can either reduce it down after everything is finished cooking OR you can simply discard it.
It's pretty darn delicious as a sauce. You just want to make sure the liquid reaches a boiling point and cooks through so you don't need to worry about the raw meat that was marinating in it.
In fact, I've made this marinade intentionally as a sauce and stored it in my freezer so I can use it as a flooster (FLAVOR BOOSTER) in a pinch.
From the looks of it, it sounds like a lot of people are following my lead and using the leftover marinade as a sauce. I'm a fan of this idea.
Recipe notes & substitutions
Cooking times will vary slightly depending on the exact thickness of your steak(s). A good rule of thumb is to check the cook on it by pressing on it lightly with your thumb.
Refer to these rules in this awesome illustration made by Food52. I like my steak rare to medium rare, so I want it to feel soft and squishy like my cheeks.
Rare: 4.5-5 minutes each side.
Medium rare: 6 minutes each side.
Medium: 7-8 minutes each side.
Feel free to use whatever kind of vegetables you'd like. What makes this dish a fajitas recipe is the inclusion of bell peppers and onions. I've added zucchini because I just absolutely love it paired with steak.
You can use mushrooms, asparagus, other squash varieties, etc. Just be sure you cook the vegetables long enough so they are all done. If you are using a vegetable that takes longer to cook than the others, add it to the pan first and let it soften up a bit first.