This easy paleo cashew chicken can all be prepared in just one pan, and it is delightful with lots of flavor coming from nutritious veggies & a tangy Asian inspired stir fry sauce. It's the perfect gluten free, dairy free and low carb lunch or dinner for the whole family to enjoy.
Can I make paleo cashew chicken in one pan?
Who doesn't love a one pan recipe, am I right? It seems like you have been pretty receptive when I create a recipe that is made in just one pot or pan.
I've been wanting to create recipes with a lot of intention lately. I love developing meals that are not only delicious but easy to prepare and clean up as well.
Since I myself, do not have a ton of extra time to spend in the kitchen these days (HELLO, SOPHIE!), I figured a lot of you may be appreciate these types of creations as well!
Just last week, I made these fabulous one pan shrimp fajitas, and they are in the process of breaking Pinterest.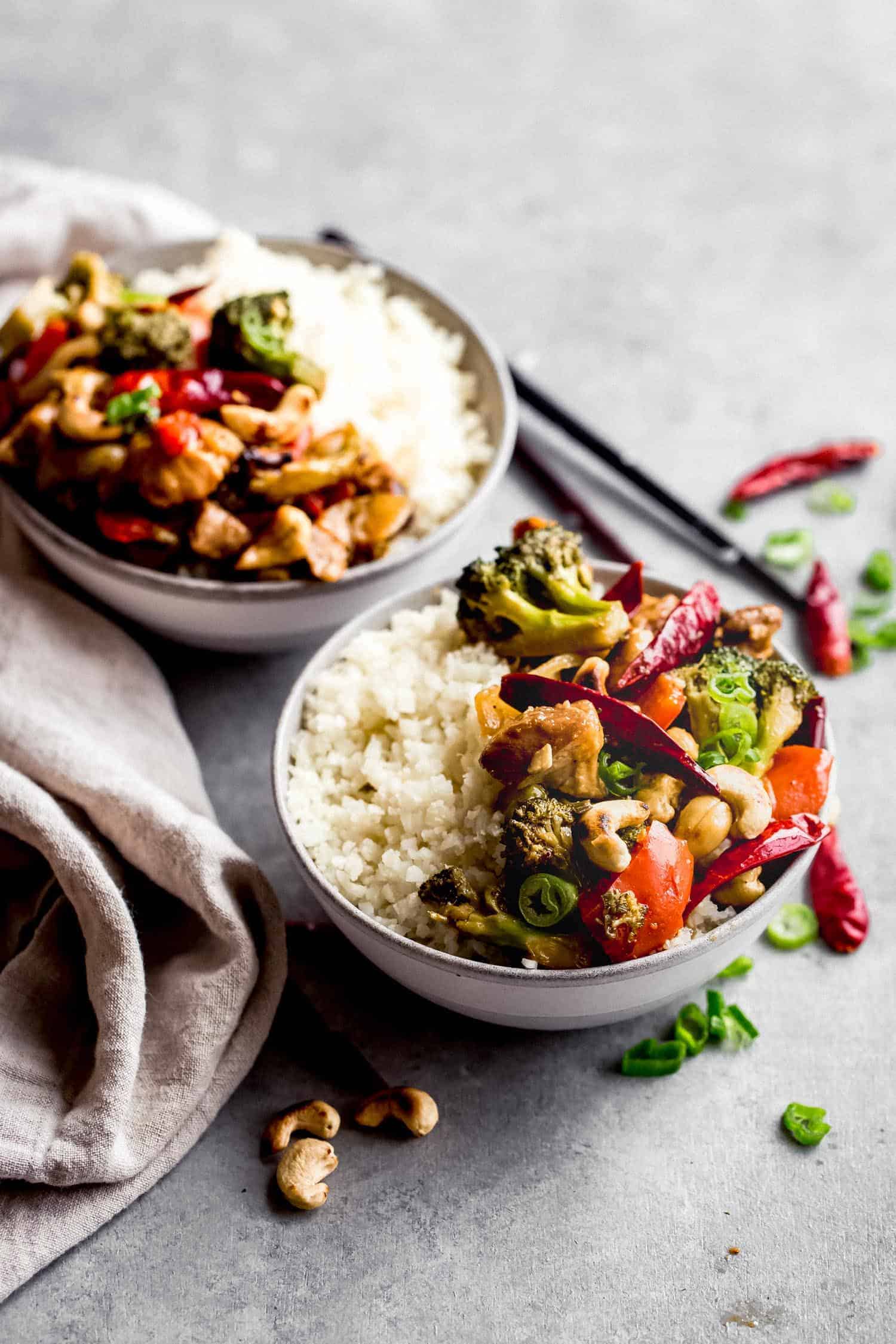 Is this cashew chicken better than at the restaurants?
I'd like to think so. I love knowing there isn't any junky oil or MSG in my Asian recipes.
It has plenty of flavor coming from the aromatics, toasted nuts and that tangy sauce-- mm, mmm!
Why order Thai takeover when you can make the real deal at home??
More one pan recipes like this:
The Best Paleo One Pan Breakfast
Whole30 Shakshuka with Cauliflower Rice
You can absolutely get creative with the vegetables in this recipe!
I decided to use broccoli and red bell peppers because this is the traditional preparation I generally see at many Thai restaurants.
However, if you aren't into the vegetables, you can use: zucchini, mushrooms, baby corn, etc. Just make sure you cut them into chunks of the same size to ensure even cooking!
If you aren't on a Whole30, absolutely serve paleo cashew chicken on a nice bed of fluffy white rice.
It will be absolutely fabulous either way! 🙂
Can I meal prep with this easy paleo recipe?
Be sure to double batch this recipe if you're on a meal prepping spree, as it will freeze very well.
If you're feeling Asian inspired for the week, you can have paleo cashew chicken going on the stove and Thai Chicken Zucchini Noodle Soup in the Instant Pot at the same time!
The whole family will love this recipe. If you are preparing for little ones as well, go easy on the spices and add more to your plates after serving.
Well, that's a wrap. I cannot believe how well this paleo cashew chicken came together, and I cannot wait to make it again.
Tim has already asked me if we are going to have it again this week.
I think I'll absolutely be making a double batch next time.
Easy Paleo Cashew Chicken (Gluten Free, Dairy Free, Low Carb)
This easy paleo cashew chicken can all be prepared in just one pan, and it is delightful with lots of flavor coming from nutritious veggies & a tangy Asian inspired stir fry sauce. It's the perfect gluten free, dairy free and low carb lunch or dinner for the whole family to enjoy.
Print Recipe
Pin Recipe
Rate Recipe
Ingredients
Cashew Chicken
3/4

cup

raw cashews

2

pounds

boneless skinless chicken thighs

cut into bite size pieces

2

teaspoons

kosher salt

1/2

teaspoon

black pepper

2

tablespoons

arrowroot flour

please do not substitute!

2

tablespoons

avocado oil

or olive oil

2

large red bell peppers

cut into chunks

1

medium broccoli head

cut into florets

1

handful

dried red chili peppers

or less/more depending on spice preference

1/2

cup

green onions

sliced

4

garlic cloves

minced

1-2

tablespoons

arrowroot flour

SEE NOTES

1-2

tablespoons

water

SEE NOTES
Instructions
Prepare the sauce first. In a small bowl, whisk together all of the ingredients until combined thoroughly. Set aside.

In a dry, large and heavy skillet or wok, add the cashews in a single layer. Heat over medium heat for 2-3 minutes until golden brown, and they are giving off a toasty fragrance. Stir frequently to prevent burning. Set aside.

On a large and flat surface like a cutting board, toss cubed chicken with salt, pepper, and arrowroot. Be sure it is coated evenly. I like to use my hands here.

Heat avocado oil over high heat for 2 minutes and add cubed chicken to pan, one batch at a time. Be sure not to overload the pan or it will not cook evenly. Cook for 4-5 minutes, stirring frequently but allowing the chicken to turn golden and crisp up. Using a slotted spoon, move from pan and transfer to a large bowl or plate, leaving the chicken juices / oil left behind.

Add peppers, broccoli and chili peppers to the pan. Saute for 5-7 minutes, until the vegetables have become fork tender. Add the chicken back into the pan and cook an additional 4-5 minutes until the chicken has cooked through completely.

Add green onions, garlic cloves and toasted cashews. Stir well. Add sauce to the pan and toss to coat. Create your arrowroot slurry (SEE NOTES) and continue stirring. Once the sauce has reached your desired consistency, serve over a bed of cauliflower rice or white rice with extra green onions.
Notes
You will want to create an arrowroot slurry with the arrowroot flour and water. Start by combining just 1 tablespoon of flour with 1 tablespoon of water. When the cashew chicken is finished cooking, slowly drizzle this mixture into the sauce in the pan while stirring slowly. If it doesn't reach to your desired thickness, do another tablespoon of each!
Nutrition
Calories:
480
kcal
|
Carbohydrates:
25
g
|
Protein:
36
g
|
Fat:
27
g
|
Saturated Fat:
4
g
|
Cholesterol:
144
mg
|
Sodium:
1407
mg
|
Potassium:
944
mg
|
Fiber:
5
g
|
Sugar:
5
g
|
Calcium:
87
mg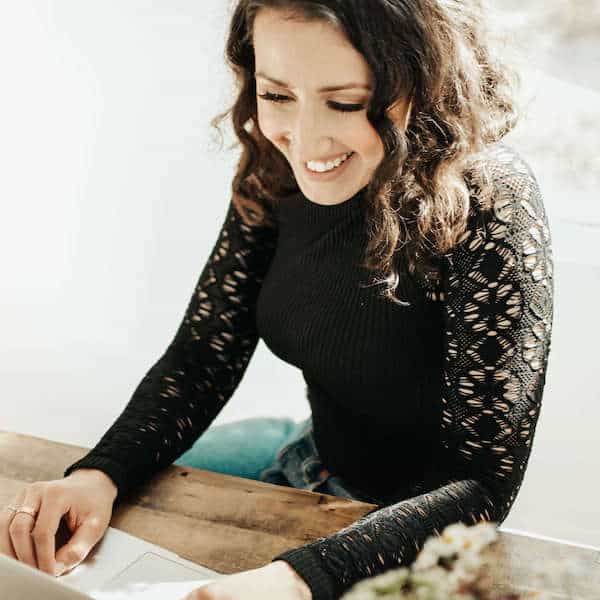 Hi! I'm Monica – recipe developer, matcha addict and lover of all things chocolate, kombucha and any & all puns. I am also the blogger, real food lover, & bonafide hustler behind the blog 'The Movement Menu.' I'm so excited to welcome you to my happy space, where my appreciation of creative recipes and healthy & mindful eats come together to inspire you to live a healthy, balanced life.