Paleo Caramel Pecan Cheesecake Bars
Paleo Caramel Pecan Cheesecake Bars…! Can I even? Do you ever have one of those days where you feel like you've totally outdone yourself? I just did.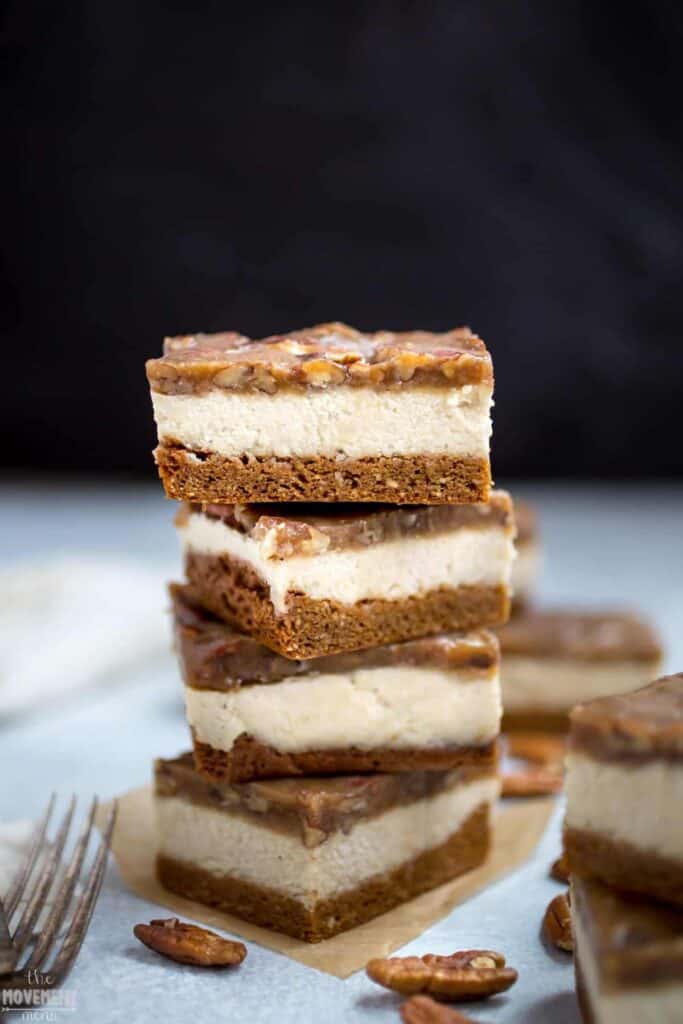 THERE ARE 3 THINGS YOU NEED TO KNOW BEFORE MAKING THESE BARS
1) You should probably start getting ready to make a second batch
2) The pecan caramel layer will send you into an orgasmic state
3) They could be the best birthday present / romantic gesture ever
… and that's not all. This recipe can be repurposed and tweaked in many different ways. The recipe for the blondie crust can actually be doubled and made into a full batch of blondies. You can take the middle layer, double that and make a delicious dairy free / vegan cheesecake from it. That caramel pecan topping? Why not make some dark chocolate candies with the caramel pecan oozing from the center? The possibilities are endless. I'm opening doors, people.
The idea for this recipe came from my friend Kaylie over at Paleo & Gluten Free Eats. She was sharing certain ingredients that were trending this season, and while we were chatting on the phone, these Paleo Caramel Pecan Cheesecake Bars came right to me.
THE PERFECT RECIPE FOR ANY SPECIAL OCCASION
The first time I made a recipe for the blondie base layer of these Paleo Caramel Pecan Cheesecake Bars, I knew it was a winner that I could start incorporating into many different bar recipes.
The warmth and nuttiness that the cashews bring accompanied with the brown butter are the perfect accompaniment to the creamy & light cheesecake center.
The decadent caramel pecan layer on top really turns this recipe into an all-star. Bring these bars to your next family or friends gathering- everyone will absolutely flip.
If you have a special occasion or birthday coming up, that's even better! I couldn't think of a better birthday gift than stuffing these Paleo Caramel Pecan Cheesecake Bars down my throat.
DO NOT SHARE, TRUST ME
I am actually still debating what to do with the rest of these incredible bars. My husband keeps assuring me that I don't need to share them with anyone else. Well, it's not really an assurance– more like a threat. He really digs these things.
A content creation client of mine has an office nearby in San Diego, and I teased her a bit, letting her know I'd have some extra paleo treats these week. I may have to sneak some bars out of the freezer and into my car for delivery. I know the hubs will be displeased.
The real issue is that we don't have any friends that live nearby. All of our friends are 45 minutes to 1 hour+ away from us. If these Paleo Pecan Caramel Cheesecake Bars aren't enough incentive to move closer, I don't know what is!
Be sure to whip up these Paleo Pecan Caramel Cheesecake Bars as soon as you possibly can. In fact, my husband has already requested that I get started on a 2nd batch… just for him.
Want some more holiday recipes for this season? Check out two of my absolute favorites:
Paleo Chocolate Marshmallows with Cacao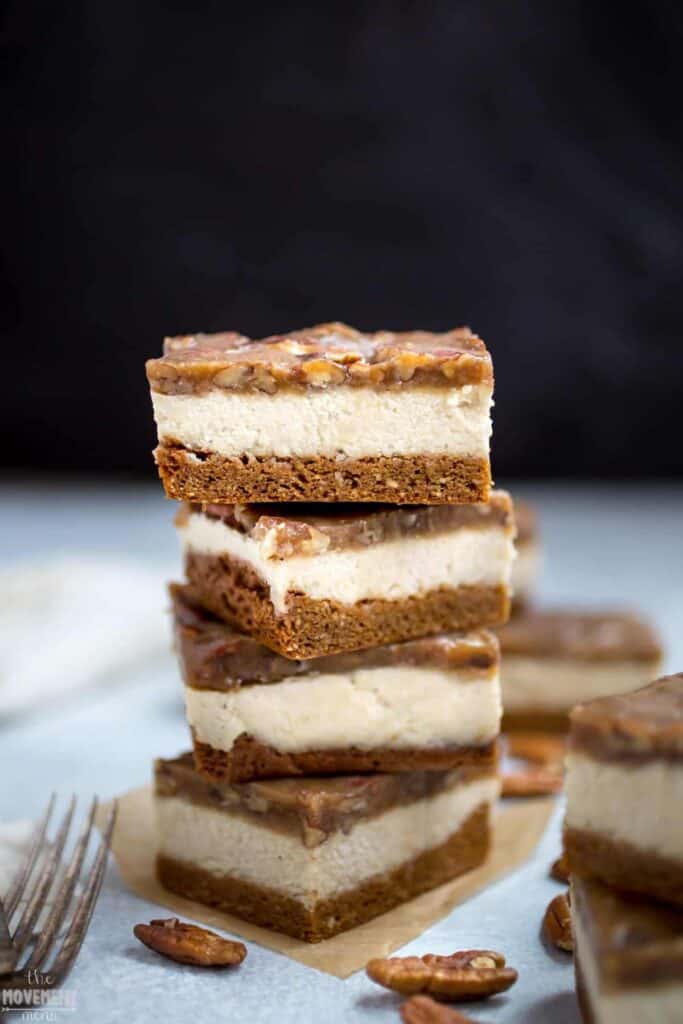 Be sure to bring all of your filling ingredients to room temperature before you begin. Otherwise, your filling will not be smooth!
| | |
| --- | --- |
| Be sure to bring all of your filling ingredients to room temperature before you begin. Otherwise, your filling will not be smooth! | |
Preheat the oven to 350°F (177°C). Lightly coat an 8x8" square baking pan with extra fat. Take out an 8x8' baking pan. Measure out the parchment paper to the width of the longest side of the pan (in this case, it's even). Make sure it's long enough to line the entire bottom of the pan, both sides and have a few inches of overhang on either side.

Pulse raw cashews in a food processor, a few seconds at a time, until they resemble a coarse flour. You don't want any visible chunks of cashews. This should take about 1 minute. Transfer to a large bowl and set aside.

In the same food processor, mix together the cashew butter, brown butter, coconut sugar, egg and vanilla extract until smooth. Stir in the cashew flour, baking soda and salt.

Transfer evenly into the prepared baking pan. You can use an offset spatula to make this process easier. It will be very sticky. Feel free to spray some extra oil or fat onto the spatula to make the spreading process easier. Bake at 350°F (177°C) for 15-20 minutes, or until lightly browned. Set in the refrigerator to cool.

While the blondie layer is cooling, make the cheesecake layer. Drain the soaked cashews & rinse with cold water. Rinse out and dry the food processor bowl. Combine all of the cheesecake layer ingredients until everything is smooth and creamy. Transfer the cheesecake layer on top of the blondie crust. Place in the freezer to set.

Grab a medium sized saucepan, and combine the coconut sugar and maple syrup over a medium-high flame. Bring the mixture to a boil, whisking constantly. Add the pecans and continue cooking for another 3-5 minutes until the mixture reaches between 230°F (110°C). Remove from the heat and stir in the coconut oil and vanilla extract. Let the mixture cool for a few minutes.

Transfer the caramel pecan mixture to the top of the cheesecake layer and spread evenly with an offset spatula. Place back in the freezer to set overnight.

Store in an airtight container in the freezer for up to one month. Serve cold.
Nutrition Facts

Paleo Caramel Pecan Cheesecake Bars

Amount Per Serving

Calories 481

Calories from Fat 360

% Daily Value*

Total Fat 40g 62%

Cholesterol 6mg 2%

Sodium 20mg 1%

Total Carbohydrates 31g 10%

Protein 4g 8%

* Percent Daily Values are based on a 2000 calorie diet.