Best, no bake, raw vegan blueberry cheesecake! This cheesecake is completely refined sugar free, paleo, raw and absolutely delicious! The fresh blueberry topping really takes it over the edge. How about that creamy texture?- Sign me up, please!
This easy vegan blueberry cheesecake recipe is sponsored by the awesome folks at Love Beets!
A raw vegan blueberry cheesecake recipe that outshines the rest!
I absolutely love that the Summer months are here because I am making all of the refreshing and creamy desserts over here! This cheesecake tastes like it has been sent from the heavens.
I decided to use macadamia nuts in the crust, which makes for a deliciously fatty and luscious texture that will not disappoint!
The blueberry layer on top is so darn refreshing thanks to the fresh squeezed lemon juice and tinge of blackberries I've added in.
You can get as experimental as you want and use other types of berries if you'd like! I like to live dangerously through you, so get as creative as possible would ya?
No bake goodness coming up with this vegan blueberry cheesecake
You know what my favorite part about making "cheese" cakes like this is? It's the fact that it doesn't need to spend any time in the oven!
This raw vegan blueberry cheesecake only takes about 20 minutes to prepare and the rest of the time, you're just waiting for everything to set in the freezer.
During the hottest months of the year, I like to spend as little time in the kitchen possible, especially if I'm going to be making dessert. I'm a baked good fiend, don't get me wrong, but in the summer I do not want to turn on the oven okay?
That's why this raw vegan blueberry cheesecake is a winner, winner!
You don't need to bake it. And it'll taste 100x more refreshing and delicious than any traditional cheesecake you've had!
Beet powder- a secret ingredient in the vegan blueberry cheesecake!
The not to secret ingredient that I added to the paleo blueberry cheesecake is beet powder! What's incredible about this stuff is that 1 tablespoon of it amounts to 3 real beets! How insane is that? It also makes for an incredibly gorgeous color when you mix it into that swirl topping. So gorgeous, right?
Beet powder is so dang versatile. Aside from including it in this recipe, I have:
Mixed it with water to make natural food dye
Added it to smoothies & yogurt for an extra boost
Turned up the color and vibrance in homemade sauces
… you get the picture!
As I mentioned earlier, if you feel like going outside of the box and getting creative with this recipe, you absolutely can! I decided to use blackberries and blueberries because well… I haven't yet!
I've made a few different mixed berry desserts and have done an Easy Vegan Raspberry Cheesecake, but I wanted to make something with fresh blueberries because they were in surplus at my local market!
I'm so excited to start sharing more and more recipes like this all Summer long. I'm going to continue to steer clear from using the oven… who's got time for that in this heat? I want you to spend your Summer relaxing and staying as cool as possible.
And if I can provide easy, delicious & refreshing dessert recipes for you that are no bake and freezer friendly, you bet your hiney that is what's going to be happening! ????
If you're looking for the best possible way to kick off some of the hottest months of the year, look no further. This raw vegan blueberry cheesecake is a real crowd pleaser and will satisfy all of your cravings in one bite!
More recipes you may like:
Paleo Vegan Berry Cheesecake Bars
This post is sponsored by the lovely folks at Love Beets. Thank you for allowing me to continue creating such incredible content by supporting relationships with incredible brands and companies that The Movement Menu enjoys working with! Opinions will always remain 100% my own!
Easy Vegan Blueberry Cheesecake
Best, no bake, easy, vegan blueberry cheesecake! This cheesecake is completely refined sugar free, paleo, raw and absolutely delicious! The fresh blueberry topping really takes it over the edge. How about that creamy texture? Sign me up, please!
Print Recipe
Pin Recipe
Rate Recipe
Ingredients
Instructions
Add cashews to a bowl and cover with boiling hot water. Let set, uncovered, for 1 1/2 hours. Rinse and drain thoroughly.

Line the bottom of a 6" or 7" springform pan with parchment paper (cut out a circle) and lightly oil the sides to make it easier to remove once the cheesecake has set.

Combine the nuts in a food processor and pulse until you get a coarse mixture. Add the rest of the crust ingredients and pulse several times until it starts clumping up and forming together.

Transfer the crust mixture into the pan. Press down with your fingers to pack it evenly into the bottom of the pan to create an even base. If it starts to get sticky, lightly wet your fingers with warm water. Set aside.

Add drained cashews and the rest of the filling ingredients to the bowl of your food processor or into a high speed blender pitcher. Process or blend until creamy and smooth throughout, scraping down the sides as needed. *Taste and adjust accordingly. Be sure to add more lemon juice if it's too sweet, more maple syrup if it isn't sweet enough or a pinch more of salt for more balance!*

Pour the filling over the crust but reserve about 1/4 cup and set aside in a small bowl. Tap on the counter a couple of times to release any air bubbles that may have formed. Set aside.

Combine the blueberries, blackberries, lemon juice, honey, chia seeds and beet powder in the bowl of a food processor until pulverized. Add this mixture on top of the filling.

In the small bowl with the 1/4 cup cashew cheese reserve, add the beet powder. Whisk with a fork until combined. Add approximately 2-3 tablespoons of water until it is the consistency of a milkshake. You don't want it runny, but you also want it thin enough so it's easily pourable! Using a 1/2 teaspoon, make circular dots all over the top of the cheesecake and using a toothpick, begin to swirl away! You'll be amazed at the art you're creating 🙂

Place in the freezer to set for at least 4 hours or overnight.

When ready to serve, pull out the cheesecake and allow it to sit at room temperature for about 10-15 minutes before slicing and serving. When you're ready to slice, run your chef's knife under very hot water and dry it off with a towel. Cut the cheesecake using that hot knife- it'll be much easier. Leftovers can be stored in the freezer for up to 2 weeks. Enjoy!
Notes
Be sure to bring all of your filling ingredients to room temperature before you begin. Otherwise, your filling will not be smooth!
You may need more or less than 2-3 tablespoons of water, depending on the exact thickness of your cashew cheese layer. Add the water very slowly and keep a close eye on it!
Nutrition
Serving:
1
slice
|
Calories:
346
kcal
|
Carbohydrates:
22
g
|
Protein:
6
g
|
Fat:
28
g
|
Saturated Fat:
11
g
|
Sodium:
60
mg
|
Potassium:
295
mg
|
Fiber:
4
g
|
Sugar:
13
g
|
Calcium:
41
mg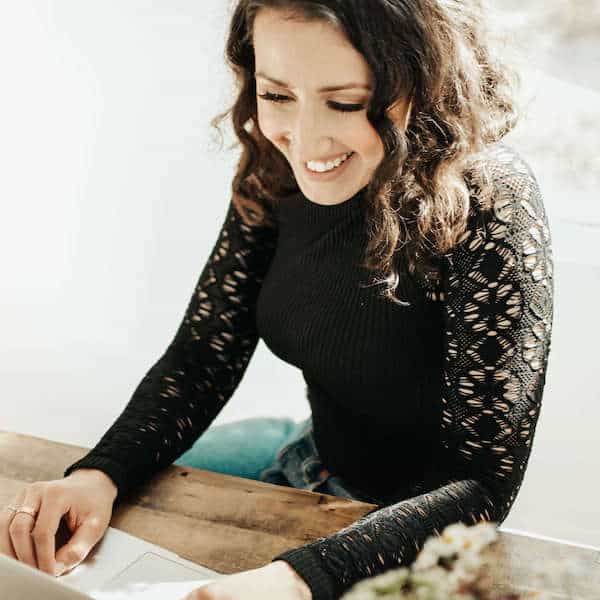 Hi! I'm Monica – recipe developer, matcha addict and lover of all things chocolate, kombucha and any & all puns. I am also the blogger, real food lover, & bonafide hustler behind the blog 'The Movement Menu.' I'm so excited to welcome you to my happy space, where my appreciation of creative recipes and healthy & mindful eats come together to inspire you to live a healthy, balanced life.