This paleo delicata squash bake is the perfect accompaniment to your weekly meal plan or for Thanksgiving and Christmas. The cranberries and pecans are the perfect addition… so fresh and delicious!
Paleo delicata squash is a holiday spread's dream!
Now, we've all seen our fair share of sweet potato bake recipes. While I don't have anything against sweet potatoes, I do think that over the holidays, it's always fun to try new dishes.
Tradition is fantastic, but why not enrich it by showing up to your family gathering with a vibrant and nutritious dish like this one?
This paleo delicata squash bake was made with all the love in the world. It's an absolute must add to your holiday meal plan!
Photographing the paleo delicata squash bake was not easy!
This week has been a bit crazy. I'm trying to recipe develop and test for the holiday season, all while trying to keep up with client and new project work.
I'll be heading over to my friend Rachel's (from Bakerita) new apartment in gorgeous Hillcrest tomorrow to shoot a few recipes. This seems to have become a tradition for us.
We've done it 3 times in the past two months, and I am all for it. It's so exciting getting to shoot alongside someone with a different point of view and creative expertise.
She is going to help me make some gorgeous pie crust for a classic pumpkin pie recipe that will be going live next week. Nobody makes pie looks as delicious as her… seriously.
I wish I had the kind of patience she has. Although food blogging is one of my greatest passions in life, I don't become overzealous when it's time to style a dish.
Don't get me wrong– I LOVE cooking and picking up my camera, but making the food look gorgeous isn't my favorite part.
I think my favorite part about recipe development is beginning to understand how and why more and more flavors pair together so well.
If you would have told me five years ago that I'd be serving up a dish for Thanksgiving that included both roasted cranberries and delicata squash, I would have quickly retorted: "What the F is delicata squash?!"
In all seriousness, the holidays were a time for me to eat overcooked white meat and stuff my face with preservative laden, store bought pumpkin pie. Now, I'm just snobby. Not really though… I simply care a lot about what I'm putting into my body.
If you do too, this paleo delicata squash bake will be an incredible addition to your holiday spread or any night of the week really.
Sure, delicata squash season may be short but once it's over, simply substitute the delicata squash for some white, sweet or red potatoes. The dish will be as delicious as it can be, after having removed the star ingredient: the delicata squash.
Wait, are you ready for dessert? Since it's November, I've been spending a tremendous amount of time with my oven on. Unfortunately, most days it still climbs above 80 degrees Fahrenheit here, so having the oven on isn't ideal.
Side note- how can we deny the effects of climate change? Moving right along… I'll be showcasing some pretty spectacular sweets & treats over the next several weeks.
I will do my best to balance those recipes with a large handful of Whole30 compliant and some vegan recipes too. I'm trying to cover all of my bases here…!
Yes, I labeled this dish as being Whole30. Sure there are a few globs of goat cheese on top of the bake.
However, if you simply remove the goat cheese, this dish is 101% Whole30 compliant. Oh wait, if you remove the goat cheese and substitute the brown butter for avocado or coconut oil, this dish is also vegan.
I rock. I ROCK!
More like this:
Green Beans with Pumpkin Alfredo & Olives
Paleo Delicata Squash Bake
This paleo delicata squash bake is the perfect accompaniment to your weekly meal plan or for Thanksgiving and Christmas. The cranberries and pecans are the perfect addition... so fresh and delicious!
Print Recipe
Pin Recipe
Rate Recipe
Ingredients
4

medium delicata squash

3/4

cup

fresh cranberries

3

tablespoons

ghee or brown butter

(avocado oil or coconut oil for vegan)

1 1/2

teaspoons

cinnamon

1

teaspoon

pumpkin pie spice

1/8

teaspoon

ground ginger

pinch

of sea salt

5-6

ounces

goat cheese

omit for Whole30 or vegan

toasted brussels sprouts leaves

for garnish

crushed pecans

for garnish
Instructions
Preheat the oven to 375 degrees Fahrenheit. Lightly grease the inside of a medium sized baking dish with your fat of choice. Set aside.

Wash the squash and dry it off, transferring it to a cutting board. Cut in half, width wise and push out the seeds using the bottom of a fork or spoon. Slice the squash into ½-inch wide rounds and slice those rounds in half. Set aside.

Place a single, flat layer of delicata squash at the bottom of the baking dish. Sprinkle with half of the cranberries and spices.

Create an additional layer on top and add the remainder of the squash, spices & salt.

Top the bake off with small spoonfuls of brown butter, all around.

Bake covered for 45-55 minutes, until the squash has reached your desired level of doneness. I like my slightly browned, which took about 45 minutes.

Top off with goat cheese, pecans & toasted brussels sprouts leaves.
Notes
To make it WHOLE30, omit the goat cheese.
To make it VEGAN, omit the goat cheese & substitute the brown butter for avocado or coconut oil.
Nutrition
Calories:
239
kcal
|
Carbohydrates:
28
g
|
Protein:
7
g
|
Fat:
13
g
|
Saturated Fat:
8
g
|
Cholesterol:
30
mg
|
Sodium:
100
mg
|
Potassium:
1074
mg
|
Fiber:
5
g
|
Sugar:
7
g
|
Calcium:
125
mg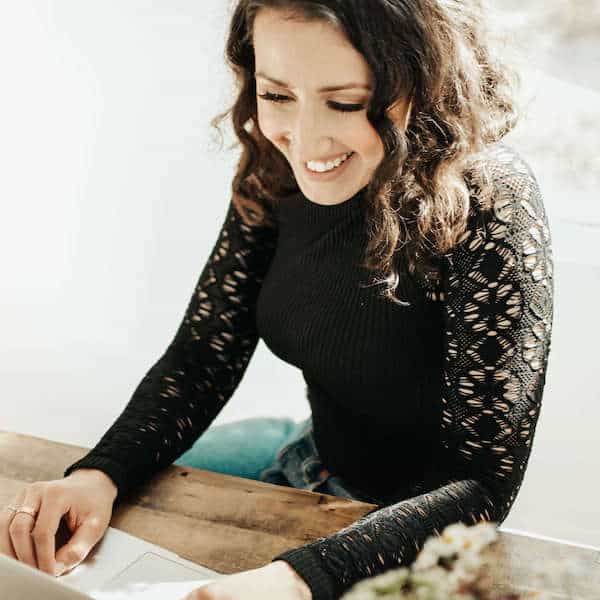 Hi! I'm Monica – recipe developer, matcha addict and lover of all things chocolate, kombucha and any & all puns. I am also the blogger, real food lover, & bonafide hustler behind the blog 'The Movement Menu.' I'm so excited to welcome you to my happy space, where my appreciation of creative recipes and healthy & mindful eats come together to inspire you to live a healthy, balanced life.