A paleo apple pecan bread that's meant to share with the masses. It's full of delicious and warm fall spices, fresh apple and toasty pecans. It's the perfect gluten free, refined sugar free and paleo treat.
This post is sponsored by the lovely folks at Nature's Intent Apple Cider Vinegar. Thank you for allowing me to continue creating such incredible content by supporting relationships with incredible brands and companies that The Movement Menu enjoys working with! Opinions will always remain 100% my own!
Oh boy, does this paleo apple pecan bread taste like heaven
The inspiration for this bread comes from my girl Rachel over at Bakerita. She made this Apple Cinnamon Bread earlier this year, and I wanted to adapt this delicious recipe from hers.
In case you haven't already heard, the two of us are coming out with a baking ebook this winter season. It's been in the works for quite a while, but we wanted to make sure that everything was absolutely perfect- of course!
It's going to be filled with cookies, brownies and bars recipes. I'm talking about almond butter skillet cookies and beyond... you should get VERY excited right about now.
I hope this ebook will be the first of many. I know it's so convenient to have a resource you can utilize and find all of your favorite recipes in one place.
I've been toying around with the idea of making a Whole30 recipe ebook. The whole30 recipes seem to do extremely well on my site, and I'd love to come out with an ebook *if that's something you'd be interested in!*
Apples and pecans make a killer combo for this paleo bread
I don't know if there is any combination that screams fall quite like apples and pecans. You're going to feel so warm and cozy after snuggling up with a piece of this bread.
I'm so excited that Tim doesn't like fall flavors very much. I put this bread into the refrigerator last night, and I was confident there would be some left this morning. What a feeling, let me tell ya!
The creamy cashew butter and tahini in this recipe are complete game changers. I love using nut and seed butters in baked goods, as they bring a texture & flavor component that cannot be replicated. Not even close.
Have you tried tahini before? Do you know what it is? It's ground up sesame seeds!
I used to eat a ton of it growing up, as my grandpa would always bring some home from the market...! He also loved feeding me halva: a middle eastern dessert made of ground sesame seeds, plenty of sugar, egg whites, etc.
But back to this fabulous paleo apple pecan bread...
This is my first time using apple cider vinegar in a baked good recipe, and boy does it not disappoint. I've been partnering with Nature's Intent for quite some time now, as their apple cider vinegar is both organic and unfiltered/unpasteurized.
I also love that it comes with the "mother." The mother is a colony of beneficial bacteria, similar to that of the "SCOBY" within kombucha. It helps create vinegar through a secondary fermentation process.
The apple cider vinegar inside of the recipe really helped bring out the warm and nutty flavors throughout the bread. I feel like I'm going to be throwing a nice, big hunk of it into the toaster all week long. Yum.
More like this:
Paleo Caramel Pecan Cheesecake Bars
Gluten Free Eggnog Bread Pudding
My mom had asked me to whip up some dessert for the Thanksgiving table this year. I'm actually a bit bummed, as we were planning on hosting Thanksgiving at our house this year. That was until I found out I'd be heading to Chicago at 3 o'clock in the morning on Black Friday.
Oh well. There's always next year. In fact, we may have to have some sort of Hanukkah and Christmas gathering at our place instead! After all, it will be our last chance in this house, as we are putting it on the market come springtime!
The rise factor in the paleo apple pecan bread is LEGIT. The combination of ACV with the baking soda and powder really took the height to a new level <--- see what I did there?
Feel free to dress up your slice with some grass-fed butter or ghee. I imagine that would be flipping heavenly all over your tastebuds.
Add this paleo bread to your holiday menu today. It's the real deal, and I'm already dreaming about making my next batch... mmm! 🙂
Paleo Apple Pecan Bread
A paleo apple pecan bread that's meant to share with the masses. It's full of delicious and warm fall spices, fresh apple and toasty pecans. It's the perfect gluten free, refined sugar free and paleo treat.
Print Recipe
Pin Recipe
Rate Recipe
Instructions
Lightly grease a 9"x5" loaf pan. Measure out parchment paper to the width of the longest side of the pan. Make sure it's long enough to line the entire bottom of the pan, both sides and have a few inches of overhang on either side. Preheat the oven to 350 degrees Fahrenheit and adjust the oven rack to the middle position.

In the bowl of a mixer or food processor, combine the eggs, applesauce, cashew butter, tahini, coconut oil, vinegar, coconut sugar and vanilla. Mix until well combined and even throughout.

Add the dry ingredients into the wet and mix until well combined. Fold in the apples and pecans.

Transfer the batter to the prepared loaf pan and spread evenly. Tap the pan on the counter a few times to release any air bubbles.

Bake at 350 degrees Fahrenheit for 50-60 minutes. A toothpick inserted into the center should come out clean, but the top of the loaf should also spring back a bit after being poked with your finger. If it sinks down at all, let it cook another couple of minutes. Mine took 57 minutes.

Move the loaf pan to a wire rack to cool for at least 30 minutes. Carefully flip the pan over and invert the loaf to cool for at least 1 hour before cutting into it.

Leftovers will keep in the refrigerator for up to 5 days. Enjoy!
Notes
Feel free to dress up your slice with some grass-fed butter or ghee
Nutrition
Serving:
1
slice
|
Calories:
256
kcal
|
Carbohydrates:
23
g
|
Protein:
6
g
|
Fat:
17
g
|
Saturated Fat:
6
g
|
Cholesterol:
65
mg
|
Sodium:
276
mg
|
Potassium:
215
mg
|
Fiber:
5
g
|
Sugar:
11
g
|
Calcium:
49
mg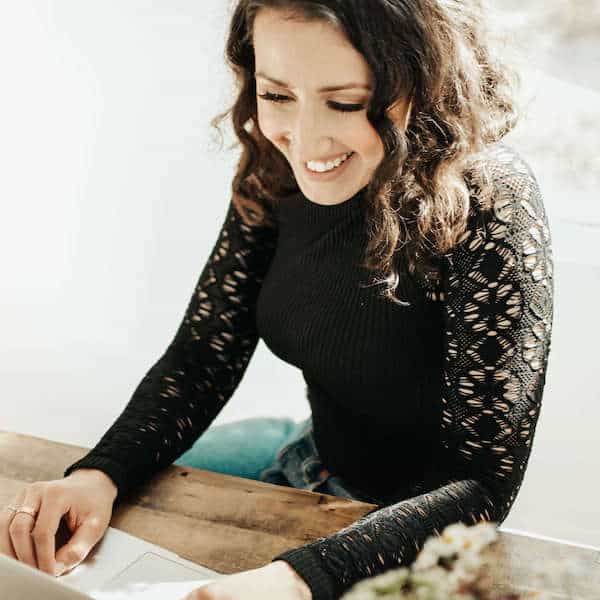 Hi! I'm Monica – recipe developer, matcha addict and lover of all things chocolate, kombucha and any & all puns. I am also the blogger, real food lover, & bonafide hustler behind the blog 'The Movement Menu.' I'm so excited to welcome you to my happy space, where my appreciation of creative recipes and healthy & mindful eats come together to inspire you to live a healthy, balanced life.