These salted caramel pecan cookies come with all of the deliciousness: raw cashews make up the base, a vegan caramel sauce is drizzled on top, and there is a boost of collagen for some extra protein and healing properties. Soft and chewy, gluten free and paleo.
Just wanted to let you know that these fall-inspired cookies are sponsored by my friends at Vital Proteins!
Salted caramel pecan cookies fit for royalty
Did you know that when I made my paleo chocolate chip cookies, I was convinced they were the best cookies I had ever made or tasted? I knew I had figured out how to get the best tasting cookie *with the best texture* by using raw cashews inside. That's why you can find a variety of baked goods that I have made with cashews.
Let me tell you something- these salted caramel pecan cookies have officially been dubbed the best cookies I've ever tasted. Both Tim and I agree that they've successfully outranked any other dessert I've made, and we cannot even put into words as to why that is. I think the homemade caramel sauce is what really sets them apart.
Not to mention the textures and layers that have been elevated by utilizing flaked sea salt and chopped pecans inside and on top. It's like you're peeling back the layers of an onion while you're eating one of these cookies. There are just so many incredible elements, you don't even know what's hitting you until you're done and are in complete awe.
Who would have thought that making homemade caramel sauce could be so easy and delicious? I remember the first time I tried making homemade caramel and boy was I pleasantly surprised! I became obsessed with it and have been known to always keep a batch waiting to be used in the refrigerator (I'll throw it on anything- cookies, ice cream, vegan cheesecake, you name it!)
Lucky for you, the caramel sauce recipe makes about 1 1/2 cups of that ooey, gooey deliciousness so you should have plenty leftover... to eat with a spoon! 😉 But really, there is something about the combination of caramel and pecans that's just comforting and down right delicious!
This is shaping up to be a pretty exciting Holiday season already. I've committed to spending more time coming up with new recipes for you, and it's already paying off at our house.
Tim has told me on numerous occasions now that "this is the best thing you've ever made!"
I'm not kidding- if Tim gives you praise like this, it is NOT to be taken lightly. I have talked about how strict he can be when it comes to rating recipes, so I'm going to carry this win around with me and shout it from the rooftops.
He has already asked me to double this salted caramel pecan cookies recipe and freeze them- so he can "grab one and go" anytime- haha!
More like this:
Best Paleo Chocolate Chip Cookies
Paleo Caramel Pecan Cheesecake Bars
You haven't had homemade pecan cookies until...
you have added flaked sea salt and caramel sauce. The trifecta is absolutely to die for, and you're going to be salivating and foaming at the mouth as soon as you try these caramel pecan cookies.
If you're feeling like you want to get creative, you can absolutely substitute the pecans in this recipe for another nut like walnuts. I imagine that a walnut caramel combination may be delicious as well.
Oh, and in case you're wondering why I decided to use gelatin in this recipe- it's because it's an incredible binder in baking and adds extra protein to the recipe. If you'd like to get more information on what gelatin is and why it's an incredible addition to your baking routine / every day lifestyle, I've got you covered here.
Well, what are you waiting for? Have the salted caramel pecan cookies photos not tantalized you long enough? I can personally guarantee that after making this recipe once, it will become a staple in your home.
I can't wait to hear what you think of these cookies since they're my favorite dessert recipe on The Movement Menu thus far. If I were you, I'd go ahead and add it to the "MUST BAKE" list now!
This post is sponsored by the lovely folks at Vital Proteins. Thank you for allowing me to continue creating such incredible content by supporting relationships with incredible brands and companies that The Movement Menu enjoys working with! Opinions will always remain 100% my own!
Salted Caramel Pecan Cookies
These Salted Caramel Pecan Cookies come with all of the
deliciousness: raw cashews make up the base, a vegan caramel sauce is drizzled
on top, and there is a boost of collagen for some extra protein and healing
properties. Soft and chewy, gluten free and dairy free.
Print Recipe
Pin Recipe
Rate Recipe
Ingredients
Caramel Sauce (makes about 1 1/2 cups)
Instructions
Cookies
Pulse the raw cashews in a food processor or high-speed blender, a few seconds at a time, until they resemble a coarse flour. You don't want any visible chunks of cashews. This should take about 1 minute. Be sure not to turn the cashew flour into cashew butter. Watch the texture closely.

Add the rest of the dry ingredients and pulse a few more times, until everything has been well incorporated.

Add the wet ingredients to the food processor and give it a few more pulses. Transfer to a bowl and stir in the chopped pecans.

Transfer the bowl to the refrigerator for 20 minutes and preheat the oven to 350 degrees Fahrenheit. Adjust the oven rack to the middle position and line a baking sheet with parchment paper.

Use a cookie scoop to form cookies and place 2" apart on the prepared baking sheet. I used a medium size cookie scoop so my cookies are pretty large. You can make them smaller, but be sure to keep an eye on them in the oven. If you do make them smaller, start checking on them after 10 minutes! Press down very, very lightly to flatten - note that the cookies won't spread very much, so press them down to the thickness you prefer.

Sprinkle with the rest of the chopped pecans on top and flaked sea salt. Bake for 16-20 minutes. When they begin turning golden brown around the edges, they're all done. Top off with caramel sauce and enjoy!
Caramel Sauce
Pour maple syrup and coconut sugar into a heavy bottomed saucepan. Bring to a boil over medium heat and let boil softly for ~15 minutes. Stir every few minutes with a heat proof spatula to keep the bubbles down.

Once the syrup begins to coat the outside of a spatula or spoon, it's time to add the coconut milk. Raise the heat again and bring to a low boil and turn back down. Continue stirring until it begins to thicken up quite a bit.

Remove from heat and stir in oil, salt, and vanilla extract if using. If you used the vanilla bean, remove the pod and discard.

Let cool to room temperature, stirring occasionally to keep the fat incorporated. Pour into an airtight glass container and store it in the refrigerator for up to 2 weeks.
Nutrition
Calories:
477
kcal
|
Carbohydrates:
44
g
|
Protein:
7
g
|
Fat:
32
g
|
Saturated Fat:
13
g
|
Cholesterol:
23
mg
|
Sodium:
452
mg
|
Potassium:
323
mg
|
Fiber:
3
g
|
Sugar:
31
g
|
Calcium:
61
mg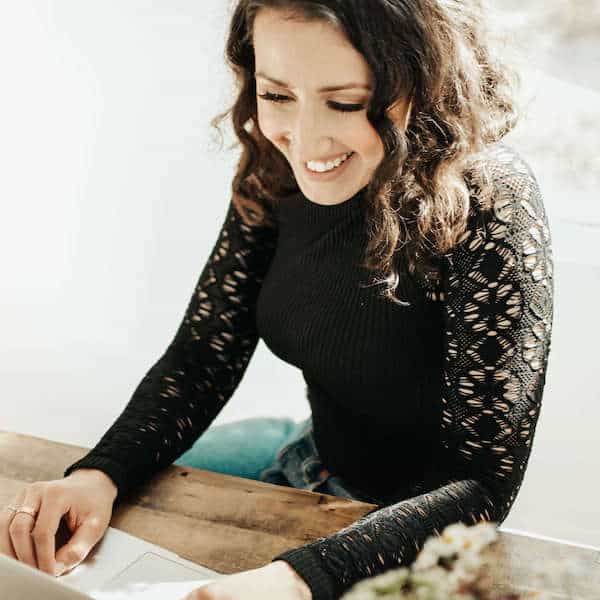 Hi! I'm Monica – recipe developer, matcha addict and lover of all things chocolate, kombucha and any & all puns. I am also the blogger, real food lover, & bonafide hustler behind the blog 'The Movement Menu.' I'm so excited to welcome you to my happy space, where my appreciation of creative recipes and healthy & mindful eats come together to inspire you to live a healthy, balanced life.