I have a special treat for you this holiday season: gluten free eggnog bread pudding. I've made a fool proof dairy free eggnog and infused it into a delicious bread pudding, topped off with stewed apples and homemade caramel sauce. Gluten free, dairy free and absolutely fabulous!
Just wanted to let you know this gluten free eggnog bread pudding recipe is sponsored by the awesome folks at Little Northern Bakehouse!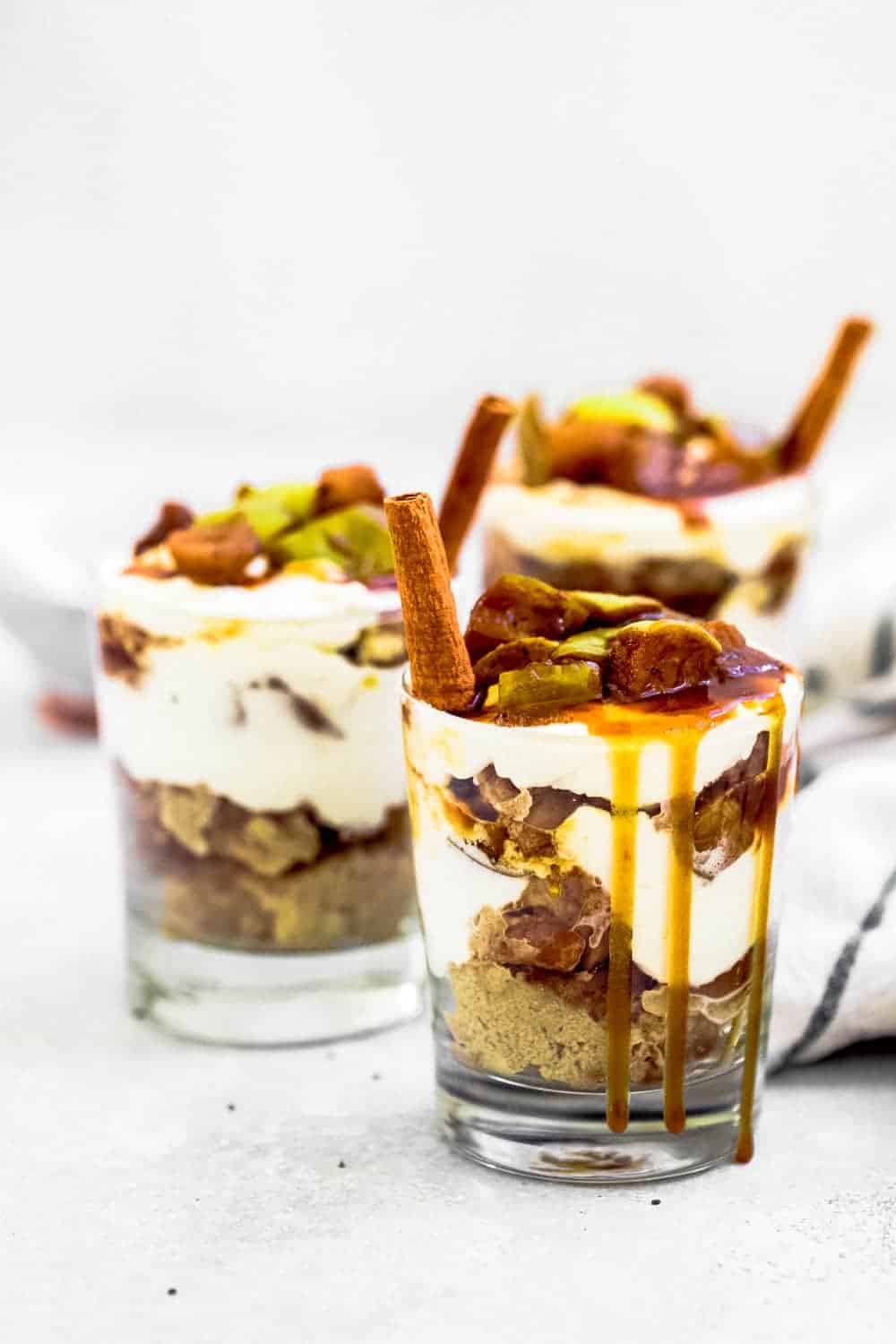 I am so flipping excited to share this deliciousness with you, you have no idea. I've been gearing up to make a dairy free eggnog recipe for quite some time now.
I knew it was the perfect opportunity when I decided to team up with the folks over at Little Northern Bakehouse to bring you this bread pudding recipe.
I also knew that pairing eggnog bread pudding with my vegan caramel sauce and stewed apples was a no brainer. Their millet & chia bread was the one I decided would taste bed in this recipe.
You could absolutely use ANY of their breads in this recipe, as they have FIVE options for you to choose from.
What's flipping awesome about Little Northern Bakehouse is that all of their breads are:
Non-GMO sourced
100% gluten free
Vegan
DELICIOUS- they don't taste like cardboard, folks!
They also have the texture and consistency that a "regular" bread would- so that's a big win in my eyes.
I wish I had figured out how to make this goodness before our Thanksgiving get together this year. That's okay- I think I'll be bringing it along for Christmas instead.
I decided to serve this eggnog bread pudding as individual servings in little glasses. You can alternatively use small Mason jars-- that would be so darn cute!
You'll have a little bit of eggnog leftover from this recipe, as well as some caramel sauce. Don't be shy and get to gulping that down as soon as possible. I would say it only keeps in the refrigerator for a few days.
This was my first time making bread pudding, and it's something I know I'll want to make over and over again.
I love how easy it is to make. I may even try my hand at making a savory version with another Little Northern Bakehouse bread and maybe some fresh herbs thrown in the mix.
Doesn't that sound delish?!
I absolutely love all of the fall flavors that come through in this bread pudding. If you aren't really into eggnog, you can simply use an unsweetened dairy free milk instead.
However, I highly recommend at least trying it the first go around because it really highlights the warm spices, apple and caramel flavors in the recipe.
I asked my husband to dig in on this eggnog bread pudding, and the man does NOT like anything bread-related for dessert.
He was pleasantly surprised that this bread pudding was not only made with gluten free bread, but it was "surprisingly super delicious" - his words.
I'm so excited for the leftovers we have available. I know I'm going to eating some straight out of the refrigerator first thing tomorrow morning 🙂
Well, what are you waiting for?
Get this gluten free eggnog bread pudding on the "to make" list so you can charm the pants off all of your friends and family this holiday season.
They are going to ask you for the recipe, so be prepared to direct them.
Try not to guzzle down all of that extra caramel sauce in one sitting, would ya? Or do 😉
This post is sponsored by the lovely folks at Little Northern Bakehouse. Thank you for allowing me to continue creating such incredible content by supporting relationships with incredible brands and companies that The Movement Menu enjoys working with! Opinions will always remain 100% my own!
Gluten Free Eggnog Bread Pudding
I have a special treat for you this holiday season: gluten free eggnog bread pudding. I've made a fool proof dairy free eggnog and infused it into a delicious bread pudding, topped off with stewed apples and homemade caramel sauce. Gluten free, dairy free and absolutely fabulous!
Print Recipe
Pin Recipe
Rate Recipe
Ingredients
Instructions
Dairy Free Eggnog
Place egg yolks in a mixing bowl and set aside.

Combine the remaining ingredients in a medium saucepan and bring to a simmer over medium heat. Then, reduce the heat to low.

Slowly incorporate about ¼ cup of the hot mixture to the egg yolks while whisking consistently. Continue doing so until you've added one cup of the hot mixture to the egg yolks.

Transfer this mixture back into the saucepan and bring the heat back up to medium. Whisk while allowing the mixture to simmer for 5 minutes. Remove from the heat immediately and let cool while you prepare the rest of the recipe.
Stewed Apples
In a large pan over medium heat, mix together coconut oil, coconut sugar, cinnamon and nutmeg. Once the oil has melted, throw in the diced apples and toss to cover them in the liquid mixture.

Cover and let simmer for about 5-7 minutes until the apples are soft and fork tender.

Once the apples have softened, uncover and continue mixing until the sugar has caramelized ~ roughly another 5 minutes. Set aside.
Caramel Sauce
Pour maple syrup and coconut sugar into a heavy bottomed saucepan. Bring to a boil over medium heat and let boil softly for ~15 minutes. Stir every few minutes with a heat proof spatula to keep the bubbles down.

Once the syrup begins to coat the outside of a spatula or spoon, it's time to add the coconut milk. Raise the heat again and bring to a low boil and turn back down. Continue stirring until it begins to thicken up quite a bit.

Remove from heat and stir in oil, salt, and vanilla extract.

Let cool to room temperature, stirring occasionally to keep the fat incorporated. The longer it sits, the thicker it will become!

Store in an airtight container in the refrigerator for up to one week. It will solidify and the coconut oil will separate to the top. Reheat and stir until smooth throughout.
Bread Pudding
Preheat the oven to 350 degrees Fahrenheit and adjust the oven rack to the middle position. Spray a baking dish with cooking spray and set aside.

Chop gluten free bread into 1" cubes and transfer to a large bowl.

In a small bowl, combine the eggnog, eggs and spices well. Whisk until combined throughout.

Pour this mixture into the bowl of bread cubes. Make sure they are coated thoroughly and let the cubes sit for 20 minutes to soak up the mixture.

Transfer to the baking dish and cook for 25-30 minutes or until the top is brown and the pudding is cooked. Set aside to cool.

Layer the bread pudding with some dairy free whipped cream, stewed apples and caramel sauce in small cups or Mason jars. Enjoy warm or cold!
Nutrition
Calories:
529
kcal
|
Carbohydrates:
72
g
|
Protein:
12
g
|
Fat:
23
g
|
Saturated Fat:
16
g
|
Cholesterol:
157
mg
|
Sodium:
223
mg
|
Potassium:
477
mg
|
Fiber:
5
g
|
Sugar:
30
g
|
Calcium:
126
mg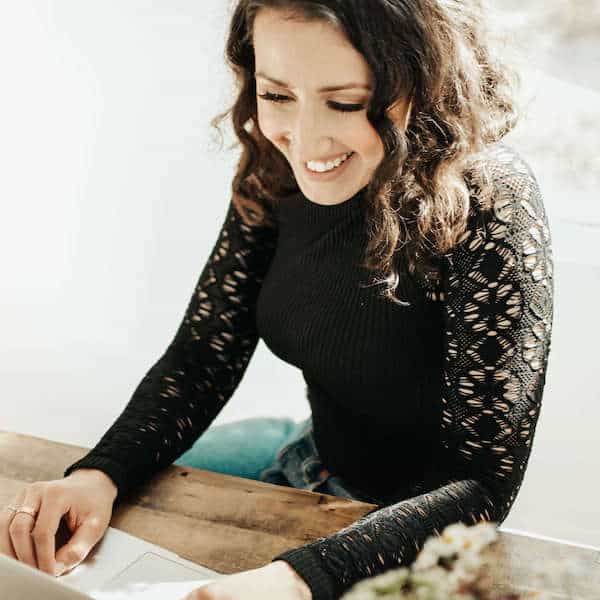 Hi! I'm Monica – recipe developer, matcha addict and lover of all things chocolate, kombucha and any & all puns. I am also the blogger, real food lover, & bonafide hustler behind the blog 'The Movement Menu.' I'm so excited to welcome you to my happy space, where my appreciation of creative recipes and healthy & mindful eats come together to inspire you to live a healthy, balanced life.