Whole30 Beef and Bacon Breakfast Bowl. Super easy to make and a great way to shake up your Whole30 breakfast game. Topped off with fresh herbs and a creamy tahini sauce, all on a bed of cauliflower rice. De-lish!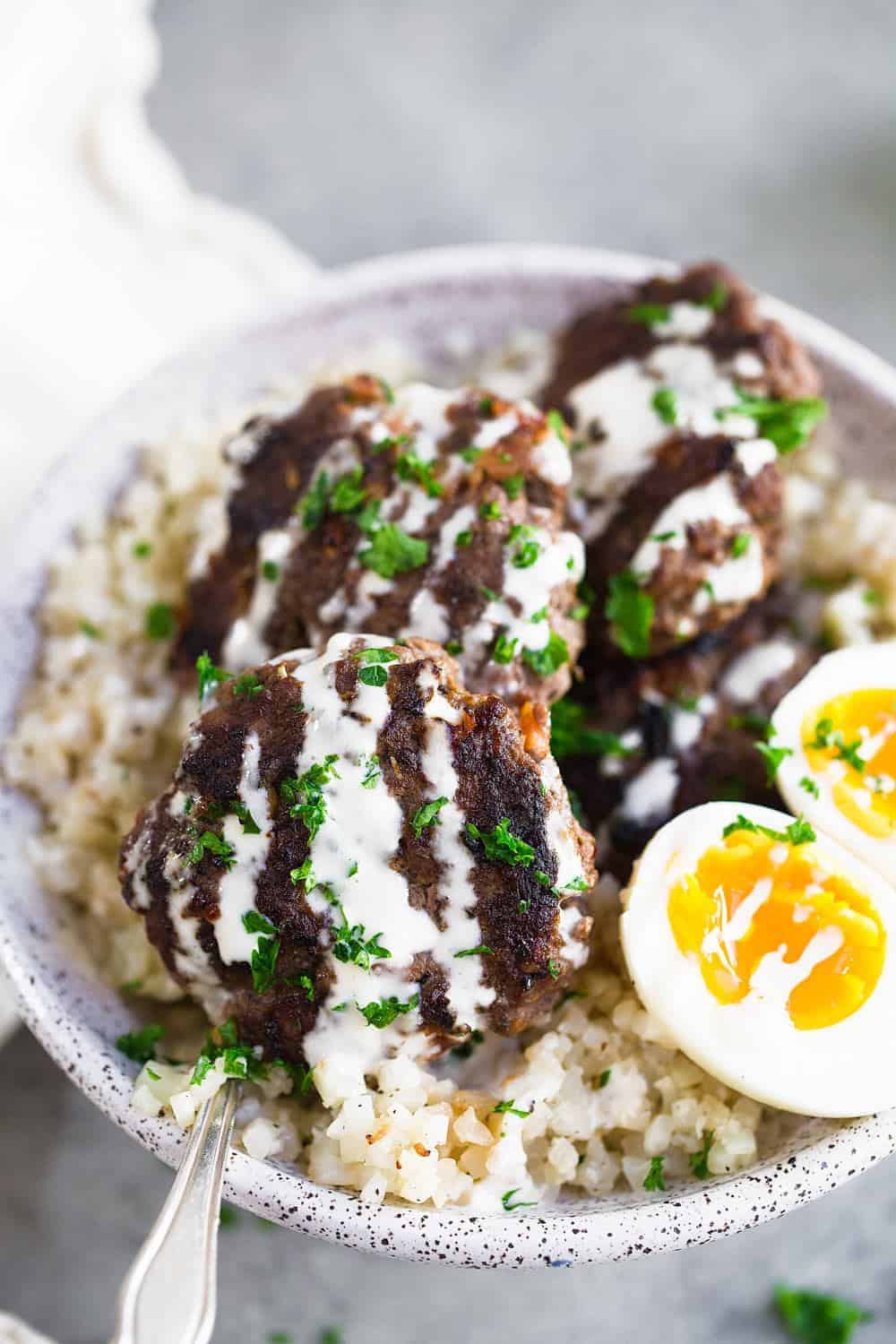 This Whole30 Beef and Bacon Breakfast Bowl recipe was sponsored by the awesome folks at PRE Brands!
Anyone else feel totally stumped when it comes to changing up their Whole30 breakfast game? I know I do!
It's never easy to come up with breakfast recipe ideas that aren't some sort of scramble or egg casserole. Sure, I've included some delicious and creamy soft boiled eggs in this recipe, but they are simply an accompaniment… not the star of the dish, mk? ????
This Summer is going to be filled with so many of my favorite Whole30 favorites. I simply cannot wait to share everything I've been working on with you… it's nearly time to get real, real excited!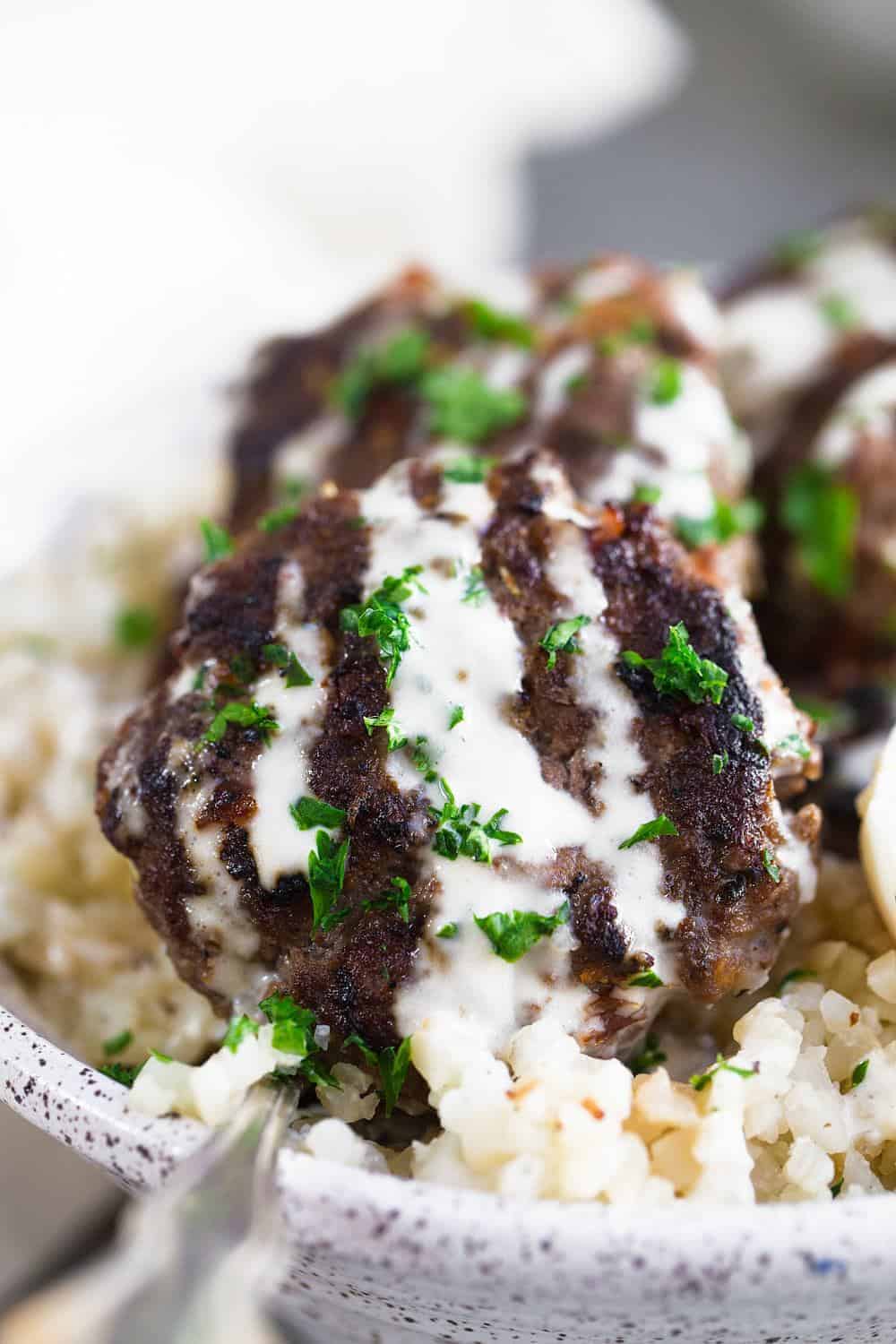 PORTLANDIA is NEAR
I'm so flipping excited, as we are going to be gearing up to head to Portland at the end of this month.
We've strategically (but loosely) planned our entire itinerary around all of the places we want to chow down at.
I can't believe how incredible their food scene looks. I'm hoping we'll be able to also carve some time out to head to Mt. Hood and play around in some fluffy snowfall. That sounds like a dream right about now, as it's upwards of 100 degrees here in the desert. Bleh.
Tim and I seem to have caught the travel bug, and I am entirely grateful for this. I've always wanted to travel a ton, but we didn't really have the means for it. We've been taking trips with our family, hitting up a number of weddings and reunions and quick 3-day trips here and there.
However, Tim just did his first international trip earlier this year (HI, Vietnam!) and his mindset about international travel has completely flipped.
What do I mean? Well…
Now that he understands how *uncomplicated* and *affordable* international travel can be (when you utilize the proper tools and techniques), it's an absolute no brainer. We've been using websites like Scott's Cheap Flights and SkyScanner to score some incredible airfare deals.
Let me tell you something- If you can be really flexible with your travel dates, this is the way to go. You basically have a very short allotted time period to jump on some of the most killer deals I've ever seen, and it's so worth it.
Anyway, I'll be sure to fill you in on all of our travels (and maybe have some footage available), but until then… let's get back to these fabulous Whole30 Beef and Bacon Breakfast Bowls, shall we?
I've had the utmost pleasure of working with one of my favorite companies yet again: PRE Brands.
You may recognize the name, as I've made a couple of other recipes using their wonderful grass-fed beef products before, like
these Easy Whole30 Lettuce Wraps
and
this Whole30 Chili
… and I'm back for more because… well, they are just great. Their packaging is one of my favorite assets about their company. You can open each pouch and access the meat without any mess. No beef blood on your hands, ya heard? It's amazing. Genius, I tell you.
They're a wonderful company with tight-knit values when it comes to how food should be raised and how it should taste, too. Luckily, you have a good chance of accessing their product line… go ahead and check out their product page and locator right here.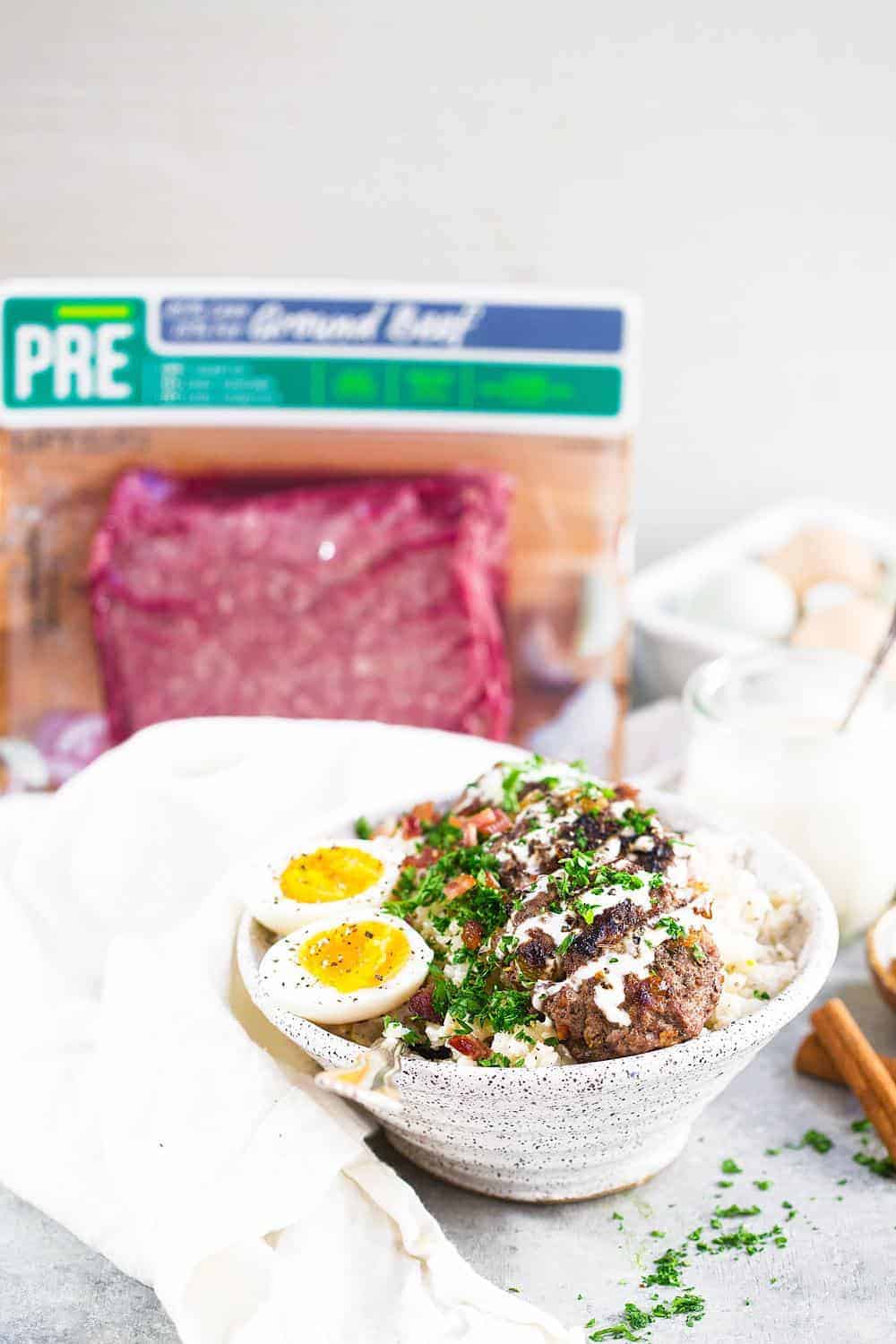 WHOLE30 BREAKFAST done RIGHT!
How many times have you had to whip up some sort of egg-based casserole or scramble for your Whole30 breakfast? Probably too many times to count. That's one of the main reasons I created this bowl. I wanted something that was easy to make but packed with plenty of nutrients and flavor that would really pack a punch.
The best way to start your morning is with a meal that's incredibly balanced and nourishing- am I right?
These Whole30 Beef and Bacon Breakfast Bowls are just that. They have a wonderful balance of protein, fats and carbohydrates. The bed of cauliflower rice is low in carbohydrates but has just enough to give you that energy you need to start your day.
If you're feeling adventurous, go ahead and pack yourself a bowl for lunch, too. I don't think you'll get sick of the flavor, and they'd taste really great re-heated, for sure!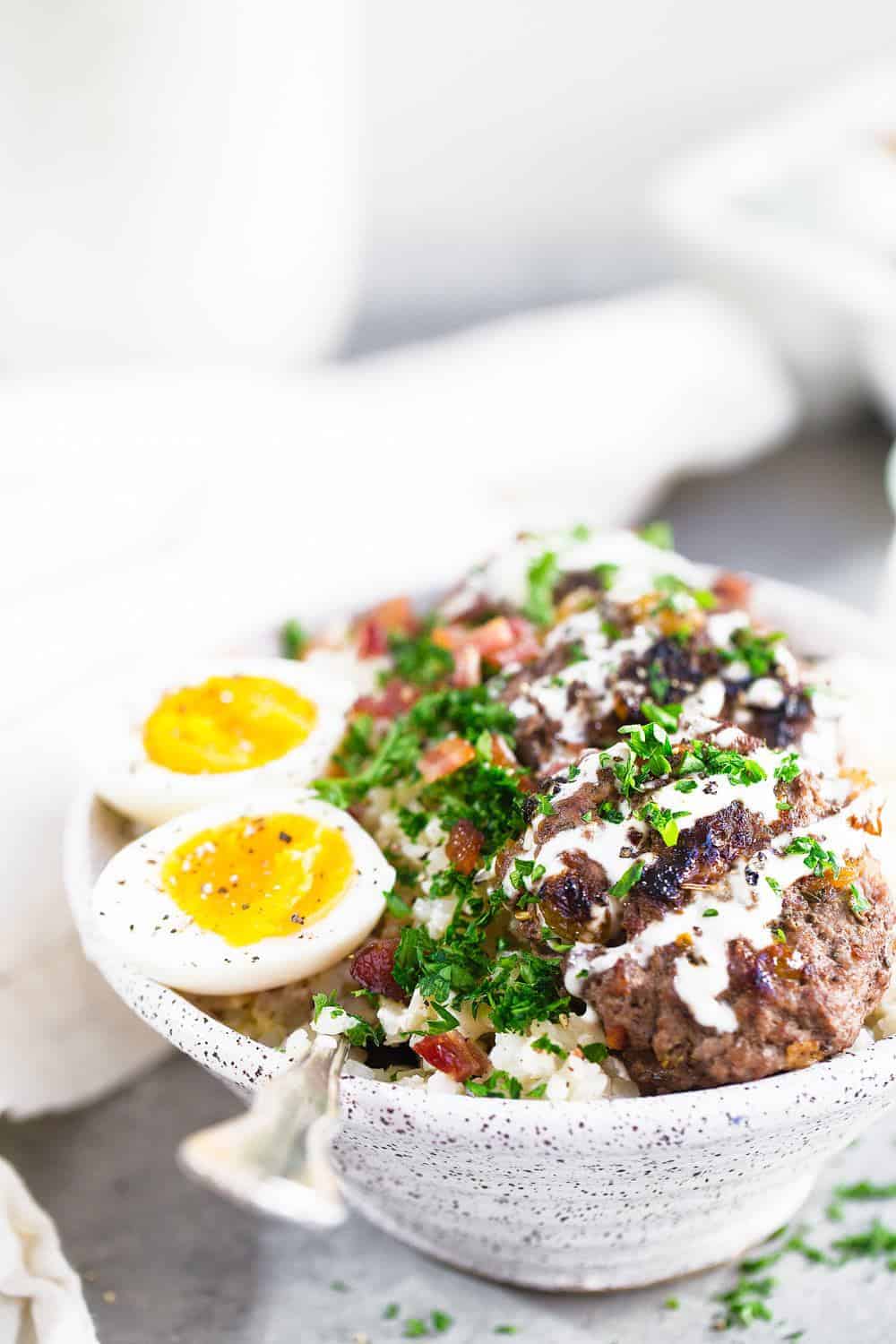 I feel like lately, I've only been creating two kinds of recipes… either:
Paleo Desserts
or
Whole30 Recipes
Is that so wrong? Is it so crazy that these are the types of recipes I create most at home?
I've been wanting to share some of my favorite blood sugar balancing smoothie recipes with you as well, but I feel like the internet is going to implode if one more smoothie recipe is created. I wish there weren't so many available because I really do feel like mine may just get loss in the mix. Sigh.
However, if that's something that you'd really love, I'd be more than elated to share some of my favorites with you. All you have to do is let me know ????
I can't wait for you to try these Whole30 Beef and Bacon Breakfast Bowls. I'm not kidding about them seriously stepping up your breakfast game. You're going to just love how filling and nutrient-dense they are! Yum!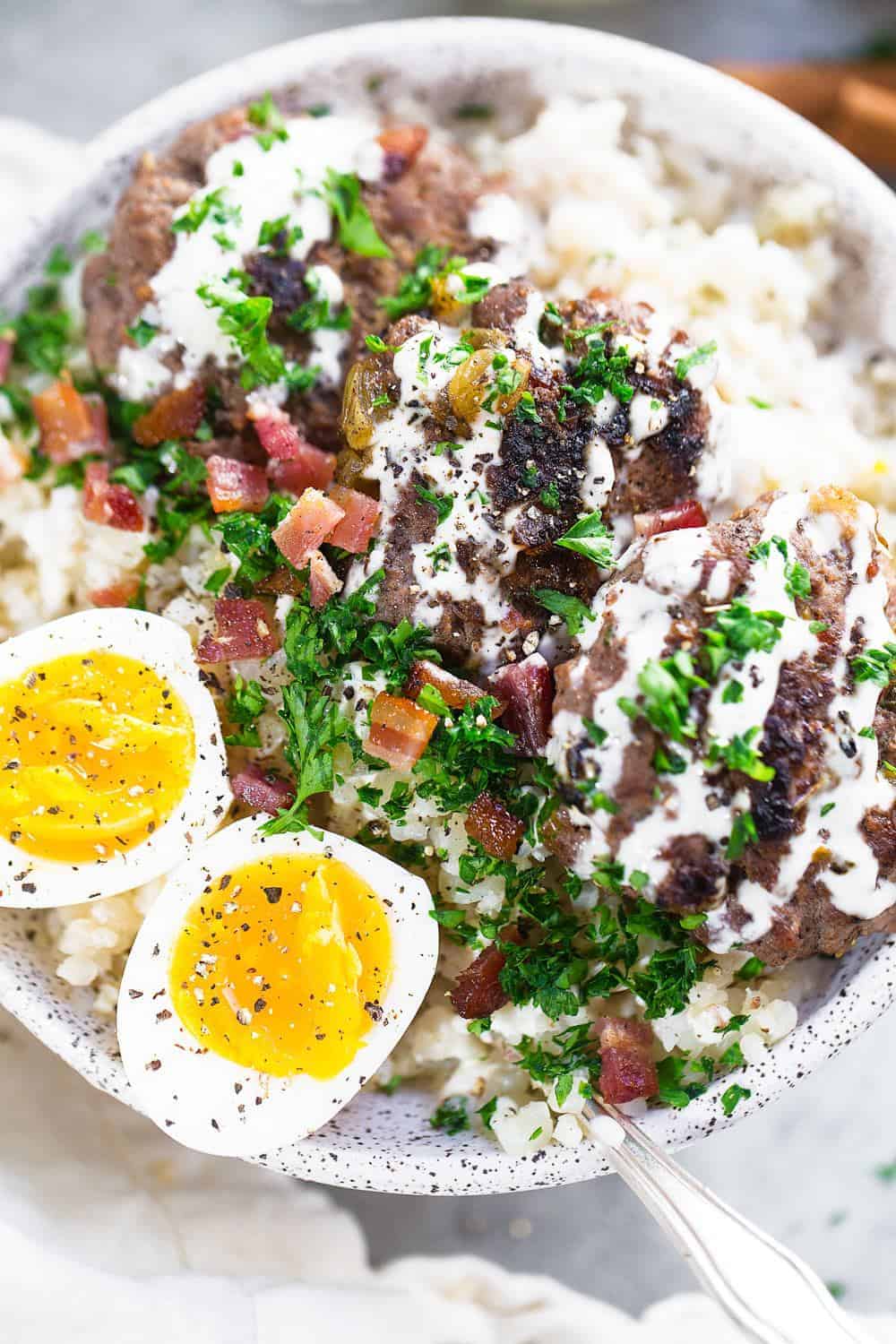 More you may like:
Whole30 Zucchini Noodle Bolognese
Whole30 Beef and Bacon Breakfast Bowl
Whole30 Beef and Bacon Breakfast Bowl. Super easy to make and a great way to shake up your Whole30 breakfast game. Topped off with fresh herbs and a creamy tahini sauce, all on a bed of cauliflower rice. De-lish!
Print Recipe
Pin Recipe
Rate Recipe
Ingredients
Beef and Bacon Patties
2

pounds

92% Lean Ground Beef

6

strips

bacon

cooked & diced

1/2

tablespoon

sea salt

2

teaspoons

black pepper

3

heaping teaspoons

fresh sage

chopped

1

teaspoon

garlic powder

1/2

teaspoon

dried rosemary

1/2

teaspoon

dried chives

1/2

teaspoon

thyme

red chili pepper flakes

between 1-2 teaspoons, depending on spice preference

2

tablespoons

ghee

split in half
The Bowl
3/4

cup

tahini sauce

see notes

3

tablespoons

water

more/less depending on thickness of tahini

2

teaspoons

lemon juice

adjust for taste preference

1

recipe

Whole30 Cauliflower Fried Rice

or heat up some plain riced cauliflower!

chopped fresh herbs (parsley or dill)

for serving

soft boiled eggs

for serving
Instructions
In a large bowl, combine the beef and bacon with all the seasoning and spices. Be sure to adjust the red chili pepper flakes amount depending on your tolerance. Mix well with your hands and make sure everything has been dispersed as evenly as possible. Form 12 patties from the mixture about 1/2" to 3/4" thick. Set next to the stove.

Heat a large sauté pan over medium to medium-high heat and add half of the ghee. Once the pan has heated up for about 2 minutes, add the patties and fry on each side for 2-3 minutes or until cooked through and browned on the outside. Keep a close eye on them, as you don't want them to overcook!

You will most likely have to do this in two batches. Remove the patties from the pan and set aside and work on the rest of the patties, repeating the same steps.

In a small bowl, whisk together tahini sauce, water and lemon juice. Be sure to adjust the amount of water, based on how thick the sauce turns out. It's very forgiving!

Serve on top of a bed of cauliflower rice *you can use my recipe for Whole30 Cauliflower Fried Rice ((see ingredients section)) or simply heat up some plain riced cauliflower. Top off with fresh herbs and soft boiled eggs if you'd like.
Nutrition
Serving:
1
bowl
|
Calories:
526
kcal
|
Carbohydrates:
8
g
|
Protein:
41
g
|
Fat:
37
g
|
Saturated Fat:
12
g
|
Cholesterol:
121
mg
|
Sodium:
839
mg
|
Potassium:
731
mg
|
Fiber:
2
g
|
Sugar:
1
g
|
Calcium:
62
mg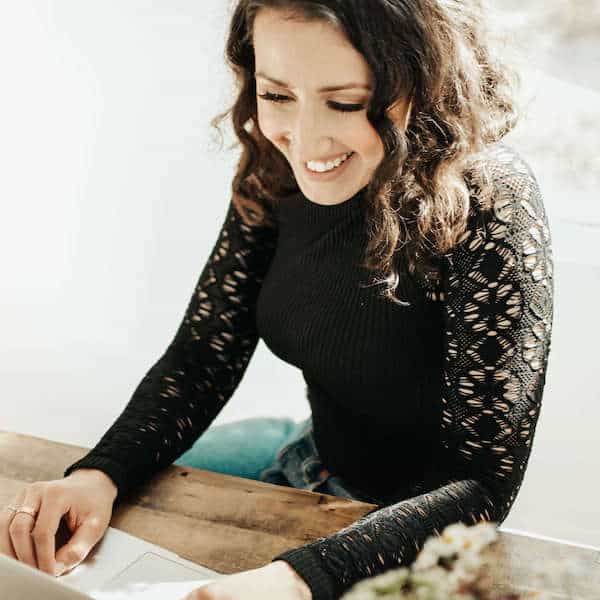 Hi! I'm Monica – recipe developer, matcha addict and lover of all things chocolate, kombucha and any & all puns. I am also the blogger, real food lover, & bonafide hustler behind the blog 'The Movement Menu.' I'm so excited to welcome you to my happy space, where my appreciation of creative recipes and healthy & mindful eats come together to inspire you to live a healthy, balanced life.