I've got another recipe for your little one they are just going to love. It's a sweet potato and chicken puree for baby made with bone broth, nourishing spices, and pears. It's perfect as part of meal time or to throw into a pouch for on-the-go use!
Just wanted to let you know this post is sponsored by the lovely folks at Tommee Tippee!
Can I just buy baby food at the grocery store?
Let's chat about purees, shall we?
They may sound like something you should just get your hands on at the store, but let me tell you why you should try making something at home instead...!
I've spent my fair share of time hunting down emergency pouches at the grocery store. Sure, there are some better options than there used to be out there.
However, most baby food pouches are mainly made with fruit, and do not have any (or barely any) high quality fats or protein in them.
In my opinion, these are two nutrients that are extremely essential for your baby's development and growth.
That is especially true when they are so young and transitioning out of drinking breast milk, formula, etc.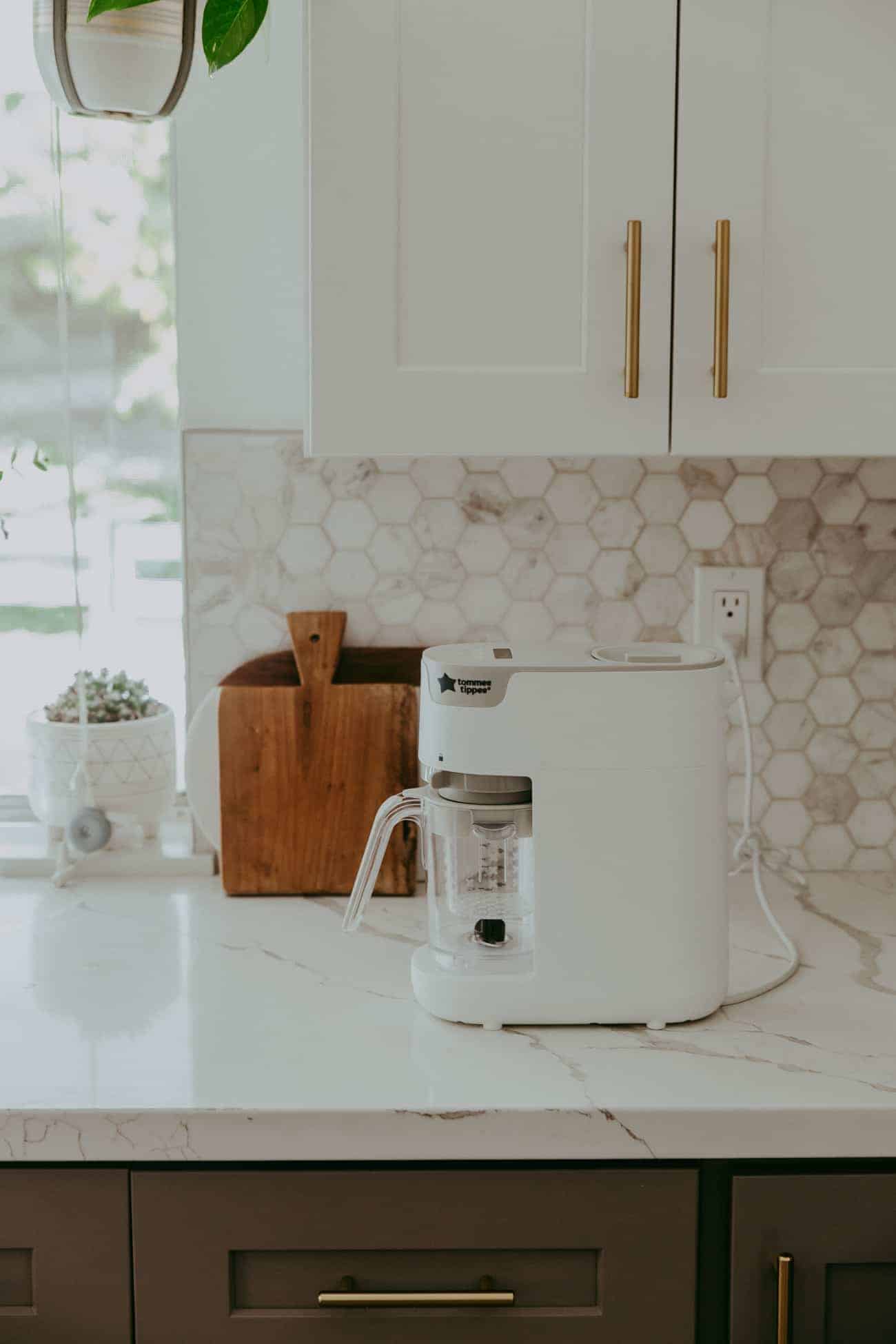 Purees vs Baby Led Weaning
Let's chat steaming and pureeing food versus the baby led weaning method, which is what I typically have followed with Sophie.
Let me be very clear here. Sophie is a good eater to the core.
However, there are periods of time (sometimes meals, sometimes days, sometimes a whole week), where she just doesn't display her regular interest in eating solids.
I've had times where I just wish I had a nutrient dense puree on hand because I know she'd guzzle it down without hesitation.
Sometimes I even have all of the ingredients handy, but I don't have enough time to carve out for cooking the food and blending it in the blender, food processor, etc.
I was so grateful when I learned about Tommee Tippee's Quick-Cook Baby Food Maker.
Here are a few reasons why this baby food steamer and blender is so great:
By steaming the food, it is holding on to as many of its nutrients as possible.
The food holds on to its natural flavor, giving our children realistic expectations for what chicken should taste like.
Easy prep and clean up. Everything goes into one container!
The equipment isn't clunky. It will sit, nicely tucked away under your cabinets, no problem!
You can achieve different textures by using different features on the machine.
What ingredients will I need to make sweet potato and chicken puree?
The list is short but full of nutrients and goodness.
Here is what you will need:
Sweet potato
Organic, boneless & skinless chicken (I like to use thighs as the darker meat provides more iron content)
Pear
Bone broth
Cinnamon
Nutmeg
I wouldn't recommend any substitutions really, unless your child has a problem with the spices.
I do highly recommend using bone broth instead of traditional chicken broth, as it has a high amount of calcium, magnesium, collagen, and gelatin.
Basically, these are all things that are great for all of us... especially our little ones! 🙂
Can I freeze this sweet potato and chicken puree for baby?
Heck yeah, you can. I actually recommend it.
When Sophie was first transitioning to purees and solid food, I'd divide the puree into 1-ounce cube molds and freeze them in a tray. After they were frozen solid, I'd pop them into a Ziplock freezer bag and date them for 2 months from that day.
It's so convenient because you can simply pop out a 1-ounce freezer portion into a small glass container and let it defrost in the refrigerator over night.
The next day, your babe will have access to this nourishing puree all day long if they want it.
Of course now that Sophie is older, she can put back 1 ounce of this goodness no problem. She'll typically eat 4 ounces or so as a snack.
Girl can eat.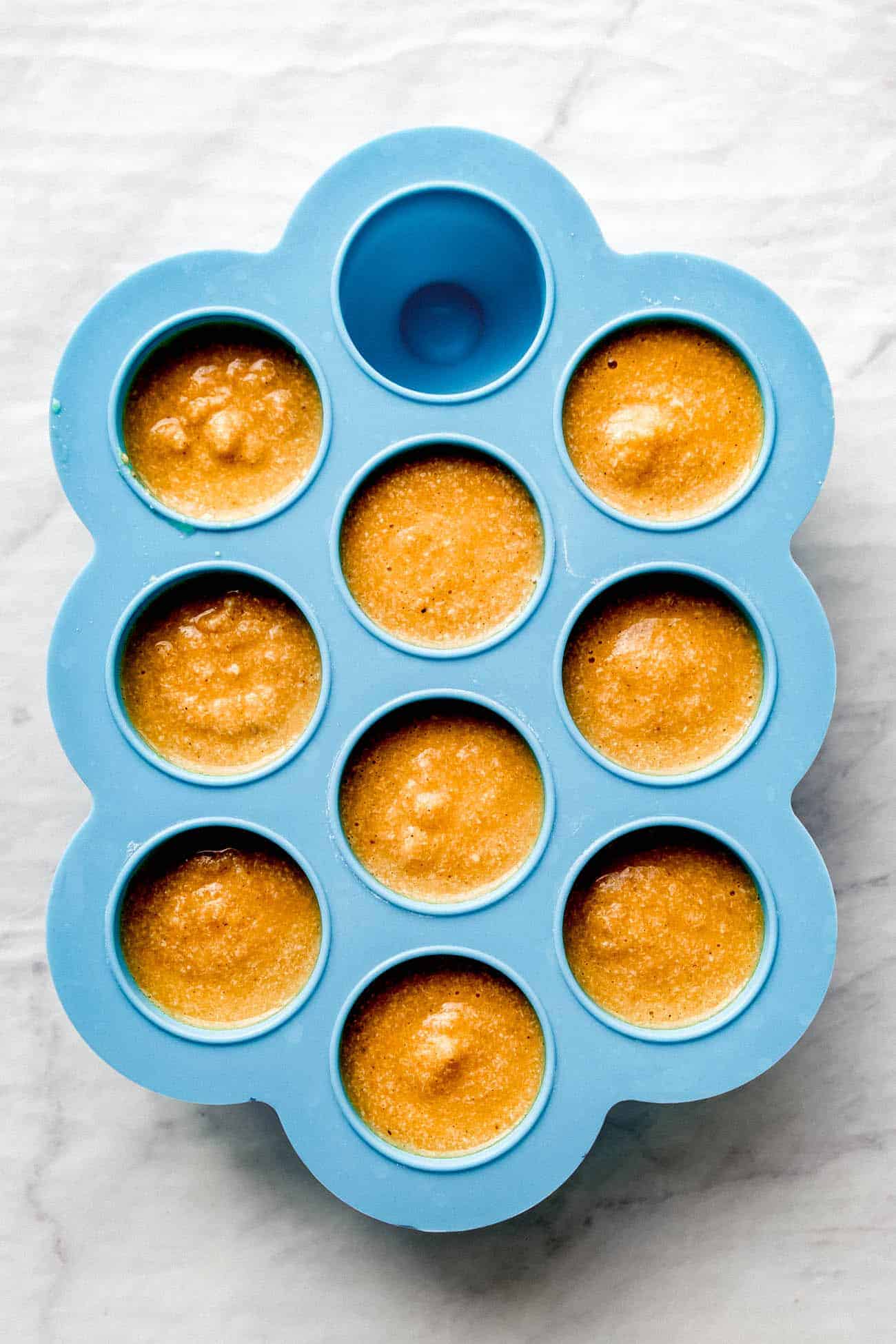 The Tommee Tippee Quick Cook Baby Food Maker makes meal time that easy.
You can steam in the steamer basket, blend in the jug or use a combination of the two for a range of textures, suitable for whatever you're making, from fruits and vegetables, to meats and fish.
It also comes with an automatic timer so you can step away while making babe's meal. Now that there is less time being spent on food prep and clean up, you'll have more time to spend snuggling that babe or chasing them around the house.
Sounds like a win to me. You can get creative with this puree if you'd like, and steam grass-fed ground beef or lamb as well.
I wouldn't recommend deviating from the recipe much though, as I haven't tested out other combinations.
Be sure to let me know if you have ANY questions. I know transitioning babe to purees and solids can be stressful, and I need you to know you are NOT alone in feeling that way.
If you want to know if XYZ might work instead or if you're unsure about anything, just tell me. I've got you! 😉
More fabulous recipes your babe would love:
Spinach and Bone Broth Waffles
Sweet Potato and Chicken Puree
Sweet Potato and Chicken Puree makes for a healthy and nutritious homemade baby puree your kid will love!
Print Recipe
Pin Recipe
Rate Recipe
Ingredients
1/2

cup

sweet potato

peeled and diced

1/2

cup

organic chicken thighs

boneless & skinless, cubed

1/4

cup

pear

peeled and diced

1/4

teaspoon

cinnamon

1/4

teaspoon

nutmeg

1/4

cup

bone broth
Instructions
Use the jug with no basket and make sure the lid is in the correct orientation. Add ingredients to the jug.

Press the mode button and choose the steam option. Set the steam time using the +/- buttons for a steam time of 30 minutes. Be sure to pause the unit every 10 minutes and stir thoroughly to ensure even cooking of the chicken.

Press the mode button and choose the blend option. Set the blend time using the +/- buttons for a blend time of 2 minutes. Press the start button to start.

The machine will now steam and blend all of the ingredients. When it is done, transfer to a silicon freezer tray and/or keep a little bit in the refrigerator if your babe will go through it quickly. It will keep in the refrigerator for up to 3 days and in the freezer for up to 2 months.
Nutrition
Calories:
255
kcal
|
Carbohydrates:
20
g
|
Protein:
15
g
|
Fat:
13
g
|
Saturated Fat:
3
g
|
Cholesterol:
73
mg
|
Sodium:
117
mg
|
Potassium:
424
mg
|
Fiber:
4
g
|
Sugar:
7
g
|
Calcium:
20
mg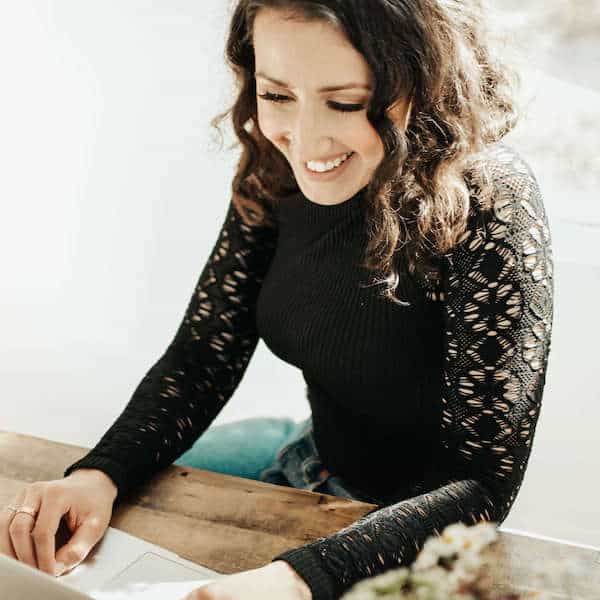 Hi! I'm Monica – recipe developer, matcha addict and lover of all things chocolate, kombucha and any & all puns. I am also the blogger, real food lover, & bonafide hustler behind the blog 'The Movement Menu.' I'm so excited to welcome you to my happy space, where my appreciation of creative recipes and healthy & mindful eats come together to inspire you to live a healthy, balanced life.