Let's talk about the gloriousness that resides inside of this Whole30 sweet potato hash. It is full of crunchy bacon pieces, peppers, fresh herbs and topped off with some fried eggs. This easy breakfast hash is dairy free, paleo and whole30 compliant!
Whole30 sweet potato hash will get you through crazy times!
Boy, has it been a crazy week over at our house. I feel like I say this every week, and I don't mean to use the word "crazy" as a way to describe mayhem.
When I say "crazy" nowadays, I am referring to the fact that there is so much going on. The amount that Sophie grows each day (and I'm talking about not just physically) is seriously astounding.
Her ability to make new sounds, interact more fluidly, entertain herself independently, etc. is "crazy," and it's blows my mind day in and day out.
I got so excited because today, I had the confidence to start and finish an entire photoshoot while she took her afternoon nap. The same couldn't be said about the day I made this fabulous sweet potato hash.
Tim was home and keeping her company, while I made a huge mess in the kitchen with plenty of bacon grease (I flipped the pan!) But boy, was the end result so worth it!
It has been my goal lately to reintroduce savory breakfast meals. Since things have been certainly busy over here, I've been leaning on breakfast smoothies or a big old bowl of goat milk yogurt with assorted toppings.
There's nothing wrong with eating those things for breakfast, but I miss my egg-filled breakfasts... and I don't just mean avocado toast with some scrambles eggs.
That's another item that has been on the breakfast menu as of late. However, now that I've created this fabulous whole30 sweet potato hash, I think breakfast should be covered at least a few days a week.
That is to say if Tim doesn't get to it first. The man is my human garbage disposal, and that term of endearment is both a blessing and a curse at the same time.
This hash should give you about four servings. But if you're really hungry, be sure not to give any to a human garbage disposal or you'll be sorry 😉
Is anyone going to be watching Homecoming on Amazon Prime? I am Jeremy Allen White's biggest fan (seriously) so I am eating this show up.
But he's not the only reason. Julia Roberts stars and the supporting cast is seriously AMAZING-- you must, must, must check it out.
It's a Saturday night and my agenda is: finish this blog post, do the dishes, repot 3 plants, make a grocery list and do my first work out since having Soph.
I will be doing all of this while I continue to binge watch Homecoming, of course. Hey, Thanksgiving is on Thursday, and I have a great idea...!
You should absolutely make whole30 sweet potato hash for breakfast! Let me tell you why...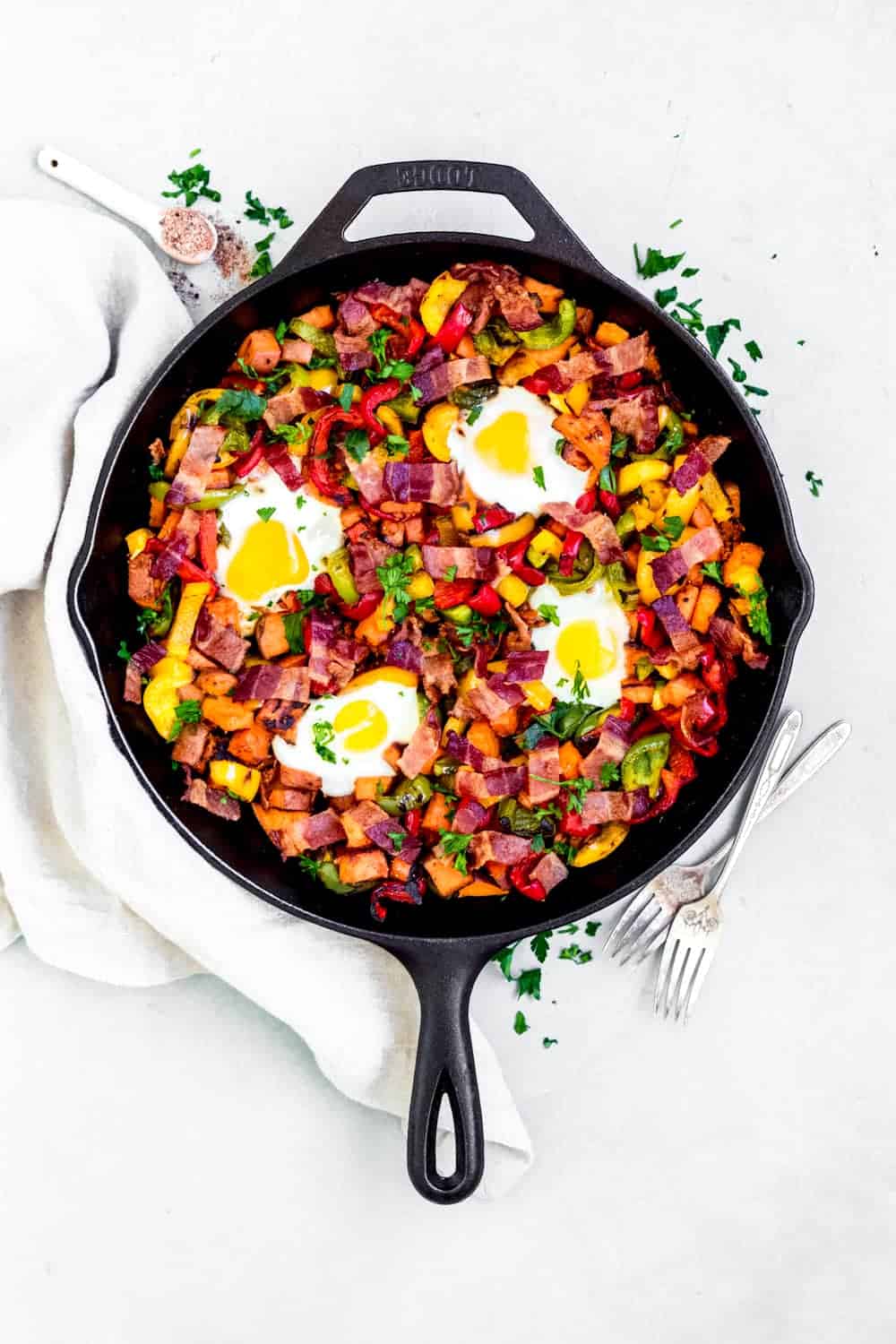 First of all, you only need to take about 25 minutes to cook sweet potato hash, and it will serve you for four breakfasts. Alternatively, you can a partner can share and be set on breakfast for two days.
Sign me up because that's 10 minutes to whip up this nutrient dense, high protein and healthy fat goodness to jump start your day.
If I knew how easy it was to make this hash, I would've been on board ages ago. Now, I will be mixing this into my weekly rotation alongside my green smoothies and yogurt bowls.
Because I'm all about that balance... bout that balance... no bullshit.
🙂
Anyway, if I sound like a broken record right now, it's because I am one when it comes to this yumminess.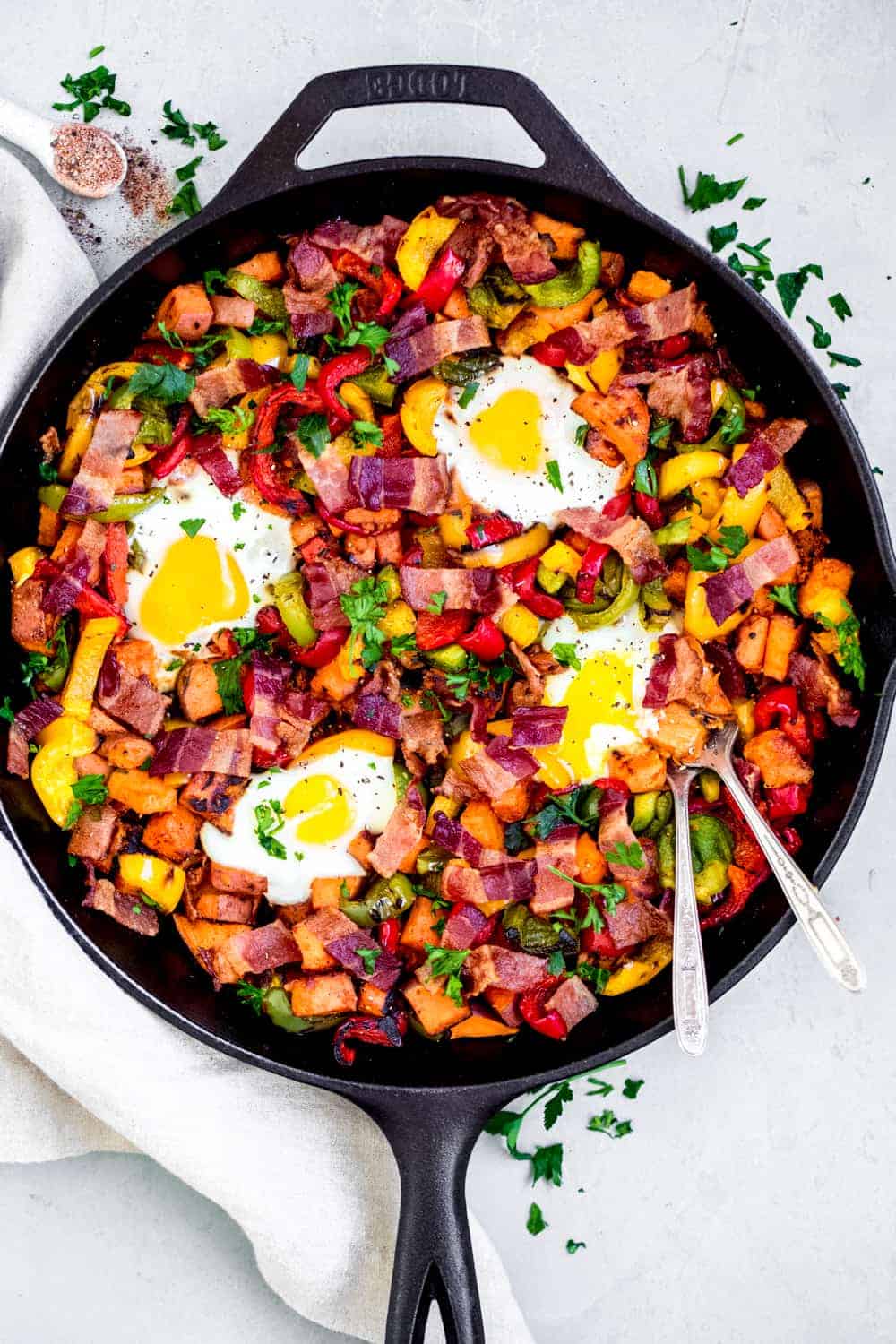 Get to making whole30 sweet potato hash today, so you can witness it in all of its glory before Thanksgiving.
You'll be giving thanks to me, just watch and hey- don't be shy. You can totally make this twice in a row this week if you feel so inclined.
I think i'll be asking Tim to make it on Thursday because I'll be prepping soooooo much dessert to bring to my mama's house. It's what she expects from me every year.
Let's climb aboard the sweet potato hash train and ride it all the way to bacon town, folks, shall we? 🙂
More Recipes You May Like...
Whole30 Sweet Potato Hash
Let's talk about the gloriousness that resides inside of this Whole30 sweet potato hash. It is full of crunchy bacon pieces, peppers, fresh herbs and topped off with some fried eggs. This easy breakfast hash is dairy free, paleo and whole30 compliant!
Print Recipe
Pin Recipe
Rate Recipe
Ingredients
3

tablespoons

avocado oil

divided in two

3

medium sweet potatoes

chopped into 1/2" thick pieces

3

bell peppers

sliced

2

teaspoons

seasoning

see below for recipe

8

strips

bacon

cooked and sliced

4

eggs

fresh parsley

for garnish
Instructions
Preheat the oven to 400 degrees Fahrenheit and adjust the oven rack to the middle position. You will use the oven at the very end to cook the eggs through.

In a large cast iron skillet, heat up 2 tablespoons of the oil. One sizzling, add the sweet potatoes and stir to coat. Cook and stir, uncovered, until the outside of the potatoes begin to turn brown. Add 2 teaspoons of the seasoning and stir again. Cover the skillet and continue cooking until the potatoes are soft throughout. Be sure to take the cover off and give them a stir every 5 minutes so they do not burn. If they are too dry, add a bit more oil. This will take roughly 10-12 minutes.

While the potatoes are cooking, add the remaining 1 tablespoon of oil to another skillet and add the bell peppers. Cook and stir, uncovered for 5-7 minutes until they are cooked through. Transfer the bell peppers to the sweet potato mixture.

After adding the bell peppers to the sweet potatoes, give everything a nice stir until well combined. Add the bacon and create 4 wells to crack the eggs into. Be sure the wells are deep and wide enough to prevent the yolks from breaking and the whites from running all over the place.

Bake at 400 degrees Fahrenheit for roughly 10-12 minutes until the whites have set. Top off with fresh parsley and enjoy hot.
Nutrition
Calories:
463
kcal
|
Carbohydrates:
29
g
|
Protein:
14
g
|
Fat:
33
g
|
Saturated Fat:
9
g
|
Cholesterol:
193
mg
|
Sodium:
1575
mg
|
Potassium:
720
mg
|
Fiber:
6
g
|
Sugar:
8
g
|
Calcium:
104
mg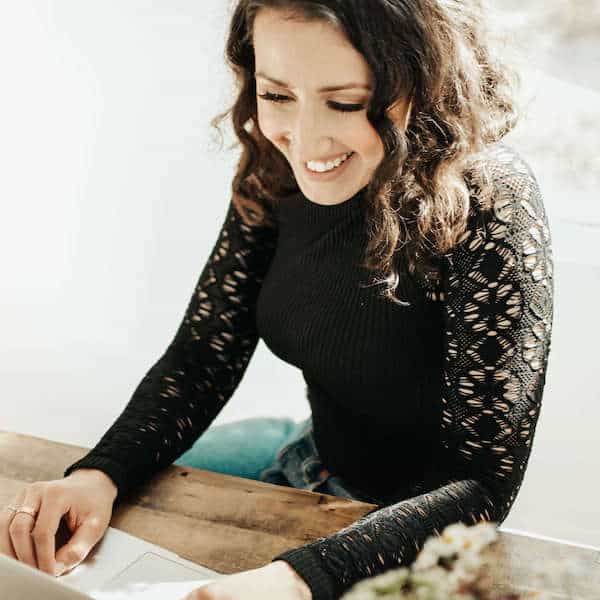 Hi! I'm Monica – recipe developer, matcha addict and lover of all things chocolate, kombucha and any & all puns. I am also the blogger, real food lover, & bonafide hustler behind the blog 'The Movement Menu.' I'm so excited to welcome you to my happy space, where my appreciation of creative recipes and healthy & mindful eats come together to inspire you to live a healthy, balanced life.