This Paleo and Whole30 Greek Salad is made with tons of fresh vegetables, snappy capers and olives. It's topped off with a raw cashew based, creamy & compliant tzatziki dressing.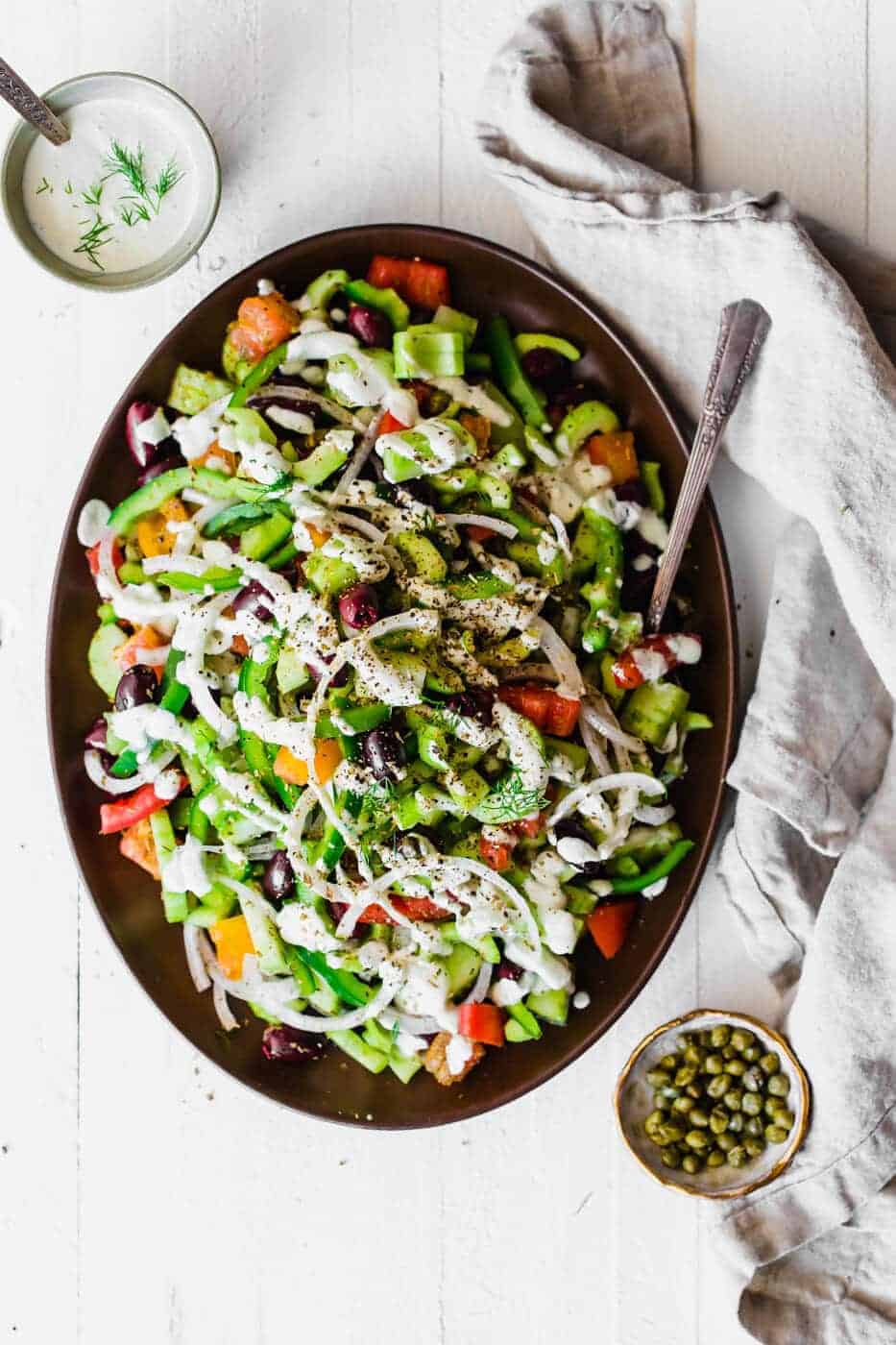 A Whole30 tzatziki dressing that is to die for!
I know that Greek salad is a recipe that typically starts off being quite healthy, but it becomes a little tricky when it comes to incorporating a creamy tzatziki dressing.
That's where the inspiration for this recipe specifically came from.
I wanted to come out with the dressing, and I knew I wanted to use a raw cashew base for it. The main objective was for it to taste like the real deal... obviously 😉
I had tried a Greek salad recipe a couple of years that I particularly loved and wanted to emulate. It didn't have ANY lettuce in it, which is how a real/authentic Greek salad should be made.
The vegetable base for the salad is a combination of: green bell peppers, Persian cucumbers, heirloom tomatoes, Roma tomatoes, white onion.
I decided to add kalamata olives, capers & some delicious herbs and spices as well.
A Whole30 Greek salad that would satisfy the Greek gods!
You are seriously going to
love
this
salad!
I love how delicious this Whole30 Greek salad tastes before adding any feta cheese.
The cheese addition is completely optional, and the creamy cashew tzatziki is really enough to make this fabulous on its own... trust me!
We're going to be starting our kitchen renovation tomorrow morning, and I cannot freaking believe the day has already come. What's insane is that 2 weeks into the renovation, we'll be leaving for Spain.
The hope is that by the time we are back, the remodel will be over, and we'll just get to enjoy the new space. Ahh. I get chills just thinking about this.
More like this:
Roasted Butternut Squash Salad with Kale
Whole30 Shakshuka With Cauliflower Rice
I find it pretty ambitious that we decided (well, I don't know if I can truly say "we" here) to sell our home, buy a new home, start a kitchen remodel and travel to Spain all within a 5-week time frame.
Oh, and while all of this is going on, I just so happen to be 23 weeks pregnant. Some of my close friends and family members are like:
"You are f*cking nuts! What are you doing?" No news there.
I also take full responsibility for my insanity. Tim always mentions that I'm the day-dreamer, risk-taker, goal-setter, etc...
and he just loves jumping on board and traveling on the crazy train alongside me.
That isn't to say that he doesn't speak up when I come up with an idea that is downright silly. He's had me pump the brakes a few times. Promise.
But back to this fabulousness we're going to be calling a paleo and Whole30 Greek salad. Let's have you dive in, shall we??!
Try adding this salad into your weekly meal plan rotation. You can be as creative as you'd like with your veggie add-ins and if there is a particular ingredient you aren't fond of (let's say: capers), go ahead and skip over it.
The delicious herbs and spices and creamy cashew dressing stand on their own.
You won't screw up the recipe if you want to make a couple of modifications!
Alright, alright. Let's stop messing about...
Get on board the crazy train with me and make this Whole30 Greek salad as soon as you can. You're going to absolutely la-la-la LOVE it! <3
Paleo & Whole30 Greek Salad
This Paleo and Whole30 Greek Salad is made with tons of fresh vegetables, snappy capers and olives. It's topped off with a raw cashew based, creamy & compliant tzatziki dressing.
Print Recipe
Pin Recipe
Rate Recipe
Ingredients
Salad
3

heirloom tomatoes

diced

2

Roma tomatoes

diced

2

green bell peppers

diced

1

white onion

thinly sliced

6

persian cucumbers

sliced

2

tablespoons

dried oregano

2 1/2

tablespoons

capers

1

cup

kalamata olives

pitted

black pepper

to taste

1

block

sheep's milk feta

optional (omit for Whole30)
Tzatziki Dressing
1 1/2

cups

raw cashews

soaked in boiling water for 2 hours

1

cup

filtered water

2

tablespoons

fresh lemon juice

1 1/2

cups

cucumber

grated

3/4

teaspoon

sea salt

5

garlic cloves

3

teaspoons

white vinegar

2

heaping tablespoons

fresh dill

chopped

sea salt

to taste

black pepper

to taste
Instructions
Dressing
Add cashews to a bowl and cover with boiling hot water. Let set, uncovered, for 2 hours. Rinse with cold water and drain thoroughly.

Blend all of the ingredients (except the cucumber and dill) together in a high-speed blender, scraping down the sides as necessary. You will want it to be thick and creamy throughout.

Add cucumber and blend until completely incorporated.

Stir in fresh dill. Taste for salt and pepper seasoning. Transfer to the refrigerator to thicken up more. If you have time to let it sit overnight, that's best!
Salad
Combine all of the salad ingredients together in a large bowl.

Add Whole30 tzatziki dressing, to taste. You will most likely have plenty of dressing leftover.

Serve right away and garnish with extra capers and fresh dill if desired.
Notes
Store the leftover dressing in an airtight container in the refrigerator for up to one week.
Nutrition
Calories:
363
kcal
|
Carbohydrates:
24
g
|
Protein:
14
g
|
Fat:
26
g
|
Saturated Fat:
9
g
|
Cholesterol:
34
mg
|
Sodium:
1168
mg
|
Potassium:
695
mg
|
Fiber:
5
g
|
Sugar:
9
g
|
Calcium:
270
mg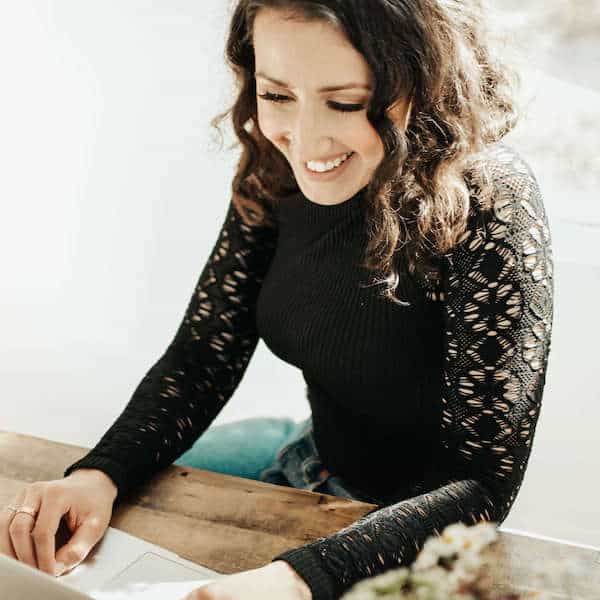 Hi! I'm Monica – recipe developer, matcha addict and lover of all things chocolate, kombucha and any & all puns. I am also the blogger, real food lover, & bonafide hustler behind the blog 'The Movement Menu.' I'm so excited to welcome you to my happy space, where my appreciation of creative recipes and healthy & mindful eats come together to inspire you to live a healthy, balanced life.