This warm and comforting Whole30 golden milk soup is full of all of the nutrients and nutrient dense veggies. What more can you ask for? It's quick and easy to make for weeknight dinners, as well as being dairy free, paleo and 100% Whole30 compliant!
Just wanted to let you know this soup recipe post is sponsored by the lovely folks at Further Food.
For 10% off your order, be sure to use the code MOVEMENTMENU
Did someone say golden milk soup?!
Have you jumped on the turmeric train yet? It's a fast and speedy train that has sped through 2017 and doesn't plan on stopping throughout 2018. There are many reasons why turmeric has become such a hot button ingredient lately:
It is the ultimate anti-inflammatory superfood and a very strong antioxidant
It has been used for thousands of years in India as a medicinal herb
Curcumin (the main ingredient in turmeric) can help promote weight loss naturally
Furthermore, the daily turmeric tonic that is used in this recipe also contains ingredients like:
Organic schisandra berry: an adaptogenic herb that improves mood and mental clarity
Boswellia: immune boosting, with pain reducing qualities
Organic cinnamon: optimal for heart health and loaded with antioxidants
Organic ginger: reduces inflammation and improves digestion
And y'all already know how much I love collagen peptides. The benefits include but are not limited to the following:
Sleep quality: Better cognitive function, a sounder sleep cycle and and less daytime drowsiness according to clinical studies shown here
Bone & joint health: Glycine speeds up wound healing and helps loosen up stiff joints
Digestive aid: Aids in soothing and healing the digestive tract, as well as helping to repair the mucous lining. In addition, collagen helps to digest the protein and fat found in food, which leads to the body being able to digest them more easily!
Skin health: Ensures elasticity and regeneration of the skin. The amino acids that are found in collagen have been linked to anti-aging. A study in 2014 showed that women who took collagen peptides regularly for eight weeks saw a 20% reduction in wrinkles.
A complete meal inside this bowl of Whole30 soup.
This golden milk soup comes in very handy for a quick and satisfying breakfast, lunch or dinner. You can alternatively add in your favorite protein like pork belly, shredded beef or some chicken thighs for an even more satiating bite.
Can you tell how creamy this big bowl of deliciousness is? The combination of cauliflower, carrots and collagen peptides makes for a triple creamy pool of yum.
I decided to throw half of the batch into the freezer, so I'd have something to quickly reheat next week. I'm all about saving time and energy spent in the kitchen so when a recipe freezes well, it's a huge slam dunk over here.
More like this:
Get creative with this golden milk soup!
What's so flipping awesome about making a soup like this golden milk one, is the ability to get fairly creative with your ingredients. If you don't feel like using carrots, substitute in some leeks.
If you're not a huge fan of cilantro, top off with bad boy with some chopped parsley or basil instead. It's going to be pretty darn delicious any way you swing it.
The turmeric tonic and collagen peptides were such lovely add-ins, and I'm so excited for you to get your hands on these awesome products. You'll be adding an extra 21 grams of protein to the soup, in addition to a variety of additional antioxidants, anti-inflammatories and adaptogens.
The unique flavor combinations, coupled with all of the nutrients in this soup make for a real stunner. Don't be shy and perhaps invite over some lunch or dinner guests to share this golden milk soup with!
It's time to jump on board the train to turmeric town and make this creamy, dreamy bowl of Whole30 golden milk soup. Cut your weekly meal prep time down and really step up your game, eh? 🙂
For 10% off your order, be sure to use the code MOVEMENTMENU
This post is sponsored by the lovely folks at Further Food. Thank you for allowing me to continue creating such incredible content by supporting relationships with incredible brands and companies that The Movement Menu enjoys working with! Opinions will always remain 100% my own!
---
SaveSave
Whole30 Golden Milk Soup
This warm and comforting Whole30 golden milk soup is full of all of the nutrients and comes boosted with collagen peptides and a turmeric tonic. What more can you ask for? This soup is quick and easy to make for weeknight dinners, as well as being dairy free, paleo and 100% Whole30 compliant!
Print Recipe
Pin Recipe
Rate Recipe
Ingredients
3

tablespoons

ghee or avocado oil

split in two

1

large yellow onion

chopped

8

garlic

chopped

2

cauliflower heads

cut into florets

4

carrots

thinly chopped

64

ounces

bone broth- Find Here!

4

teaspoons

sea salt

split in two

1 1/2

teaspoons

ginger

minced

1/2

teaspoon

cinnamon

1/2

teaspoon

black pepper

1

teaspoon

daily turmeric tonic

3

scoops

grass-fed collagen peptides

sea salt and black pepper

to taste

red chili pepper flakes

to taste

chopped cilantro

for garnish

dairy free yogurt

for garnish

unsweetened coconut flakes

toasted, for garnish
Instructions
Place a large saucepan or dutch oven over medium-high heat. Add the ghee, onions and garlic and sauté for about 1 minute until fragrant, stirring frequently so the garlic does not burn.

Add cauliflower florets, carrots, broth, half of the salt and ginger. Cover the pot, reduce the heat to medium and let cook for another 25 minutes, or until the cauliflower feels fork tender.

Once the cauliflower feels fork tender, add the salt, cinnamon and black pepper. Stir well to combine.

Transfer the soup mixture into a Vitamix or high-speed blender. You can alternative use an immersion blender. Blend on medium-high until smooth, about 1 minute. Add in the turmeric tonic and collagen peptides. Blend again. Taste for additional salt and pepper and red chili flakes.

Serve topped off with some chopped cilantro, dairy free yogurt and toasted & unsweetened coconut flakes. Enjoy!
Notes
Store leftovers in the freezer or in the fridge.
Nutrition
Calories:
142
kcal
|
Carbohydrates:
13
g
|
Protein:
12
g
|
Fat:
6
g
|
Saturated Fat:
4
g
|
Cholesterol:
14
mg
|
Sodium:
1315
mg
|
Potassium:
560
mg
|
Fiber:
4
g
|
Sugar:
5
g
|
Calcium:
50
mg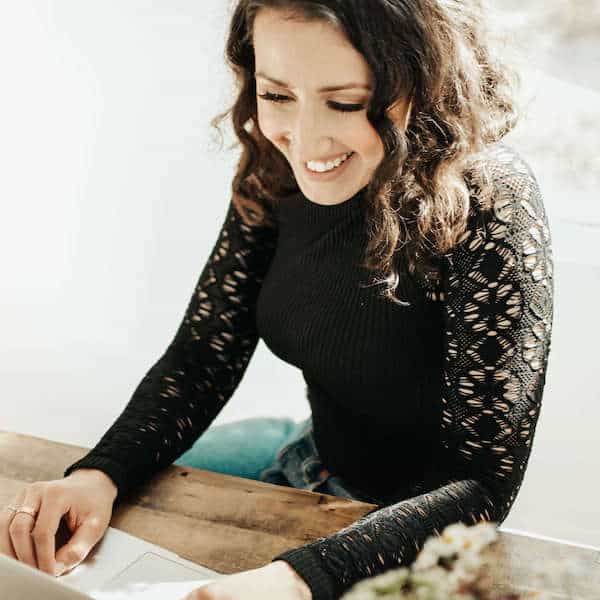 Hi! I'm Monica – recipe developer, matcha addict and lover of all things chocolate, kombucha and any & all puns. I am also the blogger, real food lover, & bonafide hustler behind the blog 'The Movement Menu.' I'm so excited to welcome you to my happy space, where my appreciation of creative recipes and healthy & mindful eats come together to inspire you to live a healthy, balanced life.