The best Whole30 curry meatballs are the perfect addition to your Whole30 weekly meal plan. Bring them with you to lunch atop a big and hearty salad or enjoy them with a big bowl of cauliflower rice for dinner. These meatballs are paleo, low carb and Whole30.
Just wanted to let you know these incredible Whole30 meatballs are sponsored by my friends at KitchenAid!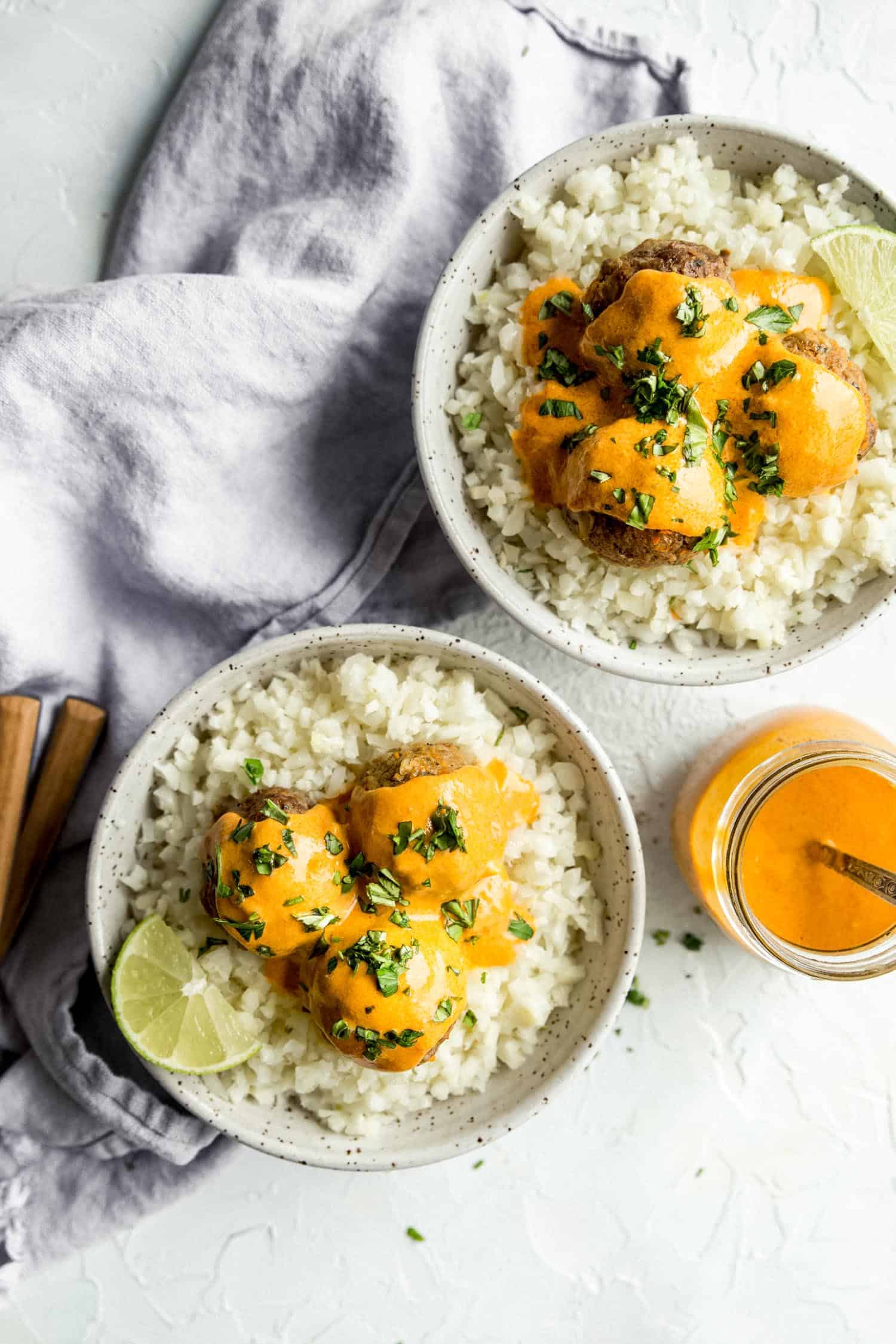 What can I pair with these Whole30 curry meatballs?
I'm really clueless as to why it has taken me so long to come up with a recipe like this. I'm a curry fiend… ask anyone. I love Thai curry, Indian curry, you name it.
However, once I discovered how easy it was to make curry at home, there was no turning back.
I love picking up curry paste at the local grocery store and getting down with the stove. Seriously, once you pick some curry paste up, you'll understand why it is such a game changer.
These Whole30 curry meatballs were finished by my husband in TWO days… I got to eat… 3 meatballs- total. Thanks babe.
You know what would pair really well with these meatballs besides plain cauliflower rice or white rice? Some souped up cauliflower rice recipes like:
Super Saucy Asian Cauliflower Rice
or Whole30 Cauliflower Fried Rice
Would almond butter work instead of cashew in these Whole30 meatballs?
You can absolutely substitute out the cashew butter in this recipe for almond butter. I don't always do well with almonds, so I choose to use cashews in their place for that reason.
Not to mention, I think cashew butter is way tastier and creamier, so that's a big win! 🙂
If you have access to cashew butter, I would highly recommend getting your hands on it for the sauce. If you already have some creamy almond butter at home and don't want to head to the store, I won't hold it against you.
One of my favorite parts of this recipe is how quickly everything comes together.
I love that I was able to just throw all of my meatball ingredients into the food processor and give it a whirl. It's so convenient to have and it looks really beautiful on my countertop.
Could I use ground beef or pork instead of chicken?
You could use a different ground meat mixture like beef or pork, but if it's 90% lean or higher, I'd recommend adding some chopped bacon for extra fat to combat the dryness.
I have a few theories as to why these meatballs turned out just so delicious.
The curry sauce they are swimming in is to die for. I like to double the recipe and keep some on hand in the freezer (in small serving cubes) to quickly defrost.
A little fish sauce adds so much umami… and goes a long way
They are so quick and easy to make. Less time in the kitchen doing dishes = a happy me
Imagine how incredibly easy it would be to throw these onto a large bed of greens with some extra veggies, pour some curry sauce on top and chow down on your break at work. No microwave necessary!
I'm patting myself on the back as I type this… for real.
Get on board with these Whole30 curry meatballs, and you'll be thanking me very soon. Promise.
This post is sponsored by the lovely folks at KitchenAid. Thank you for allowing me to continue creating such incredible content by supporting relationships with incredible brands and companies that The Movement Menu enjoys working with! Opinions will always remain 100% my own!
More Whole30 recipes like this:
Easy Buffalo Chicken Meatballs
Whole30 Beef and Bacon Breakfast Bowl
Whole30 Drunken Zucchini Noodles
Best Ever Whole30 Curry Meatballs
These Best Ever Whole30 Curry Meatballs are the perfect addition to your Whole30 weekly meal plan. They taste wonderful reheated... or cold! Bring them with you to lunch atop a big and hearty salad or enjoy them with a big bowl of cauliflower rice for dinner. Any way you want them- they're amazing!
Print Recipe
Pin Recipe
Rate Recipe
Ingredients
Meatballs
2

pounds

grassfed beef

90/10 works best

1/2

cup

cooked cauliflower rice

1

tablespoon

flaxseed meal

6

garlic cloves

1/2

a red onion

roughly chopped

1

cup

carrots

roughly chopped

1 1/2

limes

juiced

2

tablespoons

coconut aminos

1 1/2

teaspoons

ground ginger

1

teaspoon

cumin

1/2

teaspoon

red chili pepper flakes

splash

fish sauce

1/2

teaspoon

sea salt

1/2

teaspoon

black pepper

3

tablespoons

fresh basil

chopped

sea salt and black pepper

to taste
Instructions
Preheat the oven to 375 degrees Fahrenheit and adjust the oven rack to the middle position. Line a baking sheet with parchment paper and set aside.

Place all of the ingredients (except the beef) for the meatballs in the bowl of a food processor. Pulse for 30 seconds or so until mixed well. Do not over process, as it will become mushy! Add the meat and process a few more times.

Roll into 1 1/2 - 2" balls and place them on the prepared baking sheet.

Bake for 20 minutes and rotate the pan 180 degrees. Bake for another 10-15 until they have reached your desired doneness. I like mine cooked to a medium doneness, so I pulled them out after 30 minutes. While they finish cooking, prepare the curry sauce.

In a medium saucepan, heat the coconut milk until is begins to simmer. Add the rest of the ingredients and whisk well. Bring to a low boil and turn the heat down to low. Let simmer and thicken for 10-15 minutes. if you like your sauce a bit thicker, you can add the arrowroot mixture (see the bottom of the Curry Sauce ingredients list!)

Serve the meatballs on a bed of cauliflower rice or regular rice (if you aren't Whole30ing!) Cover with the curry sauce and garnish with fresh herbs and red pepper flakes.
Notes
This recipe can be made and served on top of a bed of rice as well. Stick with cauliflower rice if you want to keep it Whole30 compliant!
Nutrition
Calories:
394
kcal
|
Carbohydrates:
15
g
|
Protein:
26
g
|
Fat:
27
g
|
Saturated Fat:
16
g
|
Cholesterol:
74
mg
|
Sodium:
332
mg
|
Potassium:
675
mg
|
Fiber:
3
g
|
Sugar:
3
g
|
Calcium:
54
mg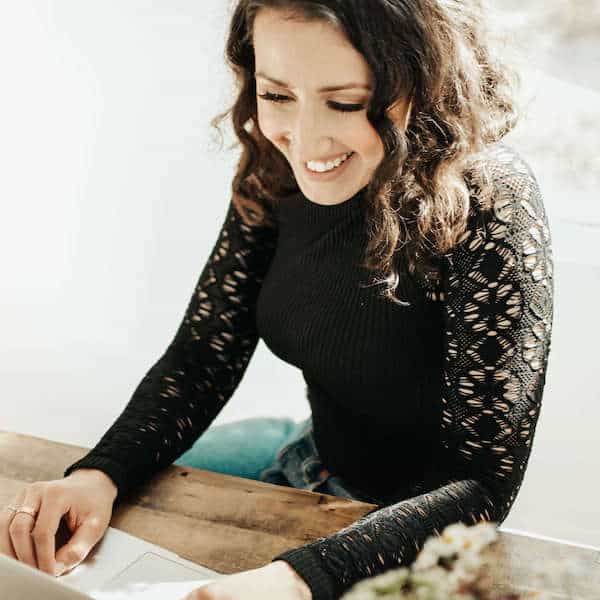 Hi! I'm Monica – recipe developer, matcha addict and lover of all things chocolate, kombucha and any & all puns. I am also the blogger, real food lover, & bonafide hustler behind the blog 'The Movement Menu.' I'm so excited to welcome you to my happy space, where my appreciation of creative recipes and healthy & mindful eats come together to inspire you to live a healthy, balanced life.