Paleo Whole30 chicken salad equals creamy, curried chicken and loaded up with yummy veggies. This salad is stuffed into avocados and topped off with fresh herbs and green onions. A delicious, quick and easy Whole30 lunch hack!
Make this paleo whole30 chicken salad and take it to go!
I have been on such a curry kick as of late. Curry and turmeric, actually. I think the neon yellow color that it turns my dishes into is what attracts me. Oh, and the smell. I've been putting turmeric into my coffee every single morning.
I will need to post my coffee recipe soon because I have made a concoction that I deem as perfect for me.
I wake up in the morning, excited to break out my blender and start my mad science coffee work.
Okay, so from coffee to curry… I love chicken salad. Usually, I eat chicken salads filled with grapes, cranberries, nuts, etc.
But hold your horses.
I'm ready to kick up the chicken salad game about twelve notches.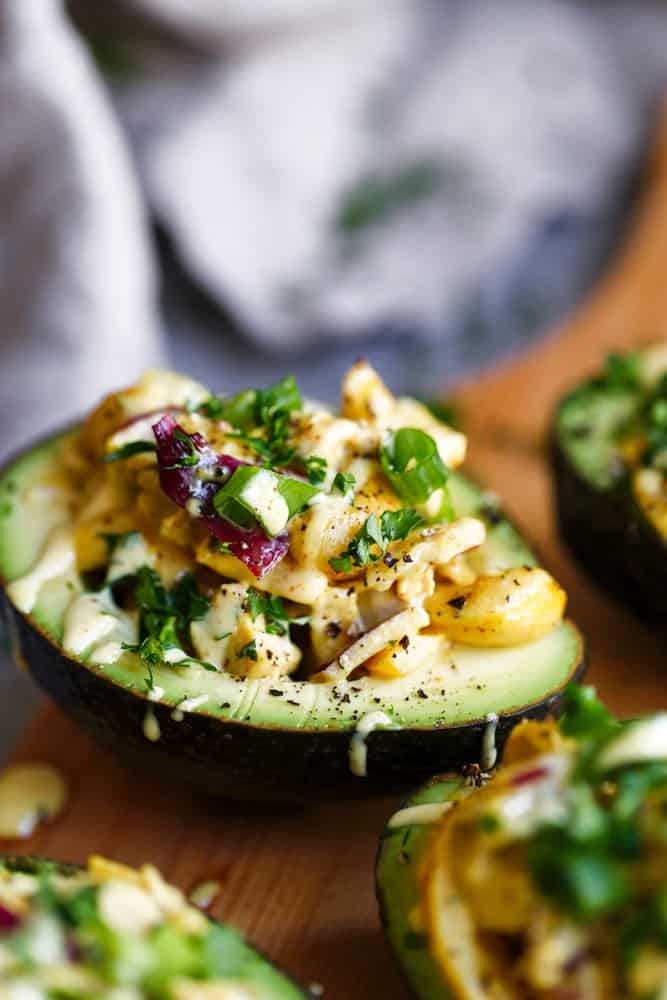 A paleo chicken salad recipe that's nutritious and filling!
My husband used to come and bring me lunch at work (years ago, at my corporate "normal" job) and every once in a while, he'd surprise me with some gluten free bread and chicken salad.
No, not green salad. He would bring over a couple tubs of chicken curry salad and tuna salad from our neighborhood market.
They were both delicious, don't get me wrong. What I noticed immediately after trying each of them though, was a strange aftertaste. Then, I read the ingredient list, and there was the culprit: VEGENAISE!
Do not get me wrong- if you are vegan and want to get your pseudo mayonnaise on, by all means grab the Vegenaise.
IT IS NOT FOR ME THOUGH. Why? The first ingredient is soy oil. Plain and simple. Neither my mind nor my body agree with any soy products.
Soon after, I was on a mission to make a quick and easy Whole30 compliant mayonnaise at home.. and I did!
Put this whole30 chicken salad into avocado boats
Why did I decide to stuff this creamy chicken salad into avocado "boats?" Well, first of all, is there anything cuter than a stuffed avocado? The answer is no.
Second of all, I wanted to find a vessel for the chicken salad that was Whole30 compliant and that complimented the flavors from the chicken salad.
Because of the subtleness and creaminess the avocado lends, it is absolutely the perfect companion for the creamy, curried chicken salad. Do you get it now?
Also, I'm all about easy. I wanted to make this recipe as easy as possible and by making it low carb and full of all the healthy fats and protein, I think it will be VERY easy to eat all at once. Just kidding. You could though. If you wanted to.
If you have any haters or naysayers encroaching on you during your Whole30, I invite you to make this recipe for them. I guarantee that after they try this paleo whole30 chicken salad, they'll be believers.
You guys do realize that I made this recipe back in early 2014 but the photography was so horrible that I had to redo it, right? Probably not. Who the HECK was visiting my blog in 2014?
My mom. My sister, if I asked her to. That's all, folks.
Chances are, this is your first time seeing this recipe, and that is very exciting for me. The fact that I can get away with rephotographing old recipes from years ago makes me feel pretty giddy.
It is my goal to begin rephotographing more and more of those recipes so you don't miss a delicious beat. First up was this paleo whole30 chicken salad, as they are one of my favorite recipes to date ????
There is nothing easier to pack ahead of time than these delicious boats, loaded up with creamy chicken salad and fresh veggies and herbs. Get ahead with your Whole30 and make these boats today!
More like this:
Be sure to add this recipe for paleo whole30 chicken salad to the lunch rotation!
SaveSave
Paleo Whole30 Chicken Salad Boats
Paleo Whole30 Chicken Salad equals creamy, curried chicken loaded up with yummy veggies. This salad is stuffed into avocados and topped off with fresh herbs and green onions. A delicious, quick and easy Whole30 lunch hack!
Print
Pin
Rate
Ingredients
2 1/2 pounds

pounds

organic, boneless, skinless chicken thighs

2 1/2

teaspoons

curry powder

3/4

teaspoon

sea salt

3/4

teaspoon

white pepper

1/2

teaspoon

ground thyme

1

small green apple

diced

1

small red onion

diced

2

small yellow or orange bell peppers

diced

green onions

for topping

fresh parsley

for topping

4

avocados

halved and pitted
Instructions
Rinse chicken thighs in cold water and pat them dry on a cutting board. Remove any excess fat if you'd like.

Bring a large sized pot of water to a boil. Add the chicken and cook until the internal temperature reads 160 degrees Fahrenheit. Make sure you don't overcook the chicken or it will become tough and dry.

Strain the chicken and leave to cool on a cutting board. After it has cooled, cut the chicken into bite-sized cubes.

Combine your spices in a small bowl and thoroughly rub them into the chicken with your hands. Transfer your spiced chicken into a large bowl (big enough for you to mix everything together well with your hands!)

Add the vegetables and apple to the bowl of chicken and stir until combined.

Pour the mayonnaise over the chicken and vegetables, and give it a really thorough lather/mix with your hands. Make sure everything is completely coated with the mayo.

Cover the bowl with plastic wrap, and let it sit in the refrigerator for at least 1 hour before serving.

Stuff the avocado halves with chicken salad. Garnish with green onions and fresh parsley. Enjoy!
Notes
This recipe will make a lot of chicken salad (about 10 servings.) I am unsure how many avocado halves it would take to utilize all of the salad. As a point of reference, I calculated the nutritional information for this salad without the avocado.
Serving:
1
boat
|
Calories:
431
kcal
|
Carbohydrates:
14
g
|
Protein:
24
g
|
Fat:
31
g
|
Saturated Fat:
4
g
|
Cholesterol:
108
mg
|
Sodium:
411
mg
|
Potassium:
761
mg
|
Fiber:
7
g
|
Sugar:
4
g
|
Vitamin A:
900
IU
|
Vitamin C:
40
mg
|
Calcium:
28
mg
|
Iron:
2
mg
Hi! I'm Monica – recipe developer, matcha addict and lover of all things chocolate, kombucha and any & all puns. I am also the blogger, real food lover, & bonafide hustler behind the blog 'The Movement Menu.' I'm so excited to welcome you to my happy space, where my appreciation of creative recipes and healthy & mindful eats come together to inspire you to live a healthy, balanced life.