I'm so excited to bring you these vegan double chocolate oat bars that have been made with all of the love and delicious ingredients. They're perfect for over the holidays and all year round, too. The perfect gluten free and vegan treat!
Just wanted to let you know these incredible oat bars are sponsored by my friends at One Degree Organics!
Vegan double chocolate oat bars made with dates- yum!
This recipe has been a long time coming, you guys, and let me tell you why. I had attempted to make THREE other recipes with oats before I successfully produced these oat bars.
It was a very rough week, that's for damn sure. I originally was very into the idea of trying to create an oatmeal chocolate chip skillet cookie. I tried two different renditions, but was unhappy with how they were looking (even though the taste was great!)
I then moved onto trying to make some raw no bake oatmeal "nutella" cookies, and the dough just did not come together how I wanted it to. I've made so many bars over the years, and I knew I could probably churn out a pretty awesome recipe. It was time to move on...!
---
More like this:
Paleo Caramel Pecan Cheesecake Bars
Paleo Vegan Berry Cheesecake Bars
Have you made gluten free and vegan oat bars before? These will be your go-to!
When I was given the opportunity to team up with One Degree Organics again, I was super excited to start recipe developing. They have a new line of gluten free & sprouted oats, and these sprouted rolled oats were the perfect base for this recipe.
I knew I wanted to throw chocolate into these oat bars pretty much immediately. I had tried a chocolaty, date based oat bar several years ago at a vegan cafe, and I had fallen back on this memory while I was working on these vegan chocolate oat bars.
I wouldn't recommend making any substitutions with this recipe. The oat flour and sprouted oats themselves bring a very unique texture and flavor to the equation. It simply cannot be replaced by anything else- at least, not to my knowledge.
Let's quickly chat about why using sprouted oats is so freaking awesome! Two reasons:
Sprouting grains, seeds, nuts, etc. before consuming them means both easier digestion & absorption!
Better absorption equates to better nutrition. Since your body can absorb the nutrients easier, you get to hold on to them and reap the benefits!
You can get crazy with the toppings in this recipe if you'd like! I simply melted some dark chocolate down with coconut oil and drizzled it all over. If you want to skip that part or add something else on top like a vegan caramel sauce, I've got your back on that.
Really, it's up to you. I think the combination of the warm, ooey gooey dates with the toasty oats and dark chocolate is absolute heaven.
I'm actually thinking of bringing the oat bars over to my parents' house for Thanksgiving lunch 😉 I will need to report back!
I'll be peeling out of here on the morning of Black Friday to head to my hometown of Chicago for my high school reunion. MADNESS, I tell ya!
I also have family I'll be visiting and spending plenty of time with and a bunch of friends I cannot wait to catch up with! 🙂 Not to mention, I know I'll be eating my way through the city. I haven't been back to Chicago by myself in SUCH a long time, certainly not since I became an obsessed food nerd.
I cannot wait to have that experience. There are so many restaurants and cafes I've been itching to visit.
Well, what are you waiting for? It's absolutely time to get your hands and mouth all over these deliciously vegan chocolate oat bars.
I know I'll be making them all year long, as I've already received a couple of thumbs up(s) from friends and family. Their approval seriously means everything, you guys.
When I can make them smile with the food I create, there is no greater feeling in this world. At least not yet! 😉
This recipe was inspired by Monique at the Ambitious Kitchen and her recipe for Ooey Gooey Dark Chocolate Espresso Date Oat Bars!
This post is sponsored by the lovely folks at One Degree Organics. Thank you for allowing me to continue creating such incredible content by supporting relationships with incredible brands and companies that The Movement Menu enjoys working with! Opinions will always remain 100% my own!
Vegan Double Chocolate Oat Bars
I'm so excited to bring you these vegan double chocolate oat bars that have been made with all of the love and delicious ingredients. They're perfect for over the holidays and all year round, too. The perfect gluten free and vegan treat!
Print Recipe
Pin Recipe
Rate Recipe
Instructions
Preheat the oven to 350 degrees Fahrenheit and adjust the oven rack to the middle position. Lightly coat an 8x8" square baking pan with extra fat. Measure out parchment paper to the width of the longest side of the pan (in this case, it's even). Make sure it's long enough to line the entire bottom of the pan, both sides and have a few inches of overhang on either side.

Add dates, hot water, and cashew butter to a food processor or high-powered blender and blend until smooth. This should only take 1-2 minutes. Allow date mixture to cool slightly as you make the oat base.

In a large bowl, combine oat flour, oats, baking soda, coconut sugar, cinnamon, cardamom, salt, and vanilla. Stir in melted coconut oil until the mixture turns into large crumbs. Transfer 1 cup of the mixture into another small bowl. Transfer the remaining oat mixture into the baking pan. Be sure to pack it in tightly, as you will not want it to crumble.

Pour the date mixture on top of the oat crust. Use an offset spatula to spread it across and throughout evenly. Scatter the dark chocolate chips evenly across the date layer. Add the last of the oat crumble on top and be sure it is covering everything well.

Bake at 350 degrees Fahrenheit for 30-35 minutes or until the top layer looks golden brown around the edges. As soon as they come out of the oven, transfer the baking pan to a wire rack to cool for at least an hour before removing the bars from the pan *using the parchment handles!* After removing the oat bars, carefully cut into 16 squares.

Whip up the chocolate drizzle. Using a double boiler method or your microwave, gently melt the chocolate chips with the coconut oil. Drizzle the melted chocolate mixture over the tops of the bars and transfer them to the refrigerator to completely set. Keep the bars in an airtight container in the refrigerator for up to one week.
Nutrition
Serving:
1
bar
|
Calories:
271
kcal
|
Carbohydrates:
50
g
|
Protein:
6
g
|
Fat:
6
g
|
Saturated Fat:
3
g
|
Sodium:
6
mg
|
Potassium:
99
mg
|
Fiber:
5
g
|
Sugar:
24
g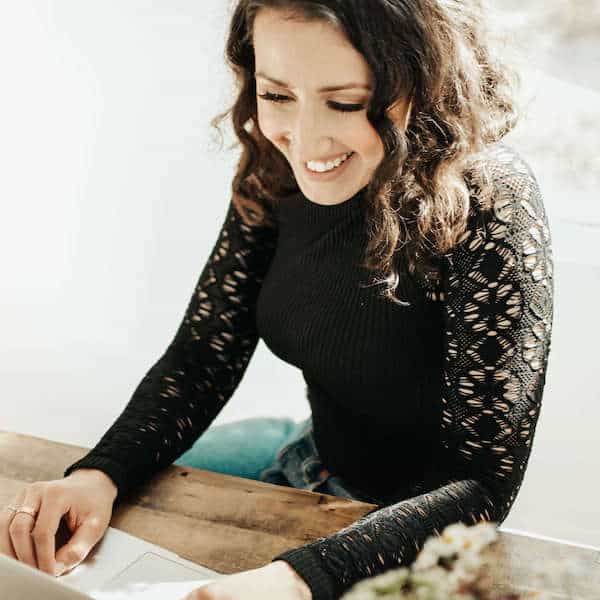 Hi! I'm Monica – recipe developer, matcha addict and lover of all things chocolate, kombucha and any & all puns. I am also the blogger, real food lover, & bonafide hustler behind the blog 'The Movement Menu.' I'm so excited to welcome you to my happy space, where my appreciation of creative recipes and healthy & mindful eats come together to inspire you to live a healthy, balanced life.