The best and easiest to make vegan dark chocolate caramel cups. These creamy dark chocolate cups are the best dang treat ever. This is my go to recipe if I have a friend or family member's birthday coming up. They freeze extremely well and make the best gift ever!
Vegan Dark Chocolate Caramel Cups Are All The Rage!
There's never a bad time to have a supply of chocolate in your refrigerator. The easy vegan caramel sauce in this recipe could be the best thing you'll ever put in your mouth.
I'm not even kidding. At all.
Tim told me these dark chocolate caramels could be the best thing I've ever made. Wowzers!
In fact, I made them for a friend's birthday and even though Tim promised not to touch them, they were gone when I went to go gift wrap them. Needless to say, I was pretty upset but couldn't blame him.
A yearning for chocolate is quite real.
Vegan dark chocolate mixed with caramel and sea salt and nuts = utter perfection
I've made vegan dark chocolate caramel cups like these before. Last time, my recipe for caramel was slightly different, I didn't think it would be possible to top those cups but I have!
My husband pointed out that the caramel in these chocolate cups is a bit richer. What's so awesome about this recipe is that it will absolutely keep in the refrigerator for 7-10 days in an airtight container.
I doubt they'll last that long but hey, if you love a good challenge, go ahead and see if you can make them last!
This recipe is pretty flexible, in the sense that you can use whatever type of nut butter/nut combination you'd like. However, I've tried this recipe with quite a few combinations, and I do advise you don't stray very far from what I have written out.
The cashew butter is the hero in this recipe and the nut combination I have created is the winner's sidekick. Trust me on this one.
More like this:
5 Minute Paleo Chocolate Chip Cookies
I went to go visit one of my closest friends last week in Orange County. She just so happened to have a baby at the beginning of the month, and I knew she was spending all of her time putting baby Daisy's needs first now.
Keeping that in mind, I decided to bring all the natural baby and mama products with me, as well as treats galore.
She was extremely happy and gracious that I thought about bringing the two of them all these wonderful, naturally derived products.
But what really made her day was receiving some of these easy vegan dark chocolate caramel cups. She actually text me earlier today, complaining about them being gone too quickly. I will need to bring her more the next time I come visit, that's for sure.
Late night cravings come to life with vegan dark chocolate caramel cups
Who's ready to wake up in the middle of the night and make a dash for the refrigerator? I can pretty much guarantee this will happen after you finish making this recipe.
I know my husband came home from work nearly every night last week, asking me if I could spare one. I allowed him to have a few, as I needed to reserve some for my new mama friend.
He has made it very clear that he expects a new batch to be made for him on reserve ASAP. I said maybe for our wedding anniversary. I'm the worst.
You can make this recipe with dark chocolate chunks/chips OR use Alter Eco bars, like I did!That's up to you– whatever is convenient.
These would also make SUCH a wonderful birthday gift.I've wrapped these chocolate caramel cups up in little gift bags and brought them with me to networking events and social gatherings. People go absolutely crazy for them.
Easy Vegan Dark Chocolate Caramel Cups
The best and easiest to make vegan dark chocolate caramel cups. These creamy dark chocolate cups are the best dang treat ever. This is my go-to recipe if I have a friend or family member's birthday coming up. They freeze extremely well and make the best gift ever!
Print Recipe
Pin Recipe
Rate Recipe
Instructions
Line a mini cupcake pan with 24 parchment liners.

Melt 1 1/4 cups (225 g) of the chocolate chunks. You can either use a double boiler or heat them in a bowl in the microwave for 45 seconds at a time, stirring after each interval. Drop 1 tsp of the melted chocolate into each liner. Now, smooth the chocolate up the sides of the liner with the back of a small spoon. Place the tray into the freezer for about 10 minutes to set.

Add 1 tsp of cashew butter into each chocolate cup.

Return the tray to the freezer. Heat a skillet over low heat and toast the nuts. Toss them over the heat for 3-5 minutes, until they turn slightly golden. Remove from heat.

Grab a medium sized saucepan, and combine the coconut sugar and maple syrup over a medium-high flame. Bring the mixture to a boil, whisking constantly. Add the toasted nuts and continue cooking for another 3-5 minutes until the mixture reaches between 240-250°F (116-121°C). Remove from the heat and stir in the coconut oil and vanilla extract. Let the mixture cool for a few minutes.

Take the tray out of the freezer, and distribute the mixture between the chocolate cups. Melt the remaining chocolate chunks (another 1 1/4 cups [225 g]) and cover the candy with it. Sprinkle the tops with some course sea salt. Let them harden in the refrigerator for 1 hour, and store in an airtight container for up to 1 week in the refrigerator or for up to 2 months in the freezer.
Notes
These cups will freeze well and keep for up to 2 months in an air-tight container.
Nutrition
Serving:
1
cup
|
Calories:
198
kcal
|
Carbohydrates:
16
g
|
Protein:
3
g
|
Fat:
14
g
|
Saturated Fat:
7
g
|
Cholesterol:
1
mg
|
Sodium:
7
mg
|
Potassium:
195
mg
|
Fiber:
2
g
|
Sugar:
9
g
|
Calcium:
26
mg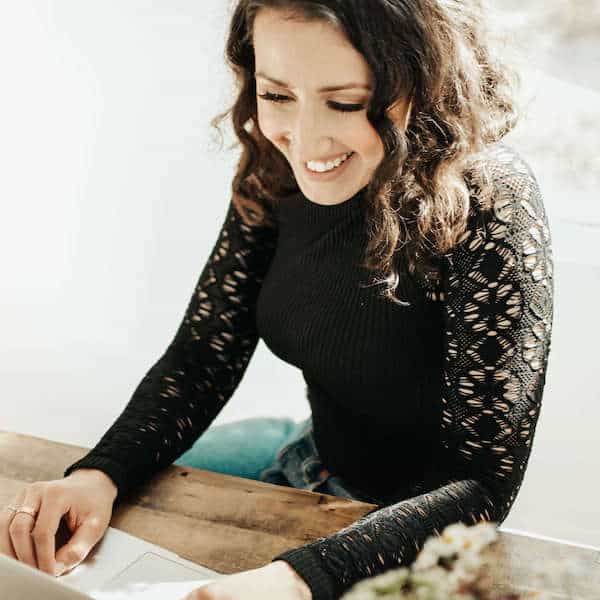 Hi! I'm Monica – recipe developer, matcha addict and lover of all things chocolate, kombucha and any & all puns. I am also the blogger, real food lover, & bonafide hustler behind the blog 'The Movement Menu.' I'm so excited to welcome you to my happy space, where my appreciation of creative recipes and healthy & mindful eats come together to inspire you to live a healthy, balanced life.