Lightly sweetened, moist and delicious vegan berry scones that are completely paleo, too? Sign me up! These scones are made with raw cashews, filled with fresh fruit and make the perfect breakfast, snack or dessert. Grain free, dairy free, kid-approved and so easy to make!
Just wanted to let you know this scrumptious chocolate pie recipe is sponsored by Bob's Red Mill.
Vegan berry scones are my new go-to!
It's no secret that I am absolutely and utterly obsessed with using raw cashews in many wakes of kitchen life. I make raw cheesecake filling from them, incorporate them into smoothies & drinks and tend to use them in tons of desserts!
Why?
They are versatile AF.
They have a warmer and more buttery flavor than almonds do, and I flipping prefer it. I couldn't eat almonds for a couple of years, so I thought it would be fun to experiment with raw cashews.
Boy, am I glad that I did because I use them more often than any other nut in my kitchen. These vegan scones are the perfect example of how delicious raw cashews are in baked goods... yum!
When making something like muffins or scones with raw cashews, I tend to prefer incorporating a light and airy grain free flour like arrowroot flour. It keeps things fluffy and incorporates better texture than you would get sans the arrowroot.
These scones were an absolute hit at my house over the weekend. We had our siblings all over for my sister's birthday, and these ended up being everyones' midnight snack and early morning breakfast too.
My brother-in-law seemed to eat the majority of the pan. Every time I turned around, he'd be sticking his fingers in the dish. Come on, bro- where are your manners? Just kidding.
We don't really do that at our house 😉
More like this:
Paleo and Vegan Almond Butter Cookies
Best Gluten Free Vegan Blueberry Muffins
Best Paleo Chocolate Chip Cookies
It's been an exciting week over here, as I have been spending a lot of time in the kitchen making new recipes. I also decided to switch up OBGYN offices, and it's such a darn relief- let me tell ya.
I felt like I had settled for an office nearby because I listened to everyones' opinions around me about what being further away from my OBGYN could mean.
Soon enough, I was really unhappy after my checkups, completely fed up with the lack of customer care within the office and didn't feel excited about the nurses on staff. I decided it was time for a change.
Per my doula's recommendation and after speaking to a few holistic mamas in San Diego, I stumbled across an OBGYN who specialized in unmedicated births. He has his own private practice and works alongside a wonderful midwife with hospital privileges.
I am officially not anxious but instead *excited* for my due date coming up on July 24. This is a testament of how important it is to trust your intuition and go with that gut!
Giving birth and bringing life into this world is a big freaking deal. You should make sure you are hooked up with the best care possible and that you are feeling at ease as the big day approaches.
There is no room for additional stress and anxiety, am I right?!
Okay, okay but let's get back to these scones...
You can dress up these vegan berry scones for dessert and top them off with some homemade whipped coconut cream if you'd like. It's unnecessary as they are already delicious enough on their own... but it wouldn't hurt anyone 😉
I decided to whip up some organic heavy whipping cream and throw in a dab of raw honey and a splash of pure vanilla extract.
Boy was I over the moon after enjoying a scone with that dreamy deliciousness.
Mm.
Mmm!!!
PRO TIP- If you absolutely must use frozen berries instead of fresh, be sure they are completely thawed out and drained properly. You don't want any excess moisture looming around in these scones!
You can also get creative with other berries. Go ahead and use raspberries or blackberries in these berry scones if you'd like... just be sure the tartness level is to your liking.
Anyway, are you guys ready to bake vegan scones?! Let's go!
This post is sponsored by the lovely folks at Bob's Red Mill. Thank you for allowing me to continue creating such incredible content by supporting relationships with incredible brands and companies that The Movement Menu enjoys working with! Opinions will always remain 100% my own!
Paleo and Vegan Berry Scones
Lightly sweetened, moist and delicious vegan berry scones that are completely paleo, too? Sign me up! These scones are made with raw cashews, filled with fresh fruit and make the perfect breakfast, snack or dessert. Grain free, dairy free, kid-approved and so easy to make!
Print Recipe
Pin Recipe
Rate Recipe
Instructions
Line an 8 inch (20 cm) cast-iron pan with parchment paper. Preheat the oven to 350°F and adjust the oven rack to the middle position.

Blend the cashews in a food processor until they reach a powder consistency and transfer to a large bowl. Add the rest of the dry ingredients and whisk together. Set aside.

In a small bowl, whisk all the wet ingredients, except for berries. Stir the wet ingredients into the dry until well incorporated.

Pour the mixture into the prepared cast-iron pan. Lightly place the berries all over the top of the scone batter.

Bake for 26–30 minutes, until the edges look golden brown and a toothpick inserted into the center comes out clean. Let cool for at least 15 minutes before slicing and serving.
Notes
You will be making a chia egg using the chia seeds and water. Combine them together in a small bowl and let sit for 5 minutes in the refrigerator to set. When ready, add to the wet ingredients mixture.
Nutrition
Calories:
245
kcal
|
Carbohydrates:
19
g
|
Protein:
5
g
|
Fat:
18
g
|
Saturated Fat:
8
g
|
Sodium:
73
mg
|
Potassium:
254
mg
|
Fiber:
2
g
|
Sugar:
7
g
|
Calcium:
51
mg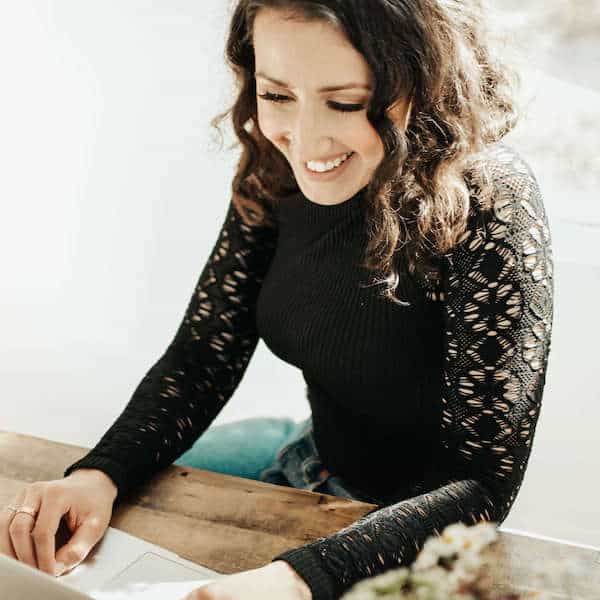 Hi! I'm Monica – recipe developer, matcha addict and lover of all things chocolate, kombucha and any & all puns. I am also the blogger, real food lover, & bonafide hustler behind the blog 'The Movement Menu.' I'm so excited to welcome you to my happy space, where my appreciation of creative recipes and healthy & mindful eats come together to inspire you to live a healthy, balanced life.