These flourless chocolate tahini brownies will quickly become your favorite treat. They are extremely decadent and a true crowd pleaser with creamy cashew butter and tahini! They are delicious and completely grain free, dairy free & paleo!
Haven't you already released a recipe for flourless tahini brownies?
Why, yes I have-- good memory, you have.
I decided to take this recipe from a few years back and really give it the love and attention it deserves.
I reshot the photos and updated the recipe a bit when some helpful tips and tricks to ensure your version comes out just as successful and delicious as mine!
After making these brownies, I delivered them to my parents house immediately...
Can I use almond butter instead of cashew butter in these paleo brownies?
You can. If you don't have access to cashew butter, absolutely make the swap. However, I've tested this recipe multiple times, and it tastes the absolute *best* with the mixture of cashew butter and tahini.
My sister Megan let me know they were the best brownies I've ever made, while my mother wasn't so sure.
She asked to try one and I served one up on a plate, grabbed a fork & dug in without hesitation…
My mom didn't seem to have any sort of reaction, so when I asked her how they were and was told they were "alright", I was disappointed.
5 minutes later, her plate seemed to read a different response. It was practically licked clean, so I went ahead and patted myself on the back any way.
I knew my sister was the hardest to please with baked goods, so if she told me my brownies were damn good, I knew they were.
Tahini mixed in to paleo brownies? Really?
The last time she had such a reaction after trying something I made, she was polishing off a batch of my paleo chocolate chip cookies.
Have you tried those delightful things yet? You really should, as they take just a few minutes to prep and may change your life.
Back to these tahini brownies though…! I know y'all are probably thinking, "What the heck are you doing with tahini?"
Well, just don't doubt me.
I'm notorious for adding all kinds of interesting nut & seed butters to my baked goods and coming out with a gold, so just go with it and get to baking these bad boys as soon as you can!
Alright, you just have to make these tahini brownies for you and your loved ones this month.
Your body is a temple, and you've been treating it like one since January, haven't you? Isn't it time to commit a little sin?
Have I convinced you yet? Why don't you scroll up and take a look at those decadent, chocolaty beauties one more time.
That should do the trick!
More paleo chocolate recipes like this:
Flourless Chocolate Tahini Brownies
These flourless chocolate tahini brownies will quickly become your favorite treat. They are extremely decadent and a true crowd pleaser with creamy cashew butter and tahini! They are delicious and completely grain free, dairy free & paleo!
Print Recipe
Pin Recipe
Rate Recipe
Instructions
Preheat the oven to 350°F (177°C). Brush the bottom and sides of an 8x8" baking pan with oil and line with parchment paper. Set aside.

In a medium bowl, mix together cashew butter, tahini, maple syrup, coconut milk, eggs, vanilla extract, cacao powder, baking powder, baking soda and salt. Gently fold in the chocolate chips. Pour the batter into the prepared baking dish.

Bake for 22-26 minutes, until a toothpick is inserted into the center and comes out relatively clean. These brownies will continue cooking after being taken out of the oven. If they don't look completely done, I urge you to take them out anyways. Set aside and let cool for 10 minutes before moving to the refrigerator to cool completely.

While the brownies are cooling, prepare the fudge layer. Add chocolate to a small bowl and set aside. In a small saucepan, add coconut milk and heat on medium low until it is simmering and bubbling throughout. Add to the chocolate, let it sit for about a minute and then stir until smooth and creamy throughout.

Once the brownies have cooled down, remove from the refrigerator. Top off with the fudge and place back in the refrigerator to set. After 45 minutes to 1 hour, carefully slice them into squares with a hot and very sharp knife.
Notes
Be sure your nut butters are creamy. If you use a drier variety, you will not have a fluffy and light cake-like brownie.
I recommend purchasing the Soom tahini. It needs to be quite creamy and not gritty for this recipe to turn out!
Nutrition
Calories:
295
kcal
|
Carbohydrates:
23
g
|
Protein:
7
g
|
Fat:
21
g
|
Saturated Fat:
10
g
|
Cholesterol:
41
mg
|
Sodium:
136
mg
|
Potassium:
356
mg
|
Fiber:
2
g
|
Sugar:
12
g
|
Calcium:
101
mg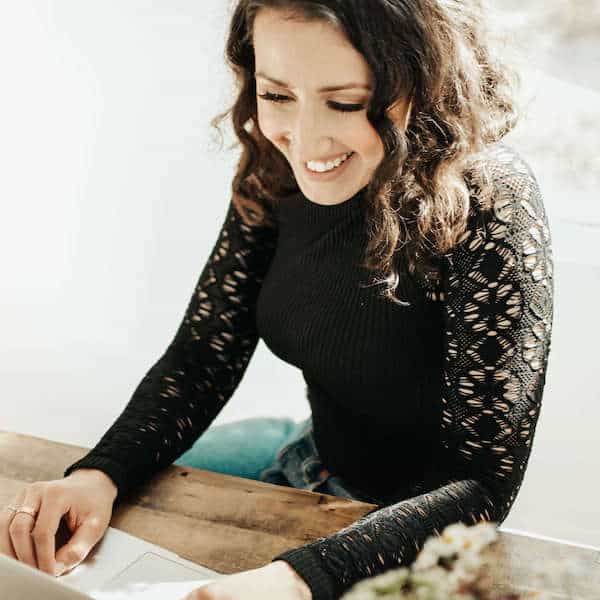 Hi! I'm Monica – recipe developer, matcha addict and lover of all things chocolate, kombucha and any & all puns. I am also the blogger, real food lover, & bonafide hustler behind the blog 'The Movement Menu.' I'm so excited to welcome you to my happy space, where my appreciation of creative recipes and healthy & mindful eats come together to inspire you to live a healthy, balanced life.