A roasted butternut squash salad with kale that comes exuding all of the delicious fall flavors. It's loaded up with roasted squash, creamy avocado chunks, pecans and vibrant pomegranate seeds. It's the perfect hearty salad that can be eaten as a side dish or on its own!
Just wanted to let you know that this delicious salad is sponsored by my friends at Nature's Intent Apple Cider Vinegar!
Roasted butternut squash in salad is now my go-to
I never imagined I'd be able to create a salad *without an added protein source* that could taste so filling. I purposefully added in the creamy chunks of avocado, hoping that I'd feel satiated after eating a bowl for lunch. Boy, did I hit the target here.
I think it's the combination of healthy fats and good carb sources that make for such an awesome and hearty salad. I decided to add hemp seeds for some extra fiber and omega-3's and pomegranate seeds certainly make anything that much tastier.
Okay, so what's inside?:
Roasted butternut squash
Avocado
Pomegranate seeds
Pecans
Hemp seeds
Oh, and did I happen to mention how delicious the dressing is? Let me fill you in on what's going on there...
A butternut squash salad that will soon become your new favorite
I've teamed up with Nature's Intent *once again* on this fabulous salad recipe. What I love most about working with them is how I've come to understand the versatility of apple cider vinegar usage in so many different recipes!
Apple cider vinegar brings just the right amount of tang to any salad dressing, so I highly recommend giving it a try in any sort of vinaigrette you may be making. It's such a game changer!
Not to mention all of the additional uses for apple cider vinegar (outside of the food and recipe world.) I've used it as a facial toner and as a rinse in my hair cut with warm distilled water... seriously, it is just awesome!
It's been so wonderful getting to understand how so many naturally sourced food products can also be applied topically. It's almost like a double whammy. No, I don't need to spend $30 for a 2-ounce bottle of facial toner because I use the apple cider vinegar in my pantry. Bam!
I've got another HUGE win for this salad- Tim actually really enjoyed it. Now, Tim is not the type of guy that likes to sit and get down on a big bowl of greens. He prefers to empty an entire bag of mixed power greens into a blender, add a cup of water and CHUG.
I'm not kidding. He is well known within my Instagram stories community for this type of wild behavior. He just wants to get it over with and doesn't mind the horrible taste of his mean, green concoction because he's ready to reap all of the health benefits.
So, when I saw him picking at this roasted butternut squash salad with kale, I was pretty flipping ecstatic, okay? He said that if I could candy the pecans next time, he'd love it even more. I may have to try that 🙂
If you're not going to eat this roasted butternut squash salad in one sitting with friends or family members, I'd suggest spraying the avocado chunk with some lemon juice in order to preserve them.
Alternatively, you can add some avocado chunks when you're ready to eat it.
More like this:
Add cinnamon to the roasted butternut squash for an extra fall-flavored kick
I think the next time I make this I'll be adding a ton of warm spices to the squash. I'm thinking pumpkin pie spice, cinnamon or even nutmeg would be super delicious incorporated into this dish.
Is anyone else on a serious fall recipe kick? I've been incorporating pumpkin into all of the things, so it's been nice changing things up and using butternut squash in this salad.
You really can't go wrong with this salad and ultimately, you can get as creative with the ingredients as you'd like. If you're into walnuts more than you are into pecans, absolutely add those in instead.
If you want to sprinkle some chia seeds on top instead of hemp seeds, go for it.
I do not recommend changing out the squash or avocado though, as they are the stars of the show. This dressing is a real winner, too and there is just enough to completely cover the salad.
If you're yearning for a nice and substantial vegetarian dish to bring into your weekly rotation, then look no further. This roasted butternut squash salad with kale is going to be checking off all of your boxes.
This post is sponsored by the lovely folks at Nature's Intent Apple Cider Vinegar. Thank you for allowing me to continue creating such incredible content by supporting relationships with incredible brands and companies that The Movement Menu enjoys working with! Opinions will always remain 100% my own!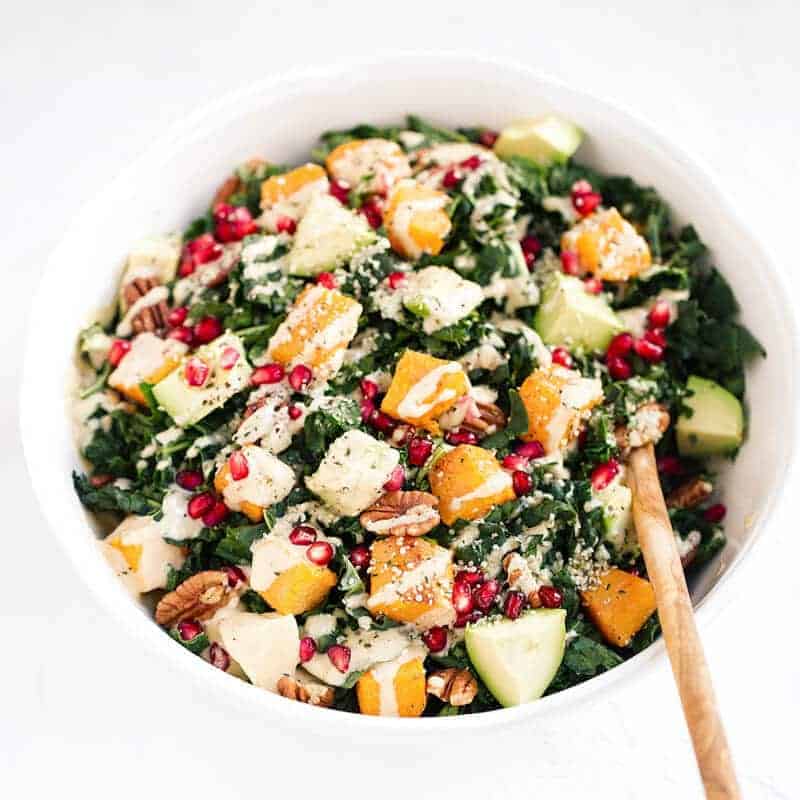 Roasted Butternut Squash Salad with Kale
A roasted butternut squash salad with kale that comes exuding all of the delicious fall flavors. It's loaded up with roasted squash, creamy avocado chunks, pecans and vibrant pomegranate seeds. It's the perfect hearty salad that can be eaten as a side dish or on its own!
Print Recipe
Pin Recipe
Rate Recipe
Ingredients
Salad
1 1/2

pounds

butternut squash

cubed

1 1/2

tablespoons

avocado oil
sea salt

to taste

black pepper

to taste

1 1/2

pounds

Tuscan kale

stems removed *SEE NOTES*

1/2

cup

pecans

3

avocados

cubed

1/2

cup

pomegranate seeds

1/4

cup

hemp seeds
Instructions
Salad
Preheat the oven to 425 degrees Fahrenheit and line a rimmed baking sheet with parchment paper.

In a large bowl, mix together the butternut squash cubes with the oil and salt and pepper. Lay them out in a single layer onto the parchment sheet- you may need to use two so they all fit.

Bake at 425 degrees Fahrenheit for about 35-45 minutes, flipping halfway through. You will want them to be soft and a bit caramelized. Remove from the oven and set aside.

Begin to assemble the salad. Add all of the salad ingredients and pour the dressing on top. However, if you are not going to eat it all at once, serve the dressing on the side and add the avocado when ready to eat! Season with extra salt and pepper if needed.
Dressing
Combine all of the salad dressing ingredients in the bowl of a high speed blender pitcher. Blend on high for about 1 minutes until everything is combined and creamy throughout.

Store in an airtight container in the refrigerator for up to 10 days.
Notes
Be sure to massage the kale leaves after removing the stems. Do so by rubbing them thoroughly between your fingers and hands for several minutes. You will notice the leaves will become darker in color and will shrink a bit. This will make them easier to chew and break down!
Nutrition
Calories:
628
kcal
|
Carbohydrates:
50
g
|
Protein:
12
g
|
Fat:
47
g
|
Saturated Fat:
6
g
|
Sodium:
113
mg
|
Potassium:
1525
mg
|
Fiber:
11
g
|
Sugar:
18
g
|
Calcium:
257
mg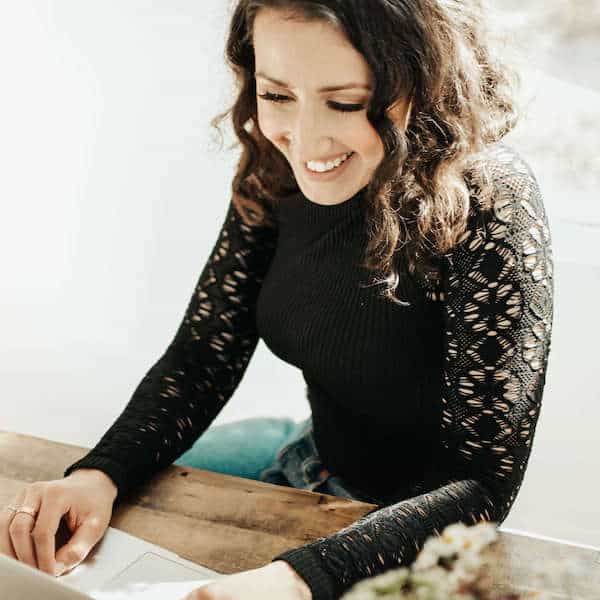 Hi! I'm Monica – recipe developer, matcha addict and lover of all things chocolate, kombucha and any & all puns. I am also the blogger, real food lover, & bonafide hustler behind the blog 'The Movement Menu.' I'm so excited to welcome you to my happy space, where my appreciation of creative recipes and healthy & mindful eats come together to inspire you to live a healthy, balanced life.