A healthy, quick and easy version of one of the most popular stir-fried Chinese dishes. This paleo kung pao chicken is packed with all of the flavor while remaining nutrient-dense and Whole30 compliant!
Just wanted to let you know this paleo kung pao chicken recipe is sponsored by Nakano Seasoned Organic Rice Vinegar.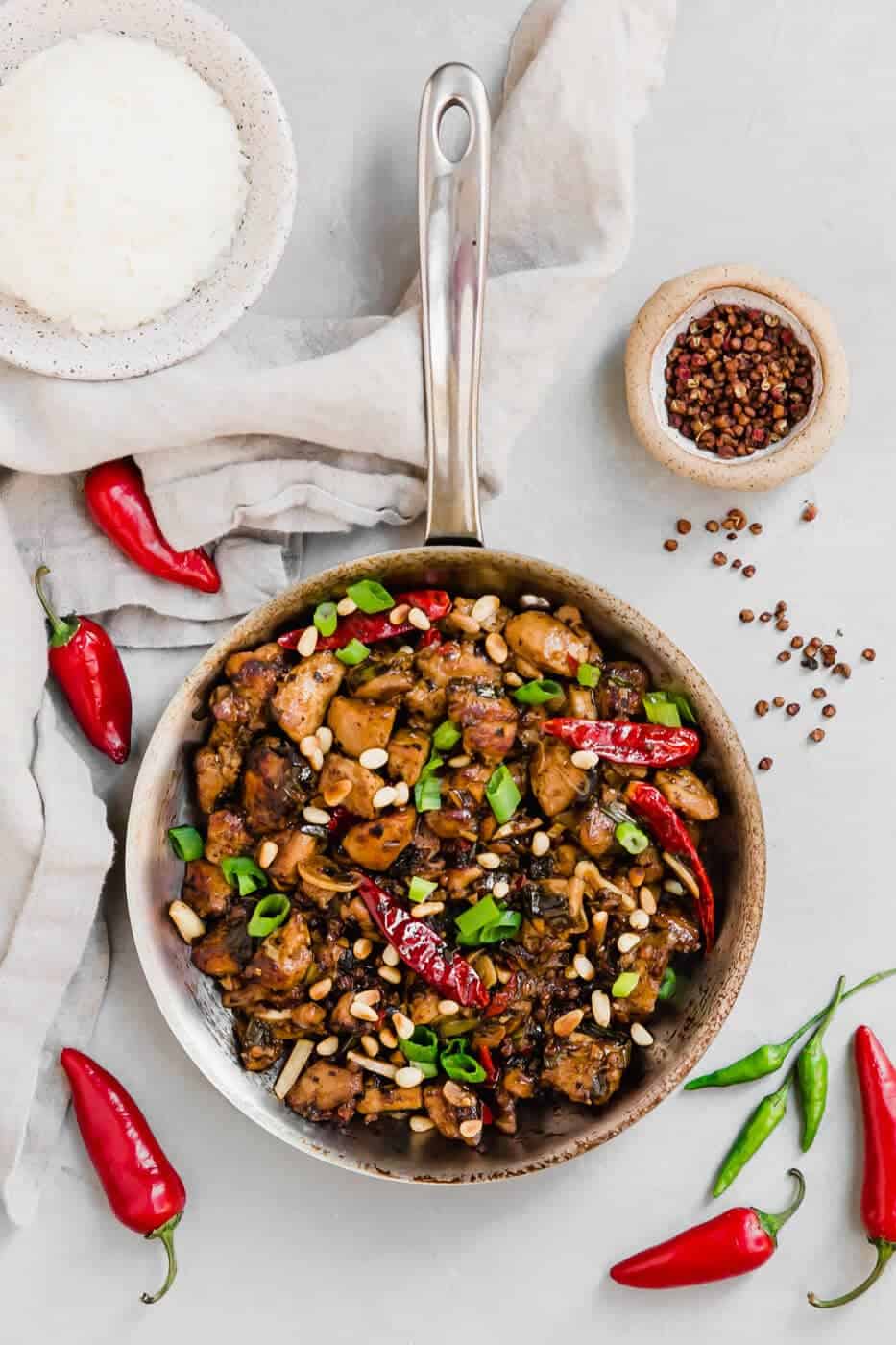 A paleo kung pao chicken that will soon become your go-to!
Traditionally, kung pao chicken is made with chicken, peanuts, vegetables and chili peppers. Lucky for you, I've completely aced my nut and seed swap game, and you're not going to even miss the peanuts from this dish.
One of my favorite things about making this recipe is how few ingredients you'll need to pull from your pantry. There is even a chance you may not need to hit up the grocery store, with the exception of getting your hands on some fabulous pepper products.
Did you know there used to be an import ban in place for Sichuan peppercorns? Thank goodness that has been lifted, as this dish wouldn't be nearly as fantastic without them.
That isn't to say that you shouldn't make the chicken if you cannot get your hands on some. However, they were really easy for me to find at a local Asian market.
More like this:
Get creative with layers of heat in this kung pao chicken recipe
Aren't Asian inspired recipes just the best? Maybe I'm a tiny bit biased since my man is Vietnamese, but I could eat different types of Asian cuisine all the damn time.
I would have to say that Japanese and Vietnamese cuisine are probably my favorite, but that's only because Chinese food tends to not be prepared with the cleanest of oils & what not.
The flavors are always out of this world, but the amount of grease and accompanying tummy ache that usually goes along with indulging in some Chinese food is never worth it.
Whenever my husband's family wants to go out and get Chinese, I seriously cringe. I cannot eat it without getting sick. That is why I have set out to turn one of my favorite dishes: kung pao chicken into something I can easily stomach and... ENJOY!
One of my favorite parts about making this dish would be the fact that you can get as heavy handed as you'd like with the amount of spice you use.
The first time I made it I didn't have any dried red chili peppers on hand, so I opted in for the same amount of fresh Thai peppers. Let me tell you something- that was a HUGE mistake.
I have a very high tolerance for heat, and I thought I was going to actually set on fire from the inside out.
Be wary of the amount of spice you use, as you can always add more as you go along.
I decided to eat this paleo kung pao chicken with some stovetop arborio rice I had made. However, it would taste absolutely fabulous on a big bed of cauliflower rice as well.
In fact, I can think of nothing more delicious than pairing it with my Whole30 Fried Cauliflower Rice recipe- yum!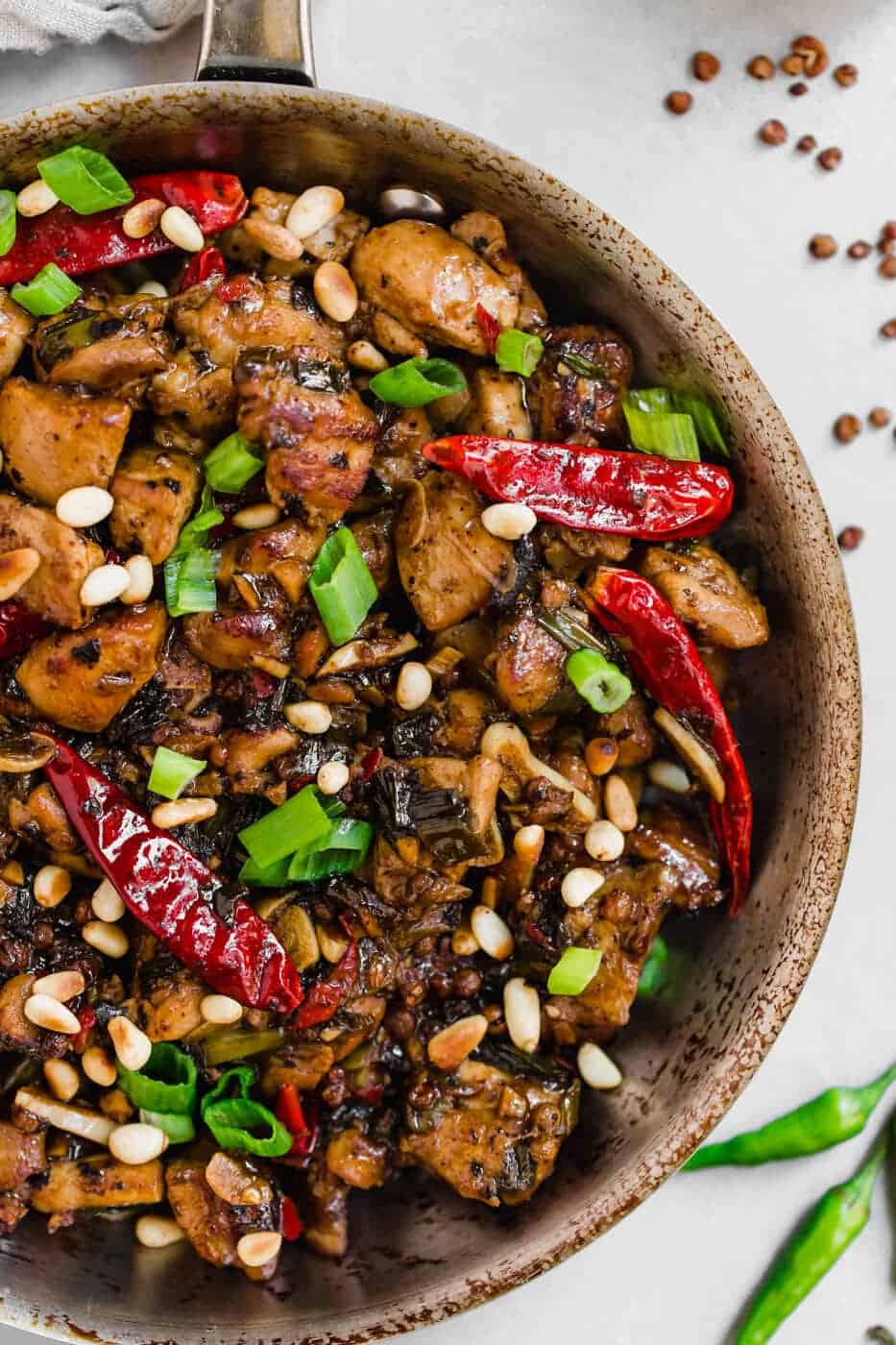 Be sure to whip up this paleo kung pao chicken recipe as soon as you possibly can. You're going to love how flavorful it is, without the associated feelings of unease that generally come with scarfing down Chinese food.
This post is sponsored by the lovely folks at Nakano Seasoned Organic Rice Vinegar. Thank you for allowing me to continue creating such incredible content by supporting relationships with incredible brands and companies that The Movement Menu enjoys working with! Opinions will always remain 100% my own!
Paleo Kung Pao Chicken
A healthy, quick and easy version of one of the most popular stir-fried Chinese dishes. This paleo kung pao chicken is packed with all of the flavor while remaining nutrient-dense and Whole30 compliant!
Print Recipe
Pin Recipe
Rate Recipe
Ingredients
Aromatics
6

garlic cloves

thinly sliced

1 1/2

tablespoons

ginger

finely chopped

3

scallion bulbs

chopped

1

tablespoon

Sichuan peppercorns

1

fresh Thai chile

finely chopped

6

dried red chili peppers
Instructions
In a small bowl, whisk together all of the chicken marinade ingredients (except for the cooking fat!) Set aside.

Dice the chicken thighs into bite sizes chunks and transfer to a shallow but long glass dish. Pour the marinade over the top. Make sure to push down the chicken pieces so everything has been submerged in the marinade. Transfer to the refrigerator to marinade for 15-20 minutes.

Whisk together all of the ingredients for the stir fry sauce in a small bowl. Set aside.

Prepare all of the aromatics and have them ready to go.

Preheat a large stainless steel skillet over medium-high heat. After about 1 minute, add 1 1/2 tablespoons (half) of the cooking fat. Add marinaded chicken. Pan-fry them in one even layer until they begin to crisp up and turn golden brown. Flip them over and cook for another minute. Remove from the pan and set aside.

While the skillet is still on, add the other half of the cooking fat. Add aromatics and season with a bit of salt. Saute together just until fragrant- this only takes about 10-15 seconds. Immediately add in the stir-fry sauce. Quickly mix everything together so the aromatics have been coated. Add the chicken back into the pan. Stir well and be sure the chicken, aromatics and sauce have all been well incorporated together. Once the chicken is cooked through, remove from the heat and set aside.

Serve immediately with chopped green onions and toasted pine nuts. Be sure to dress with extra sesame oil and coconut aminos until it has reached your desired taste preference!
Nutrition
Calories:
382
kcal
|
Carbohydrates:
12
g
|
Protein:
21
g
|
Fat:
27
g
|
Saturated Fat:
6
g
|
Cholesterol:
138
mg
|
Sodium:
654
mg
|
Potassium:
445
mg
|
Fiber:
1
g
|
Sugar:
3
g
|
Calcium:
37
mg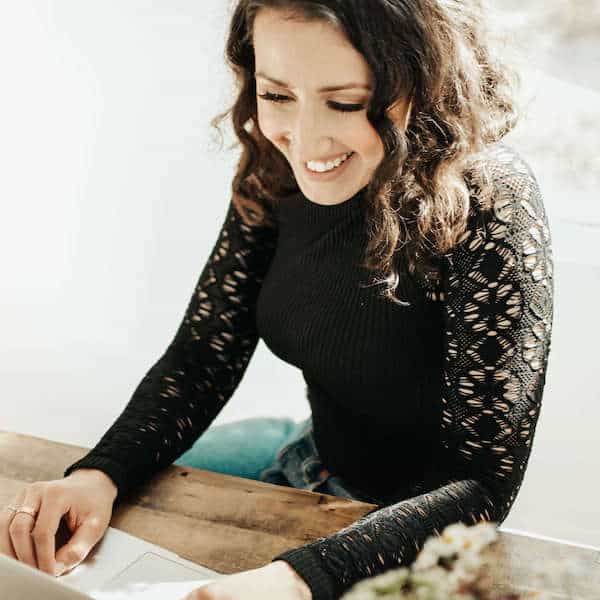 Hi! I'm Monica – recipe developer, matcha addict and lover of all things chocolate, kombucha and any & all puns. I am also the blogger, real food lover, & bonafide hustler behind the blog 'The Movement Menu.' I'm so excited to welcome you to my happy space, where my appreciation of creative recipes and healthy & mindful eats come together to inspire you to live a healthy, balanced life.