These mini paleo donuts are so easy to make and bake in under 15 minutes! They are topped off with a decadent dark chocolate glaze and naturally colored sprinkles! You can't go wrong with this healthy paleo treat!
Finally- a homemade paleo donuts recipe
It should come as no surprise that I am utterly obsessed with donuts.
I have been known to drive over an hour to Orange County to get my hands (and mouth) on Sidecar Doughnuts.
Have you heard of that place? It's pretty dang popular and for good reason. I always grab myself a Butter & Salt and a Huckleberry donut. Those classic flavors just cannot be beat.
That being said, I cannot and should not eat gluten and refined sugar filled donuts on the regular. That's why I have come out with the perfect recipe for these mini paleo donuts!
This paleo donut recipe is the most perfect treat
I have played around with so many different gluten and grain free flour combinations, all to figure out that making raw cashew flour is one of the best things to use as a grain free flour base… ever!
It's super easy to make and with the inclusion of the arrowroot flour, these donuts yield the most perfect texture and flavor! Wahoo!
Why are they mini? Well, because they're damn cute OK? Why not?
What's so great about these paleo donuts is they can be made regular size, too! If you don't have a mini donut pan, have no fear!
I've included instructions for both.
Paleo donuts that are fit for a QUEEN!
The awesome part about having mini donuts, though, is that you can pop like.. 10 in your mouth without feeling bad about it, am I right?!
Another great thing: these damn sprinkles! I've managed to find a junk-free naturally colored sprinkle! I didn't include them in the recipe, as they are just being used for decoration. However, if you want to get your hands on them,
They make the donuts look that much cuter… didn't think that was possible.
I'VE GOT A SURPRISE FOR YOU
THIS PAST WEEK HAS BEEN ABSOLUTELY NUTS-O!
I spent last Thursday at my friend Rachel's loft (yes, she's the blogger over at Bakerita that I always talk about!)
We made a few recipes together, and she let me use her fabulous macro lens to shoot these beauties. I ended up splurging and purchasing that lens earlier today because I am obsessed with the way it shoots.
The two of us are actually going to be working on a very exciting project quite soon. I'll give you a hint…
It involves the poll in the bottom right-hand corner of my website. Shhhhhhh… pretend you're excited when you hear our official announcement!
Be sure to make these mini paleo donuts before it's too late. What do I mean? Well, the longer you wait, the more of a disservice you are doing to yourself. Be good to you. Make them donuts. Yes.
Have I convinced you just yet? Take a peek at all the photos again… I guarantee you'll start gathering the ingredients in no time!
More like this:
Flourless Chocolate Tahini Brownies
5 Minute Paleo Chocolate Chip Cookies
Double Chocolate Vegan Thumbprint Cookies
Mini Paleo Donuts (Chocolate and Vanilla!)
These Mini Paleo Donuts are so easy to make and bake in under 15 minutes! They are topped off with a decadent dark chocolate glaze and naturally colored sprinkles! You can't go wrong with this healthy paleo treat!
Print Recipe
Pin Recipe
Rate Recipe
Instructions
Preheat the oven to 325 degrees Fahrenheit and adjust the oven rack to the middle position. Grease a donut pan with coconut oil spray or melted ghee and set aside.

Pulse the raw cashews in a food processor or high-speed blender, a few seconds at a time, until they resemble a coarse flour. You don't want any visible chunks of cashews. This should take about 1 minute. Be sure not to turn the cashew flour into cashew butter. Watch the texture closely.

In a small saucepan, melt the ghee over a low flame. Set aside to cool.

In a large mixing bowl, stir together the cashew flour, ¼ cup of the arrowroot flour and salt. Don't worry if there are small chunks in the cashew flour. Set aside.

Separate the eggs into two bowls. Place the egg yolks in a medium mixing bowl and the egg whites into the bowl of a stand mixer.

In the bowl of the egg yolks, add maple syrup, vanilla, lemon juice and melted ghee. Whisk everything together until well incorporated. Add this mixture into the dry mixture and stir with a fork until everything has been well combined. Transfer the mixture to a high-speed blender and blend on medium-high for 30 seconds until smooth. Pour the mixture back into the mixing bowl.

Beat the egg whites on high until they form soft peaks. Stir the baking soda into the donut batter and immediately add half of the egg white, stirring constantly with a wooden spoon until incorporated. Add the other ¼ cup of arrowroot flour and stir until completely incorporated. Gently fold in the rest of the egg whites.

Spoon about a cup of batter into a piping bag or a Ziploc bag with about a 1/4" hole (for mini donuts) or a 1/2" hole (for regular donuts) cut off the end. Carefully pipe the mixture into the donut molds. More batter will yield a fluffier donut, but you will have less total. Filling the molds 2/3 of the way full will yield about 12 donuts.

Tap the donut pan on the counter a few times to release any air bubbles. *If you are using a regular sized donut pan, be sure to smooth the tops of the batter by using a spatula to go over any uneven areas first!*

Bake the donuts for 18 minutes at 325 degrees Fahrenheit, making sure to check them by inserting a toothpick into the center after 16 minutes, just in case. They will be done when a toothpick inserted comes out clean.

Remove donuts from oven, and allow to cool on a wire rack.

Grease donut pan again and repeat with the remainder of the batter for another batch of donuts.

To make the glaze, melt the chocolate chips and coconut oil together. Dip the donuts and set them on a parchment lined baking tray or plate. Set in the refrigerator to set for 10-15 minutes. Enjoy!
Notes
These donuts can be made regular size as well. Simply fill each donut cavity 2/3 full and cook for 18 minutes instead.
Nutrition
Serving:
1
donut
|
Calories:
352
kcal
|
Carbohydrates:
27
g
|
Protein:
7
g
|
Fat:
25
g
|
Saturated Fat:
9
g
|
Cholesterol:
69
mg
|
Sodium:
20
mg
|
Potassium:
1
mg
|
Fiber:
2
g
|
Sugar:
14
g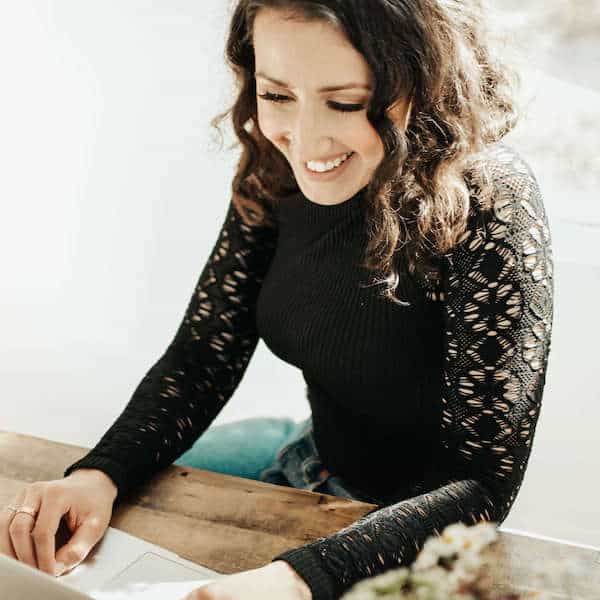 Hi! I'm Monica – recipe developer, matcha addict and lover of all things chocolate, kombucha and any & all puns. I am also the blogger, real food lover, & bonafide hustler behind the blog 'The Movement Menu.' I'm so excited to welcome you to my happy space, where my appreciation of creative recipes and healthy & mindful eats come together to inspire you to live a healthy, balanced life.