I'm not sure if there is anything better than paleo carrot bread for breakfast, especially when it is topped off with a fabulously creamy cashew cream cheese frosting. This carrot bread is gluten free, grain free, refined sugar free and dairy free. Woo hoo.
Just wanted to let you know this carrot bread recipe is sponsored by my friends at Diamond Nuts!
What if I created a not-so-sweet carrot bread that you could supplement your breakfasts with? Or eat after a workout? Or sneak into bed as a midnight snack, while shielding yourself from your significant other?
I have done it! I decided to use coconut sugar instead of maple syrup or honey. What sends this bread over the moon and into a new dimension is the frosting.
It's similar to the base I use for my cashew cheesecakes, but I omitted coconut oil as there is no need for it to get too firm.
I'm actually having a piece of this alongside my breakfast as I type up this post. The fact that there is only 1/4 cup of coconut sugar in the entire loaf means you're only consuming a few grams of sugar per serving!
More like this:
One Bowl Vegan Chocolate Banana Bread
Bananas Foster Vegan French Toast Bake
A paleo carrot bread that pairs perfectly with walnuts
I have been purchasing and using Diamond Nuts ever since I started baking... long before I dived into grain free baking. Their nuts are the utmost of quality, and I love being able to access them at almost any grocery store or market that I visit.
The Heirloom Reserve Diamond Nuts Walnuts make such a difference in this recipe. All of their nut varieties are non-GMO and have been harvested and packaged here in California!
What I loved most about adding walnuts into the recipe was how well they played off the sweetness from the cashew cream cheese frosting and resonated with the fresh carrot shavings inside the bread. Delicious!
The reality of how truly delicious this carrot loaf is? Well, I am in the midst of chowing down on a big hunk while typing up this blog post. I am not someone who usually eats breads or muffins for or with breakfast, but this recipe is just too good!
I actually just dropped a piece of paleo carrot bread from my fork onto our brand new living room couch. No surprise there.
You know what sounds really awesome? Adding some raisins or dried fruit into this recipe. You could omit the frosting completely and substitute in these things instead.
That way, it will be easier to grab and go. However, if you're into frosting, I strongly encourage you not to skip out on it. If you have the time to sit down, cut yourself a slice, transfer it to a plate and get down on it with a big fork... please do so.
Maybe wear a bib though. Just in case. 😉
There are so many exciting things in the works over the next few weeks, and I'm finally able to start sharing content with you again. It's been hectic with the adjustments after moving into a new home.
After all, we are starting a kitchen renovation in April... are we nuts or what? In my eyes, I saw it as being something I'd either have to get done right now or a few years from now.
There is no way we want to take on all of the noise and stress levels going through a kitchen renovation brings on *while having a newborn baby / little 1-year old running around.*
We are going to tough through the next few months of absolute mayhem, and I know the end result is going to be something truly spectacular both for my business and our growing family.
I will absolutely be filling you in all along the way and hope to do a before / after kitchen renovation and reveal photoshoot and blog post for you to ogle over.
Well, what the heck are you waiting for??!
Be sure to whip up this fabulous paleo carrot bread recipe as soon as you can.
In fact, if you're planning on having guests over for brunch or are heading to a potluck, I think this would be the perfect treat for you to make!
This post is sponsored by the lovely folks at Diamond Nuts. Thank you for allowing me to continue creating such incredible content by supporting relationships with incredible brands and companies that The Movement Menu enjoys working with! Opinions will always remain 100% my own!
---
Paleo Carrot Bread with Walnuts
I'm not sure if there is anything better than paleo carrot bread for breakfast, especially when it is topped off with a fabulously creamy cashew cream cheese frosting. This carrot bread is gluten free, grain free, refined sugar free and dairy free. Woo hoo.
Print Recipe
Pin Recipe
Rate Recipe
Instructions
Prepare the frosting first. Drain the cashews and rinse well with cold water. Add cashews to a high-speed blender pitcher.

Add the rest of the frosting ingredients and blend on high for 1-2 minutes, scraping down the sides as needed. I used a Vitamix and a tamper to get everything well incorporated and creamy throughout. Transfer to a small bowl and set in the refrigerator to thicken up more.

Lightly grease a 9"x5" loaf pan. Measure out parchment paper to the width of the longest side of the pan. Make sure it's long enough to line the entire bottom of the pan, both sides and have a few inches of overhang on either side. Preheat the oven to 350 degrees Fahrenheit and adjust the oven rack to the middle position.

In the bowl of a mixer or food processor, combine the eggs, applesauce, cashew butter, coconut oil, vinegar, coconut sugar and vanilla. Mix until well combined and even throughout.

Add the dry ingredients into the wet and mix until well combined. Fold in the carrots and walnuts.

Transfer the batter to the prepared loaf pan and spread evenly. Tap the pan on the counter a few times to release any air bubbles.

Bake at 350 degrees Fahrenheit for 50-60 minutes. The top of the loaf should spring back a bit after being poked with your finger. If it sinks down at all, let it cook another couple of minutes. Mine took 55 minutes.

Move the loaf pan to a wire rack to cool for at least 30 minutes. Carefully flip the pan over and invert the loaf to cool for at least 1 hour before frosting.

Spread the cashew frosting on top of the bread and top off with extra nuts and a drizzle of honey if desired.

Leftovers will keep in the refrigerator for up to 5 days in an airtight container. Enjoy!

Notes
The cashew cream cheese frosting is optional. If you'd like, you can omit it and add 1/2 cup dried fruit or raisins inside of the loaf instead. Be sure to mix them in with the carrot shreds and walnuts.
Almond butter can be used in place of the cashew butter.
Nutrition
Calories:
404
kcal
|
Carbohydrates:
32
g
|
Protein:
10
g
|
Fat:
28
g
|
Saturated Fat:
10
g
|
Cholesterol:
65
mg
|
Sodium:
292
mg
|
Potassium:
421
mg
|
Fiber:
5
g
|
Sugar:
14
g
|
Calcium:
69
mg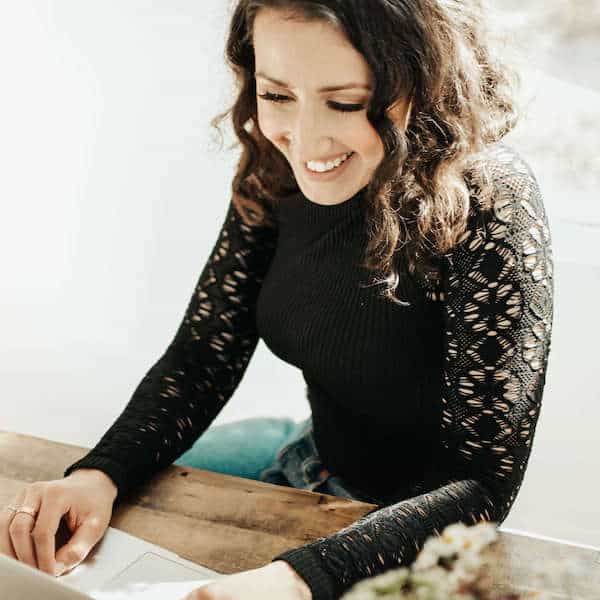 Hi! I'm Monica – recipe developer, matcha addict and lover of all things chocolate, kombucha and any & all puns. I am also the blogger, real food lover, & bonafide hustler behind the blog 'The Movement Menu.' I'm so excited to welcome you to my happy space, where my appreciation of creative recipes and healthy & mindful eats come together to inspire you to live a healthy, balanced life.