This cashew butter paleo fudge is filled with all the healthy fats and loaded up with all the best ingredients like: collagen peptides, maca powder & coconut oil. Does it get any better than this? It's such an easy, decadent dessert or snack!
Just wanted to let you know that this delicious fudge recipe is sponsored by my friends at Vital Proteins!
I made this cashew butter paleo fudge, and it was gone in 2 days…
You can bet your boots I'm making this paleo fudge at least 13 more times this month. Seriously… I have become obsessed.
The first time I made this paleo fudge recipe was for Christmas, and it was great, but I knew there were a few tweaks I wanted to make so that it tasted like utter perfection.
That was definitely achieved this time around. When I was given the opportunity to work with Vital Proteins again, I just knew I had to add their collagen into this Healthy Nut Butter Freezer Fudge.
The collagen is tasteless, so feel free to get a little heavier-handed and add a 4th scoop in there for an extra 9 grams of protein!
If you're into this paleo fudge, you're going to just drooooool over these recipes!
---
Be sure to double or triple up on this paleo fudge recipe
I never knew how easy it was to make fudge until I made this recipe. Ya'll have gotten used to the fact that cashews are my absolute favorite nut, right? I replace almonds with cashews, always.
I don't actually really eat almonds. I developed a bit of an intolerance to them a few years ago and haven't really missed them since.
This is especially because cashew milk is in fact, creamier (and more delicious), in my opinion and cashew FLOUR is so much more fun to use in the kitchen.
Have you guys seen all of the recipes I have that contain cashews?
I've got everything from vegan cheesecakes, to lettuce wraps & Whole30 curries… and cashews are the star every time. Let me tell ya.
And this cashew butter paleo fudge. Use cashew butter, trust me. You can also use peanut if you don't have a problem with it or don't have cashew butter on hand. It will be seriously delicious either way!
I have been toying with the idea of incorporating more lifestyle content into my blog for years. I'm not kidding… it's been on my mind that long.
It's scary to think about changing anything when things are going so well. But I think it would be disingenuous if I were to keep ignoring these feelings I have.
I'm passionate about so much more than creating healthy recipes. And I want to share all of my passions with the world.
Besides, the reason that I started blogging in the first place was to be able to connect with people. If I was able to help them makes their lives easier via making time in the kitchen more fun, well… even better!
I can't wait to share with you all of the work I've been doing finally come to life ????
---
Be sure to get this cashew butter paleo fudge in your life as soon as you possibly can. It's the perfect grab and go pick-me-up. All of the healthy fats & protein inside will keep you satiated in between meals! Yum.
This post is sponsored by the lovely folks at Vital Proteins. Thank you for allowing me to continue creating such incredible content by supporting relationships with incredible brands and companies that The Movement Menu enjoys working with! Opinions will always remain 100% my own!
Cashew Butter Paleo Fudge
This cashew butter paleo fudge is filled with all the healthy fats and loaded up with all the best ingredients like: collagen peptides, maca powder & coconut oil. Does it get any better than this? It's such an easy, decadent dessert or snack!
Print Recipe
Pin Recipe
Rate Recipe
Instructions
In a medium saucepan, combine the cashew butter, coconut oil, maple syrup and salt over very low heat. Continue whisking until all ingredients look thoroughly combined and creamy. Remove saucepan from the heat and set aside to cool.

Using a double boiler or a microwave, melt the dark chocolate swirl ingredients together over low heat. Set aside.

Whisk the collagen, cacao, maca & mesquite into the nut butter fudge mixture.

Line an 8x8' square pan with parchment paper. Pour the cashew butter fudge into the pan and tap it on the counter so it spreads evenly across the bottom.

Drizzle the chocolate swirl over the fudge and use a butter knife or toothpick to swirl it.

Transfer the fudge to the freezer to set for 3-4 hours. When ready to serve, cut it into squares. Be sure to use a hot knife to make it easier (run the knife under hot water for several seconds and dry it with a towel between slicing!)

Store in an airtight container in the freezer for up to two weeks. Enjoy!
Notes
If you're using salted nut butter, be sure to taste the mixture before you add any more sea salt.
Nutrition
Calories:
136
kcal
|
Carbohydrates:
6
g
|
Protein:
2
g
|
Fat:
12
g
|
Saturated Fat:
7
g
|
Sodium:
34
mg
|
Potassium:
14
mg
|
Fiber:
1
g
|
Sugar:
3
g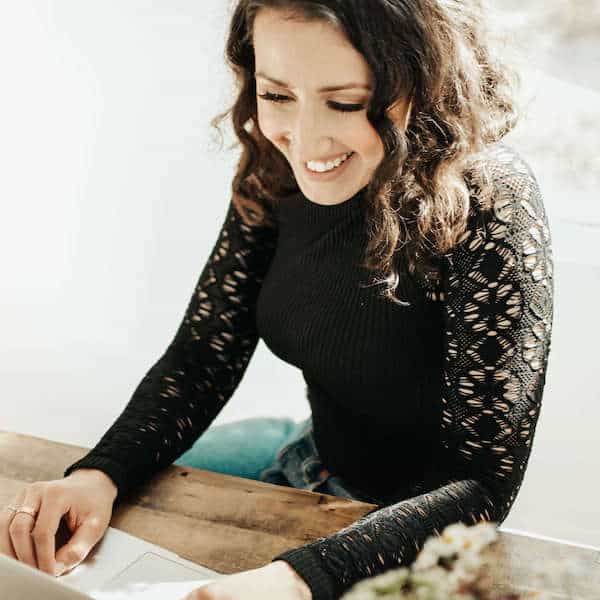 Hi! I'm Monica – recipe developer, matcha addict and lover of all things chocolate, kombucha and any & all puns. I am also the blogger, real food lover, & bonafide hustler behind the blog 'The Movement Menu.' I'm so excited to welcome you to my happy space, where my appreciation of creative recipes and healthy & mindful eats come together to inspire you to live a healthy, balanced life.