Korean Beef Soup has proven to be one of the most popular recipes in my household... let me fill you in on why it'll quickly become queen B at your house, too...!
Korean Beef Soup can be made at home- say what? Oh, and it's not difficult- say what times two? You guys, this soup is so dang awesome. I really hate to toot my own horn (yeah, right) but it is that freakin' delicious! One of my favorite places to go in all of San Diego to eat would be: Clairemont Mesa. They have all my favorite go to's there: Korean BBQ, hotpot places, Japanese tapas, boba, karaoke, etc. you catch my drift. My all-time favorite though is definitely Korean BBQ.
Most restaurants will give you all-you-can-eat sides which will consist of anything like: fish cakes and kimchi to pickled vegetables and an unlimited supply of raw eggs for your soup or stew. You all know how I feel about eggs, right? I like to add eggs to everything possible. I crack an egg over my breakfast through dinner snacks and meals, seriously. If your food is dry, that ooey gooey yolk-y goodness will take care of that for you! Lucky for you, this soup is anything but dry, but you can totally crack some eggs into it, if you'd like!
You may think to yourself: It's almost Summer... why on earth are you making Korean Beef Soup right now? Well, to be honest, I prefer eating soups and stews throughout the year- no matter the temperature outside. They're so quick, convenient and comforting. I'm not turning my oven on, so my entire house doesn't heat up. I am more than OK with it.
Korean Beef Soup is one of the most comforting foods I make at our house. My husband requests this dish at least once a month, if not more often. Whenever we go get Korean BBQ, I love putting several eggs into my soup and then spending the rest of my meal trying to find them with my spoon without breaking them. Why? I have to carefully pierce the yolk with my fork on purpose. I like to watch it burst and ooze its contents out into the rest of my bowl. Have I grossed you out enough yet? Not a chance! I decided it would be super simple for me to mimic what I order at the restaurant and create my own version of Korean Beef Soup right here in my kitchen.
You can get fancy and add some kelp noodles or spiralize some zucchinis or sweet potatoes to throw in here. I prefer mine with zucchini noodles. This soup can also be made 100% Whole30 compliant by simply omitting the coconut sugar. Go grab some grass-fed meat (any kind, really) and get to boiling and simmering. This will do a mighty fine job warming you up on a brisk, nearly Summer day, and it is the ultimate comfort food.
You'll remember why soup isn't just for the Winter months after guzzling down a bowl. Oh, and if you want to impress some friends or family members with some serious international cuisine, invite them over for this Korean Beef Soup. This is especially true if they've gone to a Korean restaurant and ordered hot pot before-- they'll be wow'ed. This Korean Beef Soup is also a homemade version of hot pot, in my opinion. You heard me. Happy hot potting!
Psst... zucchini noodles are the PERFECT accompaniment to this dish!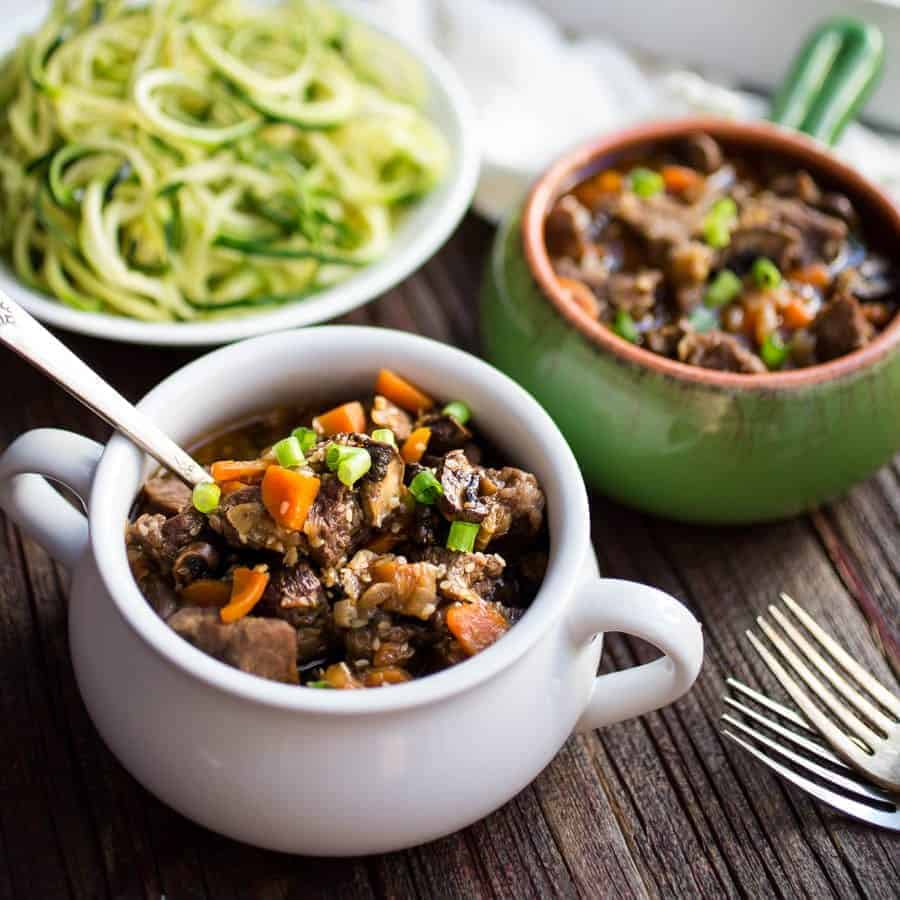 Korean Beef Hot Pot
Korean Beef Soup can be made at home- say what? Oh, and it's not difficult- say what times two? You guys, this soup is so dang awesome. I really hate to toot my own horn (yeah, right) but it is that freakin' delicious
Print Recipe
Pin Recipe
Rate Recipe
Ingredients
1

head of garlic

minced (approximately 12 cloves)

3

tablespoons

ghee or avocado oil

divided in two

1

large or 2 small yellow onions

finely diced

2

large carrots

diced

1 1/2

pounds

grassfed beef stew meat (ground beef will work well

too)

1/2

cup

coconut aminos

4

cups

beef or chicken stock

1

star anise

2

tablespoons

coconut palm sugar

omit for Whole30 compliance

8

ounces

crimini mushrooms

2

tablespoons

toasted sesame oil

1

teaspoon

fish sauce

3

tablespoons

sesame seeds

1

teaspoon

cayenne pepper

sea salt and ground black pepper

to taste
Instructions
In a large and deep frying pan or stockpot, saute the minced garlic with half of the oil on medium heat. Once garlic turns brown and looks crunchy, set aside in a small plate.

Add the diced onion into the pan with the other half of oil and saute until translucent. Add in the diced carrots and combined for 1-2 more minutes. Brown and separate the beef in the pan with the vegetables.

Once meat is cooked through, add aminos and broth. Add enough beef broth to cover the meat (approximately 4 cups).

Add in the star anise and coconut sugar. Stir well and bring to the mixture to a boil. Then, reduce the heat to a simmer for 45-50 minutes (until meat is tender).

Mix in the rest of the ingredients & the browned garlic. Simmer for another 5-10 minutes. Serve hot!
Notes
If you are feeling sassy, crack an egg or two into your bowl while it is still boiling. So dang delectable. Guh!
Nutrition
Calories:
619
kcal
|
Carbohydrates:
32
g
|
Protein:
48
g
|
Fat:
33
g
|
Saturated Fat:
12
g
|
Cholesterol:
141
mg
|
Sodium:
1274
mg
|
Potassium:
1290
mg
|
Fiber:
3
g
|
Sugar:
12
g
|
Calcium:
137
mg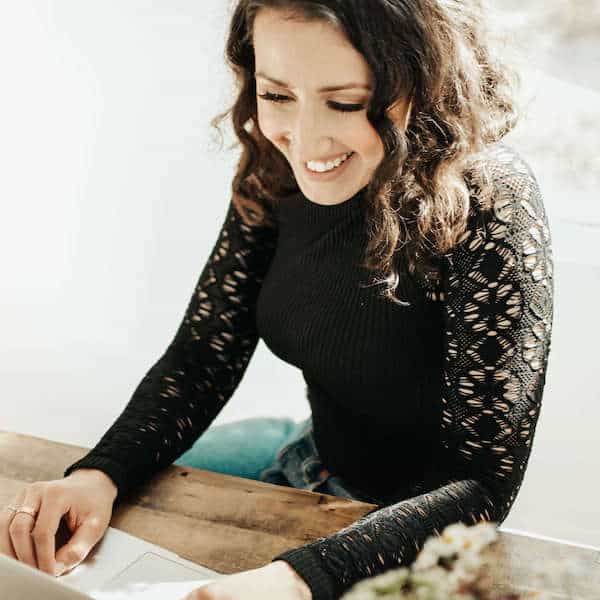 Hi! I'm Monica – recipe developer, matcha addict and lover of all things chocolate, kombucha and any & all puns. I am also the blogger, real food lover, & bonafide hustler behind the blog 'The Movement Menu.' I'm so excited to welcome you to my happy space, where my appreciation of creative recipes and healthy & mindful eats come together to inspire you to live a healthy, balanced life.