I've got a fabulous and easy to make, one bowl keto chocolate chip cookies that you are going to absolutely LOVE. These cookies only take 5 minutes to prep and can be made dairy free, in addition to already being paleo and low carb!
Keto chocolate chip cookies prepped in just 5 minutes!
If you know me personally or already follow me on Instagram, it's no secret that I am a die hard chocolate chip cookie lover. I've been baking chocolate chip cookies for what seems like my whole life.
When I first came out with my paleo chocolate chip cookies recipe, I was so impressed with myself. It was one of the very first times I had explored with using raw cashews in baking, and I was obsessed.
It wasn't until recently though that I began experimenting with low carb friendly sweeteners in the kitchen.
I have a few friends who follow the keto lifestyle / diet, and I thought it would be fun to come up with a fabulous cookie recipe for them to enjoy.
Little did I know that I'd be the one pummeling 4 cookies at a time into my mouth - oops. Self awareness and control- I have it. Just not with these cookies 😉
I've tried several keto chocolate chip cookie recipes in the past. Many of them are really heavy on the dairy or just don't have enough depth of flavor for my liking.
After being a bit disappointed over and over again, I knew it was time to try and transform my original paleo chocolate chip cookie into a low carb chocolate chip cookie.
I went online and bought some xylitol, followed by finding a stevia sweetened chocolate chips brand called Lily's. When the bag of chips arrived, I grabbed a handful and was pleasantly surprised by how much I enjoyed them.
I don't find them to have that lingering and awkward aftertaste that many stevia sweetened products are known to have.
More dessert recipes like this:
Flourless Chocolate Tahini Cookies
Paleo and Vegan Almond Butter Cookies
But let's back up a second...!
What is xylitol, and why don't you already have it as a pantry staple?
I just started hearing about it maybe a year ago, but I was intimated.
I shouldn't have been... it's so easy to use and the taste is fabulous- I love how granular it is, too!
Xylitol is a sugar alcohol that is SAFE and is derived from the bark on a birch tree- how cool is that?! I would say that it is about 70% as sweet as processed white sugar.
It's wonderful to use in baked good and easy to substitute into "regular" recipes because of that convenient 1:1 ratio.
I think I may have to start experimenting with it more, but until then, you've gotta get your hands on these low carb chocolate chip cookies.
You should start making them for friends and family and not even telling them what they're made out of. Tell them later that they have NO sugar in them... they will flip out.
I've been raving about how wonderful using raw cashews in baking is for years now, but if you don't have access to them, you can substitute an equal amount of almond flour.
I can't guarantee they will taste as delicious though, I am very sorry to say. Trust me on this one.
We are heading over to a best friend's house in Orange County today. Her daughter, Daisy is 15 months older than Sophie, and they are the sweetest pair of little friends ever.
I adore watching the two of them together. Daisy is so protective over Sophie and is constantly nurturing with her and hugging her and trying to hold her when she fusses.
Melts.
My.
Dang.
Heart.
I am bringing her a big Tupperware container of low carb chocolate chip cookies per her request. As soon as I posted about experimenting with the recipes, she text me to ask if I'd be bringing them.
Duh. I love to share! Just not with Tim... he's a monster. Om nom nom.
Keto Chocolate Chip Cookies
I've got a fabulous and easy to make, one bowl keto chocolate chip cookies that you are going to absolutely LOVE. These cookies only take 5 minutes to prep and can be made dairy free, in addition to already being paleo and keto friendly!
Print Recipe
Pin Recipe
Rate Recipe
Instructions
Pulse the raw cashews in a food processor or high-speed blender, a few seconds at a time, until they resemble a coarse flour. You don't want any visible chunks of cashews. This should take about 1 minute. Be sure not to turn the cashew flour into cashew butter. Watch the texture closely.

Add the rest of the dry ingredients and pulse a few more times, until everything has been well incorporated.

Add the wet ingredients to the food processor and give it a few more pulses. Transfer to a bowl and stir in the chocolate chips.

Transfer the bowl to the refrigerator for 10 minutes and preheat the oven to 350 degrees Fahrenheit. Adjust the oven rack to the middle position and line a baking sheet with parchment paper.

Use a cookie scoop to form cookies and place 2" apart on the prepared baking sheet. I used a medium size cookie scoop so my cookies are pretty large. You can make them smaller, but be sure to keep an eye on them in the oven. If you do make them smaller, start checking on them after 10 minutes! Press down very, very lightly to flatten - note that the cookies won't spread very much, so press them down to the thickness you prefer.

Sprinkle with some more dark chocolate chips on top if you'd like and flaked sea salt (trust me!) Bake for 10 minutes (for smaller cookies) or 14 (for medium to large). When they begin turning golden brown around the edges, they're all done!

Let them sit out and set for at least 30 minutes before carefully transferring to a wire rack to cool completely. Enjoy!
Notes
You can use an egg instead of the grass-fed gelatin, but the cookies won't be as chewy.
Feel free to use almond flour instead of raw cashews to make these keto.
Nutrition
Calories:
251
kcal
|
Carbohydrates:
14
g
|
Protein:
6
g
|
Fat:
21
g
|
Saturated Fat:
9
g
|
Cholesterol:
19
mg
|
Sodium:
244
mg
|
Potassium:
142
mg
|
Fiber:
2
g
|
Sugar:
6
g
|
Calcium:
21
mg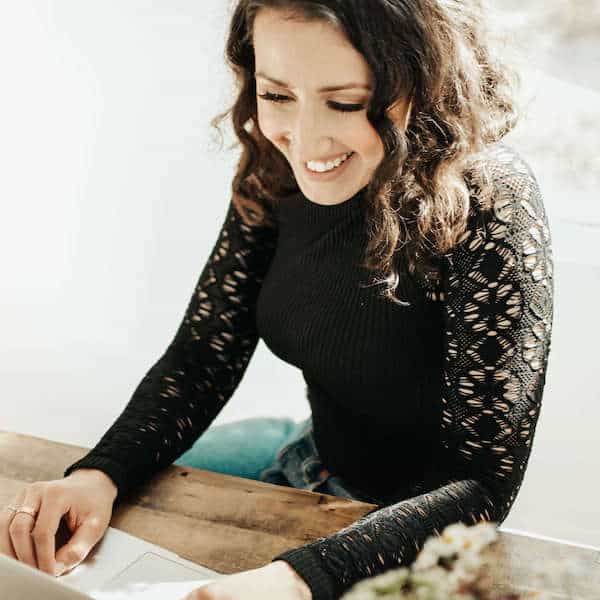 Hi! I'm Monica – recipe developer, matcha addict and lover of all things chocolate, kombucha and any & all puns. I am also the blogger, real food lover, & bonafide hustler behind the blog 'The Movement Menu.' I'm so excited to welcome you to my happy space, where my appreciation of creative recipes and healthy & mindful eats come together to inspire you to live a healthy, balanced life.