This gluten free and vegan strawberry cheesecake is an absolute dream with the strawberry sauce and oat crumble on top. It is no bake, easy to make, vegan and absolutely delicious.
This post is sponsored by the wonderful folks over at Oatly!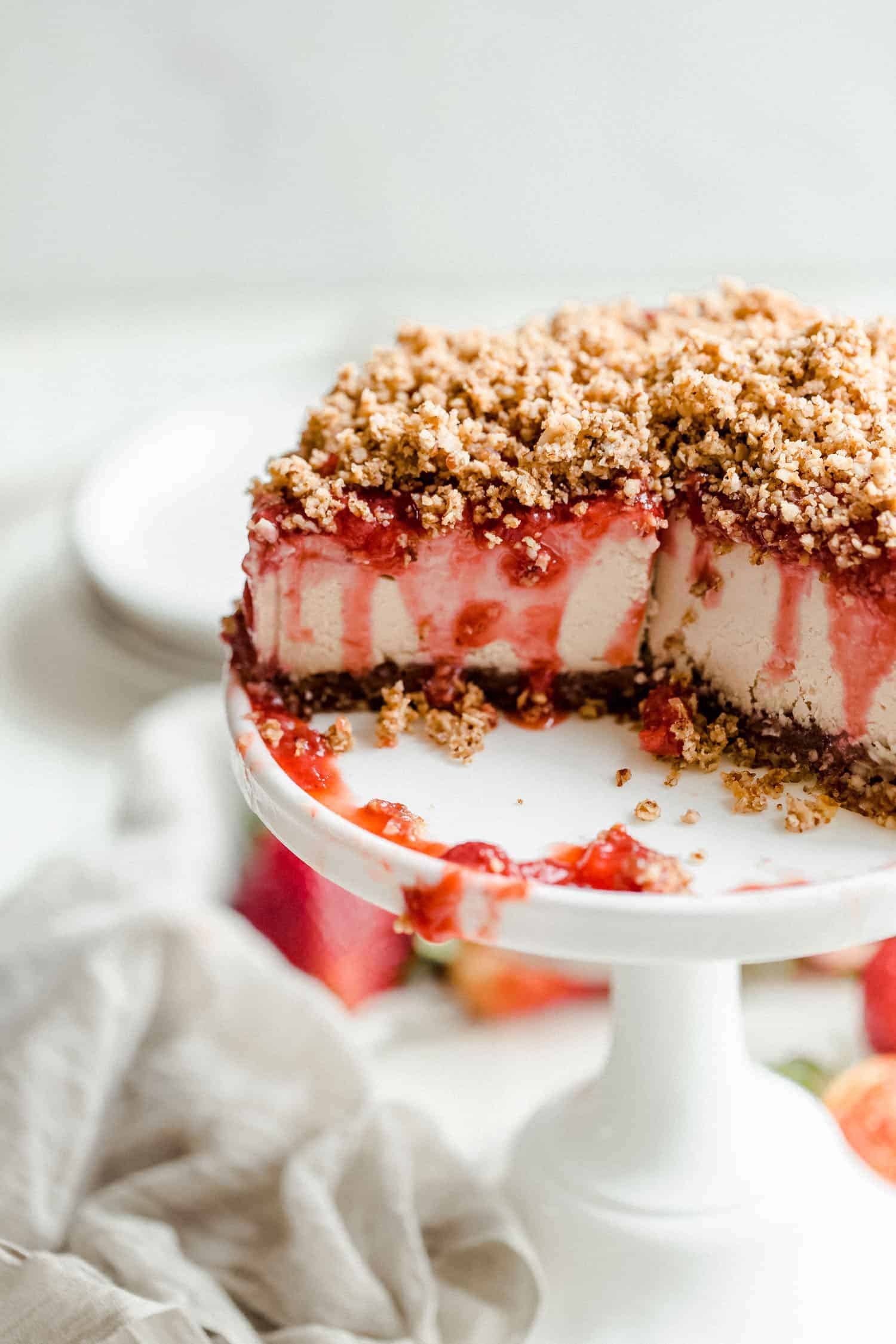 What kind of substitutions can I make in this vegan cheesecake recipe?
What I recommend is sticking to the original recipe as close as possible. However, here are a few substitutions that would be fine to make if you don't have access to all of the ingredients.
You can use honey instead of maple syrup. However, that would no longer make the cheesecake vegan.
Feel free to use walnuts instead of pecans in the crust. You can also use almonds!
You can use frozen strawberries. Just be sure to let them completely thaw first.
More vegan cheesecake recipes like this:
No Bake Peanut Butter Cheesecake
Easy Vegan Strawberry Cheesecake
No Bake Easy Vegan Pumpkin Cheesecake
Paleo Vegan Berry Cheesecake Bars
Raw Vegan Blueberry Cheesecake
Easy Vegan Raspberry Cheesecake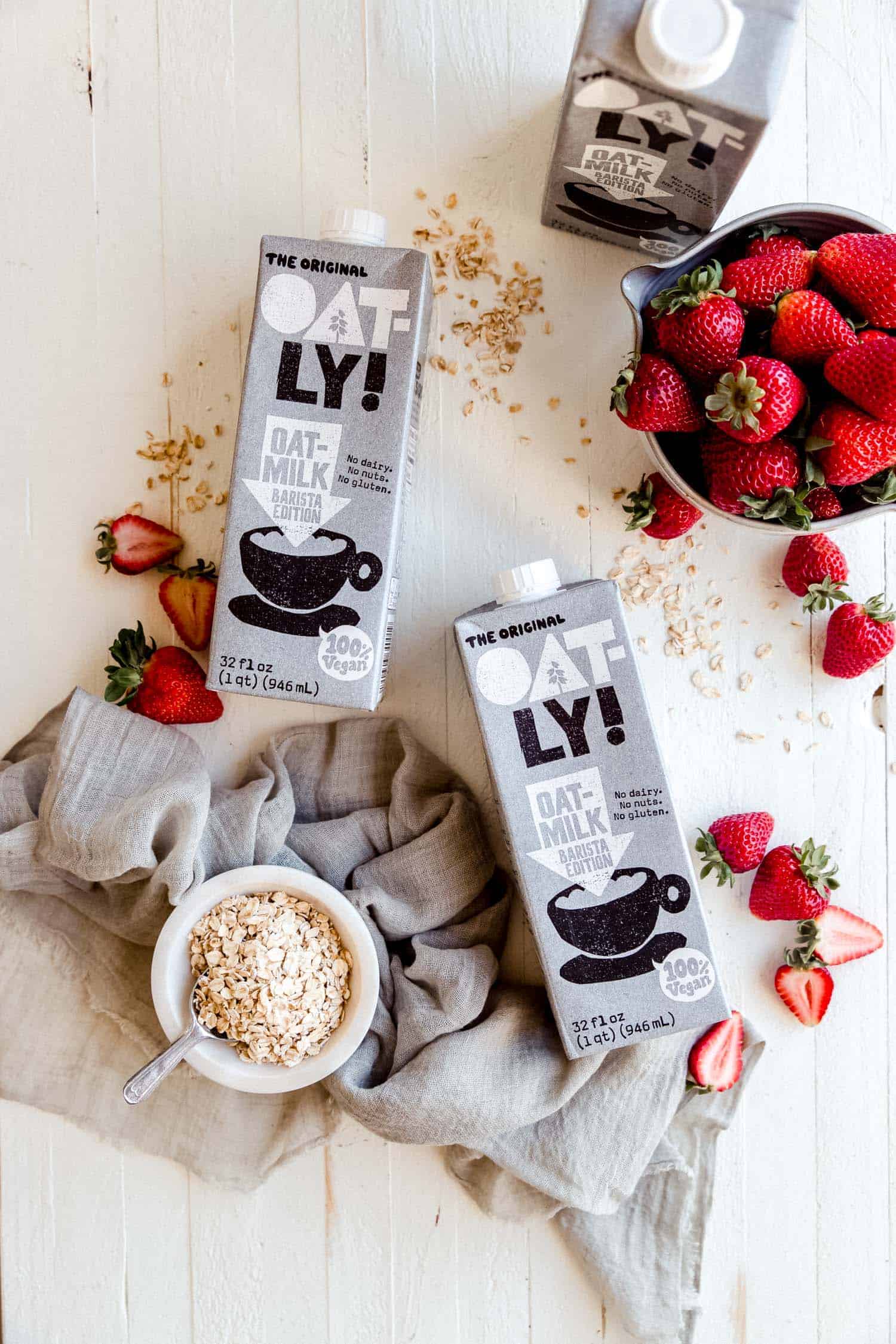 What about using canned coconut milk in place of oat milk?
Here is the deal. I have made hundreds of vegan cheesecakes with canned coconut milk, and they are absolutely wonderful.
At least I thought so until I made this one with oat milk. I know some people are particularly sensitive to the flavor of coconut, s this magical rendition is made special for you! 😉
Oat milk has just as creamy of a texture but a lower fat content than coconut milk, which makes it a heavenly stand-in for it in this recipe. Not to mention, the barista edition of Oatly oatmilk is a shining star.
It is perfect in your morning cup of coffee, matcha, tea, you name it. I also love using it to scramble into my eggs or in vegan cheesecakes like this one, ha!
Feel free to take a peek at Oatly's oat finder so you can find a local store near you that carries it. You'll thank me.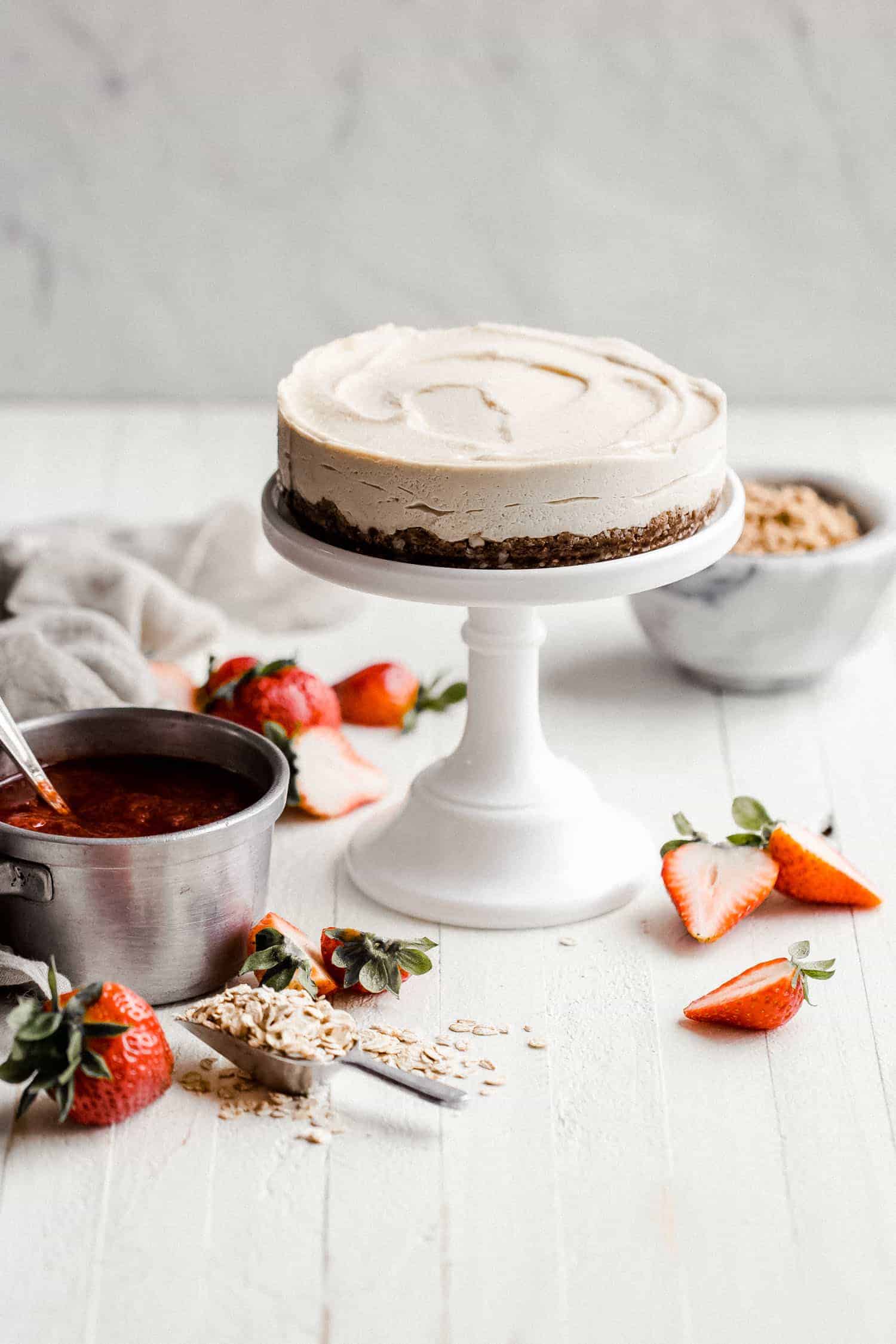 Have you gotten your hands on oat milk yet? I've been going absolutely nuts over it here.
All of my favorite coffee shops just so happen to carry Oatly, and I basically haven't had a latte done any other way since I discovered it.
There is something really magical about its texture, and the way that it foams up and froths compared to other non-dairy milks... or even regular milk! 🙂
When I head to a coffee shop now, I am either getting a decaf Americano with 1" of steamed heavy cream or a decaf oat milk latte. That's all.
It's so funny how it has become insanely popular really quickly. It's the new almond milk but like, times infinity?!
Can I use fruit other than strawberries inside?
This vegan strawberry cheesecake is no joke, y'all. I made another vegan strawberry cheesecake recipe a few years back using canned coconut milk, and there was no oat crumble.
This ones takes the prize, hands down. The oat crumble adds a phenomenal texture ad warm & nutty flavor that you just can't pass up.
The freshly made strawberry sauce with hunks of strawberries inside? Umm, it's to die for.
I cannot wait for you to try vegan cheesecake made with oat milk. It's going to really change your life-- for the way better.
Feel free to switch up the fruit in this recipe. If strawberries aren't in season and you don't want to use frozen produce, feel free to grab: blueberries, peaches, mango, raspberries, etc. instead!
If you are making this strawberry cheesecake for a special occasion and need to transport it somewhere, I recommend keeping it in the freezer until you have to leave.
Keep it in an airtight container in the freezer for up to 2-3 weeks. I recommend leaving it out for 15-20 minutes at room temperature before slicing and serving.
Store the oat crumble and strawberry sauce separately. Layer a slice of vegan cheesecake with the sauce & crumble when it is ready to be served.
You may have extra sauce and crumble. That's okay.
Feel free to eat the two together as a treat. This is me warning you, it's delicious! 😉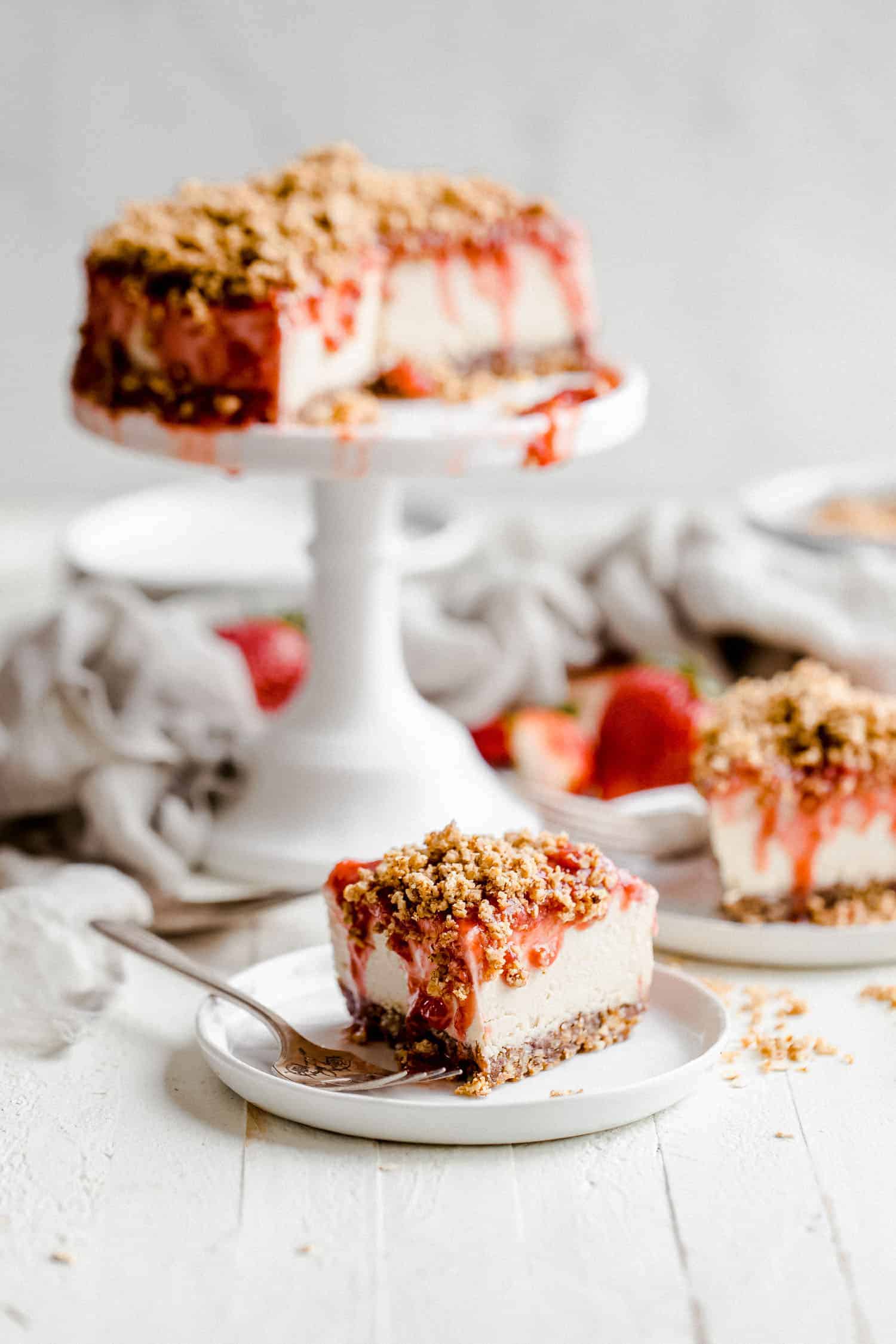 This post was sponsored by the awesome folks at Oatly. Thank you for allowing me to continue creating such incredible content by supporting relationships with incredible brands and companies that The Movement Menu enjoys working with! Opinions will always remain 100% my own!
Gluten Free & Vegan Strawberry Cheesecake (with Oat Milk)
This gluten free and vegan strawberry cheesecake is an absolute dream with the strawberry sauce and oat crumble on top. It is no bake, easy to make, vegan and absolutely delicious.
Print Recipe
Pin Recipe
Rate Recipe
Ingredients
Instructions
Set the oven to 350 degrees and adjust the oven rack to the middle position. Line a baking sheet with parchment paper.

Add cashews to a bowl and cover with boiling hot water. Let set, uncovered, for 1 1/2 hours. Rinse and drain thoroughly.

In a large bowl, combine the oat crumble ingredients together. Pour onto the prepared baking sheet and bake for 15-20 minutes until golden brown throughout. Remove from the oven and set aside.

While the crumble is baking, line the bottom of a 6" or 7" springform pan with parchment paper (cut out a circle) and lightly oil the sides to make it easier to remove once the cheesecake has set.

Combine the nuts in a food processor and pulse until you get a coarse mixture. Add the rest of the crust ingredients and pulse several times until it starts clumping up and forming together.

Transfer the crust mixture into the pan. Press down with your fingers to pack it evenly into the bottom of the pan to create an even base. If it starts to get sticky, lightly wet your fingers with warm water. Set aside.

Add drained cashews and the rest of the filling ingredients to the bowl of your food processor or into a high speed blender pitcher. Process or blend until creamy and smooth throughout, scraping down the sides as needed. *Taste and adjust accordingly. Be sure to add more lemon juice if it's too sweet, more maple syrup if it isn't sweet enough or a pinch more of salt for more balance!*

Pour the filling over the crust. Tap on the counter a couple of times to release any air bubbles that may have formed. Cover lightly with plastic wrap and seal the top with aluminum foil. Let it set in the freezer for 4-6 hours.

Prepare the strawberry sauce by adding all of the ingredients to a medium saucepan and simmering for 15-20 minutes over low heat until very soft throughout. Using an immersion blender or a potato masher, break down the strawberries but leave some chunks. Let cool before transferring to the refrigerator to completely cool.

When ready to serve, pull out the cheesecake and allow it to sit at room temperature for about 10-15 minutes before slicing and serving. Top off with strawberry sauce and oat crumble.
Notes
Depending on the size of your Medjool dates, you may need more or less than 8-10. You want the texture of your crust to be sticky. You should have the ability to easily push it with your fingers into the side of the food processor bowl and have it stick together.
Be sure to bring all of your filling ingredients to room temperature before you begin. Otherwise, your filling will not be smooth!
Nutrition
Calories:
427
kcal
|
Carbohydrates:
41
g
|
Protein:
7
g
|
Fat:
29
g
|
Saturated Fat:
10
g
|
Sodium:
214
mg
|
Potassium:
367
mg
|
Fiber:
5
g
|
Sugar:
24
g
|
Calcium:
62
mg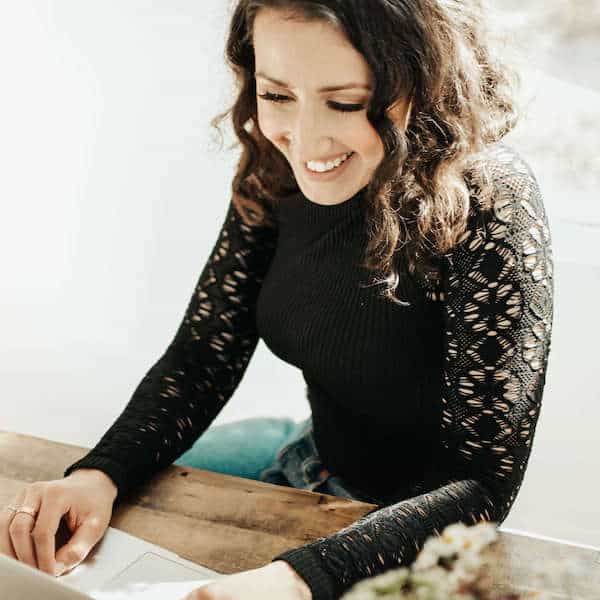 Hi! I'm Monica – recipe developer, matcha addict and lover of all things chocolate, kombucha and any & all puns. I am also the blogger, real food lover, & bonafide hustler behind the blog 'The Movement Menu.' I'm so excited to welcome you to my happy space, where my appreciation of creative recipes and healthy & mindful eats come together to inspire you to live a healthy, balanced life.