I've made an easy vegan and paleo pesto salad that is a healthy and refreshing take on a traditional pesto salad recipe. It's made up of spiralized zucchini noodles, blistered cherry tomatoes and topped off with a fabulous basil and pine nut vegan pesto recipe. Yum!
Just wanted to let you know this easy vegan pesto salad recipe is sponsored by my friends at Diamond Nuts!
This vegan pesto does not skimp on flavor!
Now let me fill you in on something. I've had my fair share of dairy free / vegan pesto recipes, and all of them seem to be slightly lacking on "oomph" let's call it.
It's hard to make up for that generous quality of flavor that using parmesan cheese will give you. When I finally nailed down the proportions for this paleo pesto, I was super excited!
I think getting the amounts of fresh garlic and lemon juice just right- well, that makes all of the difference. Not to mention the creamy avocado half I blended in... mmm, mmm.
I also happen to think that adding blistered tomatoes to this raw zucchini pasta salad is a genius idea. Allow me to pat myself on the back a little bit.
I came up with it after realizing that one of my favorite Italian dishes is a simple thin noodle with creamy pesto and some sort of sun dried tomato or roasted tomato inside.
More like this:
Roasted Butternut Squash Salad with Kale
A vegan and paleo pesto recipe that is completely versatile!
I knew I really wanted to add tomatoes to this recipe and that they'd lend a lot of balance to the dish. I often forget how versatile homemade pesto recipes can be. Allow me to explain myself...
Diamond Nuts has a wide range of products. You can replace the pine nuts in this recipe for walnuts or pecans, and it would be just as delicious!
You can also use something like kale or arugula in place of the basil. I've seen some delicious takes on those recipes like on Minimalist Baker- she has a Super Green Vegan Kale Pesto recipe.
What I'm saying is don't be shy in playing around with the ingredients. I tend to prefer the traditional taste that blending pine nuts and basil yield, but other combinations are fabulous too!
Well, I think yesterday was an official marker of my stage in pregnancy. Why? Well, I had this delightful and nutrient dense paleo pesto salad for lunch.
Guess what I ate for dinner? A jumbo kosher hot dog and regular fry from Five Guys. I sat in the cafe by myself and scared down just about 3 minutes outside of our house.
I was on my way home from shooting this recipe at my parents house (as we still do not have a usable kitchen) and realized I had a sudden urge and craving I wanted to fill.
Without any hesitation, I made a u-turn and dashed through the Five Guys parking lot. It was 9pm. I was one of the only customers, and the cashier looked at me *quite puzzled* after I ordered a regular-sized fry.
I had never been there before. I had no idea it was going to be HUGE.
Well, tomorrow is the day! We are leaving for Spain in the middle of our kitchen renovation, and I could not be more excited.
It will be so nice to remove myself from all of the mayhem that has ensued during the process and truly be off the grid for a week and a half.
This is going to be our last big trip before our little babe arrives in July, and I can tell you it is very much wanted. We cannot wait to explore the cities and roam through the streets with no agenda... at all!
That's how we prefer to vacation. We don't become too obsessed with the details, as that tends to bring me on anxiety. I like to play things by ear, and so does Tim, so traveling together is something we really enjoy and remains stress-free *most of the time!*
Please enjoy this vegan and paleo pesto salad recipe! I'm sure you can trick your kiddos into thinking they are eating a regular pasta dish... just tell them it's a dish you enjoy cold 😉
Watch them be fooled... and really, really love it!
This post is sponsored by the lovely folks at Diamond Nuts. Thank you for allowing me to continue creating such incredible content by supporting relationships with incredible brands and companies that The Movement Menu enjoys working with! Opinions will always remain 100% my own!
Easy Vegan and Paleo Pesto Salad
I've made an easy vegan and paleo pesto salad that is a healthy and refreshing take on a traditional pesto salad recipe. It's made up of spiralized zucchini noodles, blistered cherry tomatoes and topped off with a fabulous basil and pine nut vegan pesto recipe. Yum!
Print Recipe
Pin Recipe
Rate Recipe
Ingredients
Vegan Pesto
3

cups

fresh basil

packed

2 1/2

tablespoons

pine nuts

2 1/2

tablespoons

lemon juice

1/2

avocado

pitted and diced

3

large garlic cloves

chopped

1/4

cup plus 1 tablespoon

extra virgin olive oil
sea salt

to taste

black pepper

to taste
Instructions
Preheat the oven to 450 degrees Fahrenheit and adjust the oven rack to the middle position. Line a baking sheet with parchment paper and set aside.

In a medium bowl, toss together cherry tomatoes with olive oil. If the cherry tomatoes are large, you can cut them in half. Sprinkle with just a bit of salt for taste. Transfer the tomatoes to the baking sheet and spread out in a single layer.

Bake at 450 degrees Fahrenheit for about 10-15 minutes, making sure to give them a nice stir halfway through the cooking time. They are all done when they start to blister and bubble up! Remove from the oven and set aside to slightly cool.

Spiralize the zucchinis. I like to use the "C" blade on my Inspiralizer. Feel free to spiralize it as thick or as thin as you'd like. Set aside in a large bowl.

Place all of the pesto ingredients into a food processor except for the olive oil. Pulse several times on high until everything is well combined, scraping down the sides if necessary. Turn the food processor on low and slowly drizzle in the olive oil. Pulse until smooth throughout. Set aside.

Toss the zucchini noodles with the pesto. I prefer to use my hands for this to make sure everything is well coated and even. Top off with blistered tomatoes and adjust for seasoning if needed. Serve right away.
Nutrition
Calories:
321
kcal
|
Carbohydrates:
17
g
|
Protein:
6
g
|
Fat:
28
g
|
Saturated Fat:
4
g
|
Sodium:
36
mg
|
Potassium:
1128
mg
|
Fiber:
5
g
|
Sugar:
10
g
|
Calcium:
91
mg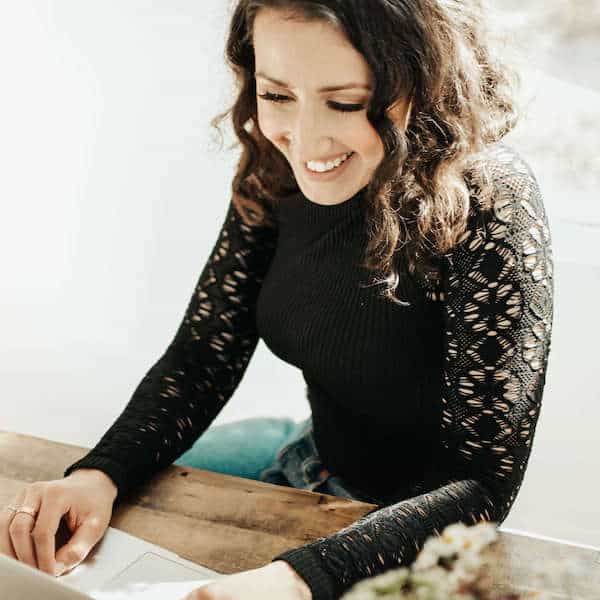 Hi! I'm Monica – recipe developer, matcha addict and lover of all things chocolate, kombucha and any & all puns. I am also the blogger, real food lover, & bonafide hustler behind the blog 'The Movement Menu.' I'm so excited to welcome you to my happy space, where my appreciation of creative recipes and healthy & mindful eats come together to inspire you to live a healthy, balanced life.