I have a flourless chocolate tahini cookies recipe that is going to change your life. These tahini cookies are made with nut and seed butters, cacao and so much decadence. They will be loved by the whole family and are completely dairy free, gluten free and paleo!
Just wanted to let you know these cookies are sponsored by my friends over at Bob's Red Mill!
Do I need to use tahini in these paleo cookies?
These tahini cookies are the perfect mix of salty and sweet. The raw cashew butter and tahini really bring out the bold flavors from the cacao, and that sea salt just sends the whole operation completely over the edge. In the best way possible.
I actually came up with this recipe many, many years ago, but I decided it was time for another photoshoot. I have brought them to so many gatherings, and my friends and family consistently ask me to make them... they are SPECIAL.
I think it's mainly because of the tahini. It is not a commonplace ingredient amongst baked goods, although it definitely should be.
My Israeli roots are shining through, aren't they?! I think the first time I had tahini was in the form of halvah... what's halvah?! Well...
More desserts recipes you may like:
5 Minute Paleo Chocolate Chip Cookies
Paleo and Vegan Almond Butter Cookies
It's basically a fudge-like candy made from sesame paste. No, it taste nothing like fudge... but it's dense!
My grandpa used to always have it in the refrigerator while I was growing up, and he was always very generous with sharing.
You could say the inspiration in making the cookies comes directly from him. He's the brightest light in our whole darn family, and I'd like to think I'll always be able to keep his memory alive by continuing to make these cookies.
It was so hard for me to just take ONE bite out of these for photo taking purposes. Well, it wasn't that hard. I made enough so I could replace each one I took a bite out of a few times because I kept finishing it.
Whoops, don't act surprised. Just wait until you try them-- you'll understand 😉
You can make these cookies with any nut butter, but I recommend this combination because I have already tried it with a few others.
There is something cashew butter brings to the table that almond butter and peanut butter simply cannot.
I think it's a true creaminess and "buttery" texture. I prefer cooking with raw cashew flour as oppose to almond flour, too. It's such a game changer in the baking department.
You know what you are going to want with these flourless chocolate tahini cookies? Another batch.
No, but really... you are going to want a nice, tall glass of non-dairy milk. They are super decadent in the best way possible, and I recommend having something to wash them down with!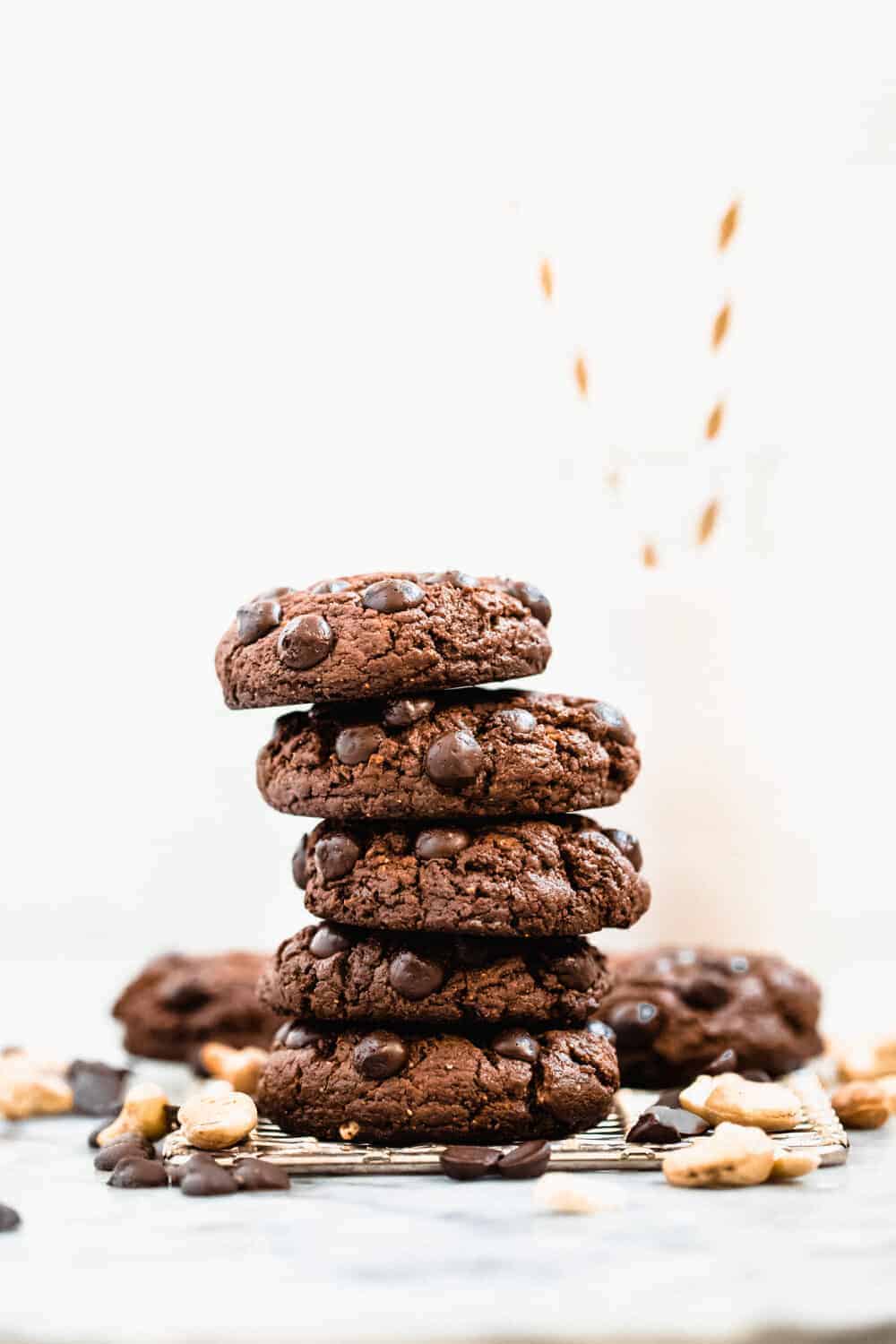 Tomorrow is New Year's Day 2019, and I don't know if there can be a better way to ring in the New Year than with cookies. I think I'll whip up a batch later this afternoon to bring to my mama's house.
She's not a cookie person, but I am going to make her one after she tries these... I swear.
My sister will certainly be pleased, as she's given the cookies many endearing nicknames of the year because she thinks they're friends and she can do that.
Really, she's obsessed. I made them for the first time around my bachelorette party weekend, and she referred to them as "delicious poop cookies" because they were the color of poo, but they tasted freaking PHENOMENAL!
Don't mind her.
Alright, well what are you waiting for? Get to baking, would ya?!
I cannot wait for you to try these. I haven't really tasted anything else like them, so I am proud to call them my own.
If you do end up making some, be sure to tag me on Instagram so I see your wonderful creations.
Side note-- make sure you use that cashew butter! When I was done eating a plate of these cookies, I found myself singing that Sinead O'Connor ballad over and over again.
"Nothing compares, nothing compares to you." Seriously. Happy baking, and Happy New Year 2019, y'all! 🙂
This post is sponsored by the lovely folks at Bob's Red Mill. Thank you for allowing me to continue creating such incredible content by supporting relationships with incredible brands and companies that The Movement Menu enjoys working with! Opinions will always remain 100% my own!
Flourless Chocolate Tahini Cookies
I have a flourless chocolate tahini cookies recipe that is going to change your life. These tahini cookies are made with nut and seed butters, cacao and so much decadence. They will be loved by the whole family and are completely dairy free, gluten free and paleo!
Print Recipe
Pin Recipe
Rate Recipe
Instructions
Preheat the oven to 350 degrees Fahrenheit. Line a baking sheet with parchment paper and set aside.

In a large bow or stand mixer, mix together cashew butter, tahini and coconut sugar using a spoon or fork. Add egg and mix again until everything is mixed well.

Add 1/4 cup of the cacao powder into the mixture. Using your hands, knead the cacao powder into the dough. Once it is well combined, add the other 1/4 cup and continue to knead.

Add baking soda, vanilla extract, sea salt and chocolate chips. Combine everything with your hands once more. The dough will be very thick and sticky- that's okay!

Using a cookie scoop, scoop out 1 1/2 tablespoons at a time and roll the dough into a ball. You can make these smaller (1 tablespoon) or a little larger (2 tablespoons) if you would like.

Place the cookie balls on your parchment paper lined baking sheet. This should make anywhere between 12 and 15 cookies.

Press each cookie ball down slightly with the back of a fork. Do not flatter them out too much because they will spread in the oven.

Bake cookies for 10-12 minutes, or until the edges look slightly done. They may still look raw, but they aren't. Trust me!

Do not move these cookies onto a baking sheet for at least 15 minutes. They are pretty fragile in the beginning cooling stages! After 15 minutes, move them to a wire rack and let them cool for another 15 minutes. Enjoy!
Notes
Be sure that both of your nut & seed butters are quite creamy. If you buy one that is dry, your cookies will turn out dry!
I recommend purchasing the Soom tahini!
Nutrition
Calories:
222
kcal
|
Carbohydrates:
23
g
|
Protein:
6
g
|
Fat:
14
g
|
Saturated Fat:
4
g
|
Cholesterol:
18
mg
|
Sodium:
332
mg
|
Potassium:
213
mg
|
Fiber:
2
g
|
Sugar:
11
g
|
Calcium:
49
mg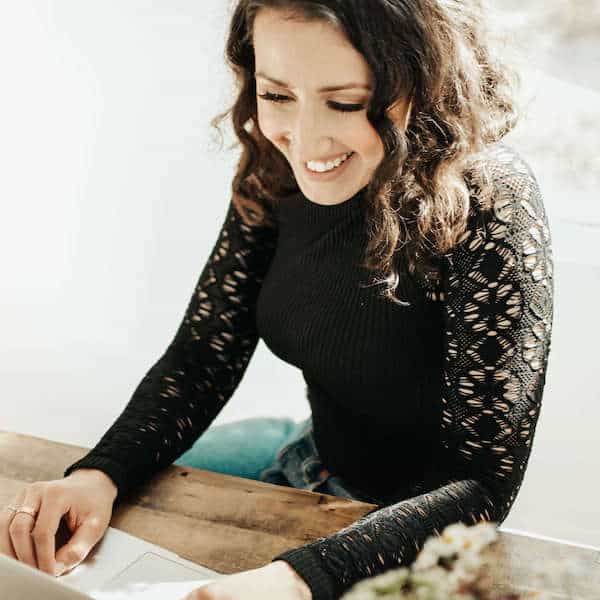 Hi! I'm Monica – recipe developer, matcha addict and lover of all things chocolate, kombucha and any & all puns. I am also the blogger, real food lover, & bonafide hustler behind the blog 'The Movement Menu.' I'm so excited to welcome you to my happy space, where my appreciation of creative recipes and healthy & mindful eats come together to inspire you to live a healthy, balanced life.