It's spiralize time yet again, and this time we're making Spiralized Sweet Potato Fries (that just so happen to be perfectly crispy!) Oh, and I happened to make a curry aioli sauce as a topping for these sweet potato fries, too. You just happen to be scoring really BIG right now.
It has been such an exciting week for me. I was given the opportunity to takeover the Whole30 Instagram page for the entire week! I was able to share my favorite Whole30 compliant recipes, shopping tips & tricks, and ingredient meals with their community and it proved to be incredibly rewarding.
Let me tell you something: THAT is a community that they have going on. If I posted anything that may have been in a "grey" area, people were quick to call me out and ask me follow-up questions. No, I didn't get annoyed. Quite the opposite, actually- it made me really excited to see how passionate people are about eating well and sticking to the foundations Whole30 has laid out. There was an open line of communication created between myself and their readers, and I hope that my week of sharing made (at least some) peoples' journeys more enjoyable and delicious.
It was right before I started the takeover that I had made spiralized sweet potato fries. They turned out even more delicious than I imagined they would be. I didn't get a chance to post the recipe before my takeover, so they're showing up fashionably late to the party. That's okay though because these spiralized sweet potato fries are the guest of honor. In fact, they're the most beautiful girl in the room, at that party. I'm not sure when or why I decided that spiralized sweet potato fries had a gender, but I do know why they're female.
They're equal parts: gorgeous, sassy and powerful. They're packed with yummy nutrients like Vitamin C, Vitamin B6 and manganese. The curry aioli sauce they're topped off with is just an insane accompaniment to really bring these fries to another level of stardom. The curry aioli sauce is made with the Homemade Paleo Mayonnaise I posted about last week (did you guys see my first recipe video?!) Be sure to check it out- I had a blast making it!
If you're having guests over who may be have never tried spiralized roots or vegetables before, be sure to make these spiralized sweet potato fries. They will be completely over the moon about them and will probably leave with your Inspiralizer in hand. Oh, and they'll definitely ask for seconds and thirds. They won't be shy!
Spiralized Sweet Potato Fries
It's spiralize time yet again, and this time we're making Spiralized Sweet Potato Fries (that just so happen to be perfectly crispy!) Oh, and I happened to make a curry aioli sauce as a topping for these sweet potato fries, too!
Print Recipe
Pin Recipe
Rate Recipe
Instructions
Preheat oven to 400 degrees Fahrenheit and line a baking sheet with aluminum foil. Set aside.

Thoroughly scrub the sweet potatoes and dry them well. Cut off each end to make a flat surface to attach to the prongs of the spiralizer.

Secure spiralizer to the counter top with the designated suction cups and clamps and attach the potato, centered and parallel to the countertop. Be sure to place the larger end on the prongs.

Twist the handle to make the fries. If your fries aren't spiralizing into long spirals anymore, reattach and center your potato again.

Clean out potato and remove core from the spiralizer.

Drizzle sweet potato fries with avocado oil and lightly toss to coat. Sprinkle the herbs & seasonings on top. Give the spiralized potatoes another toss to make sure they're covered with the seasoning. Cook at 400 degrees for 25-30 minutes.

At the 25 minute mark, check on the fries. If there are spirals that are turning brown, take them out immediately and transfer to another baking sheet or wire rack. Continue to cook the rest of the spirals until they begin to crisp up. Check on them every couple of minutes until they are all cooked through.

Let cool for 10 minutes. As they cool, they will crisp up more. Serve right away.
Notes
Oven baking times may vary, as all ovens are slightly different. Keep an eye on the fries, and as soon as they start looking light brown around the edges, pull them out!
Nutrition
Calories:
159
kcal
|
Carbohydrates:
8
g
|
Protein:
1
g
|
Fat:
14
g
|
Saturated Fat:
2
g
|
Sodium:
21
mg
|
Potassium:
127
mg
|
Fiber:
1
g
|
Sugar:
2
g
|
Calcium:
11
mg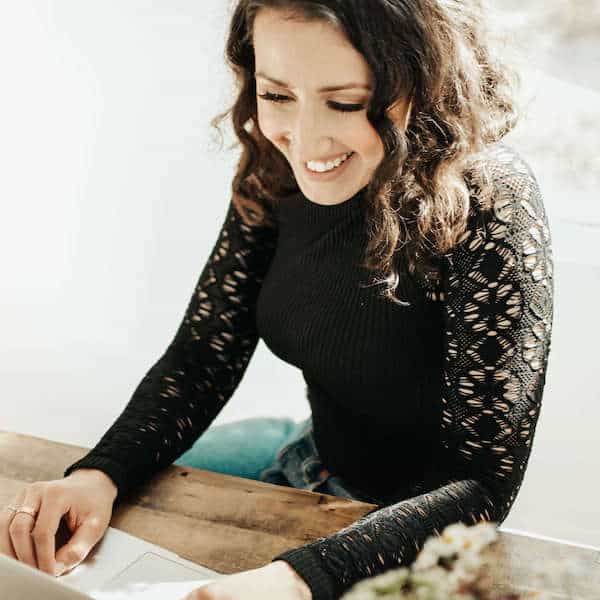 Hi! I'm Monica – recipe developer, matcha addict and lover of all things chocolate, kombucha and any & all puns. I am also the blogger, real food lover, & bonafide hustler behind the blog 'The Movement Menu.' I'm so excited to welcome you to my happy space, where my appreciation of creative recipes and healthy & mindful eats come together to inspire you to live a healthy, balanced life.