Best, no bake, easy vegan raspberry cheesecake! This cheesecake is completely refined sugar free, paleo, raw and absolutely delicious! The fresh raspberry topping really takes it over the edge. That creamy texture, too… yes please!
Add this easy vegan raspberry cheesecake to your "to make" list!
It's been a very fun week in The Movement Menu kitchen. I love when Valentine's Day rolls around each year. Although we don't really celebrate the holiday, I do spend a ton of time baking which is a celebration within itself, am I right?
This year, I'm churning out dessert recipes like a crazy person.
Just yesterday, I posted about my Mini Flourless Chocolate and Vanilla Donuts– did you see?
They are the perfect treat to kick off this Valentine's Day. I love them because they're travel size. You can put like 6 in your hands and run out the door with them. Pretty great, huh?
A vegan cheesecake for paleo eaters and vegans alike
I always feel very proud when I come out with a recipe that can be celebrated by both paleo eaters and vegans. It's not easy, let me tell ya. But when it does happen, I do not refrain from shouting it from the rooftops.
Like this easy vegan raspberry cheesecake! This recipe needs to be celebrated, mk? The reason it's so damn dreamy is because raw cashews are gold. I've used them to create so many delicious baked goods (not just cheesecakes!)
The versatility they bring to the table is so unique and so incredible. If you haven't started using them yet, you're missing out. Let me fill you in on some of my FAVORITE recipes that wouldn't have been made possible without cashews: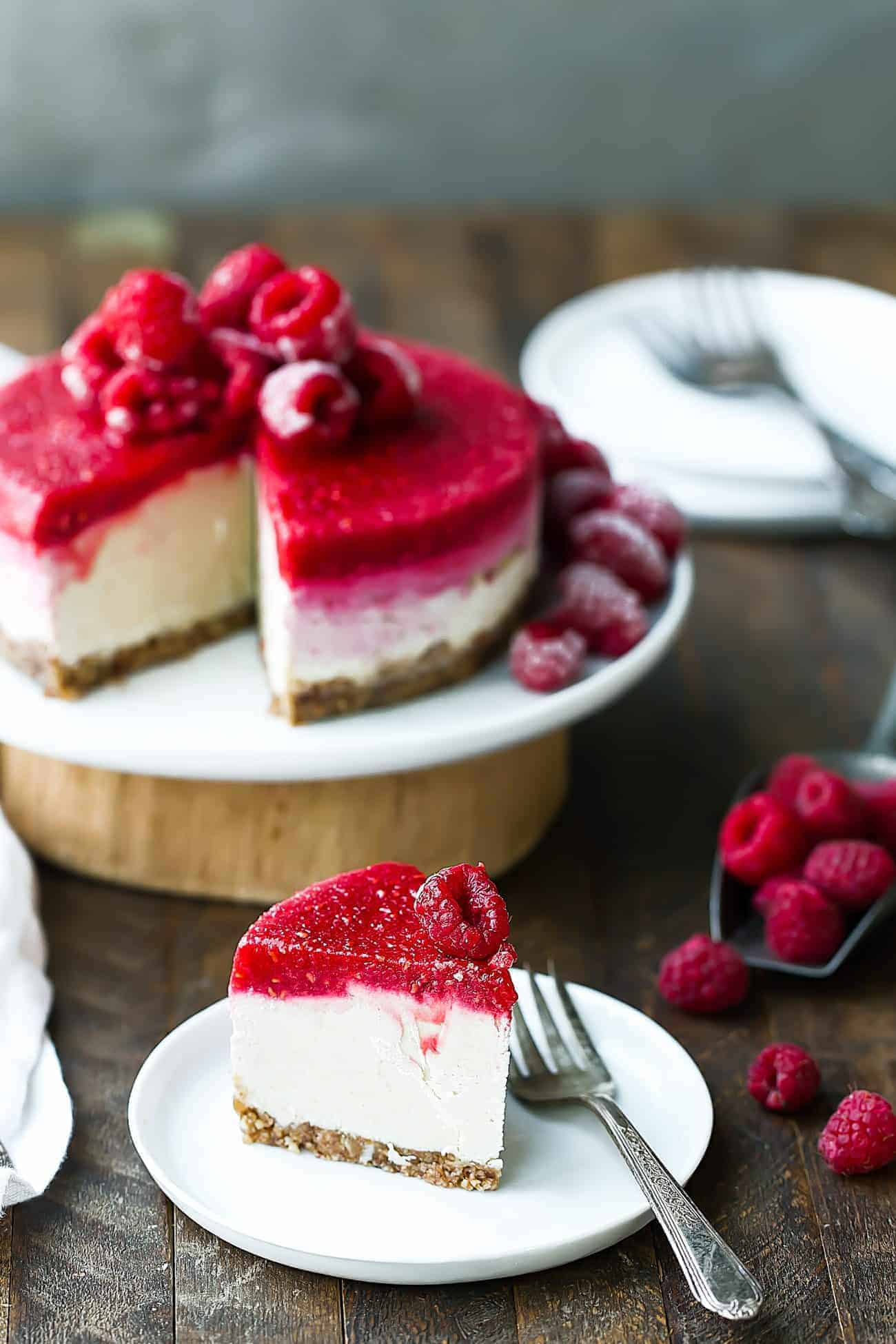 More like this:
Paleo Caramel Pecan Cheesecake Bars
Strawberry Mango Vegan Cheesecake Bars
Easy Vegan Blueberry Cheescake
Gluten Free Vegan Cheesecake Bars
Paleo Vegan Berry Cheescake Bars
… and if you're yearning for even more paleo and vegan cheesecake recipes, my girl Rachel over at Bakerita has absolutely got you covered! Rachel is an expert at paleo baking, so I trust her whole heartedly with cheesecake.
Creamy, dreamy deliciousness all up in this easy vegan raspberry cheesecake
*WARNING!* Eating a slice of this cheesecake may result in reaching a state of eternal happiness and bliss.
Seriously, it's so dang good. The addition of the coconut flakes to the crust are truly delicious, and the lemon juice added to the filling really brings out the tart and yummy flavors from the fresh raspberries.
You can freeze some of your fresh raspberries (or buy some frozen ones) to add to the top of the cheesecake as well. It adds a new textural element to the cheesecake which is awesome!
I have a mission for you. If you do decide to make this easy vegan raspberry cheesecake (which you absolutely should, duh), do not tell anyone you are feeding that it is paleo, raw, vegan, etc.
Let that be an element of surprise after they've completely licked their plates clean. I guarantee they will be shocked once you do let them know. Hehe 🙂
SaveSave
Easy Vegan Raspberry Cheesecake
Best, no bake, easy, vegan raspberry cheesecake! This cheesecake is completely refined sugar free, paleo, raw and absolutely delicious! The fresh raspberry topping really takes it over the edge. That creamy texture, too... yes please!
Print Recipe
Pin Recipe
Rate Recipe
Instructions
Add cashews to a bowl and cover with boiling hot water. Let set, uncovered, for 1 1/2 hours. Rinse and drain thoroughly.

Line the bottom of a 6" or 7" springform pan with parchment paper (cut out a circle) and lightly oil the sides to make it easier to remove once the cheesecake has set.

Combine the nuts in a food processor and pulse until you get a coarse mixture. Add the rest of the crust ingredients and pulse several times until it starts clumping up and forming together.

Transfer the crust mixture into the pan. Press down with your fingers to pack it evenly into the bottom of the pan to create an even base. If it starts to get sticky, lightly wet your fingers with warm water. Set aside.

Add drained cashews and the rest of the filling ingredients to the bowl of your food processor or into a high speed blender pitcher. Process or blend until creamy and smooth throughout, scraping down the sides as needed. *Taste and adjust accordingly. Be sure to add more lemon juice if it's too sweet, more maple syrup if it isn't sweet enough or a pinch more of salt for more balance!*

Pour the filling over the crust. Tap on the counter a couple of times to release any air bubbles that may have formed. Set aside.

Combine the raspberries and honey in the bowl of a food processor until pulverized. Add this mixture on top of the filling.

Cover lightly with plastic wrap and seal the top with aluminum foil. Let it set in the freezer for 4-6 hours.

When ready to serve, pull out the cheesecake and allow it to sit at room temperature for about 10-15 minutes before slicing and serving.

Leftovers can be stored in the freezer for up to 2 weeks. Enjoy!
Notes
Be sure to bring all of your filling ingredients to room temperature before you begin. Otherwise, your filling will not be smooth!
Nutrition
Serving:
1
g
|
Calories:
252
kcal
|
Carbohydrates:
23
g
|
Protein:
4
g
|
Fat:
18
g
|
Saturated Fat:
6
g
|
Sodium:
44
mg
|
Potassium:
276
mg
|
Fiber:
3
g
|
Sugar:
15
g
|
Calcium:
34
mg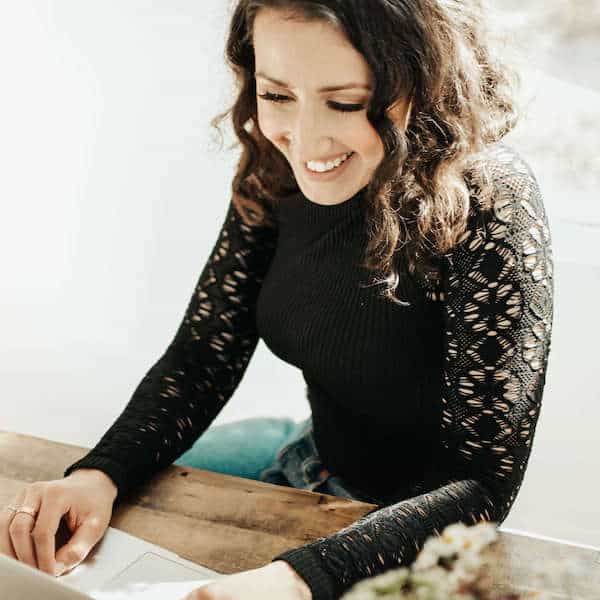 Hi! I'm Monica – recipe developer, matcha addict and lover of all things chocolate, kombucha and any & all puns. I am also the blogger, real food lover, & bonafide hustler behind the blog 'The Movement Menu.' I'm so excited to welcome you to my happy space, where my appreciation of creative recipes and healthy & mindful eats come together to inspire you to live a healthy, balanced life.