These crispy to the root chicken thighs are one of the best one pan meals you'll ever make. Quick and easy to make, delicious to eat and 100% paleo!
Ahh, crispy chicken thighs that are perfectly crisp and moist. Yes, I said it- moist. Why does this word set so many people off? When I hear it, I think about mouth-watering meat dishes and heavenly pieces of cake.
The word "moist" couldn't bring me more joy and excitement…! Roasting chicken could be one of the easiest things you can do to help you save time in the kitchen. You pretty much set it and forget it
I check the temperature about 5-10 minutes before the cooking time is up, just to be sure the meat doesn't become dry & that's it.
I wanted to share this one pan recipe with you because beyond how delicious it is, the preparation and cleanup are a piece of cake. Yes, a moist piece of cake.
We have such a busy weekend planned. I was supposed to have a lifestyle photoshoot with two of my best blogger gal pals on Sunday, but unfortunately we had to reschedule.
Instead, I'll be churning through (3) ebook recipes and (2) blog recipes instead. It's going to be a busy, busy Sunday. As for today and tomorrow, my husband and I will be going to the gym, eating plenty of food and possibly going to see a movie.
Last weekend was Natural Products Expo West, and I definitely over exhausted myself over the course of those three days. I can't wait to mostly relax this weekend and get back on my normal schedule.
There's something so calming and peaceful about that, am I right? I'm also going to be making more of my Creamy Cauliflower Soup on Sunday because my hubby responded very well to it. Also meaning, it was gone before I could check for leftovers…!
What's also extremely calming: how easy this dish is to make. I was able to fit everything into one baking pan and it should last for about four meals.
I always get super excited creating low maintenance but delicious meals because that means I get to refocus my energy towards the rest of the tasks I have waiting for me that day.
Hello, priorities: yummy food that's easy to make. Shouldn't that be everyone's number one priority? Set it and forget it, baby!
If you are looking for another fabulous quick and easy chicken recipe,
I highly recommend this gluten free chicken tenders recipe. They are incredible!
SaveSave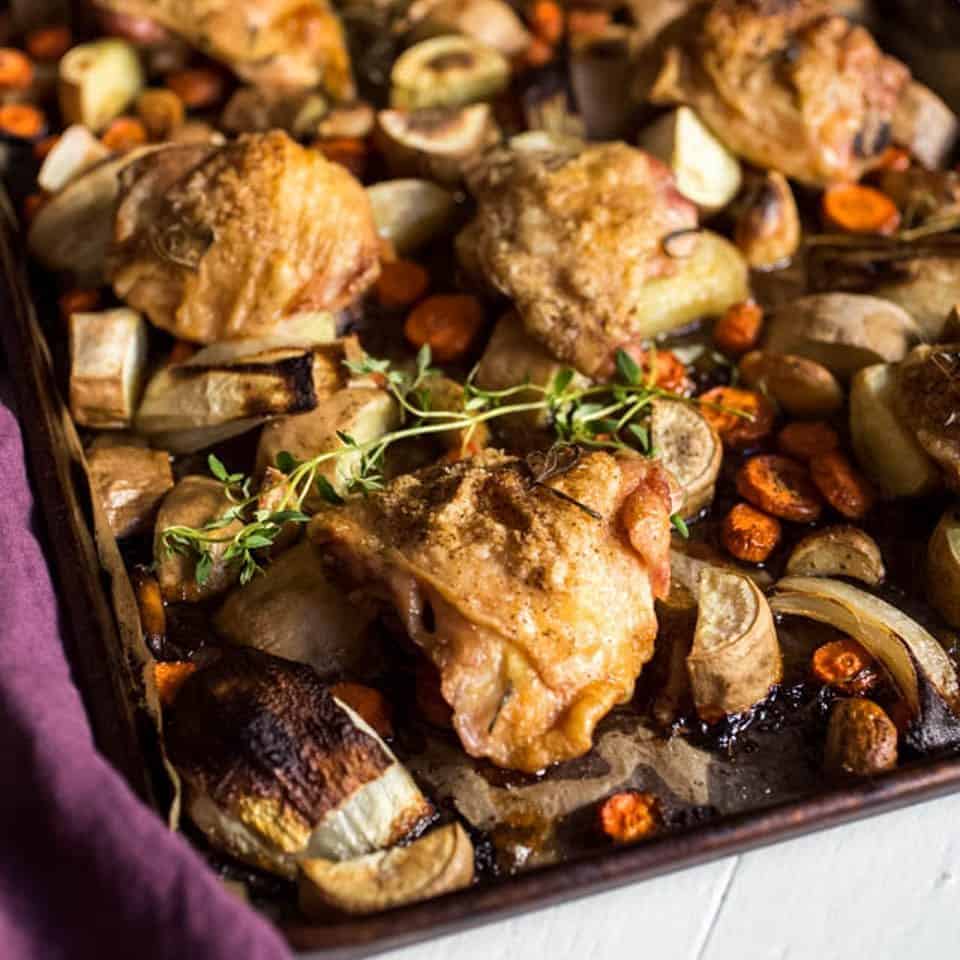 Crispy to the ROOT Chicken Thighs
These crispy to the root chicken thighs are one of the best one pan meals you'll ever make. Quick and easy to make, delicious to eat and 100% paleo!
Print Recipe
Pin Recipe
Rate Recipe
Ingredients
2 1/2

pounds

bone-in skin-on chicken thighs

, about 6-8

5-6

carrots

cut into 1/2" pieces

4

white sweet potatoes

cut into quarters or halves

1

yellow onion

cut into quarters

20

garlic cloves

whole

3 1/2

tablespoons

avocado oil or ghee

melt the ghee if using

1

teaspoon

fresh rosemary

roughly chopped

1

teaspoon

fresh thyme

roughly chopped

kosher salt and black pepper

to taste
Instructions
Preheat the oven to 375 degrees Fahrenheit. Line a baking sheet with parchment paper and set aside.

Wash the carrots and white sweet potatoes well and pat dry with a paper towel. Chop into quarters and transfer to the parchment lined baking sheet. Add the onion and garlic cloves; scatter them all around evenly.

Rinse the chicken under cold running water and pat as dry as you can with paper towels.

Spread the chicken thighs on top of the vegetables, leaving a few inches between them.

Drizzle with oil and using a brush, be sure each chicken thigh surface is completely covered with it.

Sprinkle with fresh herbs, salt and pepper.

Bake at 375 degrees Fahrenheit for 1 hour. Cooking time will vary depending on the size of your chicken thighs. Cook until the internal temperature of the chicken reads 165 degrees Fahrenheit. This will take roughly 1 hour - 1 hour, 20 minutes. About 7-10 minutes before the chicken is ready, go ahead and stick it under the broiler. That'll crisp up the skin perfectly. Be sure to turn the pan 180 degrees half way through!

Remove everything from the oven and serve right away!
Notes
Serve with a green salad or cauliflower rice.
Nutrition
Calories:
647
kcal
|
Carbohydrates:
41
g
|
Protein:
48
g
|
Fat:
32
g
|
Saturated Fat:
8
g
|
Cholesterol:
147
mg
|
Sodium:
245
mg
|
Potassium:
1512
mg
|
Fiber:
7
g
|
Sugar:
10
g
|
Calcium:
138
mg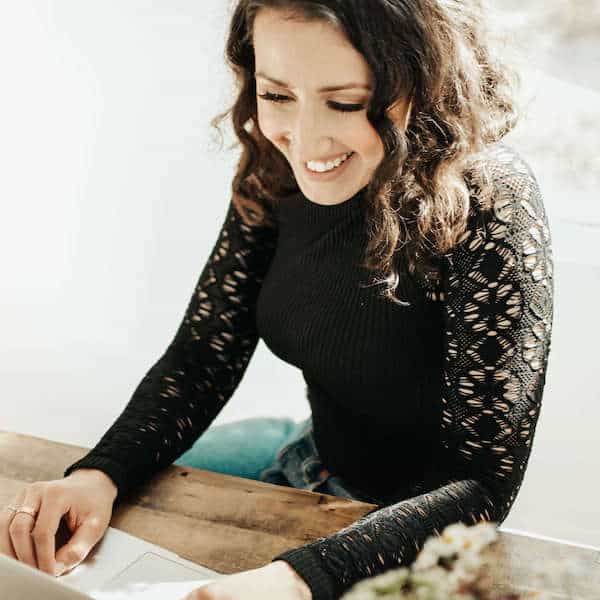 Hi! I'm Monica – recipe developer, matcha addict and lover of all things chocolate, kombucha and any & all puns. I am also the blogger, real food lover, & bonafide hustler behind the blog 'The Movement Menu.' I'm so excited to welcome you to my happy space, where my appreciation of creative recipes and healthy & mindful eats come together to inspire you to live a healthy, balanced life.