I've got a special treat for you: 30-minute easy Whole30 recipes galore are below. Is there anything better than being able to create a Whole30 compliant meal in 30 minutes or less? I think not!
I've decided that it was time to hook you up with a 30-minutes or less whole30 recipe menu. One of the toughest parts about starting a Whole30 is feeling like you are pressed for prep time.
Luckily, there are SO many compliant easy whole30 recipes all around the internet that can be prepped in under 30 minutes. I'm talking: one pot meals, salads, soups, slow cooked meats, you name it!
I think that having access to this list of recipes will make transitioning into your next Whole30 a lot more seamless and easy.
By focusing on creating the recipes below, you'll give yourself more time to relax during your Whole30.
Shift your focus to paying attention to yourself and how great you are feeling (or addressing some newly discovered food sensitivities) instead of frantically trying to get dinner on the table while your kids are screaming how hungry they are.
Let's get into these 30 minutes or less easy whole recipes, shall we?
---
Instant Pot Recipes
Get ready for one of the easiest one pot meals you will ever make: the best paleo pumpkin chili! This delicious and family friendly meal can be made quickly in the Instant Pot or on the stove top. Dairy free, paleo and Whole30 compliant, too!
I've got a quick and easy delicious Instant Pot chicken tortilla-less soup for you. It's made with delicious and easy to find ingredients and will be all finished cooking in just 10 minutes. This soup is dairy free, whole30 compliant and keto, too!
This paleo honey mustard chicken comes together in just 30 minutes in the Instant Pot! Skin-on chicken thighs are perfectly cooked in a sauce that's packed with tons of sweet tangy flavor.
I've got another delicious soup recipe coming your way and lucky for you, I've made it in the Instant Pot! It's a delicious dairy free cream of mushroom soup, and it's sure to please! This creamy soup recipe is silky smooth and Whole30 compliant!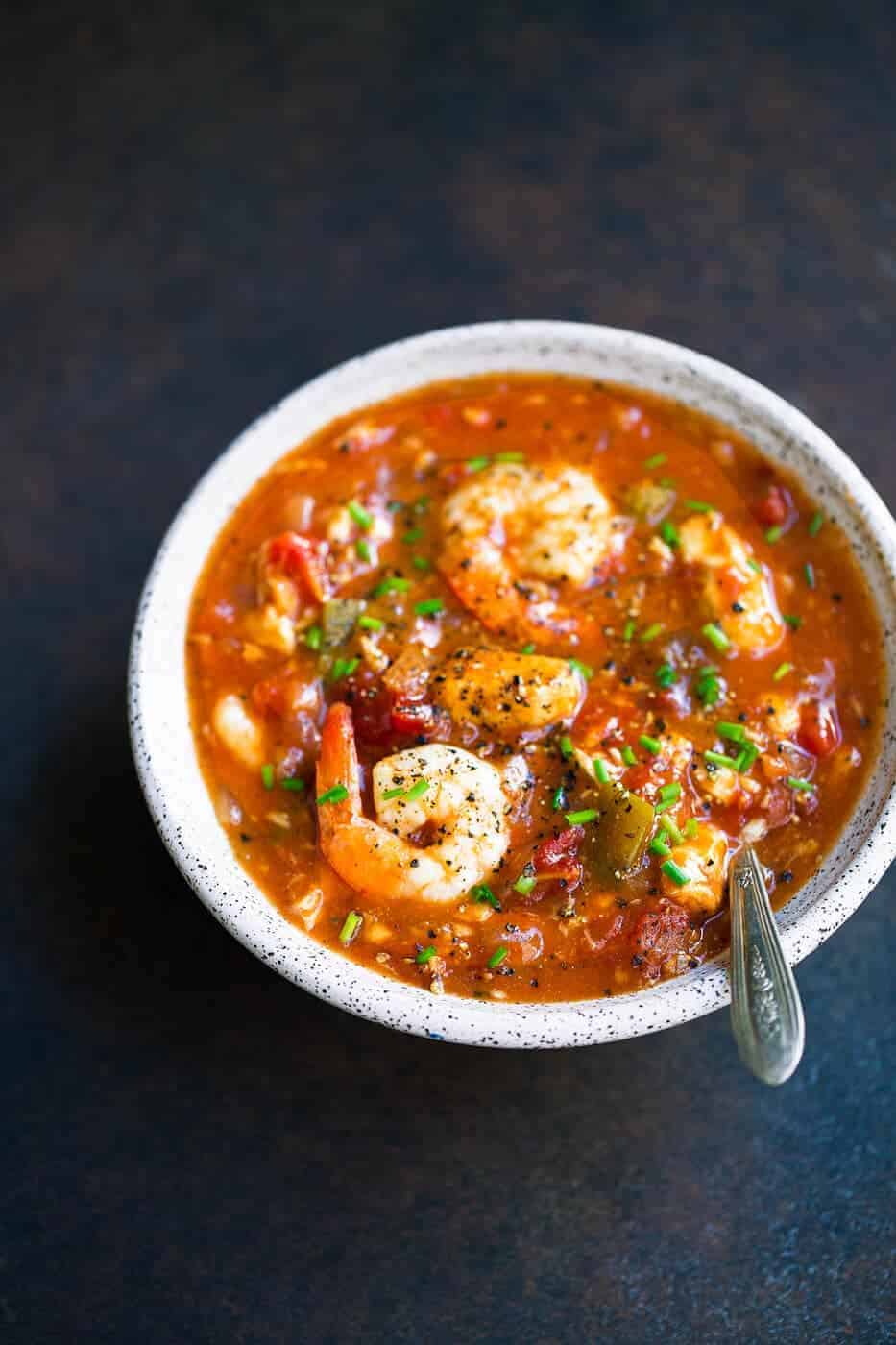 Bursting with flavor and delicious ingredients like sea bass filets, bell peppers & shrimp! It's the perfect one pot meal to add into your rotation. Creamy, nutritious and so comforting!
Make eating a healthy and nutritious meal easy! This flavorful and nutritious taco soup is made with all paleo ingredients and only takes a few minutes to prepare!
This No Bean Whole30 Keto Chili in the Instant Pot is a meat lovers dream! The easiest healthy weeknight dinner that the whole family will love!
---
Lunches and On-the-Go
Creamy, full of delicious vegetables and the perfect Whole30 lunch. It'll also make a great on-the-go option if you need something quick and easy. Be sure to stuff this tuna salad into some avocado halves or even eat it by its lonesome: it's that good!
Grilled chicken is tossed with avocado, toasted pine nuts, chopped kale, and a creamy homemade dairy-free caesar dressing for a deliciously savory salad that you'll want to make again and again.
This zucchini pasta with lemon garlic shrimp is a delicious, gluten-free version of shrimp scampi and linguini. Traditional pasta is replaced with zucchini noodles or zucchini pasta for a lighter, healthier, more veggie-packed and nutritious meal.
This avocado egg salad takes your classic egg salad recipe and adds healthy avocado for a creamy, nutritious and tasty new recipe you're sure to love.
This recipe for creamy vegan cauliflower soup is infused with fresh rosemary and all kinds of delicious herbs & spices. Oh, and an added bonus- it's Whole30 compliant, super hearty & delicious!
Quick and easy paleo shrimp egg roll in a bowl with a spicy aioli that's paleo, Whole30 compliant and keto friendly! Great for easy weeknight dinners and the leftovers reheat perfectly for lunch the next day.
Paleo Whole30 chicken salad equals creamy, curried chicken and loaded up with yummy veggies. This salad is stuffed into avocados and topped off with fresh herbs and green onions. A delicious, quick and easy Whole30 lunch hack!
---
Dinner Time
A healthy, quick and easy version of one of the most popular stir-fried Chinese dishes. This paleo kung pao chicken is packed with all of the flavor while remaining nutrient-dense and Whole30 compliant!
A whole30 bolognese recipe is finally here. Paleo, healthy and so easy to make! It's the perfect addition to your Whole30 meal plan, as it freezes well and tastes fabulous reheated. Yum!
There's no singular authentic carne asada recipe. They're all tweaks and variations. But today, I'll share with you my tried and true carne asada recipe that always brings people back for seconds.
This paleo egg roll in a bowl paired with a creamy sauce is an incredibly easy, quick and flavorful Whole30 dinner. This one bowl meal is packed full with protein and is low in carbs. The perfect addition to any Whole30 meal plan!
This paleo zucchini carbonara has a savory creamy sauce that you won't believe is dairy free! Tossed with crisp bacon and low carb zucchini pasta, it's a healthy meal you'll want to make over and over again.
These Whole30 easy steak fajitas are the bees knees. In fact, making a Whole30 meal in 30 minutes or less has never been easier. You'll only need one pan to make this healthy and filling meal.
Whole30 chicken pad thai that you can feel good about eating! It's served over a bed of zucchini noodles, loaded up with delicious chicken thigh pieces & topped off with a creamy, cashew butter based sauce. Delicious!
---
Side Dishes
Chopped pineapples and sugar-free ham, peppers, onions and scrambled eggs make this "rice" a meal that you'll crave for busy weeknights. It's also kid approved, low in carbs and Whole30 compliant
A delicious dairy free Whole30 potato salad. With incredible add-ins like crunchy bacon bits, fresh herbs and boiled eggs, it's fan-freaking-tastic! Creamy, tangy and makes the perfect side dish.
These Balsamic Sea Salt Roasted Brussel Sprouts are crispy, savory and healthy. And oh so easy to make! Try out this roasted brussel sprouts recipe this holiday season for the most delicious vegan and paleo side that everyone will gobble up!
These savory bacon zucchini fritters are easy to make, packed with veggies and downright addicting! They're delicious served as a side dish or appetizer with homemade ranch dip.
A flavorful recipe for tender crisp green beans tossed with caramelized shallots, toasted almonds and fresh parsley. Perfect for Thanksgiving but really anytime of the year.
Crispy Garlic Ranch Roasted Potatoes make for a simple and scrumptious, crowd-pleasing side-dish!
This version is made from cauliflower rice, carrots, scallions and other veggies, along with eggs, sesame oil and tamari (or coconut aminos). It's a delicious low-carb, gluten-free and paleo-friendly recipe.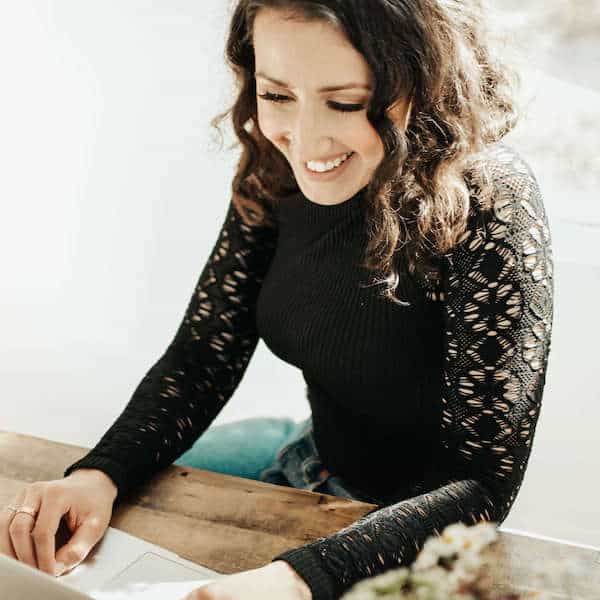 Hi! I'm Monica – recipe developer, matcha addict and lover of all things chocolate, kombucha and any & all puns. I am also the blogger, real food lover, & bonafide hustler behind the blog 'The Movement Menu.' I'm so excited to welcome you to my happy space, where my appreciation of creative recipes and healthy & mindful eats come together to inspire you to live a healthy, balanced life.