Last updated on May 16th, 2018
A paleo Whole30 chili recipe that is so quick to prep, you'll be excited to add it to your weekly meal plan. Alternatively, you can combine everything in a crockpot for even less maintenance. Wahoo!
Just wanted to let you know that this warm and cozy chili recipe is sponsored by my friends at PRE Brands!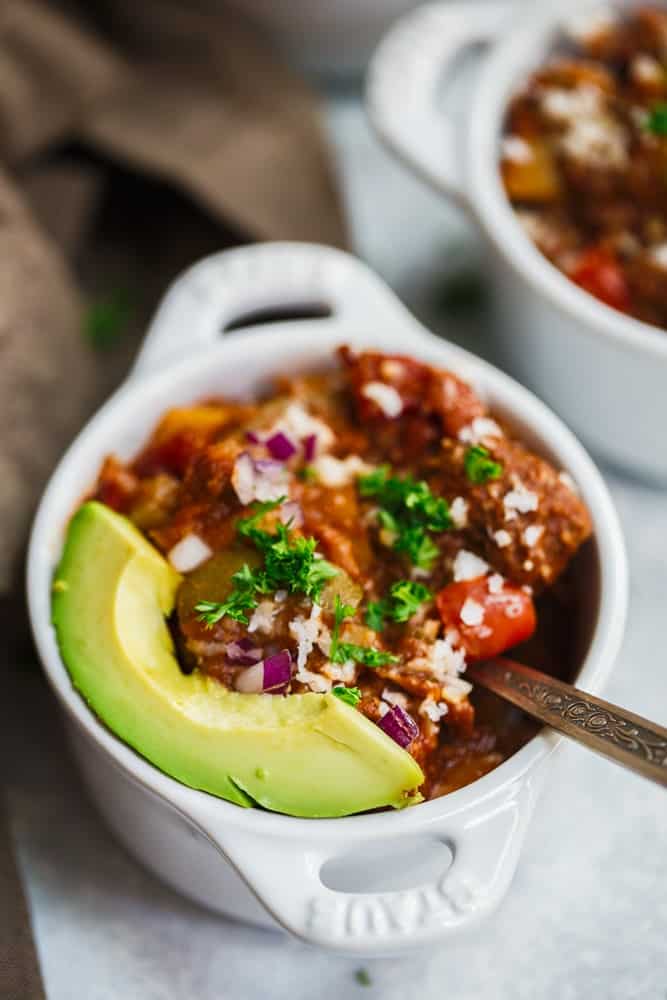 When you make this paleo whole30 chili, get real excited!
This paleo whole30 chili has been a long time coming. This is literally the first recipe I ever compiled, but I never had the opportunity to photograph it with anything but a camera phone.
I made this recipe over four years ago and at the time, all I had was my cell phone to take photos. Since then, I have remade it umpteen times but it never lasted long enough in the refrigerator for me to do so.
I actually remade it two years ago. This would be my second time retaking photos. So much excitement.
I know it's almost summer, but I couldn't resist. I can assure you that it will be worth turning your stove on. Besides, before we know it, it will be fall again and this recipe will be right at your fingertips ????
A paleo chili with secret ingredients
The secret to this chili recipe is the cinnamon and cold brew coffee inside. Just wait until you try it!
In fact, if you share it with others, I guarantee they'll be asking why it tastes so much better than any other chili they've had.
I can't wait to hear your feedback on this recipe. I used a whole mess of ingredients, but it turned out very well.
You can use ground beef, ground turkey or whatever you would like. I stuck with the beef this time around because it makes my tummy happy.
I've been very lucky to partner with an incredible company from my hometown Chicago: PRE Brands for this recipe. They carry grass-fed beef products that are of impeccable quality and do NOT break the bank.
Did you hear me? They are AFFORDABLE! I started jumping for joy when I found out about this company through a friend.
They have an array of different beef products, ranging from THREE different types of grass-fed ground beef, to steaks and burger patties… woo!
You can order their beef on Amazon Fresh or pick it up at a local store if you're lucky enough… just use their store locator!
This week has been pretty stressful. I got sick about a week ago for the first time in over five years, and I absolutely could not cook. I felt super grateful to have found leftovers of paleo whole30 chili in our freezer.
I forgot how absolutely draining the process of being sick can be. I feel like it made me a bit depressed actually.
I'm used to being able to do whatever I want everyday. I get to be creative. I get to work with my favorite brands.
I get to make delicious food and taste it. I didn't get to do that for a week, and it really got to me. Is that insane?
Be sure to add this fabulous recipe for paleo whole30 chili to the rotation. I love me one pot meals as much as the next person, but there is something about this chili (ahem, probably that cinnamon and coffee) that really tickles my fancy.
By the way, I would let this bad boy simmer for at least 2-3 hours. The longer you let it simmer, the more delicious and GLORIOUS it becomes, I swear.
More like this:
This post is sponsored by the lovely folks at 
PRE Brands
. Thank you for allowing me to continue creating such incredible content by supporting relationships with incredible brands and companies that The Movement Menu enjoys working with! Opinions will always remain 100% my own!
SaveSave

Paleo Whole30 Chili

| | |
| --- | --- |
| | |

A Paleo Whole30 Chili recipe that is so quick to prep, you'll be excited to add it to your weekly meal plan. Alternatively, you can combine everything in a crockpot for even less maintenance. Wahoo!
Sauté chopped onions and bell peppers in the ghee for 5-7 minutes (on medium heat), until everything gets nice and tender. You can use a stockpot, a Dutch oven, whatever! Add a few sprinkles of salt and pepper.

Add your grass-fed ground beef into the pot, along with your garlic cloves. Let this cook until your meat turns slightly brown. Go ahead and drain out the excess fat / liquid and return everything to the pot.

Add the diced tomatoes, tomato sauce, cold brew coffee, broth and all of your spices. Bring this all to a boil, and then bring your heat down to a low simmer. Let this sit and simmer for at least 2 hours.

Serve with fresh, chopped herbs, sliced avocado and more onions!
Alternatively, you can try this chili recipe with chicken or pork if you'd like!
Hi! I'm Monica – recipe developer, matcha addict and lover of all things chocolate, kombucha and any & all puns. I am also the blogger, real food lover, & bonafide hustler behind the blog 'The Movement Menu.' I'm so excited to welcome you to my happy space, where my appreciation of creative recipes and healthy & mindful eats come together to inspire you to live a healthy, balanced life.