Last updated on February 16th, 2019
Do you believe in eating cookies by the fistful? After making these delicious almond butter cookies, I sure do! The taste testers could not believe they were paleo and vegan! These gluten free, dairy free and refined sugar free cookies provide you with all of the comfort but none of the guilt!
Just wanted to let you know this cookies recipe is sponsored by my friends at Lindsay Olives!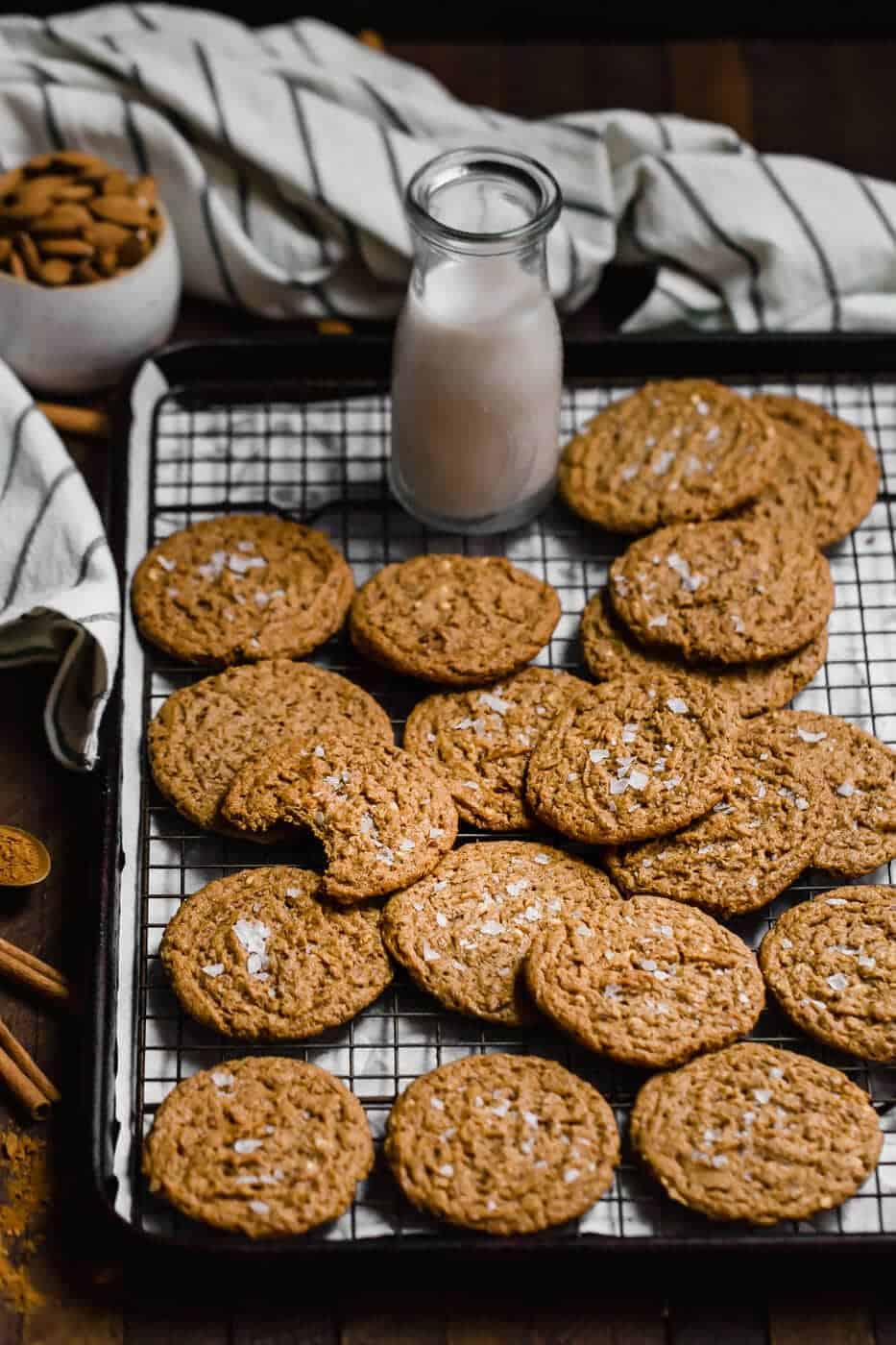 Almond butter cookies that were a long time coming!
Oops, I did it again. I made quick and easy to make cookies that do NOT skimp on flavor!
For these cookies, I wanted to take the flavors of the fall season and jam-pack them into a crunchy cookie that can be enjoyed year-round!
Let me tell you, combining cinnamon, almond butter and maple syrup into a cookie leaves you feeling like you just took a giant bite of Fall. This cookie was made pretty simply and without any flour.
The creamy nut butter serves as the perfect base and keeps these cookies crunchy. Feel free to pour yourself a tall glass of milk to enjoy alongside these warm bites of heaven.
I've been wanting to create an almond butter based cookie recipe for quite some time now, but I've been putting it off for a few reasons.
Who needs self control when you're downing almond butter cookies?
I've been defaulting to use my raw cashew cookie base that makes up my Paleo Chocolate Chip Cookies and Salted Caramel Pecan Cookies. I didn't think I should ever try to make anything different.
I could not eat almonds for the longest time. I developed an intolerance to them, but I am finally good with eating them in moderate portion sizes!
I haven't had any cookie cravings lately. Normally, cookies are my absolute favorite dessert and a go-to in our kitchen. Since being pregnant, that wasn't the case until now!
Doesn't flaked sea salt make anything and everything taste better? I wasn't planning on adding flaked salt to these cookies until I realized that the photos were missing a textural element.
It was much to my surprise how well the salt paired with the creamy almond butter flavors- yum!
There is a generous amount of cinnamon that goes into this recipe, and I do not recommend cutting back on it. The maple syrup and coconut sugar balance it out pretty well- just trust me.
I normally don't have self control issues when it comes to sweets, as I have more of a savory tooth to begin with. However, I did find myself going back for seconds, thirds, and sixths with these crunchy cookies.
You can absolutely get as creative as you'd like and use an alternative type of nut butter. I have found that cashew and almond butters seem to yield the best results when it comes to paleo baking.
What's super exciting about using almond butter as the base for these cookies is the fact they are both paleo and vegan. It can be very difficult to achieve the texture and flavor you're searching for and turn up with a vegan cookie.
There is something truly magical that both eggs and gelatin do so well in baked goods. It's hard to replicate, but after using this creamy nut butter base, I feel overly confident with the results!
I think I may have to make these for our baby shower. We really have no idea what's going on for that yet, but I do know that we will be having it at our new home- ahh!
I'm going to be having my sister and best friend plan the whole party. I do not plan to do any intensive cooking or baking, but I am thinking that almond butter cookies will have to make an appearance.
There is something that is so comforting and warm about these cookies, I just cannot wait for you to try them!
Be sure to throw them into an airtight container in the freezer if you don't plan on finishing them within a few days. I really don't think that will be a problem you're going to have though… 😉
This post is sponsored by the lovely folks at Lindsay Olives. Thank you for allowing me to continue creating such incredible content by supporting relationships with incredible brands and companies that The Movement Menu enjoys working with! Opinions will always remain 100% my own!
---
Paleo and Vegan Almond Butter Cookies

| | |
| --- | --- |
| | |

These gluten free, dairy free and refined sugar free cookies provide you with all of the comfort but none of the guilt!
Combine the dry ingredients in a medium bowl.

Stir in the almond butter, maple syrup, and vanilla. Stir the mixture together until it forms thick dough. This will take about a minute. Then, transfer the mixture into the refrigerator for 30 minutes.

Preheat the oven to 350°F (177°C). Place tablespoon-sized balls onto a parchment lined baking sheet, at least 1" apart. Lightly press the balls down with a fork, creating a pattern.

Bake for 12 minutes. Let them cool on the sheet for at least 5 minutes before transferring them to a wire rack to cool for another 10-15 minutes.
Hi! I'm Monica – recipe developer, matcha addict and lover of all things chocolate, kombucha and any & all puns. I am also the blogger, real food lover, & bonafide hustler behind the blog 'The Movement Menu.' I'm so excited to welcome you to my happy space, where my appreciation of creative recipes and healthy & mindful eats come together to inspire you to live a healthy, balanced life.