Last updated on May 10th, 2018
I've got such a special treat for you: these double chocolate vegan thumbprint cookies are going to be on repeat all year long, just trust you me! They're an irresistible, chocolate-filled, gluten free, vegan and paleo treat! 
Just wanted to let you know the recipe for these vegan thumbprint cookies was sponsored by the awesome folks at iHerb!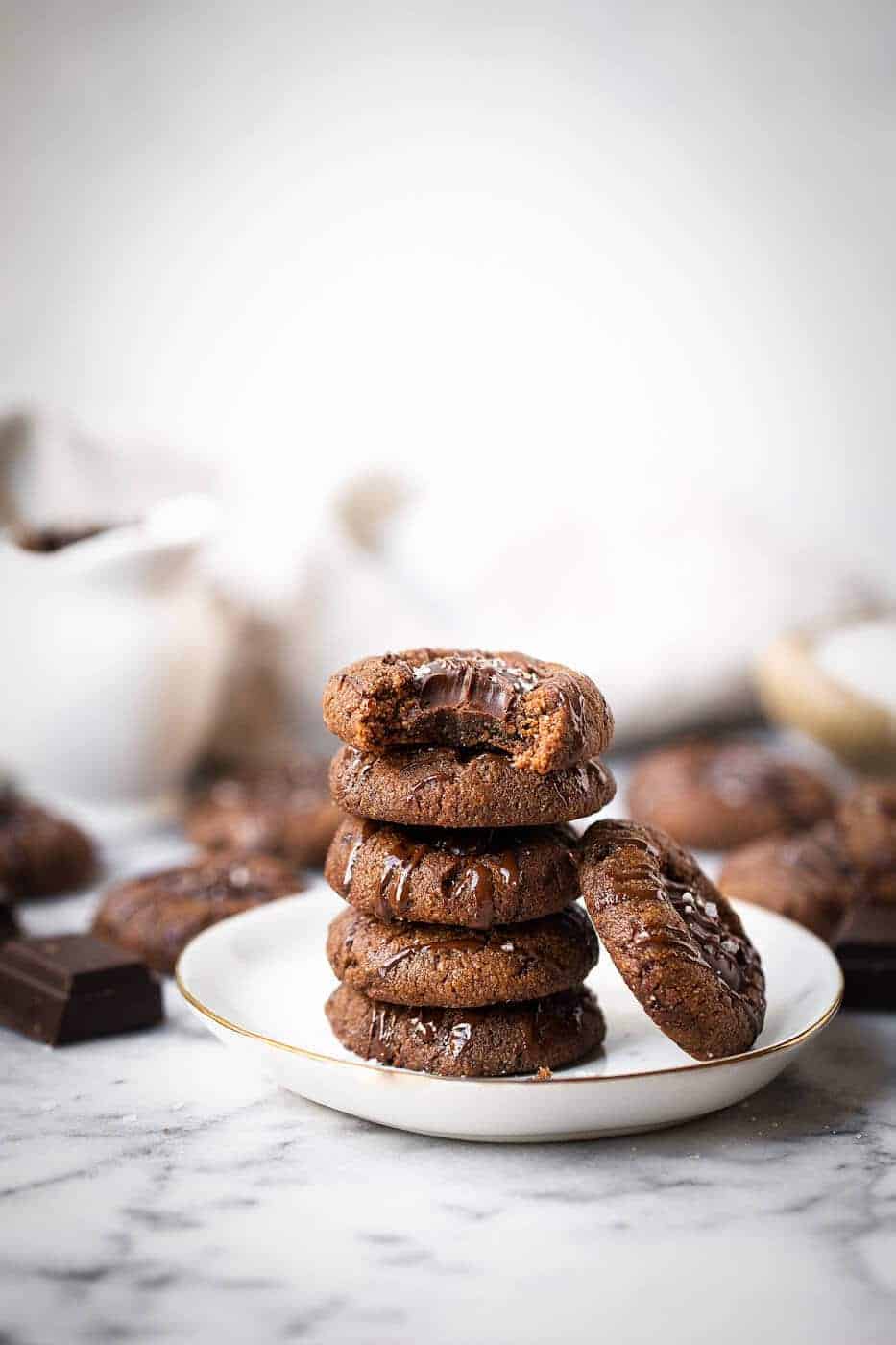 I'm so excited to finally have some fresh content for you, as it's been a very busy couple of weeks. I've been struggling to get back into the swing of things after vacation, that's for sure. I also am in the midst of a website rebrand and redesign, which has been taking up the majority of my creative juices.
I had been toying around with the idea of making vegan thumbprint cookies for quite some time. I have had my fair share of regular thumbprint cookies, filled with fruity jams and jellies.
However, it was time to step it up and load some up with all of the chocolate!
I've teamed up with iHerb, an online *health and wellness* oriented natural products store that carries over 5,000 grocery products that can be shipped to over 160 countries. What is so incredible about doing my online shopping here is the variety of both private labeled products and different brands they carry.
I can get everything from my favorite Bob's Red Mill flours to the best quality vanilla extracts and coconut oil.
If you're going to be making a shopping list any time soon, I'd recommend checking out their website before heading to umpteen different grocery stores to get everything on your list!
I decided to use four brands from iHerb that I love and trust in order to make these fabulous cookies:
Healthy Origins, Organic Extra Virgin Coconut Oil– This coconut oil is subtle in coconut flavor and is the perfect fat to use in baked goods and treats!
Edward & Sons, Organic Coconut Flour– I've trusted this brand for all things coconut for a long time now. Their organic coconut flour is the best on the market!
Bob's Red Mill, Super-Find Almond Flour– There is a reason Bob's Red Mill is so popular. Their almond flour is so fine, I never need to sift it.
Simply Organic, Madagascar Pure Vanilla Extract– It's so important to get your hands on an organic vanilla extract product, as conventional vanilla extracts tend to contain corn syrup and other mysterious ingredients.
It was these four products that I feel like the recipe really benefited from. Gluten free, dairy free & refined sugar free baking can be tough. A lot of the ingredient substitutions can be finicky if you aren't using good quality products *like the items I mentioned above!*
What I love most about these double chocolate vegan thumbprint cookies is how quick and easy they are to make. You don't need to use eggs in the recipe, so feel free to get down with that raw cookie dough… I dare ya!
You can pair these cookies with a nice and tall glass of non-dairy milk or sneak them into your bed at night for a midnight snack. I know I have.
I am super grateful that I doubled the recipe and made a double batch, as I have already gifted boat loads to my favorite friends and family members. I'm just kidding… I don't have favorites. Or do I?
You can get a little bit creative with the ingredients, as I know that using an almond butter or peanut butter instead of the cashew butter would still work very well.
More like this:
5 Minute Paleo Chocolate Chip Cookies
Because iHerb offers such a wide variety of wonderful products, I highly recommend you begin to peruse around. Customers can get a discount off their iHerb order by clicking this link!
So what are you waiting for? It's time to get baking and make the best double chocolate vegan thumbprint cookies ever! They are sure to become a baking staple in your kitchen, as I'm already dreaming about the next time I get to eat a batch 🙂
This post is sponsored by the lovely folks at iHerb. Thank you for allowing me to continue creating such incredible content by supporting relationships with incredible brands and companies that The Movement Menu enjoys working with! Opinions will always remain 100% my own!
---
Double Chocolate Vegan Thumbprint Cookies

| | |
| --- | --- |
| | |

I've got such a special treat for you: these double chocolate vegan thumbprint cookies are going to be on repeat all year long, just trust you me! They're an irresistible, chocolate-filled, gluten free, vegan and paleo treat! 
Preheat the oven to 350 degrees Fahrenheit and adjust the oven rack to the middle position. Line a baking sheet with parchment paper and set aside.

In the bowl of a stand mixer, combine all of the wet ingredients until smooth and creamy throughout.

Add in the dry ingredients and stir well to combine.

Place the dough in the refrigerator for about 15 minutes. Remove from the refrigerator and using a cookie scoop, form into balls. I made about 20 cookies from the dough. Make an imprint in the center of each cookie with your thumb and leave the cookies unfilled.

Bake at 350 degrees Fahrenheit for 12-15 minutes, until the edges look slightly firm and they have set. Mine took 15 minutes.

While the cookies are baking, melt the coconut milk and chocolate together using a double boiler method or in a microwave. Stir well to combine.

When the cookies are done baking and still warm reinforce the thumb indent if necessary. Add a small amount of the chocolate mixture into each cookie thumbprint area (you may have some chocolate leftover and that's fine!)

Once the cookies have cooled completely, sprinkle them with course sea salt.

Store in an airtight container in the refrigerator for up to one week.
Hi! I'm Monica – recipe developer, matcha addict and lover of all things chocolate, kombucha and any & all puns. I am also the blogger, real food lover, & bonafide hustler behind the blog 'The Movement Menu.' I'm so excited to welcome you to my happy space, where my appreciation of creative recipes and healthy & mindful eats come together to inspire you to live a healthy, balanced life.