Easy Baked Gluten Free Chicken Strips
Easy baked gluten free chicken strips. They are absolutely crispy and taste delicious on their own or dipped in a homemade sauce or aioli. Be sure to make these healthy chicken strips for any fussy kids, as they will absolutely love them!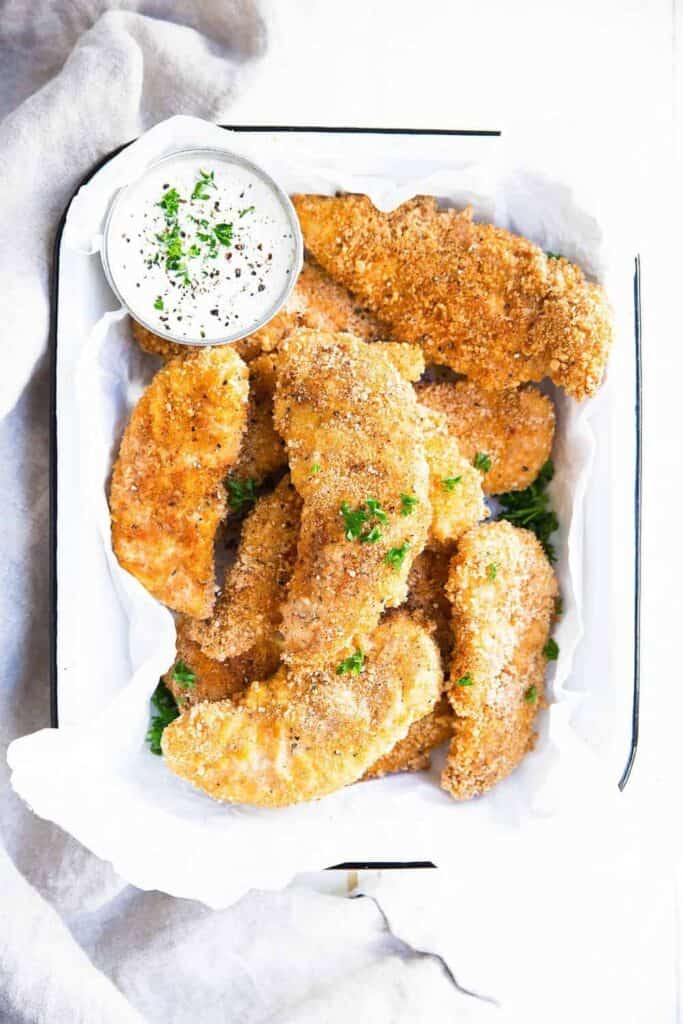 Let me tell you something. I've been wanting to make a NUT FREE paleo chicken strips recipe for ages… and succeed.
I've tried to make it without a nut flour so many times. I've tried with coconut flour, and I just don't love the taste and texture, I'm not going to lie.
That's why when an opportunity presented itself to work with Erewhon Organic, I knew I was in. They have organic, gluten free rice cereals, and I knew I wanted to go to town with them and get to chicken makin'!
ALL THE CRISPINESS
You know what my favorite part about these Easy Baked Gluten Free Chicken Strips is? The fact that they are crispy. You heard me.
I baked them in the oven. There is no gluten. No nuts. They are crispy.
Is it time for a virtual high-five yet? I am so ready.
I knew that was a non-negotiable when working on this recipe. Nobody wants soggy chicken strips, and that is factual.
What's really cool about Erewhon is that you can hop on over to their website here and plugin your zip code.
A list of which stores they're carried at around you will pop up.
You can select which product you're looking for, too. Yes!
For this recipe, I used the Organic Crispy Brown Rice Cereal 😉
Be sure to give it a try for breakfast too or on top of smoothies and bowls. I'm sure that extra crunch would be absolutely fabulous!
TOASTER, TOASTER
Just a quick little recommendation in regards to these fabulous Easy Baked Gluten Free Chicken Strips (say that 10 times fast, wouldya?)
If you plan on reheating them, I wouldn't. It's not that you cannot. It's just that they won't be crispy anymore. I'd only recommend making as many as you're going to eat.
I'm all for leftovers, believe me. But when it comes to eating something that used to be crunchy and no longer is, it's just darn right depressing.
If you're looking for a way to win over the kids or even your spouse, there is no reason to look any further. These crispy Easy Baked Gluten Free Chicken Strips will be on repeat in my kitchen for the next several weeks, I just know it!
Thank you for allowing me to continue creating incredible content supporting relationships with incredible brands that The Movement Menu enjoys working with! Opinions will always remain 100% my own!
Preheat the oven to 425 degrees Fahrenheit and line a baking sheet with parchment paper. Set aside.

Take out 3 shallow, flat-bottomed containers. I used some rectangular glass Tupperware.

In the first bowl, add the rice flour.

The eggs and non-dairy milk go in the second bowl. Whisk to combine well.

In the bowl of a food processor, add the cereal and spices. Pulse multiple times until it resembles bread crumbs. Add this mixture to the third bowl.

Take a chicken tender and dip into the rice flour, making sure it's completely coated. Add the tender to the egg mixture and let any excess drip off into the container. Lastly, dip the tender into the cereal-herb mixture, making sure that is completely coated well with no bare spots at all.

Transfer the covered chicken tender to the baking sheet, and repeat this process with the remaining chicken.

If you have some sort of cooking spray, be sure to spray the top of the tenders. If you do not, do not worry about it; it will just help them brown a bit more.

Bake at 425 degrees Fahrenheit for 10 minutes on the top rack. Turn the oven to a high broil for 3 minutes. Flip them over and cook for an additional 4 minutes at 425 again. Return the temperature to a high broil and broil for the last 3 minutes.
Nutrition Facts

Easy Baked Gluten Free Chicken Strips

Amount Per Serving

Calories 109

Calories from Fat 45

% Daily Value*

Total Fat 5g 8%

Cholesterol 49mg 16%

Sodium 195mg 8%

Potassium 20mg 1%

Total Carbohydrates 11g 4%

Protein 5g 10%

* Percent Daily Values are based on a 2000 calorie diet.