I spent a lot of time with my family over the weekend. My parents just moved into a new house, and as a result, there has been a lot of crap to go through. Of course, I enlisted myself to help them in the process. My mom ended up digging up some old recipes from who knows where. Luckily, one of them really caught my eye. Moroccan chicken? I remember my grandma making this dish for me when I was younger with a side of brown rice. Yeah, I wanted to remake the hell out of it. It was one of the few recipes that was my grandma's, so I begged my mom to accompany me to Sprout's Market. No, I didn't really beg her. She loves shopping with me, come on! I needed to grab some dried prunes and apricots (why would I keep those kinds of things around my house? I'm not 60 yet, folks...)
Because I work at a Foreign Exchange company, I had Monday off for President's Day because the banks are closed (WOOOOO!). This meant I spent all of yesterday prepping, snoozing and cooking. By the time I was done doing so, I had zero time to take photographs. See, that's what moseying around all morning will do to you. I absolutely refused to stop cuddling with my boyfriend, the portable heater. I don't think I've ever used the word "mosey" in a sentence. I love the way it reads, and I'm definitely going to be using it more often now. You all are so much, I know. Hush me up.
Hey, I made this Moroccan chicken really sticky. The longer you let the sauce cook, the thicker it gets. I decided to plop it onto a bed of sea kelp noodles. What a mistake that was. It was my first time using them because they were on sale for a whopping 99 cents. I had always been curious, and now was the time for me to try them. I made the mistake by not cooking them. On the package, it reads that you do not need to and just to rinse them under water before you eat them. Little did I know, this rule would only apply if I was creating some sort of monstrous sauce for them. It would have tasted way better if I cooked these noodles. Hey again, sea kelp noodles are gluten free, and they contain no fat, protein, cholesterol or sugar. Essentially, they add texture to the dish- and that's about it. Hey three times, guilt free right? Psh, you know I have no shame. Next time, I'll be preparing this chicken with cauliflower rice, or with steamed vegetables.
Knock yourselves out. My grandma had a kick-butt recipe that I made Monica friendly. I can't wait to whip up another batch and bring some to her for approval. Approval- and maybe some other recipes I can steal and tweak. She is so cool. Go grandma, go. Grab some prunes and sherry-- and get to it already!
Moroccan Chicken
I bring you a wonderful recipe for spicy Moroccan Chicken inspired by Grandma's Kitchen made with simple ingredients you might already have in your pantry. Grab some prunes and sherry– and get to it already!
Print Recipe
Pin Recipe
Rate Recipe
Ingredients
1 1/2

pounds

cut up chicken pieces (I used thighs)

1/4

cup

liquid aminos

1/4

cup

fresh lemon juice

1/4

cup

medium-dry sherry

1/4

cup

raw honey

1/2

teaspoon

ground thyme

1

teaspoon

curry powder

1/4

teaspoon

oregano

1/4

teaspoon

ginger

1/4

teaspoon

black pepper

1

clove

garlic

pressed

2

tablespoons

extra virgin olive oil

8

pitted prunes

8

apricot halves
Instructions
Whisk together the liquid aminos, sherry, lemon juice, honey, garlic and the remaining spices. Place the marinade with the chicken pieces into a resealable bag, and marinate for at least 1 hour or overnight.

Heat the olive oil in a skillet over medium-high heat. Cook the chicken pieces in the oil until browned on all sides.

Sprinkle the chicken with dried prunes and apricots, and pour the remaining marinade into the skillet. Bring to a simmer, cover and cook for 15-20 minutes.

Uncover the skillet and simmer until the sauce looks slightly thickened. This will take another 10-12 minutes.

An instant-read digital thermometer should read around 165 degrees Fahrenheit.

Serve over sea kelp noodles, veggies or cauliflower rice. Whatever you want!!
Notes
I topped mine off with a sprinkle of nutritional yeast. I just like the color, seriously 😉
Nutrition
Calories:
615
kcal
|
Carbohydrates:
44
g
|
Protein:
31
g
|
Fat:
36
g
|
Saturated Fat:
9
g
|
Cholesterol:
167
mg
|
Sodium:
1082
mg
|
Potassium:
718
mg
|
Fiber:
3
g
|
Sugar:
34
g
|
Calcium:
31
mg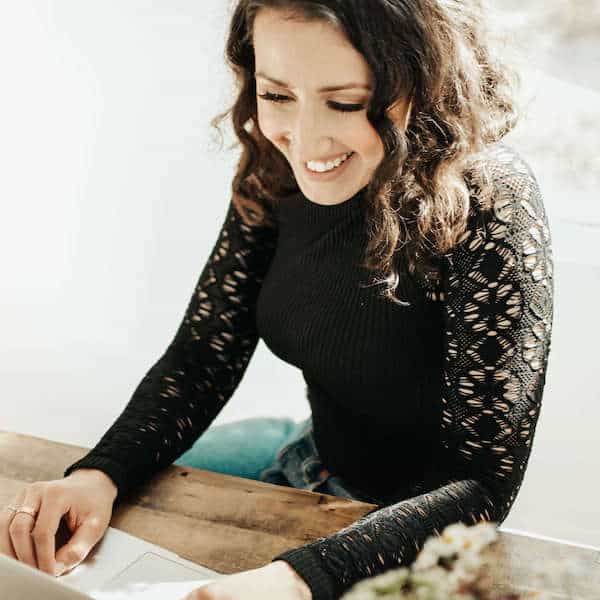 Hi! I'm Monica – recipe developer, matcha addict and lover of all things chocolate, kombucha and any & all puns. I am also the blogger, real food lover, & bonafide hustler behind the blog 'The Movement Menu.' I'm so excited to welcome you to my happy space, where my appreciation of creative recipes and healthy & mindful eats come together to inspire you to live a healthy, balanced life.